---
These are the latest Rolling Stones news and updates for you! IORR is a non profit fan club run by fans for fans. All parts of the It's Only Rock'n Roll web site is copyright of The Rolling Stones Fan Club. When using information from this site, please include a reference to IORR and the main web address www.iorr.org.
---
---
The Rolling Stones
MGM Grand Garden Arena
Las Vegas, NV, USA
Saturday May 11, 2013
---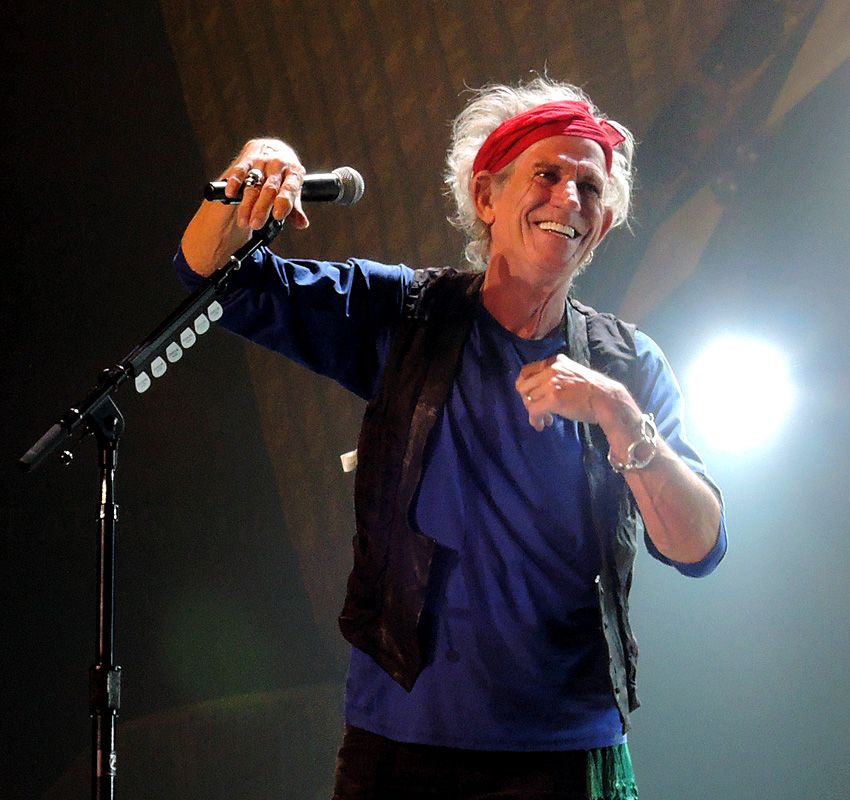 Photo by Harold Colson.
---
The set list
Get Off Of My Cloud
It's Only Rock'n Roll
Paint It Black
Gimme Shelter
You Got Me Rocking
Beast Of Burden (with Katy Perry)
Emotional Rescue
All Down The Line
Doom And Gloom
One More Shot
Honky Tonk Women
--- Band presentation
Before They Make Me Run (Keith)
Happy (Keith)
Midnight Rambler (with Mick Taylor)
Miss You
Start Me Up
Tumbling Dice
Brown Sugar
Sympathy For The Devil
--- Band off stage
You Can't Always Get What You Want
Jumping Jack Flash
Satisfaction (with Mick Taylor)
---
Review by Robert Bagel
The MGM Grand Garden is the smallest arena on this tour, and its intimacy made for a good show free of skyboxes or layers of mezzanine levels. The only clear attempt to take advantage of this intimacy was Beast of Burden, with Katy Perry joining in as the lone special guest of the show. She did a fine job, looking great, sounding great, and interacting well with Mick. This appearance could not be considered a complete surprise given that she was in attendance at last year's Newark shows (presumably accompanying John Mayer). Still, the thrill of Mick introducing Beast of Burden was somewhat diminished by Ms. Perry's appearance. She did absolutely everything a special guest could do and succeeded without qualification, except it would have been so nice to see just Mick handle this classic song. The concept of "Less is More" certainly applied here.

It was great to see You Got Me Rocking back in the set, having been played at the Echoplex warm up show last month, and the 12/12/12 show at Madison Square garden. The song is short and sweet, and while not a classic by layman's standards it is still one of the more powerful rock songs the band produces. I hope we see more of it in coming weeks. Emotional Rescue is turning out to be the surprise hit of the tour, with the Vegas crowd grooving to its big bass sound and Mick having plenty of room to show his vocal skills on the dramatic spoken parts. Like in Oakland, All Down the Line was accompanied by a video screen tribute showing various artists who have influenced the Stones, like Howlin' Wolf and Etta James. It was especially meaningful to see Merle Haggard as part of this tribute, with his Bakersfield sound a big part of the musical influence that came from of this part of America that the Stones are currently trekking through.

Mick Taylor was on Satisfaction as he was in San Jose, and it is excellent to see him do more than just Midnight Rambler. It seems he is really enjoying himself, and this feeling is shared by the rest of the band members. It was great to see him and Darryl Jones huddle together and get into each other's playing.

Las Vegas did not disappoint as this show had its share of lingerie thrown on stage, with the highlight being some red panties that made their way to Keith at the end of Jumping Jack Flash. Keith was delighted to put them on the end of the neck of his guitar for a moment and enjoy the laugh with the crowd. Earlier in the show Mick did a nice update on the cliché of "What happens in Vegas stays in Vegas", instead comically stating, "What happens in Vegas…is on Instagram in ten minutes". It was a shrewd point acknowledging how the world continues to change, and an even better point that through all of the changes, the Stones continue to thrill arenas full of their fans.
---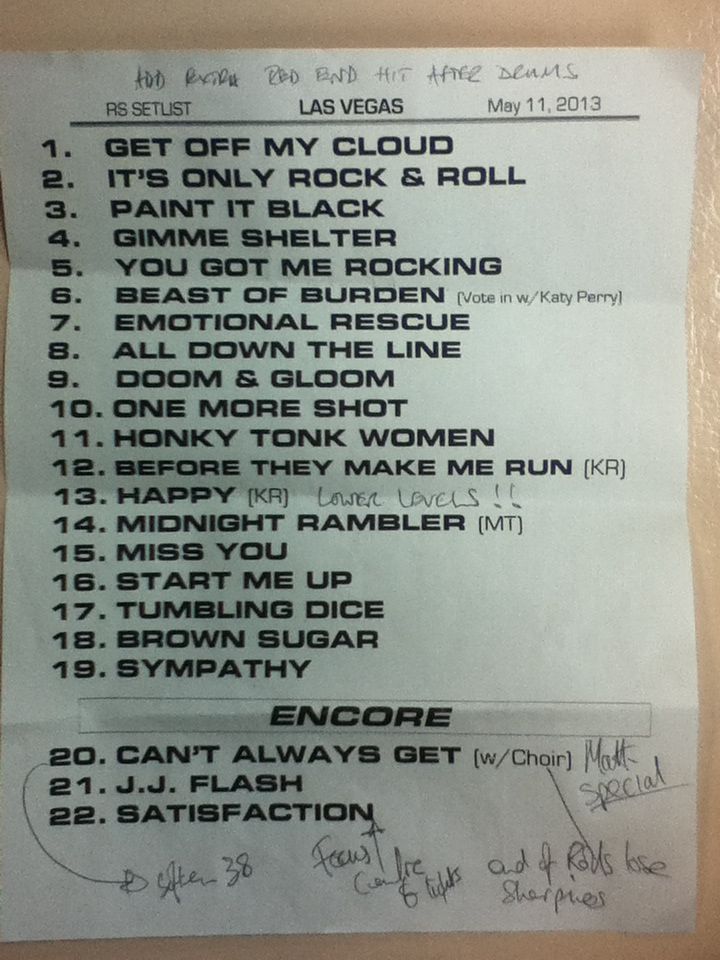 Thanks to Detlef Neumann for setlist copy!
---
Review by R Kurt Schwarz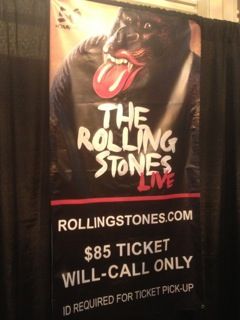 The Rolling Stones are undisputedly the Greatest Rock N' Roll Band in The World. Last night at the MGM Grand in Las Vegas, they absolutely blew me away once again. I haven't missed a tour since 1981 and I truly can't believe that they get better with age. I'm stunned. Exhausted. Speechless. Ecstatic.

My wife and I flew in from Detroit with the anticipation of an $85 ticket adventure. Wow, what an adventure it was! The MGM will call was very organized and the tickets were handed out very randomly in plain white envelopes. Ours ended up 4 rows from the roof on Keith's side of the stage. Bummer, right? The initial disappointment quickly disappeared once we heard how good the sound was from our section. The guitars were blasting loud and clear and the vocals were perfect!

Since I'm writing this at the airport, I will let someone else post a full review but here are my highlights:
Midnight Rambler was mind-blowing. Having never seen Mick Taylor play live, I stood mesmerized by the experience and the interaction between the band and MT was a sight to behold.
Start Me Up was PERFECT!
The encore set was the best I've ever seen. I almost teared up during You Can't Always Get What You Want with the local high school choir. (OK, maybe I actually did tear up. It was that powerful and that emotional!)
From our vantage point, we looked down on Mick Taylor dancing behind Charlie's drum riser during JJF. Yes, dancing! And playing AIR GUITAR! He looked just like a fan that had won a Tongue Pit ticket in the $85 lottery. After lighting a cigarette, he strapped on his guitar and readied himself to storm out into the spotlights for Satisfaction.
Satisfaction, indeed. They just keep getting better. Thank you. Thank you, kindly.
Mick asked the Vegas crowd, "Are you winning or are you losing?" I'll answer for the entire world... with The Stones on Tour in 2013, we're Winning! I LOVE THE ROLLING STONES.
---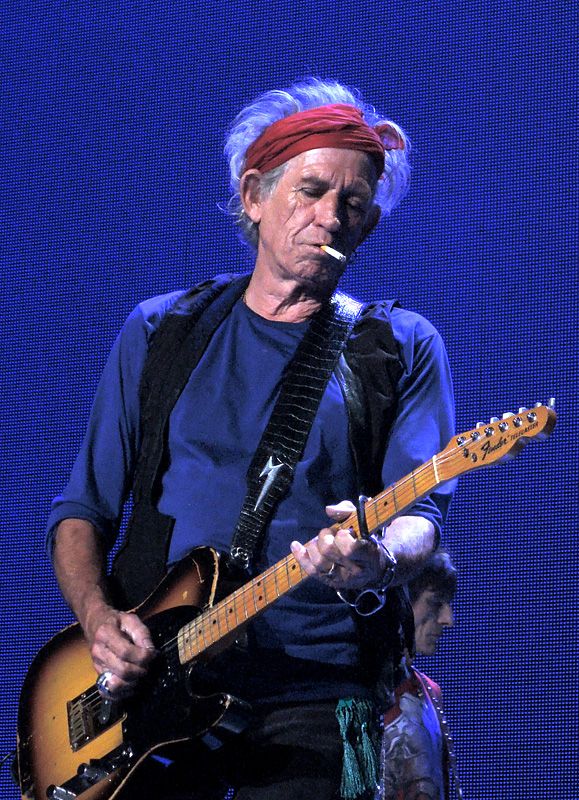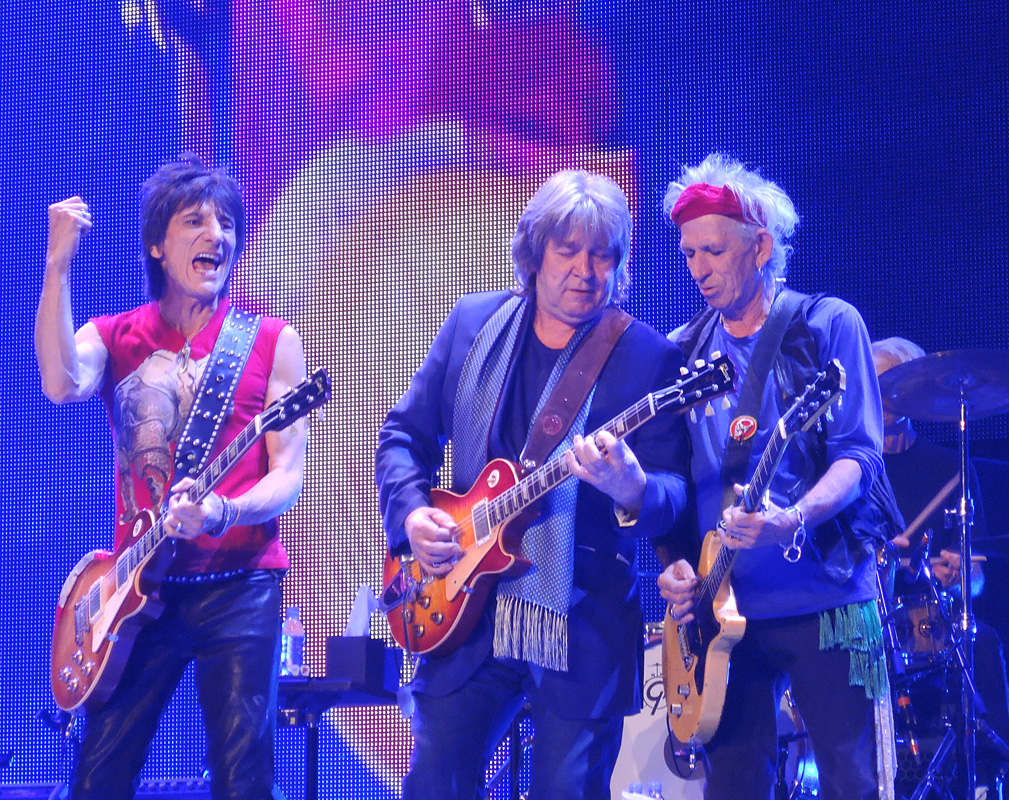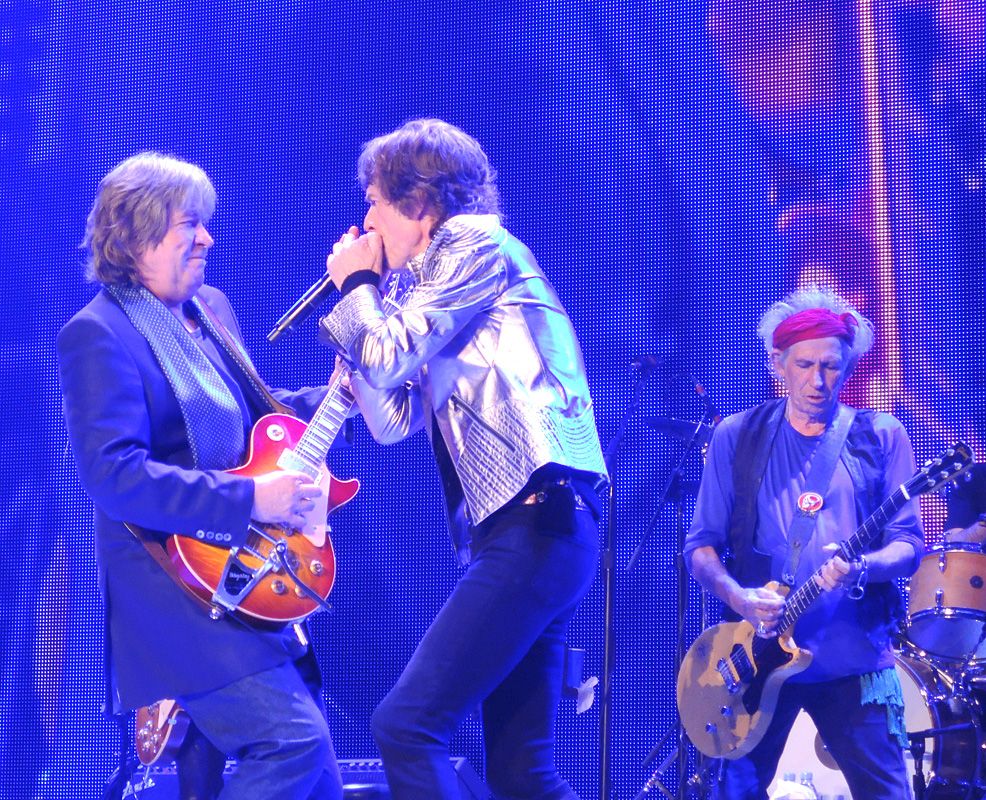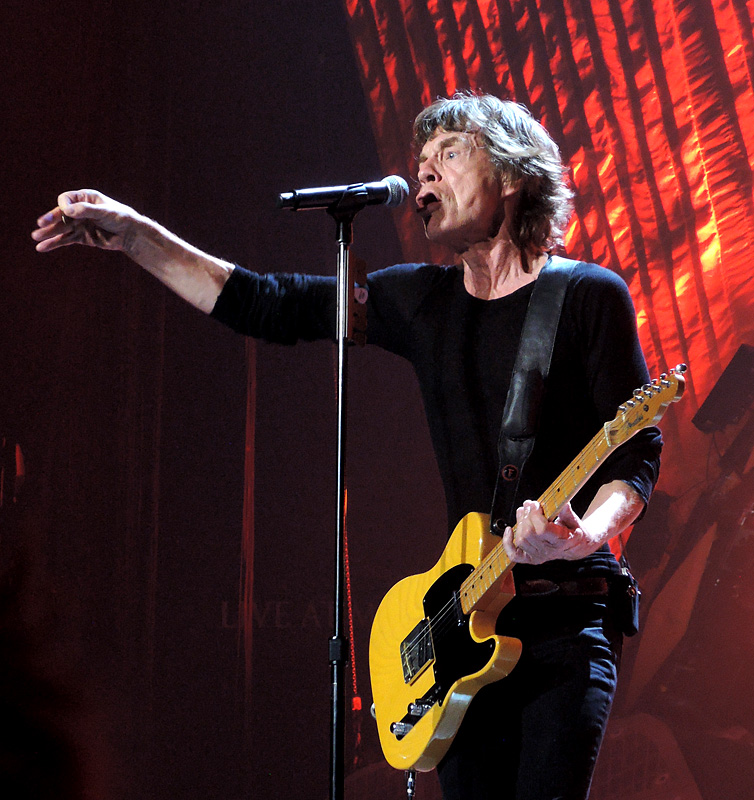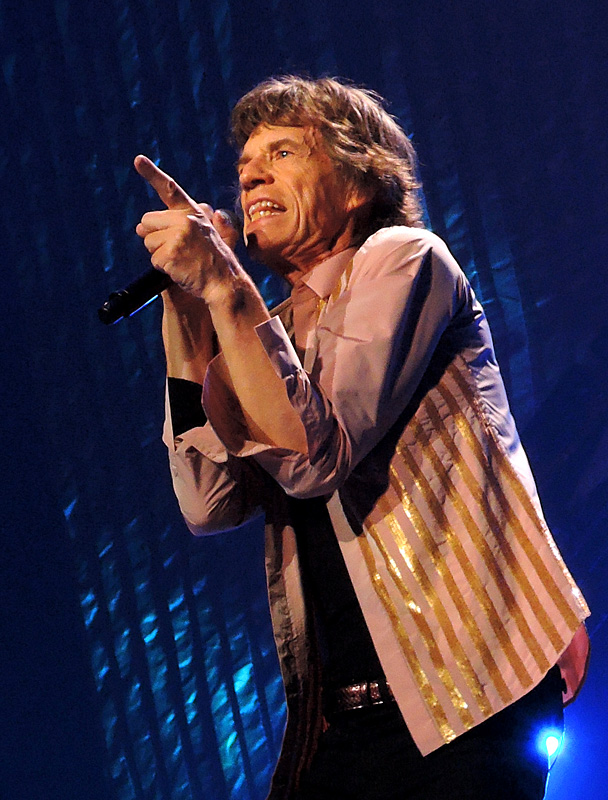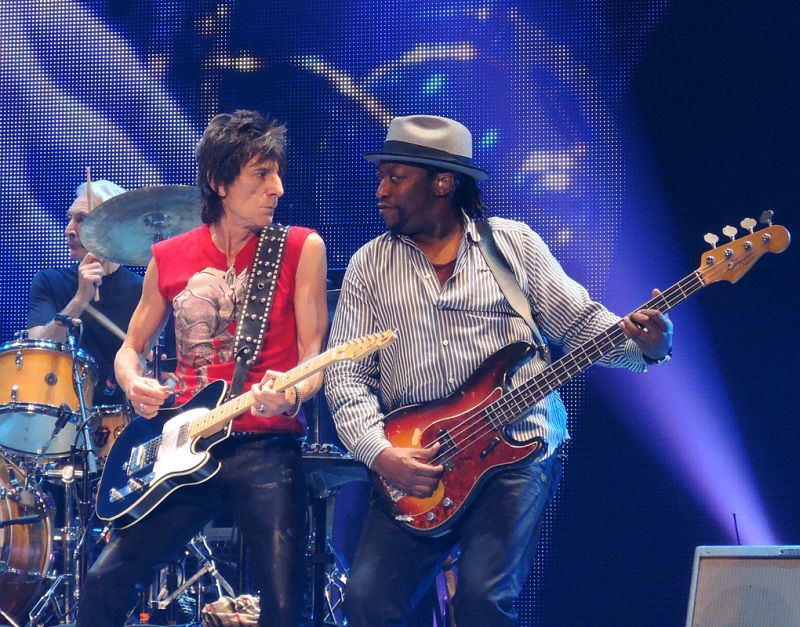 Photos by Harold Colson.
---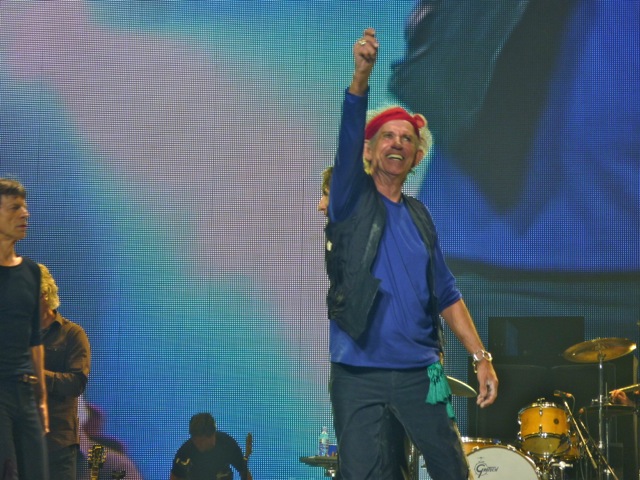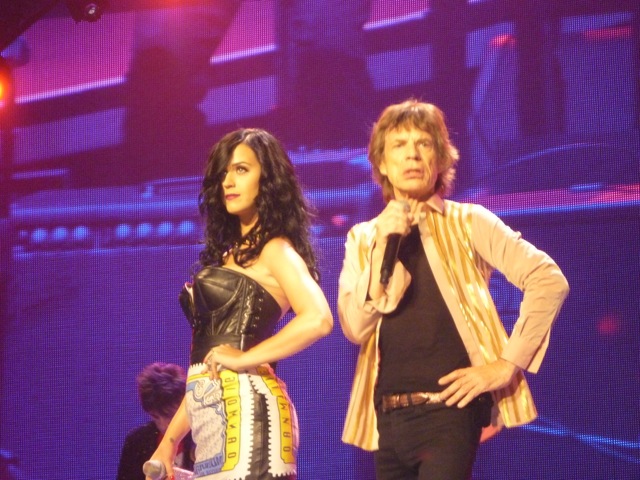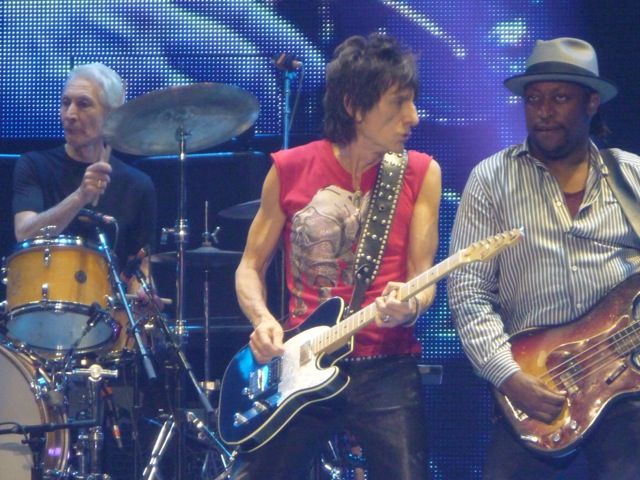 Photos by John H Moore.
---
Rewview by Blake Toland
It has been six and a half years since I saw The Rolling Stones last, in fact wrote a review about it on this site. It was the Dodger Stadium show in November of 2006, part of the A Bigger Bang Tour. I was only 20 at the time and saw them four times figuring that it would be the last. I am now 27 and honored that I got to see the boys again, this time in an arena setting at the MGM Grand Garden Arena in Las Vegas on May 11, 2013!

Since their last tour was much more elaborate with massive staging and fireworks plus the famous 'B' stage, it was nice to see them indoors and more scaled down. I was still impressed with the staging on this 50 and Counting trek, with the tongue and lips theme being the stage. Mick Jagger needs as much stage space as he can, and the loop around the pit was used to its full advantage. The show started at around 8:45 pm, the norm for a Las Vegas concert at MGM, since the arena lays in the back of the sprawling resort complex.

Before the band hit the stage, the lights went down and Sympathy For The Devil background music played for a few minutes. By then I was thinking this is gonna be a rock and roll concert of huge proportions, very Voodoo Loungish if I may as the band started off with Get Off My Cloud, It's Only Rock and Roll and Paint it Black. Lisa Fischer was spot on with Gimme Shelter, as she always is. You Got Me Rockin' was rockin, one of my favorites from the Voodoo Lounge album. This was a definite Las Vegas crowd! Everyone was on their feet the entire show, most everyone in awe of this legendary bands over 50 year existence.

Beast of Burden was the internet vote with Katy Perry as the special guest of the evening. My favorite part of the night was Emotional Rescue, a song rarely played live. All Down The Line was included in the nights set and was played when I saw them at the Dodger Stadium concert in 2006. Finishing the first half of the show was Doom and Gloom, One More Shot and Honky Tonk Women.

Chuck Leavell is by far my favorite keyboard player, and his solo on Honky Tonk Women is just fantastic. Being a member of the Stones since the 1980's and a member of the Allman Brothers in the 1970's, what career he has had! Keith Richards was ready to tackle a few songs, including Before They Make Me Run and Happy. Tim Ries and Bobby Keys were featured in the horn section on this tour, and were well noted towards the end of Happy. Keith seemed happy to be in Vegas again, as he made the rounds around the pit area several times throughout the night.

Charlie Watts is such a cool drummer, always calm and collective. Ronnie Wood had tons of energy all night as well. Mick Taylor then joined the stage for an awesome Midnight Rambler, very fitting for Las Vegas. Miss You was next on the set, and Darryl Jones was rocking it with his bass. Start Me Up and Tumbling Dice were next. Lisa Fischer and Bernard Fowler were awesome doing backup vocals as well as the horn section at the end of Dice.

Brown Sugar was the last song on the main set and I love how the band jams at the end of the song. The most elaborate part of the show and usually is on the Stones tours was Sympathy For The Devil. I love how it has evolved over the years on their tours and the song is so fitting, especially now. You Can't Always Get What You Want was the second encore song, featuring the Green Valley High School choir, which is actually close to where I live in Vegas. That was a special moment, especially for locals who live in Vegas.

Jumping Jack Flash and Satisfaction ended this monumental show. Mick Jagger had incredible energy from start to finish. His vocals were incredible and the night just could not get any better. If this truly is the final tour, what a way to end it. If not, I am ready for another show. Mick, Keith, Ronnie and Charlie are the four most incredible musicians this planet earth will ever see. I am honored and privileged to have seen them again. I never thought it would happen again and it did. I think of all their tours in the 60's, 70's, 80's (Tattoo You, Steel Wheels/Urban Jungle), 90's (Voodoo Lounge 94/95, Bridges to Babylon 97/98, No Security 99), the 2000's (Licks 02/03, A Bigger Bang 05-07), and now 50 and Counting 2012-2013....

Thank you Rolling Stones for the past 50 years and your future rocking the world!
---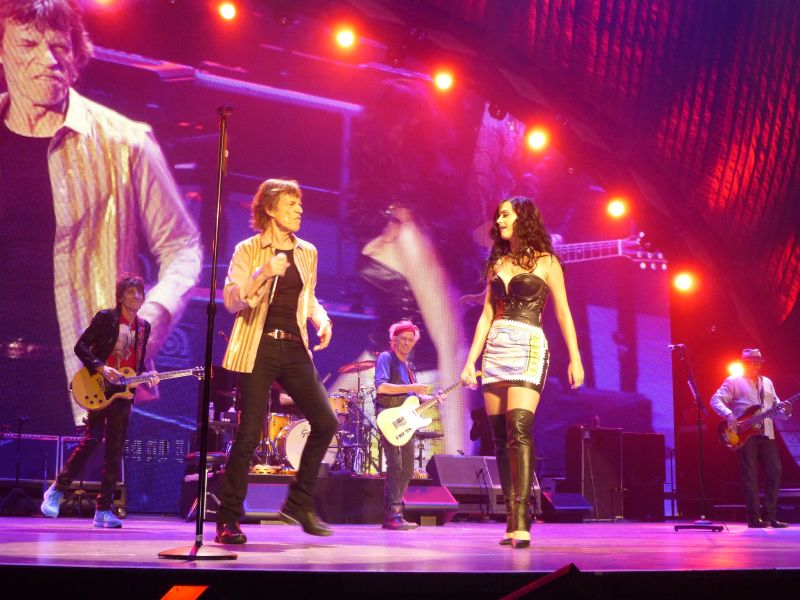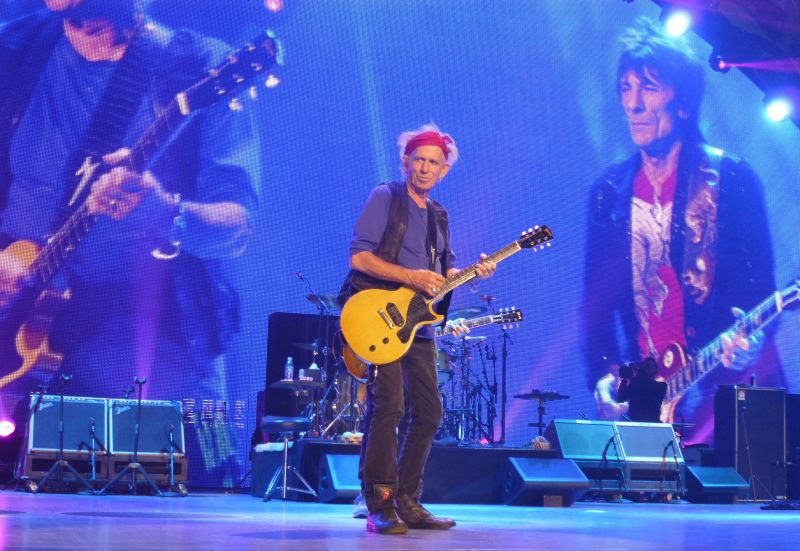 Photos by Peter Lacres.
---
Review by Sarahunwin aka Sparkly Top
Wow, what a week! Oakland, San Jose and then Vegas. Each show better and each show better seats. I have not missed any Stones show in Vegas for the last 16 years and this was right up there in the top three. I don't gamble and only ever go to Vegas for the Stones. Love the MGM Grand with its great acoustics and always many great long term fans there as well people set to have fun. Yes, R. Kurt Schwartz, I too am speechless, stunned, exhausted and ecstatic! I had an incredible seat against the front railing of section 18 on Ronnie's side, about 15' from Mick when he came over that side, which he did a lot. We danced together all night! The band was on fire and lifted the place to another level. Thank you Rolling Stones for yourselves, your music and bring so much happiness to so many. Keep on rocking! Fingers crossed for my mystery $85 for Staples. Enjoy Anaheim everyone, you are in for a treat.
---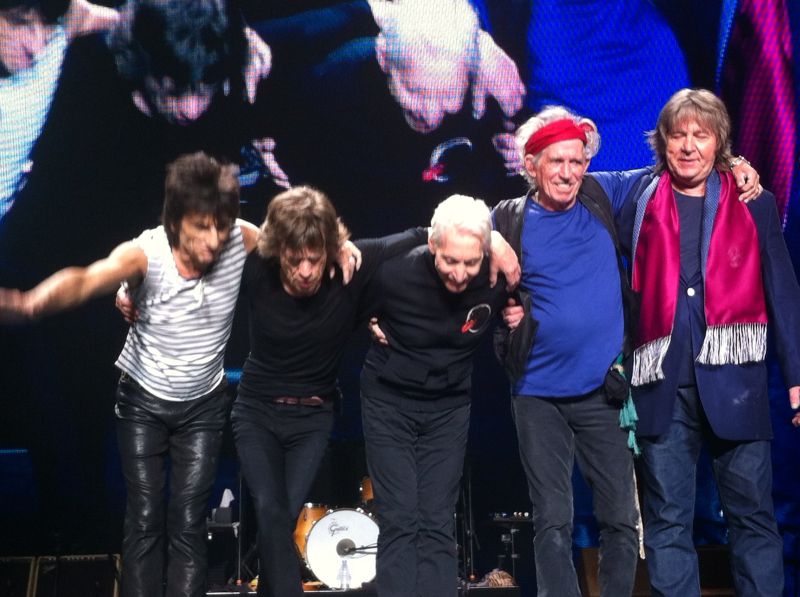 Photo by Danny Wells.
---
Review by Peter Lacres
Las Vegas is a the great city to see the Stones and I really liked the hot weather over here, compared to the rain in my country went I went to the sin city. I scored a tongue pit ticket but I lined wrongly into the tongue pit hospitality line and of course I couldn't enter the VIP room. I went to the other entrance, talked to the whole situation and a security girl of over 70 years old let me thru, before I could realize I was inside the building around 4.30 and I heard Beast of Burden in the background. Crazy and before I know, I saw security men and women beginning their shift with us standing below without wristbands… but we cued up and entered just after 6.30!

The show itself rocked all the way, a few slow songs but mostly rock 'n roll. I've never heard Emotional Rescue before but I liked it live with the sax and voice of Mick. There were only highlights for me, apart from the drunk Hospitality men who went down during Honky Tonk and the fact that nobody liked the new songs around me. No emotion, no signing, just standing and thinking, can we have Start Me Up instead? This is a pity as most fans would like a new album and Doom is Gloom works onstage, even One More Shot is powerfull.

I stood third/second row and I had a clear view of the stage. Charlie laughing all the way, Keith, Ron and Taylor interacting and Mick went the extra mile… Midnight Rambler, what a dancing act, Sympathy. Waaaaaaaaaaaw. Great to see the knickers being thrown to Keith and I saw it immediately and hang it on his guitar whereas Mick looked to the bra in front of him, moved away from it and Ron punched it back to a security guy. Great, great, great.

The band was having fun, the fans, one great shot in Vegas, shame that the lines at the merchandising counters were massive and went I queued up, the event shirt was just sold out. Let's hope to have more luck in the casino!
---
Reports please!!!
Please send your comments, reviews, photos links and more to:

[email protected]
---
This page will change over the next few days, as you and other fans send reviews, set lists and reports. Please send your e-mail to IORR. Thanks! For details and great photos from the Rolling Stones and their World Tour get the IORR magazines.




It's Only Rock'n Roll 1980 - 2013
© The Rolling Stones Fan Club Of Europe