---
These are the latest Rolling Stones news and updates for you! IORR is a non profit fan club run by fans for fans. All parts of the It's Only Rock'n Roll web site is copyright of The Rolling Stones Fan Club. When using information from this site, please include a reference to IORR and the main web address www.iorr.org.
---
---
The Rolling Stones
Hyde Park show #1
London, UK
Saturday July 6, 2013
---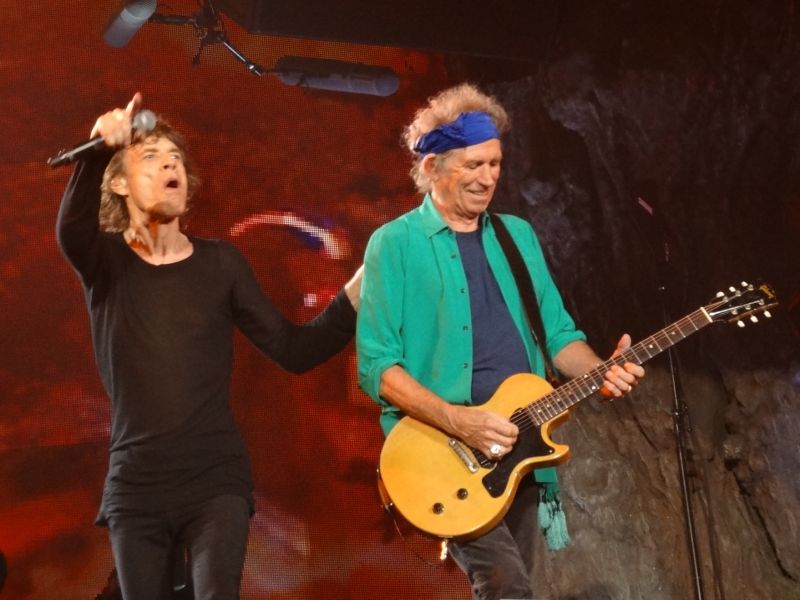 Photo by Klaus Lauterbach
---
The set list
Start Me Up
It's Only Rock'n Roll
Tumbling Dice
All Down The Line
Beast of Burden
Doom And Gloom
Bitch (with Gary Clark Jr.)
Paint It Black
Honky Tonk Women
--- Band presentation
You Got The Silver (Keith)
Before They Make Me Run (Keith)
Miss You
Midnight Rambler (with Mick Taylor)
Gimme Shelter
Jumping Jack Flash
Sympathy For The Devil
Brown Sugar
--- Band off stage
You Can't Always Get What You Want
Satisfaction (with Mick Taylor)
---
Show start  :  8:25pm
Show finish : 10:30pm

---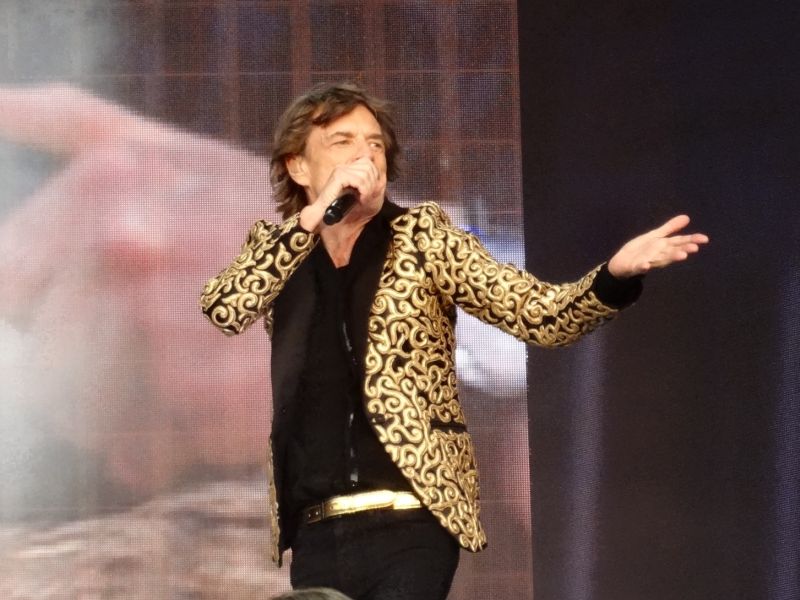 Photo by Klaus Lauterbach
Review by Robert Bagel
In seeing the Rolling Stones first Hyde Park concert in forty four years, I was not sure whether to expect more or less relative to the earlier shows on the 50 and Counting tour. I was not at Glastonbury so I was missing an important reference point, though I did catch the one hour broadcast from YouTube so had some idea (also watching it was good so I could reply "Yes" when the British immigration officer asked me if I had seen the Glastonbury performance on television). I can say after tonight's show that the Stones did an excellent job in changing the order of the set, did a good job with song selection, and did an OK yet not spectacular job of playing.

Maybe moving and manipulating a large festival crowd is more difficult than influencing a tidy arena in the U.S. Maybe tonight's hard core Stones fans were diluted by the huge throng of concert goers who were there just to enjoy Hyde Park and any music (the Beach Boys are headlining Hyde Park tomorrow--really?!). While it was tremendous to see the Stones in Hyde Park (and was far superior to them being out at Wembley or Twickenham), the sing alongs were more subdued than expected, and the setlist was only nineteen songs long. That is one less song than Glastonbury, two less than the last show in Washington D.C., and three less (or a full 14% less!) than what I consider the best show in 2013, the Friday night in Philadelphia.

The pre-show sense of anticipation was also minimized as the show started at 8:27pm on my watch, eighteen minutes earlier than the stated schedule. I was in line for a bathroom when the pre-show Sympathy for the Devil drum music started playing (there was no pre show video as in arena shows in 2012 and 2013), signaling it was time to put bodily functions on hold for a few hours and rush back to see the World's Greatest Rock and Roll band. The unusual song order for the evening was first revealed with Start Me Up as the opening number, with Keith sounding absolutely horrible with the distinctive opening riff, like a fourteen year old practicing the song, out of key and/or a few frets off in starting the sequence. I just want to forget those first ten seconds, and go on to say the quality of playing was a dramatic improvement from there.

It was also unusual to see the Stones playing in daylight, with Keith even referring to it being a "nice day" during his songs. Mick asked the crowd early on if anyone was at the 1969 Hyde Park gig, and there was a surprising show of hands (and many quite believable by age if nothing else). Jagger then laughed and said, "Well it is nice to see you again!" It is enlightening to look back at the 1969 Hyde Park gig and see that while one can complain about tonight's nineteen songs, the 1969 set list had just fourteen songs (and five in common with tonight's show).

I am not sure what the motivation was for the dramatic change in the song order, but it certainly did make the set less predictable and more fun even though there were no huge surprises in song selection. Tumbling Dice in the third position seemed odd (and did get a favorite out of the way regrettably early), followed by the supposed internet choice of All Down the Line. Beast of Burden was great once again, rivaling the wonderful version played in Boston. It was perfect for a perfect summer evening in London. Gloom and Doom was exciting and played well on the big stage. In fact, it was rather refreshing overall to have no tongue pit as in arena shows, and see the Stones once again work a big stadium-like stage: Mick far stage left, Keith far stage right, a football pitch away from each other, energizing the full width of the huge venue. There was a long walkway into the midst of the crowd, which Mick and Keith both used well, and even Lisa Fischer worked it nicely for her feature on Gimme Shelter. Gary Clark Jr. returned from his set earlier in the day to join the band on Bitch, which was lively though Clark muddled through his vocal turn, making Dave Grohl's appearance on the song in Anaheim clearly superior. At least Grohl seemed to do his homework when it came to knowing the words.

Keith and Ron worked their magic on You Got the Silver, with Keith once again loudly giving credit to the awesome job Wood does on the song. Another surprise in song order came when Keith's songs were followed by Miss You rather than Midnight Rambler. The song featured a nice solo by that new bass player Jones (he has been around for only nineteen years!) and Bill Wyman, enjoy that self proclaimed beach holiday in France this weekend because we do not miss you AT ALL. Midnight Rambler (also played at the 1969 gig) was excellent as always, with the crowd especially aware and appreciative of Mick Taylor. It was great to see Taylor get recognized by the big crowd, though once again it was sad to see him with an acoustic guitar on Satisfaction. Here is hoping that Taylor is featured on more songs next Saturday.

So was this Hyde Park gig better or worse than what we have seen in 2013 (or even compared to 1969)? I think it must suffice to say it was just different. And the shrewd showmen the Stones are scrambled the set list enough so it was sure to defy comparison to prior shows in 2013. It was not the daring or most innovative tactic, but it did build nicely on the magic of a huge show in central London with perfect weather to make for an evening that delivered on what it was supposed to be. And most importantly, it left enough room for next Saturday's final 50 and Counting show to be an improvement over tonight.
---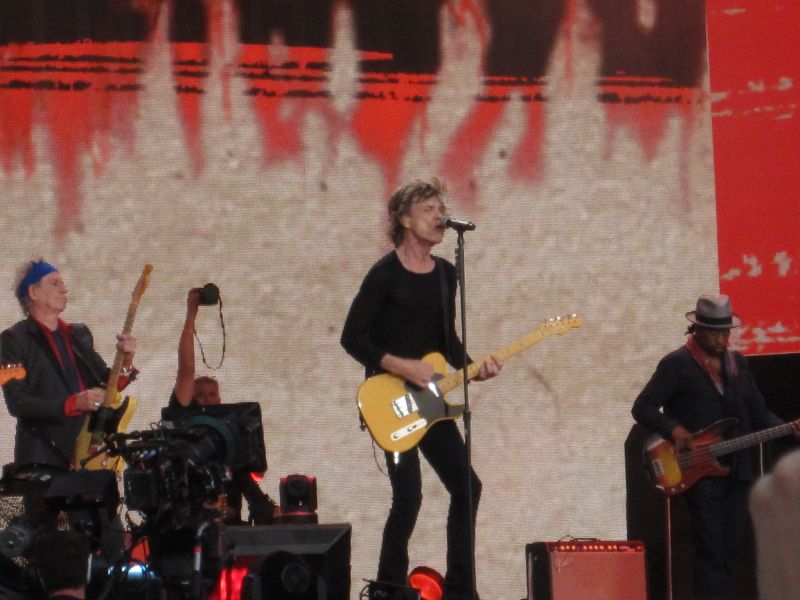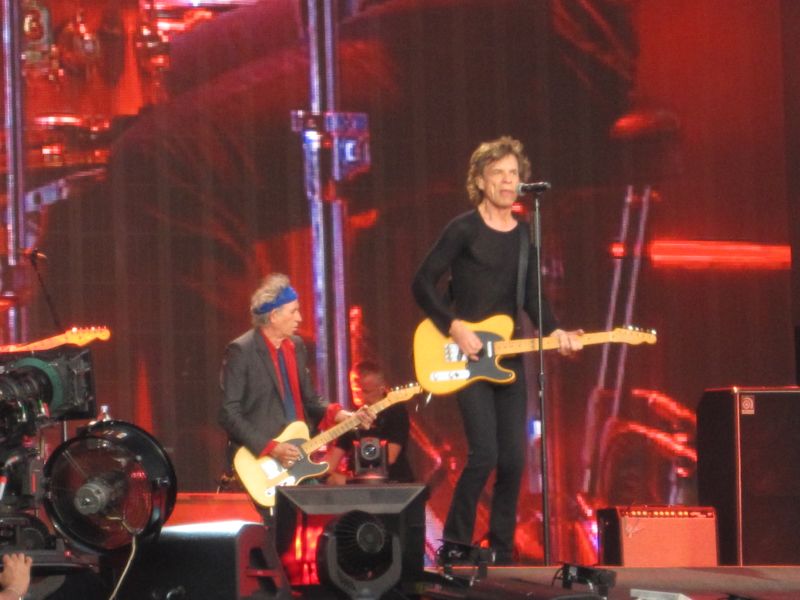 Photos by Riccardo Frau
---
Review by Adam Collins
I'll keep this review short and sweet. I'm only 20 years old, this was my second Stones show and all I can say is WOW! As a Brit I can honestly say that the Stones really do us proud. For a small island nation we certainly punch above our weight in terms of music.

I was at the fast track queue from 8am and was lucky enough to get a superb spot about 5 rows from the front of the stage on Woody's side. Unlike the 02 gig on 25th November when I was up in the gods I could see the whites of their eyes this time and it really was special to behold. I spent most of the time with my eyes fixed on Charlie mesmerised by his drumming, what a solid rhythm that man lays down. I heard four songs which they did not play in November, 'Beast of Burden', 'Bitch', 'Satisfaction' and 'You Got the Silver', for me the highlight of the show. I didn't care to be quite honest that they fluffed some bits, I was just glad to be there. It was almost a full circle from 1969.. notice how I stress almost.

I'm not a setlist whiner because this is only the second time I've seen them but I had my heart set on 'Love in Vain' and 'Stray Cat Blues' as a nod to 1969. I think was a bit spoilt by some of the rarities played at the first 02 gig and was kind of hoping for some more interesting tracks.

Most of all on a more personal level, I've made it clear many times that I was influenced to play bass and listen to the Stones after seeing Bill Wyman live a few years ago, I really felt that he should have been there to complete the circle. I accept that he has moved on but all the same It would have been great if he was there. Darryl, I must say, did a superb job but his playing doesn't interest me so I gave him little attention on the night.

I doubt I'll ever get this close again on my budget so this is the last time I will be seeing the Stones unless they drop ticket prices but what a final show for me, seeing them up close and showing the world how we Brits can put on one hell of a show.
---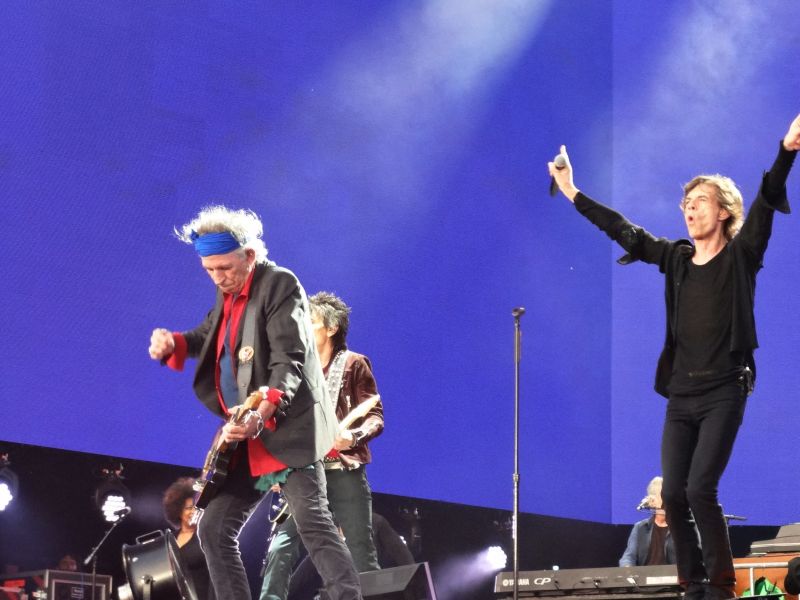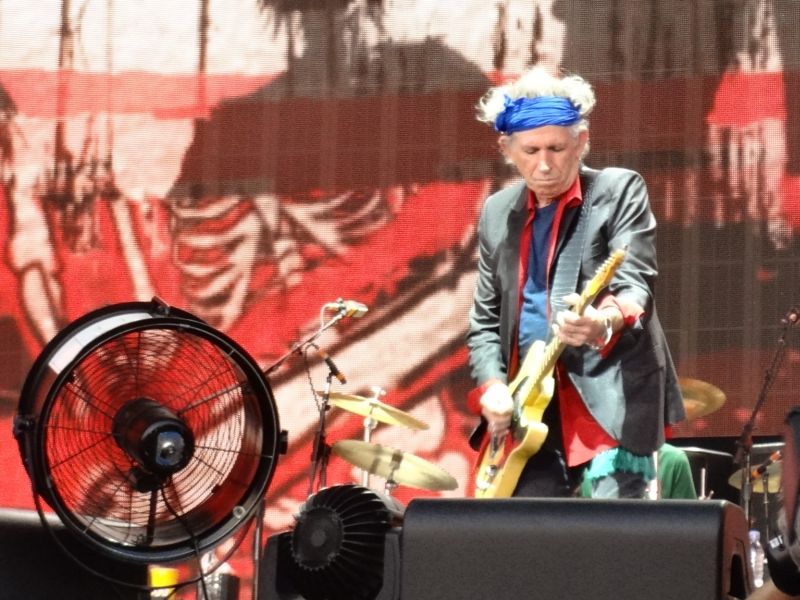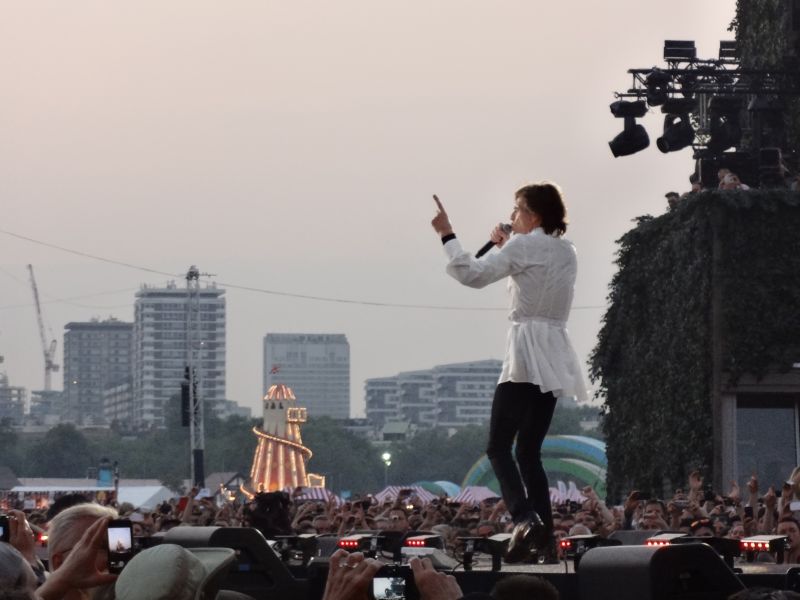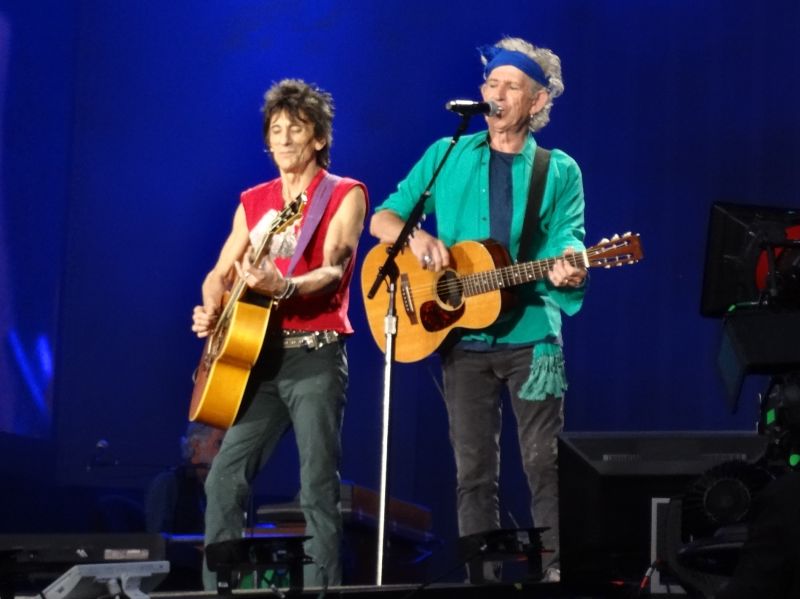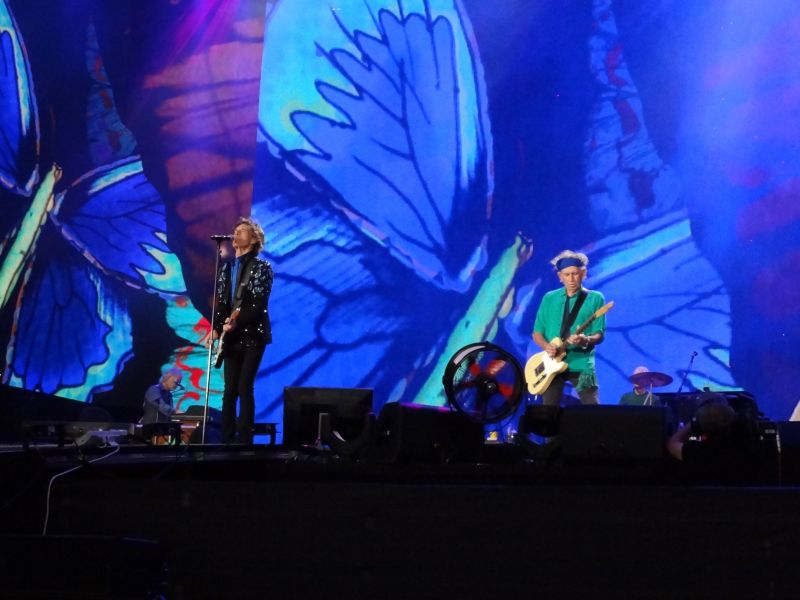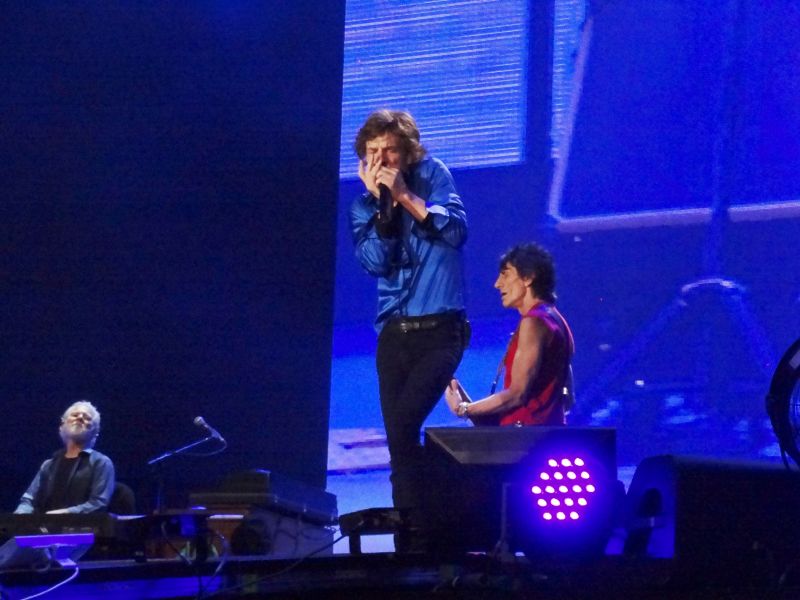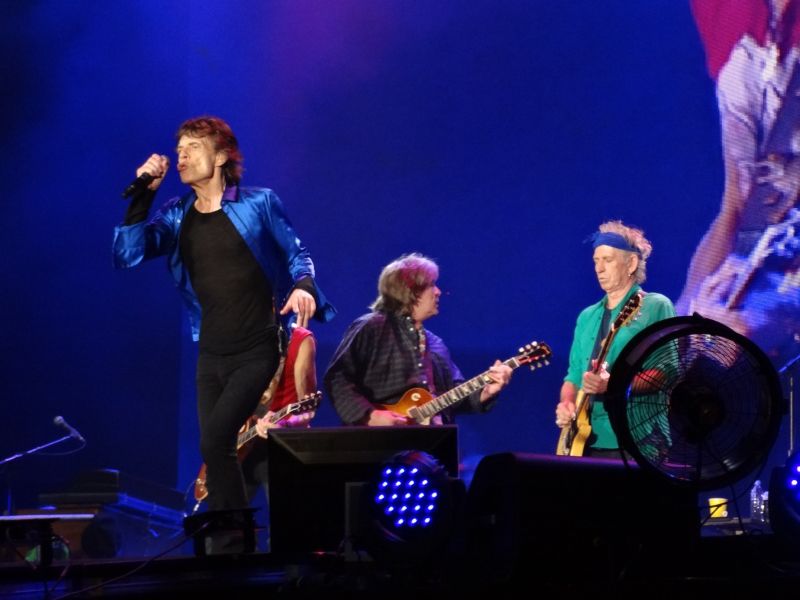 Photos by Klaus Lauterbach
---
Review by Michael Sold
What do we expect as fans to see the Rolling Stones at Hyde Park after 44 years? Most of us haven't been out there at that free concert, but do have collectibles like DVDs or Recordings. Anyway tonights show I was expecting a setlist going back to those days. But the Stones openend up a clear and powerful show with Start me Up. They did their best to Rock and Roll and the Hyde Park goer who enjoyed their picknicks and booze while listening to the Stones received their Satisfaction. For the fan it was a lay down from 23 to 19 Songs compare to the US and last years show. As much as the energy was spread out on the stage it was as Robert Bagel already wrote no comparison to Philadelphia 2 which was the best show during These 50 counting tour. This was a greatest hits show with no specials like Glastonsbury or other shows. Once again it was nice to see the collaboration between Mick and Keith and the big smiles.

You got the Silver was very nicely played. The Sound was much better than Friday night when we saw Bon Jovi. As the Hyde Park Concert seems to be filmed for an official release there were to many cameras and to many security People running around and the stage was, of course due to the large Event, way up and high. We were Standing at the rail to the catwalk about 10th row. A fairly good spot.

The length of the show had also to do with the radical curfew held by London. There is even an issue by the local People to stop such concerts at all in the future. Aynway we will get another show next Saturday and then we'll see what comes next.
---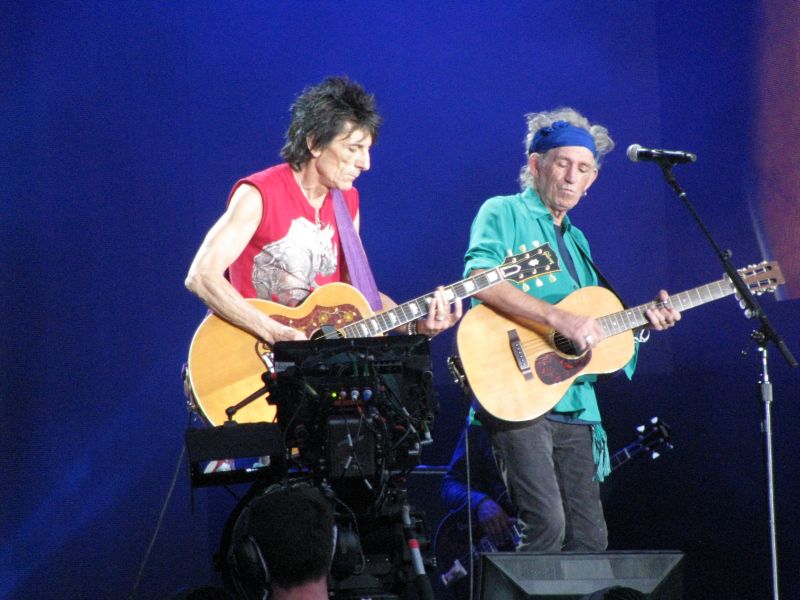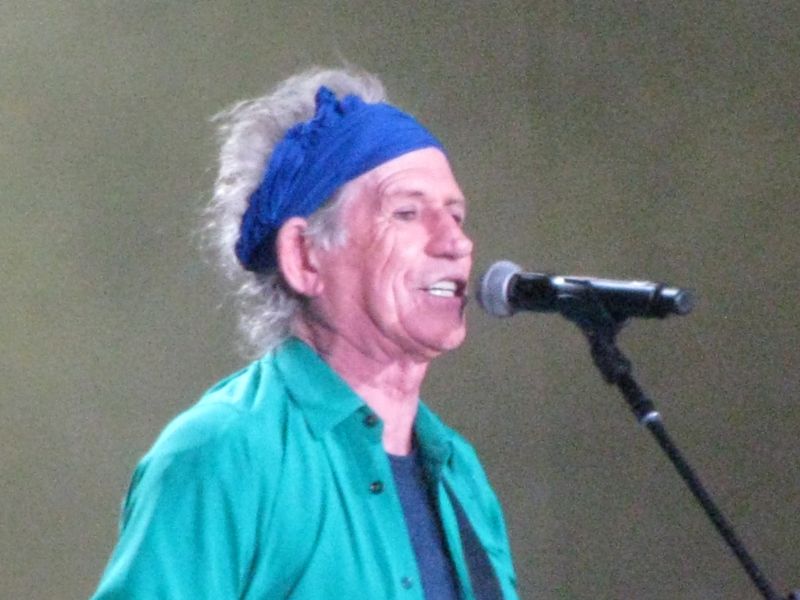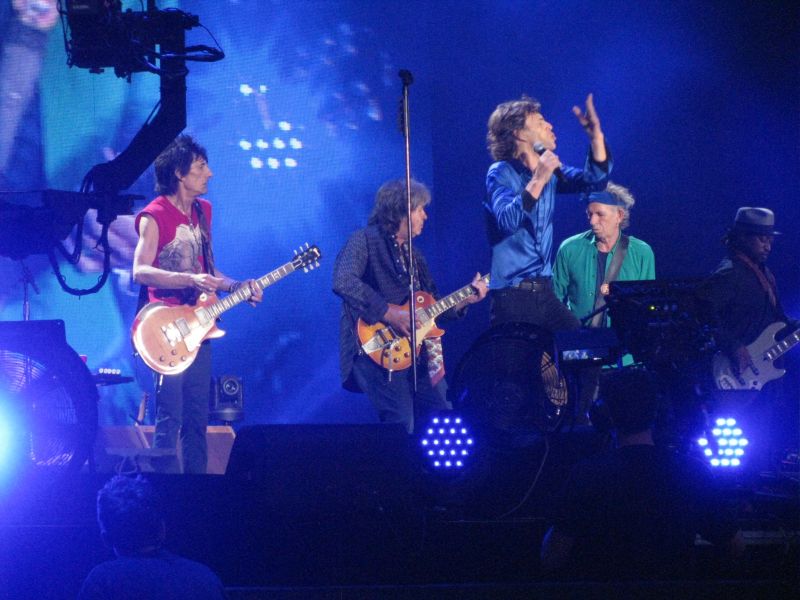 Photos by Rene Spork
---
Review by Derek Di Perri
As yesterday I was going to attend to my seventeenth Stones ' concert, I was afraid that something wrong could happen to spoil my enjoyment. Indeed, I couldn't predict that the weather would be so hot as it turned out to be for the whole day, and therefore I wasn't really prepared for the long wait under the hot sun. Moreover, with the brilliant exception of Gary Clark Jr, all the other opening acts came across as a real torture, so that by the time the Stones' were about to step on the stage I was not feeling real well, since I was sunburt and headached.

As it often happen at Stones' concerts, at the very moment our boys started to play, everything was fine again, and I immediately sensed that we were in for a very good concert.

Indeed, the boys didn't disappoint, and the two hours show was nothing short of awesome. Keith Richards made a very little mistake on the very first chord of the opening tune "Start Me Up", but from then on his playing has been really very solid, and way much better than how it was when I last saw them at the O2 Arena in August 2007.

For this concert the Stones kept a quite standard setlist, but in many cases changed the order of the songs as we know from the US shows. As above mentioned, they opened with "Start Me Up", didn't include "Get Off Of My Cloud" moved "Tumbling Dice" and "Honky Tonk Women" to the first part of the set , and "Gimme Shelter" to the second part. All this changes really paid off, as they effectively contributed to keep the show engaging and exciting for its whole duration.

Among the many highlights of the show, "Bitch" deserves a special mention, and to me it was the most exciting number of the night. Also "Doom And Gloom" turned out to be a very strong number of the set, with many people in the audience singing along. During the last part of the song they messed up a little bit with the chord changes, but managed to work around it nicely and with great mastery. Mick Taylor unfortunately showed up only on "Midnight Rambler" and "Satisfaction", but I expect a bigger involvement for him in next Saturday 's concert. Anyway, the rendition of "Midnight Rambler" was one of the best I' ve ever witnessed. On this number, as well as on "Miss You" Mick Jagger gave once more a massive display of his extraordinary and ever amazing showmanship. This guy, as well as all of his bandmates, never ceases to amaze me!

All the warhorses were very tightly performed, and "Sympathy For The Devil" was nothing short of epic. On "Satisfaction" Keith Richards was on fire, and despite his prominent belly he's clearly regained his spot as a driving force of the band.

In this last part of the tour the Stones are clearly on a roll, and is very evident that they are having a really good time on stage, exchanging hugs, nods, and smiles throughout the show (yes, even between Mick and Keith, who both really look like having come to terms regarding their recent disagreements). All in all, last night was a really VERY strong show, even if with very few surprises in the setlist (namely, "Bitch" and "Beast Of Burden"). I'm quite confident that next Saturday we'll get a more varied setlist, and I'm already looking forward to it! After that, it's easy to predict that more shows have to be expected, as it's evident that against all odds and despite the increasing age of the band (they're all around 70 now!) , the Rolling Stones are still too good to stop rolling.
---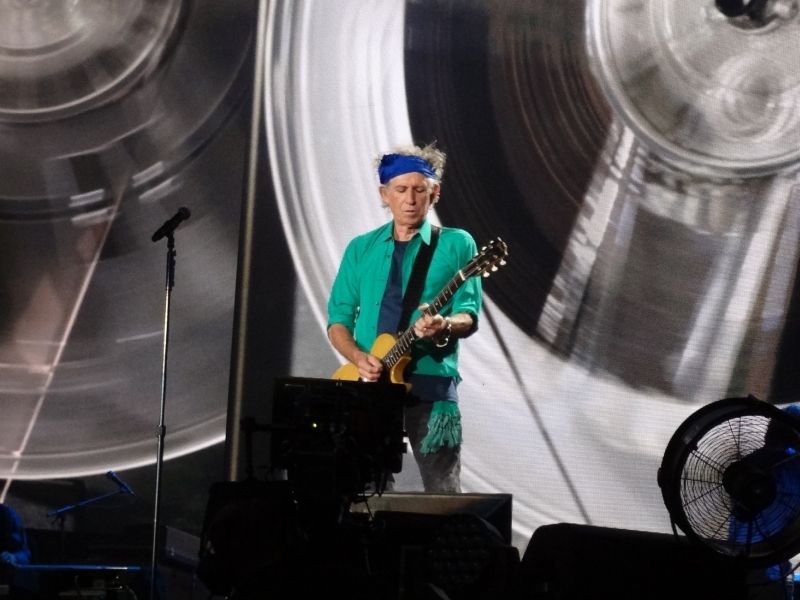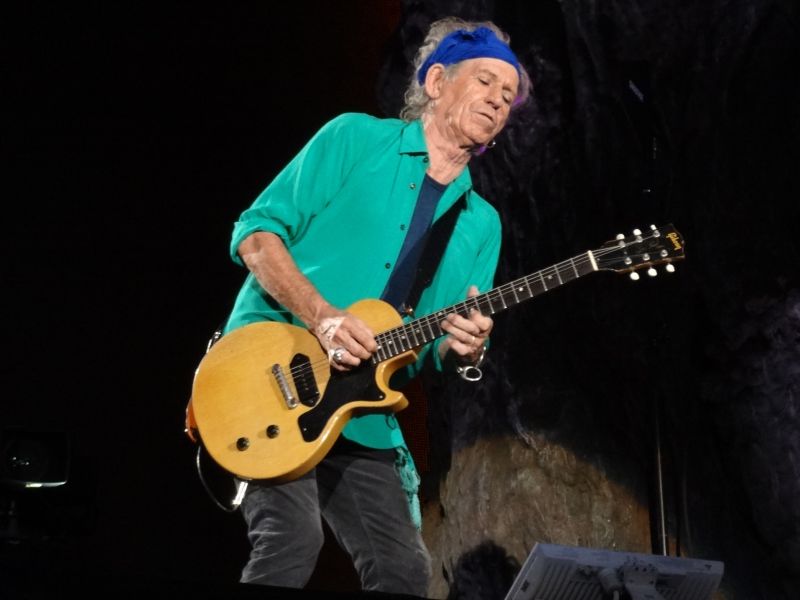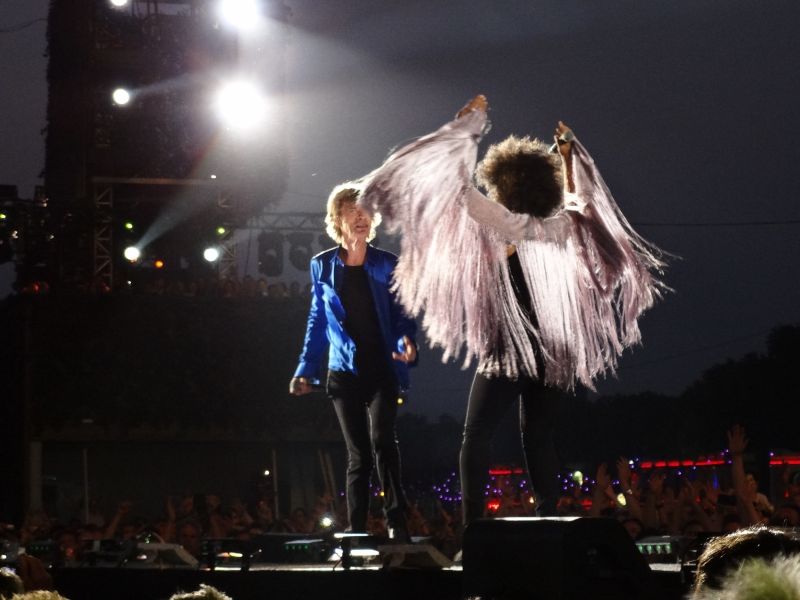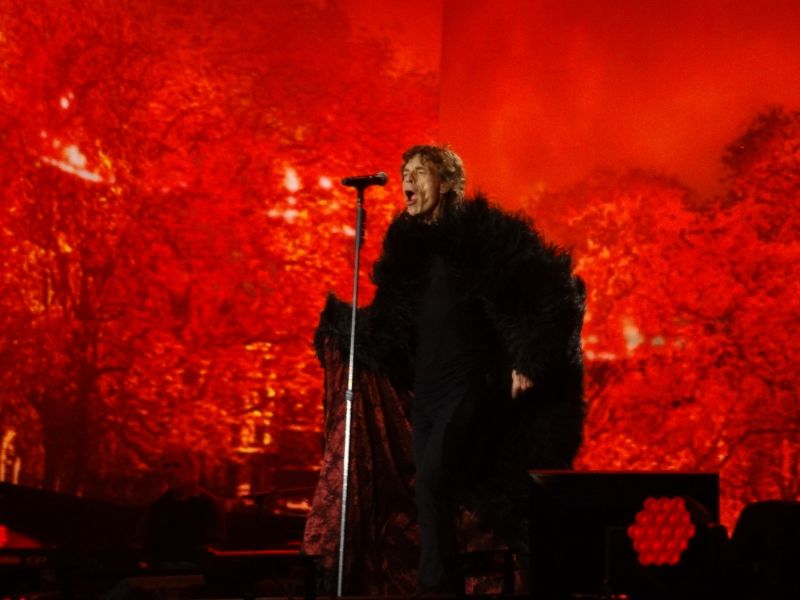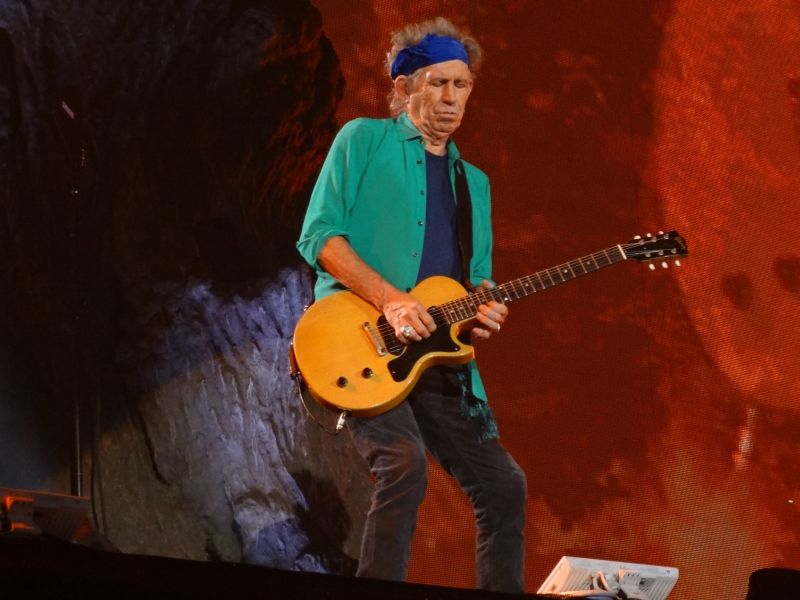 Photos by Klaus Lauterbach
---
Michael Getzner, Vienna, Austria
This was a wonderful Stones concert with some charming humor, good guitar work, and some funny little "mistakes". Especially if you consider the groups playing before the Stones which showed why our favorite band is still on top and rocking. Gary Clark Jr. delivered the best performance of the pre-Stones groups, and for my taste, the Vaccines did not give us much satisfaction (but there were apparently quite a few Vaccines fans among the audience!).

Anyway, the concert began before schedule, and funnily enough, Keith fucked it up with his opening chords of SMU (funny, because Mick once stated that if Charlie or he would fuck it up, it would be more serious than if the others made a mistake…). Mick started to sing but honestly, I could barely hear him on the first verses, not only due to the other 65,000 lead singers chanting along the song. I had a Tier 2 ticket with a very good view of the stage; maybe the sound quality was not entirely checked before, but it improved significantly until it reached an excellent and crisp sound.

I liked the next numbers very much, somehow an interesting mixture and set list, with IORR, TD and the "vote song" ADTL. Guitar solos were well played by Ronnie and Keith – the latter proving that his SMU was a one-off mess.

Hearing the Stones live is interesting insofar as you dance and sing along songs which you might otherwise not listen to any more at home. Personally, I do not listen to Beast of Burden at home, but the Stones delivered a fine version of the song, with nice guitar playing. One of the highlights for me was Doom and Gloom. I liked this song from the first minute it was released last year, and hearing it live was great. It's rocking, it has great lyrics, and it shows that they can still deliver!

Bitch was next – I am not entirely a huge fan of this song, and honestly, I could not hear what Gary Clark Jr. as the guest at this song contributed significantly. PIB and HTW brought the many in the audience that were not already dancing or chanting to raise hands and really rock!

Then the "Keith part" with You got the silver, and BTMMR. These two songs were highlights for me, with Keith and Ronnie delivering, and I liked especially the strong vocals of Keith who seemed to have much fun! Generally, the band was in a great mood this evening.

During Miss you, I think the audience somehow took over. Mick tried like a conductor, but we all sang even before (and after) the "correct""parts which anyway did not matter since everyone was in the proper rhythm of the song (this happened again during Brown Sugar). Midnight Rambler again was also a highlight, with Mick Taylor and Mick J. challenging each other. Excellent to see and listen to!

Gimme shelter brought Lisa to the long walkway off the stage, nice duet with Mick, she's the best and – as far as I see on the videos of past shows – unchallenged. The final five songs in the usual order with some very nice moments: Mick almost making mistakes during Brown Sugar: he missed the right moment and sang some verses hastily, and this after trillions of shows which included this song. During SFTD, when Mick sang, "If you meet me...", Keith was on the walkway with him, and greeted him which irritated Mick. And then the cool Keith solos during this song which somehow brought the two together, standing very close and smiling to one another. These moments show that this band is still lively, and enjoys playing together.

Again, the excellent choirs at YCAGWYW which really added to the feeling of the song! Why is Mick Taylor only given an acoustic guitar on Satisfaction? All in all, I had a wonderful evening, and hearing the Stones live is such a cool experience. From this 2012/2013 tour, I have only seen the 25 Nov London show which was such a blast. Thus I cannot compare, and it somehow it seems to be odd to evaluate a summer open air festival with an arena show. However, I share the hopes of all fans that they will continue in the fall with some European concerts! Some remarks non-music wise:

* I stood in a group that somehow did not go along; the guy next to me wrote emails or checked his SMS; some only got their hands up when Mick worked "our" side of the stage. Of course you could spend your money and do what you like, but why spend at least 199 GPB for just standing there unmoved?

* Why are t-shirts sold out so quickly? Standing in line for 50 minutes just to discover that the two shirts I wanted are only available in XL with the other sizes sold out?

* If it is worth to you to spend 100 GPB for short queues at the bar and restrooms, and for bad and expensive food, that's fine; otherwise, save the money for the Backstage Bar.

* Leave during the last gig before the Stones are on stage for a pee, and you still can find a decent spot with a good view to the stage.
---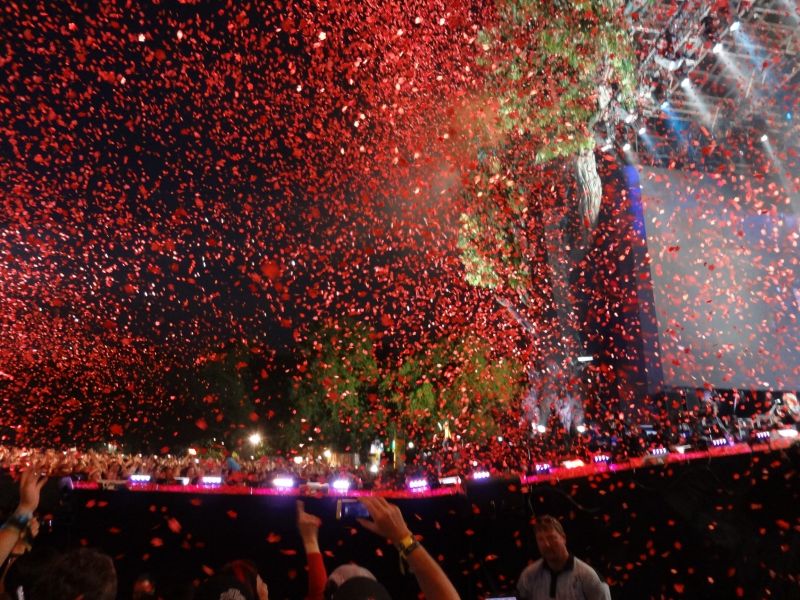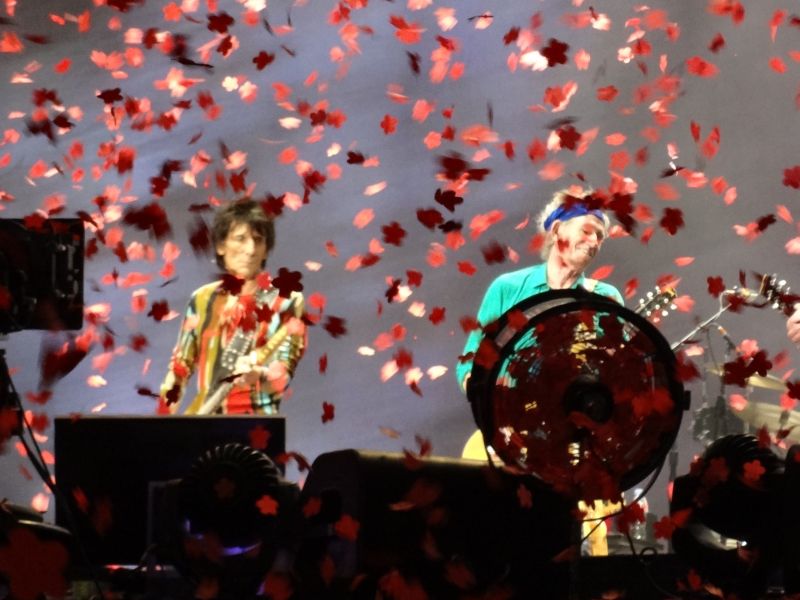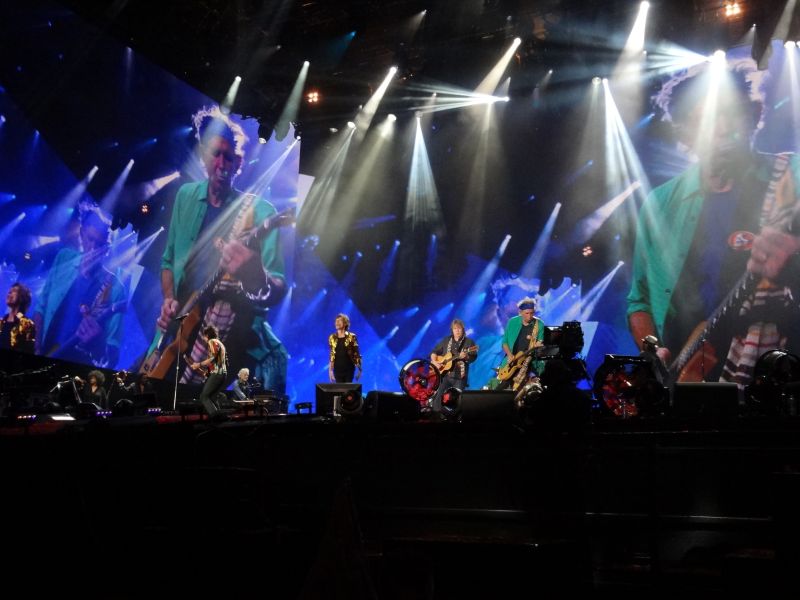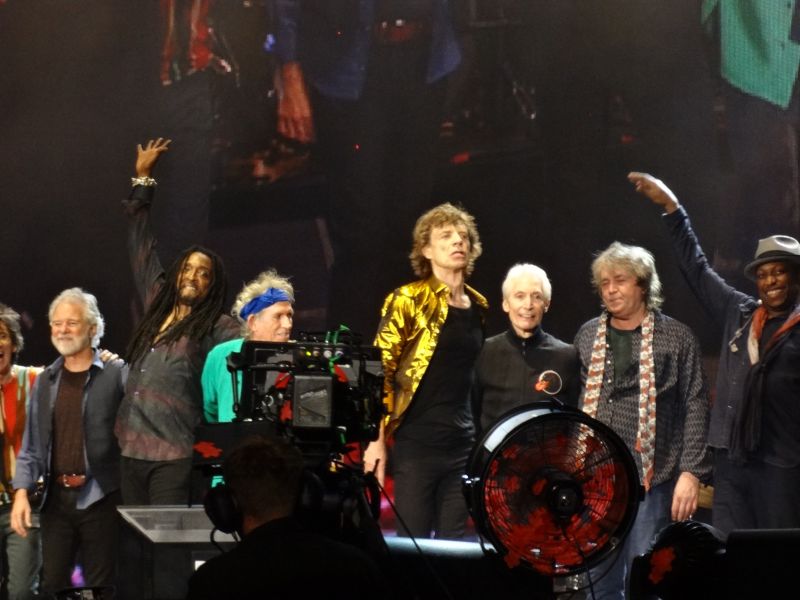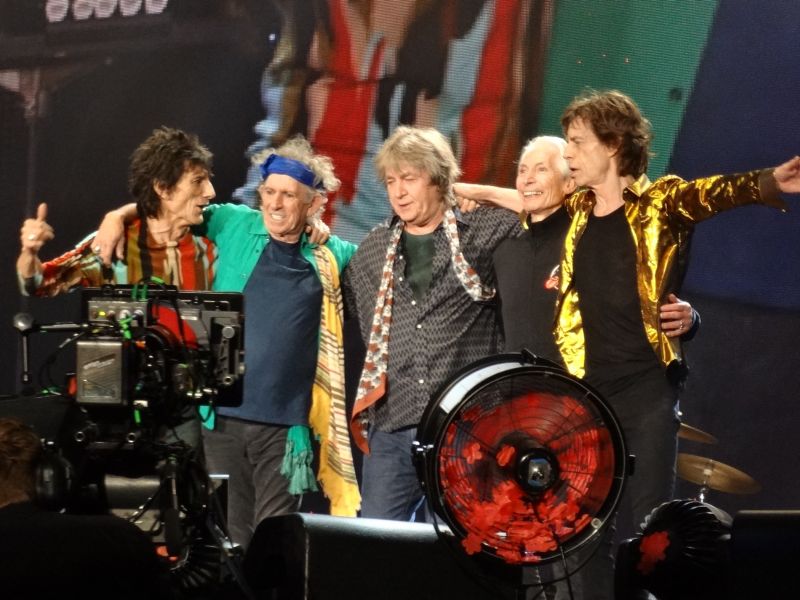 Photos by Klaus Lauterbach
---
Review by Adrian Dalziel
The Rolling Stones in Hyde Park. It's doesn't get better does it? Well yes it does. But it's not the Stones fault.

First off I had a tier 2 plus unwind package. On a hot day I was glad of somewhere to go and chill. Access to bars and food areas without huge queues was a godsend. From what I saw the ticket issues that have been debated long into the night appeared to be handled well and everything was well signposted. I had a good spot to the right of the stage level with the tree. I couldn't see the horns section but it hardly mattered. Whenever Bobby K or Tim R had a solo they were shown on the screen.

The Stones were their usual imperious selves. Yes the intro to Start Me Up was botched but it really doesn't matter. I go to gigs for the warts and all performance and not the polished chord-perfect show that others seem to demand.

I thought Bitch was awesome. Yes Gary Clark Junior fluffed his lines, but overall it was a kicking version. Rambler with Mick T was wonderful. The sight of the two Micks trading licks on harp and guitar sent shivers down my spine. Miss You is becoming Daryl's signature tune. He plays that bass so well and there was a nice admiring glance from Keith. Doom & Gloom is becoming one of my favourite songs. It's fresh and it rocks!

What really annoyed me was the presence of so many music "tourists" in the crowd. They spent more time chatting amongst themselves than watching the gig. There were three guys near me who barely looked at the stage and only occasionally glanced up at the screen. I felt these guys were taking the place of genuine fans. On the way out I overheard several people saying the same thing so it must have been happening all over the park. They were on a night out in the park enjoying the sunshine and the Stones were providing background music.

I was struck by the wide range of ages in the crowd. There were in places several generations of the same family; one group had a toddler with ear defenders on. What a lovely sight! A special word for the stewards around the park. To get 60,000 people out of Hyde Park with speed and efficiency was a really achievement. I was back in my hotel in South Kensington within 25 minutes of the end. Well done guys!

The two O2 shows in November were undoubtedly better but on a warm summer evening I was happy and I'd seen the Stones for the 25th time. Long may they roll!
---
Review by Matthew Flin
I took my 14 year old son to his first Stones concert on Saturday. He loved every minute of it.

I actually enjoyed the warm up acts - particularly Gary Clark Jr who was excellent.

The Sones started promptly (probably because of the enforced curfew). Apart from the horrendous mistake on the opening riff of Start me up the show was great.

One unexpected highlight was Miss You. That went down really well with the crowd near me (Tier 3 left hand side of stage).

I really loved Midnight Rambler with Mick T.

Sympathy was left a bit later in the set. I assume this was to make sure it was dark enough for the lights to be effective. This was my son's favourite of the night.

It was nice to have hot weather - the footage from 1969 seemed to suggest a hot day as well.

Overall a great concert - have a great day to all those going on 13th.
---
Review by Benjamin Delambre, France
Hyde Park number 1 was my 14th show of the Stones and my 6th of this 50 and counting Tour. Actually it was my first European date in 2012/13.

I had an amazing spot in Tier 1, in the barriers of the catwalk, a few meters from the stage. It was a very good show. I really enjoyed it even if Keith was really messy. He completely missed the intro of the show (Start Me Up). At that moment, it reminded me the Keith of A Bigger Bang Tour in Europe in 2007. But the set of Keith was wonderful tonight, especially You Got the Silver which was just magic. Another magic moment was when Keith went to the catwalk and said hi to me with a wonderful wink!!

Even if Keith missed the intro of Gimme Shelter again, this version KILLED thanks to Mick Jagger and Lisa Fisher. Midnight Rambler was excellent like every time. I was disappointed when they broke Miss You but we have to be honest, this song works so good on live. I enjoy Miss You at every shows.

I loved seeing Mick putting his arm on the shoulder of Keith, I didn't see that for a long time.

It was a "short" set of 2 hours, 19 songs. Less than Glastonbury but the City of London doesn't want more music after 10.30… That is stupid! I would love to hear the Stones 15 minutes more like in America!

It was not the best show of the tour but still in a high level of music. It was very nice to see them in this disposition, in Hyde Park. I really think they are better in 2013 than in 2007. Much better. And they are almost 70 years old, that is extraordinary!

Hyde Park 2 will be my last concert of the tour, for now and hope I will see them in Europe in October.
---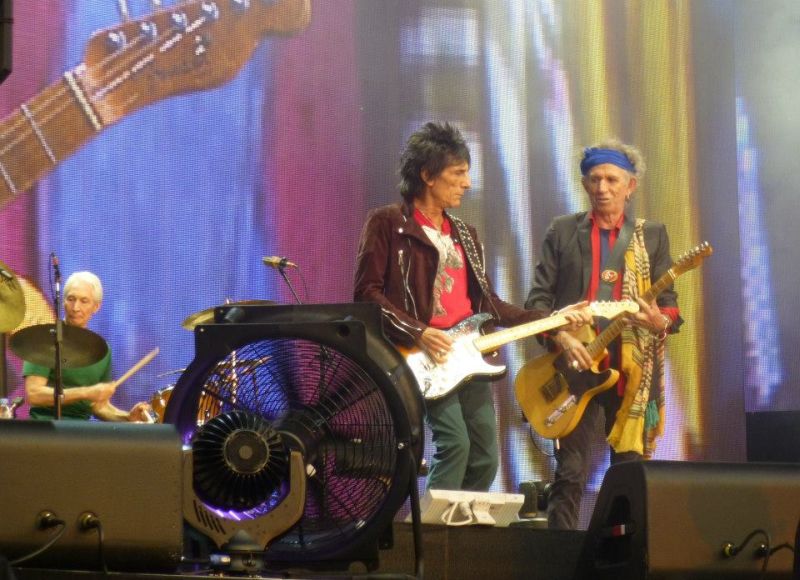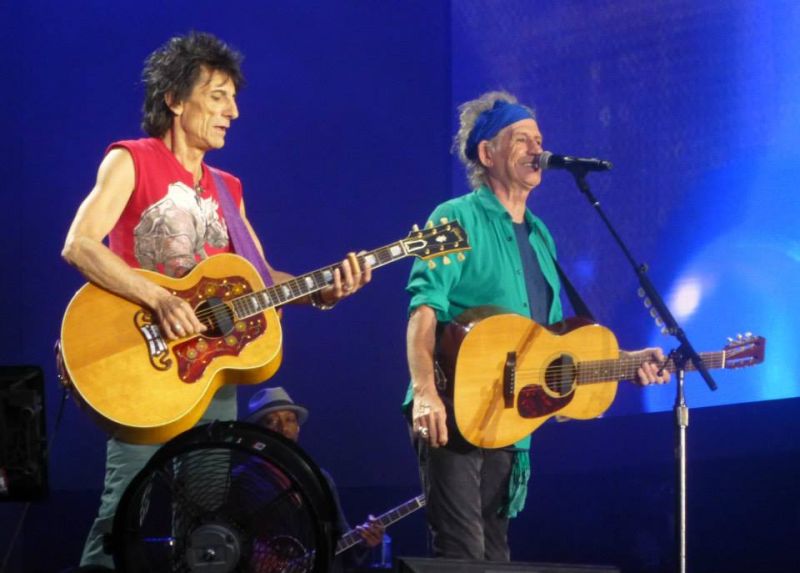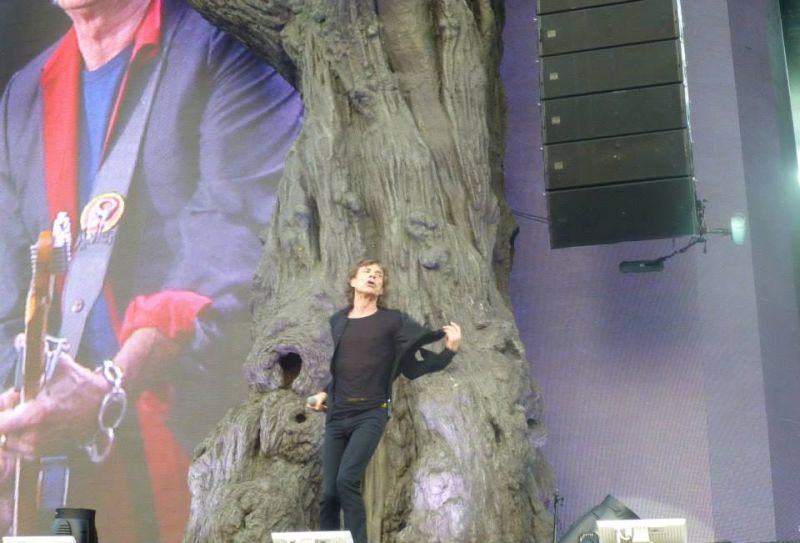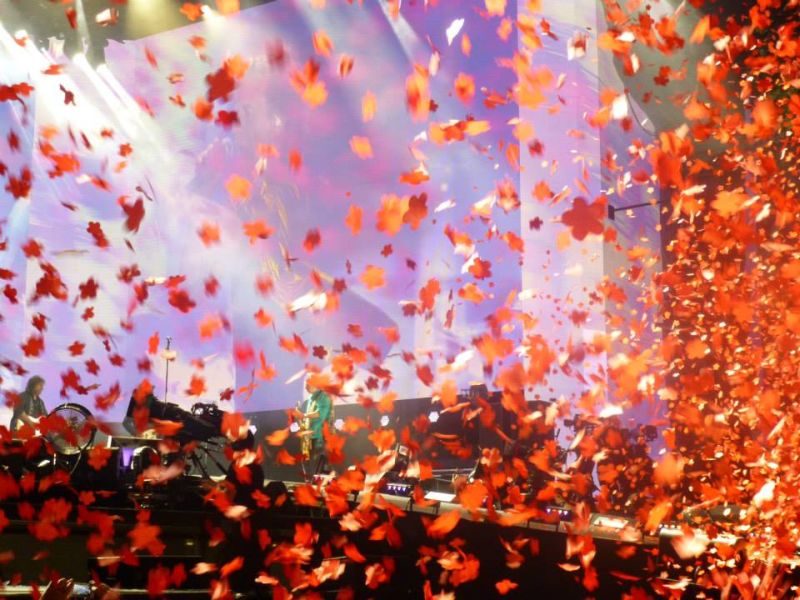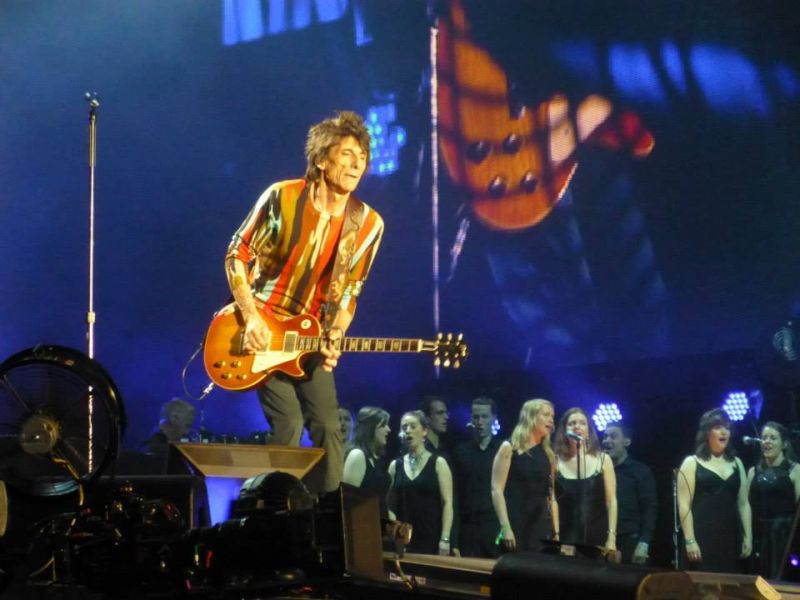 Photos by Peter Lacres
Review by Terry Lieberman
Well. . . . After night two in Boston with all that energy and tight bi-play the "ode to Beantowns" only US appearance, Memory Motel and Whip still resonating along the Freedom Trail (the best night of US tour) --- Hyde Park had a tall order to fill. And alas . . . It really fell quite short.

It was just a kind of off balance night. For some reason the show actually started early (????) and as much as it seemed to catch the crowd off guard -- I think Keef was equally out of sorts. It sounded like he was tuning his guitar when Start Me Up, sorta tried to kick in. There really wasn't any of the "it" moments delivered night two in Boston -- that tightness -- Mick and Lisa chest bumps, tour premiers etc, etc,

I understand mixing the set list and actually applaud it --- but the mix didn't work. Tumbling was a step down from PIB and Gimme Shelter was shifted out of its early showcase spot. This took the wind away from that early show one-two punch momentum and actually resulted in a step down after Tumbling. Without the lighting effects (it was still light outside) it just seemed like there were "ripples" missing. (They also reduced the set list by three songs which eliminated any ebb and flow). I know this will seem like blasphemy -- but just one Keef song would have been in order given the abbreviated set. That would have allowed for maintaining some pacing.

Mick did joke with the crowd and was his usual mesmerizing self ---- but a replay of that special Friday night in Boston would have served a better main dish. I'm not sure we will see a repeat of that night . . . But we still can revel at the greatest performers in the world --- The Rolling Stones!

Hey, even an "ok" night (day?) with Mick and the band is still 2000 Light Years Ahead of any other Group to ever set foot on a stage.

Maybe -- like Beantown we will see some night two magic with Hyde Park II!
---
Review by Rene Spork
What a concert it was and under what strange circumstances, the Stones in Hyde Park on July 5 1969. The event was headlined by The Rolling Stones and featuring Third Ear Band, King Crimson, Screw, Alexis Korner's New Church, Family and Battered Ornaments in front of a crowd estimated at between 250,000 and 500,000 fans.

The free concert was planned as an introduction of new guitarist, Mick Taylor, who replaced Brian Jones. The death of former member Brian Jones two days earlier changed everything. The concert was now held in memory of Brian. The setlist for their performance was I'm Yours & I'm Hers, Jumpin' Jack Flash, Mercy Mercy, Down Home Girl, Stray Cat Blues, No Expectations, I'm Free, Loving Cup, Love in Vain, (I Can't Get No) Satisfaction, Honky Tonk Women, Midnight Rambler, Street Fighting Man, and Sympathy for the Devil. Fourteen numbers, of which ten never played live before, and four numbers were even completely new to the audience. The Stones played very basic, stripped to the bone, with shy new guitarist Mick Taylor offering dirty blueslicks. The funky version of "Satisfaction" is my all time favorite.

44 years and 1 day later The Stones are back in The Park, not for a free concert but for a well payed event, for a crowd of 65.000 people. The similarities between both events? The festival atmosphere, though I didn't blew any bubbles, nor did I jump naked into The Serpentine. People of several countries and several ages gathered in the Park to celebrate the Rolling Stones. I saw teenagers and their grandmothers, passers by and diehard Stonesfans. The weather was hot. The doors opened at 12.45 hours and fans started to run for a place in front of the stage, next to the expensive tier 1 and tier 2 spots. Fans with a general admission ticket (tier 3) could come close to the stage. The price: they had to wait from 13.00 hours until 20.20 hours. And it was hot. In the meantime several bands performed, like Gary Clark jr who joined the Stones in the evening for a sharp rendition of Bitch. Fans fainted because of the heat. Security did distribute glasses of water, but some fans preferred wine or beer. During the concert there were a few brawls, but nothing seriously. I also witnessed a generation conflict: an elder lady said to a teenager that the kid blocked her sight and said something about respect… well, how respectable can you become?

Hyde Park is about 'history.' The Stones opened with images from the famous Hyde Park Concert of 1969, with Let's spend the night together as soundtrack, which started of a lot of communitysinging. Then the Stones were introduced and Keith had a false start with Start me up! The Oak-Stage was wonderful, just as the way the Stones presented themselves and the way the audience reacted. Bill Wyman celibrated a holiday in France and didn't join his old mates as he did in november in the O2 Arena. But look who was back, less shy then his first time with the Stones in 1969, 44 years older indeed, and still playing magic: Mick Taylor. He was there in the O2 Arena to celibrate the 50 years anniversary of the Rolling Stones and he joined them for Midnight Rambler. After that he supported the Stones in America and he performed on Midnight Rambler, Sway, Can't you hear me knocking and Satisfaction. If you haven't heard Mick Taylor playing Can't you hear me knocking, you don't now anything about satisfaction. The Stones and Taylor first conquered Glastonbury and now they took Hyde Park, but not by 'surprise'. The set list was quite common.. and they didn't play Can't you hear…

The set list was a typical outdoor-festival list. Mick dressed up for the occasion during Honky Tonk Woman: he wore a Hyde Park 69 'dress' and so did a fan (see pictures). I specially liked: It's Only Rock'n Roll, Beast of Burden, Doom And Gloom (well received by the audence), Bitch (with Gary Clark Jr.), Paint It Black (picture of Brian Jones, well his eyes, at the videoscreen), You Got The Silver (Keith & Ronnie!!!), Miss You, Midnight Rambler (with Mick Taylor) and Gimme Shelter (Lisa Fischer!!). Keith was not always at his best (though You Got the Silver was a true highlight). Ronnie did a good job and Mick was superb, Charlie and Daryl Jones, were steady as always.

The audience was excited to say the least: the band played for the greatest rock'n'roll fans of the world. And Ladies and Gentlemen of the UNESCO, I think it's about time we put the Stones on the World Heritage List as having outstanding universal value. They can compete with the Pyramids and Stone Henge? Why? No not because of their age, but because they are still rolling!
---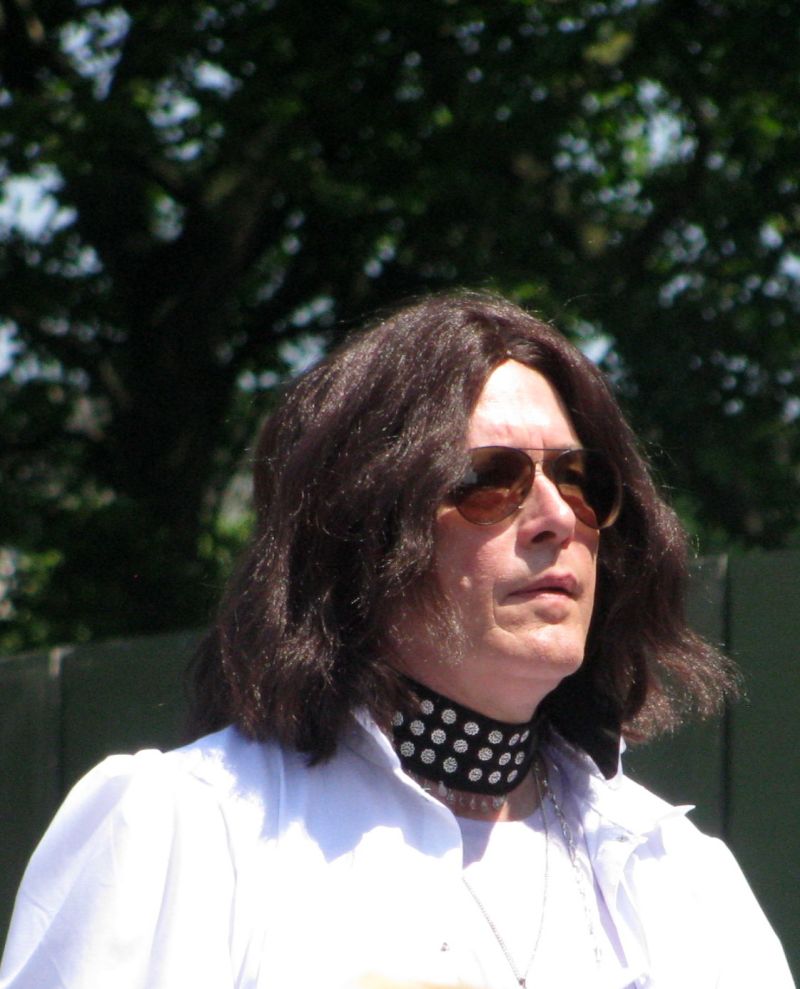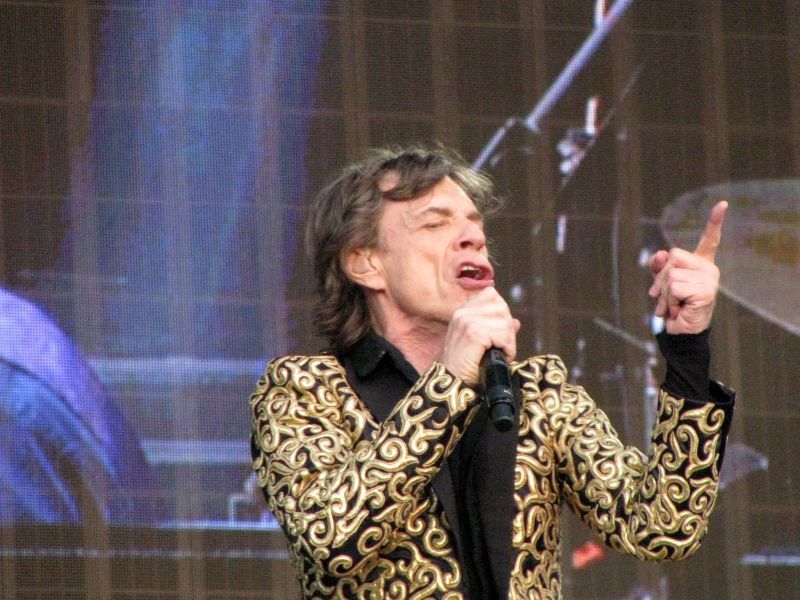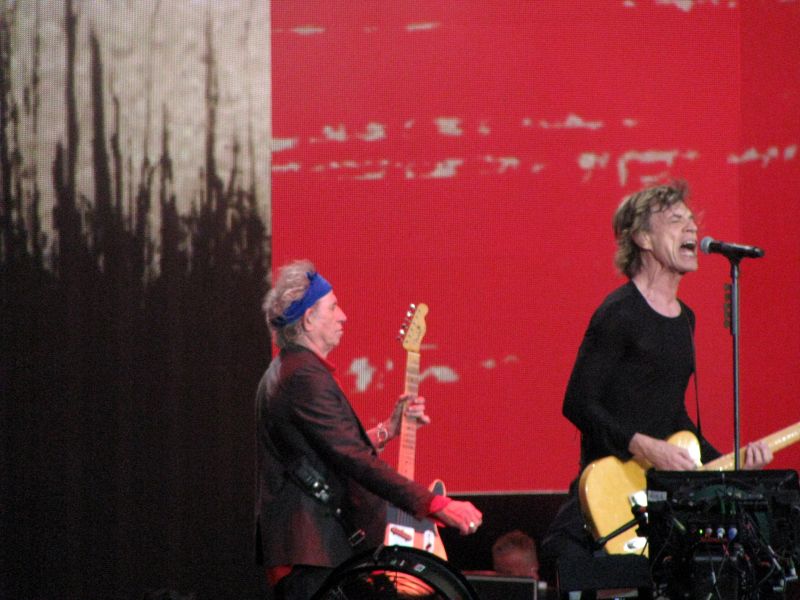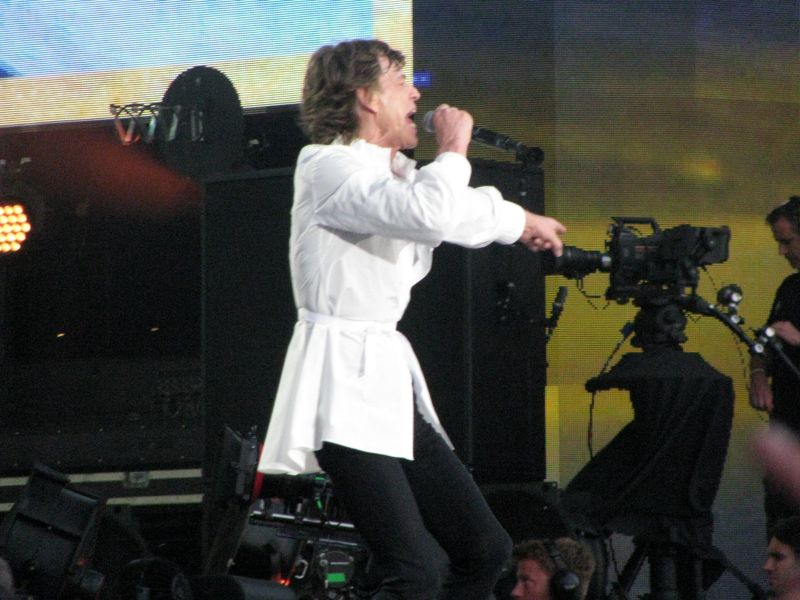 Photos by Rene Spork
---
Review by Richard Houghton
Hyde Park was basking in a glorious evening's sunshine and when the Rolling Stones' lead singer Mick Jagger suggested that London in summer was the best place in the world to be, few in the 65,000 strong crowd assembled to see the band return to play the central London park 44 years after their celebrated free concert were inclined to disagree.

From the opening riff of Start Me Up through to the closing bars of ( I Can't Get No) Satisfaction, the crowd sang along and if Jagger had to glance occasionally at his autocue to remember the words of some of the most famous songs in the rock canon the faithful gathered at his feet had no such need.

Like their O2 gigs last year, this and the following Saturday's Hyde Park gig were criticised for the price of the tickets but both sold out in minutes and from the number and variety (and vintage) of tee shirts on display, the concert goers gathered in central London were afficiandos who would have come to see the band whatever the cost.

That tickets for this gig started at £99 says more about the business model for rock music than it does about the avarice of the Stones. Musicians don't make much money from selling their music any more and ticket sales from concerts is the big revenue stream.

Not that the Stones had skimped on staging. The set was bedecked with two large oak trees from which were hung the speaker stacks, slightly obscuring the giant video screens. But a central walkway meant that at different times Mick, Keith Richards and Ronnie Wood advanced into the masses and gave the crowd packed in at the front (some of whom had queued overnight to get in) a close look at the nearest thing Britain has to rock royalty.

As a seasoned Stones watcher I have a couple of gripes. The high resolution big screen revealed Mick to be glancing at the autocue on a far too frequent basis and you wonder if he really struggles that much to remember the lyrics. And I wouldn't have played All Down The Line (my preference in the fan vote was for the Temptations cover Just My Imagination, which they stripped down and rebuilt as their own on Some Girls). But that's democracy for you.

I saw Springsteen play at Wembley Stadium a few weeks ago and was distinctly underwhelmed by his choice of material. And, let's face it, a band that can release Gimme Shelter (with Keith in thunderous form), Sympathy for the Devil (with the audience 'woo-wooing' along) and You Can't Always Get What You Want (with full choral backing) towards the tail end of a set that is packed with a clutch of memorable chart topping singles (Paint It Black, Brown Sugar, Honky Tonk Women, It's Only Rock'n'Roll, Miss You, Tumblin' Dice and Jumping Jack Flash) is always going to have the edge when it comes to killer songs.

The Stones playing Hyde Park was a celebration of a band that has been a part of people's lives for over 50 years. The grey hair, the wrinkles and the occasional falling out between friends tells the story of the band but also most of the 65,000 too. That's why their fans love them and why they were, on Saturday night, once again the greatest rock'n'roll band in the world.
---
Review by Peter Lacres
I've been reading some reviews of the Hyde Park number 1 gig and I don't want to talk about a missed intro, the fact they only played 19 songs etc…

Hyde Park was just great. I arrived around 10, started to queue up and enjoying my beer in the sun after a typical British breakfast.

Once the gate opened, I started to run and I must say that my condition isn't at the same level as during the Bigger Bang Tour and I'm not proud of this! I was nevertheless able to get a front place on the left side and noticed the security was relaxed, offering water to everybody around. I was surrounded by German, Dutch, Japanese, French and Flemish Stones fans and only then I realized that there were very few British fans in the front, let alone fans who were there in 1969. The trees around the stage were Mick's idea and it was an original sight.

I enjoyed this show, my hopes were perhaps a little bit too high and it wasn't the best show I saw during the counting tour but man, I was happy during this gig. Rock 'n roll, great interaction between Mick/Keith, Ron/Keith, Mick and Lisa during Gimme Shelter (one of the highlights) and only a few slow songs with a lovely Beast Of Burden. As they were taping this gig, I'd liked to mention that cameras were all over the place and that this worked sometimes annoying.

After the show, I talked to different stones fans, we exchanged great stories and most of them will be back on the 13th. To be continued!
---
Press links
---
Please send your comments, reviews, links and more to: [email protected]
---
This page will change over the next few days, as you and other fans send reviews, set lists and reports. Please send your e-mail to IORR. Thanks! For details and great photos from the Rolling Stones and their World Tour get the IORR magazines.




It's Only Rock'n Roll 1980 - 2013
© The Rolling Stones Fan Club Of Europe