---
These are the latest Rolling Stones news and updates for you! IORR is a non profit fan club run by fans for fans. All parts of the It's Only Rock'n Roll web site is copyright of The Rolling Stones Fan Club. When using information from this site, please include a reference to IORR and the main web address www.iorr.org.
---
---
The Rolling Stones
Honda Center
Anaheim, CA, USA
Saturday May 18, 2013
---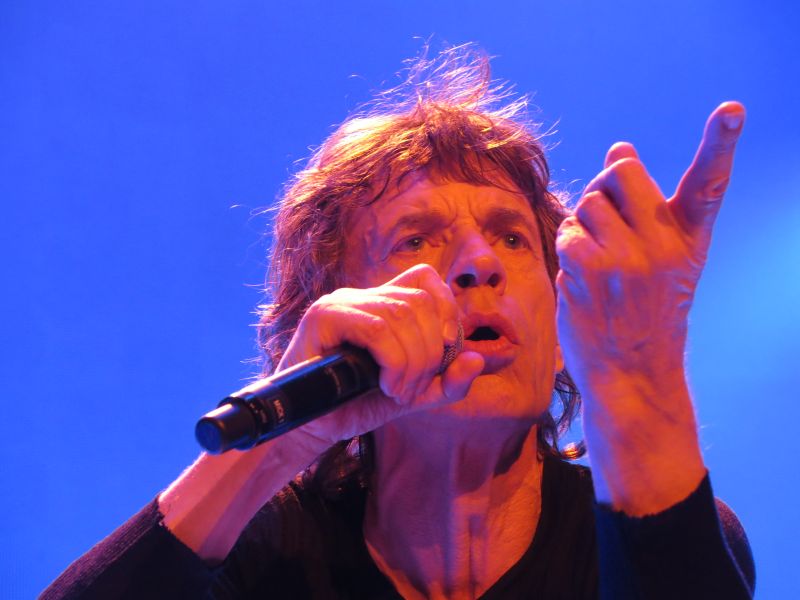 Photo by Michael Sold
---
The set list
Get Off Of My Cloud
It's Only Rock'n Roll
Paint It Black
Gimme Shelter
You Got Me Rocking
Wild Horses
Bitch (with Dave Grohl)
Shattered
Doom And Gloom
One More Shot
Honky Tonk Women
--- Band presentation
You Got The Silver (Keith)
Happy (Keith)
Midnight Rambler (with Mick Taylor)
Miss You
Start Me Up
Tumbling Dice
Brown Sugar
Sympathy For The Devil
--- Band off stage
You Can't Always Get What You Want
Jumping Jack Flash
Satisfaction (with Mick Taylor)
---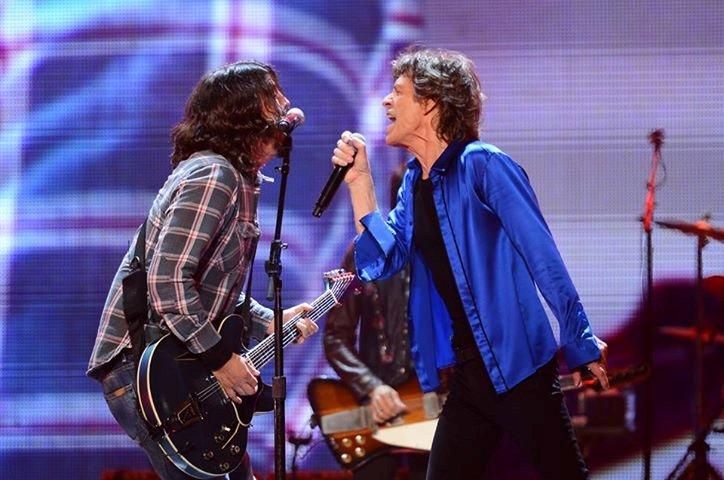 ---
Review by Dean Goodman
I finally got into the Stones spirit on my fourth show of the tour, thanks to a couple of beers beforehand and a self-upgrade to some of the best seats in the house. Even when they played "Miss You" and "Sympathy for the Devil," I decided the best way to enjoy it was to look around for some young'uns having a good time, and watch the show through their eyes. It worked, and I recommend this course of action to fellow fans who are a bit jaded about this tour.

Things could have been disastrous. When I went to the box office to get my $85 ticket just before show time (as a lucky plus-one), the woman behind the window asked to see the credit card that was used to buy the tickets. Alas my host did not have the card with her, and it looked as if we were screwed even after I said that this was not a requirement for my previous shows. Fortunately she relented, and gave us tix way up in Section 439, which we smugly laughed in. Yeah, right - we're really gonna sit there.

By the time we got inside the fan video was playing, but I was too busy looking for a seat in the $600 section to bask in the big-screen image of me. As the lights went out, I ducked into a fantastic seat in Section 210, level with and perpendicular to the front of the stage, on Ronnie's side. It was so close that I could smell the talcum powder that Mick rubbed on his hands prior to Doom and Gloom. I also got a great view of the comings and goings for the pit. Big thrill was seeing Mick Taylor go in there during "Wild Horses" and hang out until almost the end of "Shattered". He was largely unrecognized, though I did see one fan shake his hand. I also spotted Jane Rose with her little photographers stool, and I'm also pretty sure I saw Lizzie Jagger, Ronnie's latest wife, and a woman who looked like Gwen Stefani.

Back to the show, it was so clear the Stones have finally hit their stride. They played consistently as an intact unit, making it look so effortless. The energetic turn by Dave Grohl on "Bitch" definitely helped. My heart sank as they brought out the mike for "Wild Horses" and I feared he would be relegated to a ballad, but of course that was just Keith's mike. Dave ran onto the stage like he owned it and looked so thrilled to be there. His enthusiasm was definitely infectious, and he seemed to know the words. I hate to say it, but dropping "Emotional Rescue" probably helped sustain the momentum. It was a bold addition to the set list, and I enjoyed it but it's a bit of an anachronism.

They also need to drop "Gimme Shelter," or get a new backing singer. Lisa doesn't come close to hitting her notes, and -- judging by the unflattering plus-size stretchpants she seems to have given up caring in general. Of course the audience just hoots and hollers. They're living in some fantasyland where mediocrity is good enough.

"Midnight Rambler" was another thrill. Mick Taylor in all his glory, even down to the plumber's butt he displayed as he knelt on stage. I'm not quite sure what he does in "Satisfaction," though, as Keith is clearly in charge there. After the final bow, Mick flicked his pick towards the pit but it landed feebly on stage. He needs to get some tips from Ronnie there.

Loved "Shattered" - great to sing along too. (I had a ton of empty seats around me, so my off-key singing would only have offended a few dogs down the road.) Finally Keith got off his ass and dusted off an oldie, "You Got the Silver." It's really the only truly acoustic number they've done since "Factory Girl," though I could be wrong.

Mick, as usual, was in complete control. He blew his nose a few times and his throat seemed constricted in the last 45 minutes or so, so I hope he holds up for the duration of the tour. He cracked a joke about the various freeways they took to get here, which I'm sure he's done before. During the intros, he twice asked Charlie, "Anything to say?" He then relayed Charlie's predictable response, "Nothing." I wish I had a job like Charlie's.
---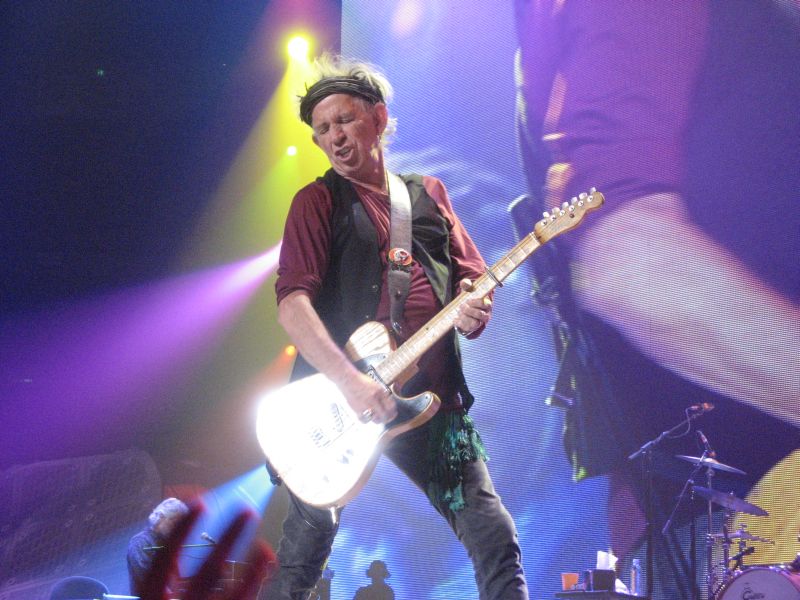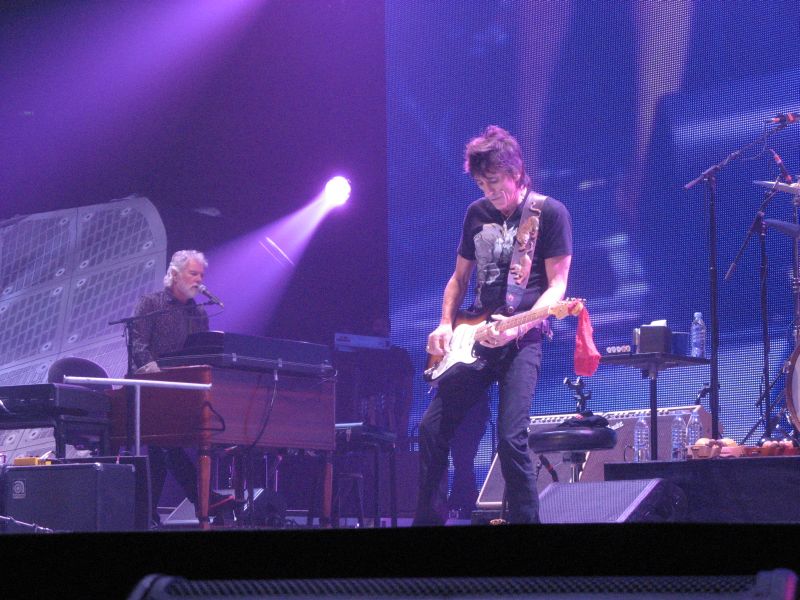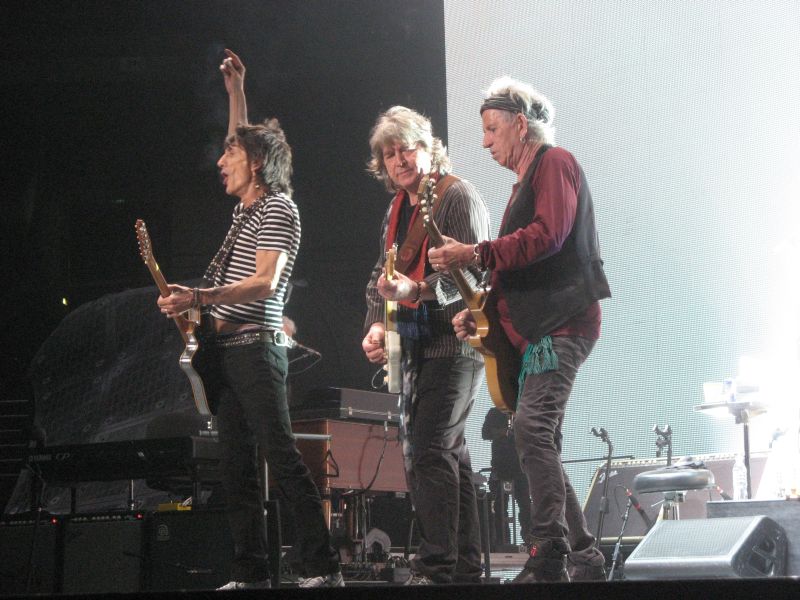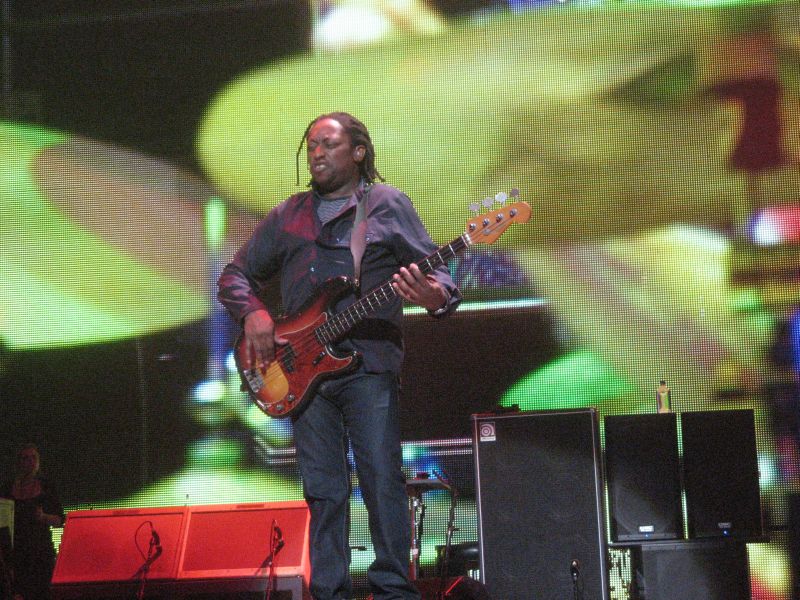 Photos by Detlef Neumann.
---
Review by Robert Bagel
This was the first time on this tour that the Stones played the same building for a second time. That naturally raises questions about changing the set and making the experience fresh for a second show. The same opening sequence from Wednesday of Get Off My Cloud, IORR, Paint it Black, and Gimme Shelter was therefore cause for concern. And haters who criticized Keith's playing on the start of Gimme Shelter at Wednesday's show got more ammunition today as something did not sound quite right again. Lisa Fischer was the saving grace on this version, as her vocals were the finest I have heard on the song so far for the 2012/2013 shows. And her stage presence was great, flirting with Keith and Ron before starting her vocal and facing off with Mick, and just making the song her own. Bravo Lisa!

You Got Me Rocking was a welcome inclusion in the set, though it sent some of the oldsters into their seats to catch a little rest and relaxation before the physical demands of more familiar songs. Unlike the Wednesday night show, the Honda Center had NO scattered empty seats, and the expensive seats at the side of the stage were completely taken. Lines for alcohol were astoundingly long and the smell of weed was more frequent, making the Saturday night party vibe clear. Mick played this up, mockingly yelling, "Saturday night in OR-ANGE COUN-TY! ...What do you people do on Saturday night when we're not here?"

Wild Horses was a treat, with no special guest and just pure Stones as it should be played. Keith made up for his Gimme Shelter intro with brilliant guitar breaks, and Ronnie's lead was immaculate. Some songs seem to be enhanced by a guest, and on others the guest is just a distraction and detracts from the song. Wild Horses made me dream of seeing Beast of Burden sometime soon, unspoiled by a special guest.

Dave Grohl of the Foo Fighters (the band that is to Nirvana what Wings was to the Beatles) was the special guest on Bitch, and it was a good match that worked very well. The song rocked hard, Grohl did excellent on his vocal turn, and he looked as he should in plaid-shirt-and-jeans early 1990s grunge-chic. Even his overly simple guitar solo complimented the song and was an interesting contrast to Keith and Ron's work. One great touch was during an instrumental part, Grohl went over to Chuck Leavell and jammed with him; it was the first time I've seen a guest pay a significant amount of attention to Leavell and his keyboard playing.

The Stones avoided any let down after Grohl left the stage, playing Shattered for the first time this tour (as a consequence Emotional Rescue was not in the set for the first time in 2013). Shattered was a rush, thumping along in its characteristic excited groove, and Mick was precise with vocals that followed the recorded version. After two weeks and six shows in the West, the song's references (I can't give it away on Seventh Avenue!) made me both homesick and happy that fans further east will have their chance to see just how entertaining the Stones continue to be.

And bless Keith for doing his part to mix things up, replacing Before They Make Me Run with You Got the Silver. It was a welcome change, and different from the versions in 2007 as Keith both played guitar and sang (as well he should), instead of just singing. Gold rings on YOU Keith!

Midnight Rambler continues to be the single most powerful song in the set, with Mick Taylor's virtuosity and newfound showmanship getting even better with each performance. It's a tough choice between directly watching Taylor play, or looking at the video screen to get a closer look at how he creates that magical sound. If the guitar interaction between Keith and Ron is "the ancient form of weaving", Taylor here is the intricate and beautiful embroidery that overlays it. Taylor was somewhat disappointing on tonight's version of Satisfaction, being very subdued. His distinctive sound never really came through, and he did not share the microphone with Darryl Jones for back up vocals as he had done on more spirited versions earlier this month.

Tonight's changes were fun, and increase the anticipation for the upcoming second Staples Center show and what shape it will take. With the sequence of the last ten songs the same for all six shows thus far, one would think a few simple alterations there could also be a great source of variety and excitement. This band is made up of ambitious enough artists, and shrewd enough entertainers and businessmen to understand that.
---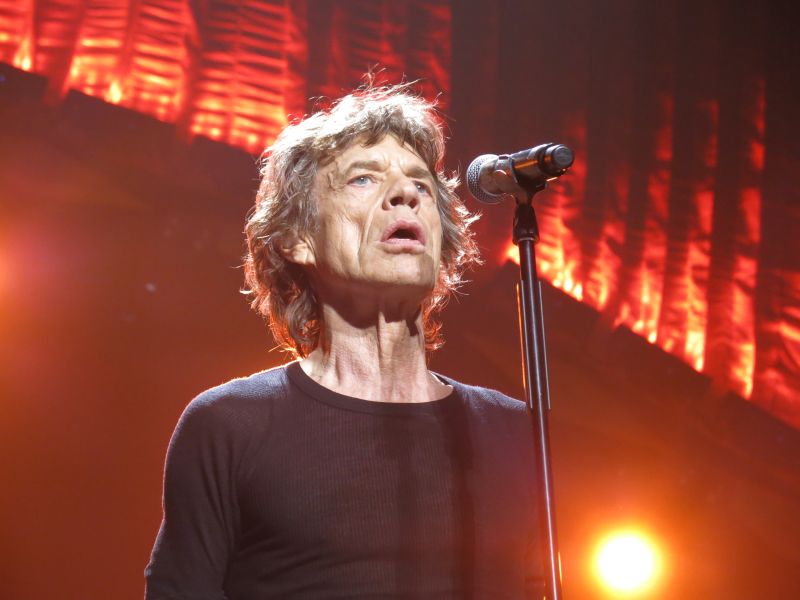 Photo by Michael Sold.
---
Review by Franchise H
The 2nd night of the tour in Oakland wasn't enough for me, so I had my eye on Saturday night May 18 in Anaheim. And when $170 tickets were released Thursday, I snapped them up, and would have no problem with the 5.5 hour drive to and from Phoenix. Am I glad I made the trip!

Once again the band were in top form, and to have 5 songs I didn't have in Oakland, was a treat. Unfortunately, one of my all time favorites wasn't one of the rotating "deep" cuts last night: If You Can't Rock Me! 18 times seeing them, and only getting it once in concert! And, the tour reports indicated the Stones were practicing this one hard, so I thought maybe last night was going to be the first airing this tour. I still think it will come at some point this tour, maybe even Staples tomorrow night.

But, to get You Got Me Rocking, Wild Horses, Bitch, Shattered and You Got the Silver was great! I really do understand why the band loves You Got Me Rocking, and I do too. Always a welcome addition in the set list for this fan, and it was played great last night! Wild Horses, well, to use a Stones line from another song, "you make a grown man cry". Cry no, but misty eyed, for sure! Great, great version! Bitch worked well with Grohl: in fact, I predicted this would be the Grohl song at the OC Grill before hand, as my crew and I have seen Grohl's other bands a few times which made me think he could make this work well, and he did! Shattered...well, what's not to like! Always great!!! And thanks Keith for Silver, although Before They Make Me Run is my all time favorite Keith tune.

The fact that they came out for four straight "deep" cuts after the first four songs, well I forgot that they had dropped a song since Oakland. And it took me a while to realize Emotional Rescue was the omission tonight (shame). I don't know why the band decided to drop a song after Oakland, but I wish they would reinstate the 23rd song.

Thanks for a great night though boys! I'm still not ready to let go. I think I have to make another US date before Washington DC on 6/24! Even though I got a little nostalgic last night, I'm going to take the boys' approach: if it's 50 and counting for them, I'll do the same and say it's 18 and counting for me!
---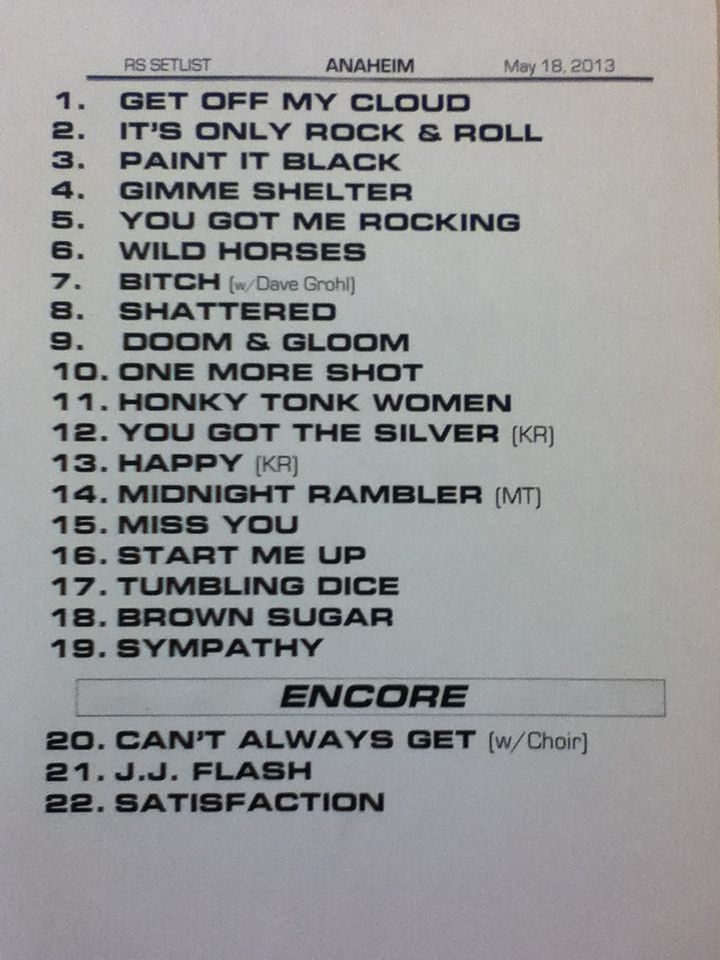 Thanks to Detlef Neumann.
---
Reports please!!!
Please send your comments, reviews, photos links and more to:

[email protected]
---
This page will change over the next few days, as you and other fans send reviews, set lists and reports. Please send your e-mail to IORR. Thanks! For details and great photos from the Rolling Stones and their World Tour get the IORR magazines.




It's Only Rock'n Roll 1980 - 2013
© The Rolling Stones Fan Club Of Europe