---
These are the latest Rolling Stones news and updates for you! IORR is a non profit fan club run by fans for fans. All parts of the It's Only Rock'n Roll web site is copyright of The Rolling Stones Fan Club. When using information from this site, please include a reference to IORR and the main web address www.iorr.org.
---
---

The Rolling Stones
Cessna Stadium at Wichita University, Wichita, KS, USA
Sunday October 1, 2006
The set list
It's Only Rock'n Roll
You Got Me Rocking
Monkey Man
Sway
Wichita Lineman (one chorus)
Let It Bleed
Streets Of Love
Bitch
Tumbling Dice
--- Introductions
You Got The Silver (Keith)
Little T&A (Keith)
Under My Thumb (to B-stage)
Rough Justice
Jumping Jack Flash
Honky Tonk Women (to main stage)
Sympathy For The Devil
Start Me Up
Brown Sugar
You Can't Always Get What You Want (encore)
Satisfaction (encore)
---
Review by Dean Goodman
This was the Stones' 100th show this year, Mick reminded us, and it was maybe the best of the year ... maybe the best in years. Pure magic and poetry and creative beauty. If you weren't here, you missed a masterpiece. And Mick would likely agree with me. He was having such a great time, and could have played for another hour or two.

Let's start with the weather. Balmy, a pleasant breeze. We could have been in Hawaii. Said Mick, "I must say it's a beautiful evening, fantastic. Does it stay like this all winter?"

Crowd control was smooth at the 37,000-seat venue, which was not sold out. Everyone was in their seats for the opening act, Black Rebel Motorcycle Club. No alcohol was served. The souvenir vendors were doing roaring business.

The Stones came on at 8:45. Mick was wearing a green jacket with the most of the back cut out, so that the front flaps hung like sloppy labia. Thankfully, he ditched it after a few tunes, in favor of the traditional black t-shirt.

With the first two songs, "It's Only Rock 'n Roll" and "You Got Me Rocking," my expectations were sinking fast. "Monkey Man" got off to an awkward start as his roadie adjusted his earpiece during the first couple of lines of the song.

He introduced the next songs as "a slightly different unusual number" -- "Sway" -- great!! Haven't heard this one in ages.

More chit-chat as Mick noted that this marked the Stones' first visit to Wichita. "We are the virgins of Wichita," he said. He strapped on his acoustic guitar and played a brand new song, something we have never heard before, or never will again -- "Wichita Lineman," the tune popularized by Glen Campbell. Alas, it was only the first verse or so. But, hey!! He joked, almost apologetically, "I bet everyone who comes here does that." It would have been cool if he'd done the geographically relevant line from the White Stripes' "Seven Nation Army." Or maybe even "Hand of Fate" -- because of the line "one-horse town," which Wichita certainly is.

From there, still hugging his acoustic, he dusted off "Let It Bleed" for the first time in ages. During Ronnie's bottleneck acoustic, Mick motioned to him to move up to the front of the stage. Keith, by the way, was largely MIA for the show, rarely moving from the drum riser.

"Streets of Love" is a million times better live than on the record. It's very soothing, almost lulling the crowd into a mellow mood. So when the band launches into the high-octane "Bitch," it's a jarring changing of gears. After that song, a clearly delighted Mick said, "Yeah, you're making us feel really at home."

During the intros, he referred to Charlie as "Charlie wang-dang-doodle Watts."

Keith's rendition of "You Got the Silver" was sublime. And during the line, "I saw them flashing like airplane lights," a jet with flashing lights whizzed past the stadium to his left. Unbelievable!!

In his comments, Keith said, "This is a first for me. I love firsts ... it only took me 40 years." The crowd roared.

They went to the small stage performing "Under My Thumb." A wonderful change. Mick forgot the first line to "Rough Justice," and sang "the little rooster ... one of your cocks" line twice. "Jumpin' Jack Flash" was also a small-stage treat. During his solo, Keith winced in deep, quasi-orgasmic concentration, like Carlos Santana. Then he shook his left hand, like it was on fire.

Back at the main stage, Mick thanked "everyone down (at) the scoreboard," which is where the small stage was located.

Near the end of "Brown Sugar," Mick chanted, "Let's take it down, Keith. We got to go. We got to go. Missoula, Montana. Missoula, Montana."

For the encore, Ronnie came out in a "Cassius Clay" t-shirt that he may have picked up at the Muhammad Ali Center in the boxer's birthplace of Louisville. I was there at 10 a.m. on Saturday, and the cashier seemed to think the Stones would be showing up imminently. But that had not happened by the time I left.

Keith finally strode the length of the stage for "Satisfaction," which begins with a slightly lengthy intro reminiscent of the start of "Let Me Go."

And the show was over at 10:30. The elation on Mick's part was palpable. He'll be flying high for the next few days, and hopefully Missoula will be another gem. On second thoughts, I won't be there...



---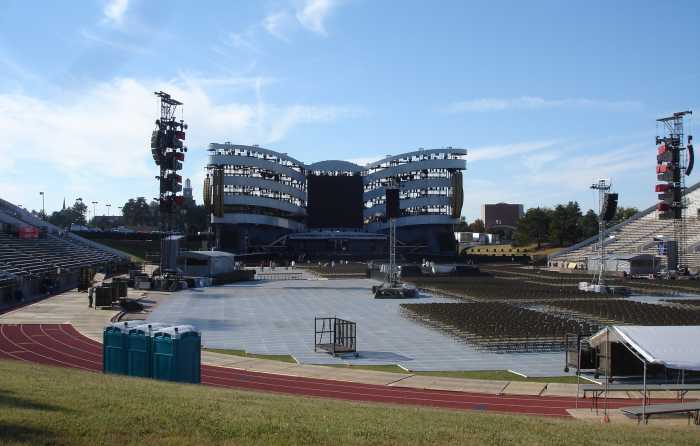 ---
Review by Garrison
This was my third and probably final Stones show, and it was the best out of the 3. And it happened to be on the night of my 21st birthday. Priginally I had planned on going but a few days before the show I was able to score a couple of floor seats for $28 a piece. It was the best $28 I've ever spent.

IORR- Still hadn't heard this one until tonight. It was awesome, when they opened with it, I knew our set was going to be special.

YGMR- I had only heard this one in an arena and it sounded so much better in a stadium. They nailed it.

Monkey Man- After all the message board talk about Wichita getting a normal set, I really didn't expect to hear it. One of the highlights.

Sway- Mick said "We're going to do an unusual one now" and I knew what we were getting. Nice 1-2 punch.

Wichita Linemen/Let It Bleed- Mick said this was the 100th show of the Bigger Bang Tour so they were going to do something special for us. He put on an acoustic guitar. The first thing I thought was at least I won't have to hear Wild Horses. Then I figured they were going to do Waiting on a Friend. Mick sang the first verse and chorus of Wichita Linemen which was really nice. Then they played Let it Bleed. Best song of the night. I was ecstatic. Correct: a great 1-2-3 punch.

SOL- It actually sounded better then what I expected.

Bitch- Another one I had been dying to hear. Had the concert ended here, I would have been completely happy.

Tumbling Dice- The usual. Still nice to hear. I love the outro.

Silver- I knew I would hear it, I really enjoyed it.

T&A- Not my favorite but still nice.

UMT- When Chuck started the keyboard I thought we were going to get Miss You, but they pulled it off nice. The song started with a little bit of lack energy but by the time they made it down the B-Stage it had picked up quite a bit.

RJ- Didnít pay too much attention to this one, everyone was fighting to get closer to the stage. I made it 10 rows from the stage. Probably the closest Iíll ever get to a Stone.

JJF- Nice to hear it from the B. Ronnieís guitar was having connection problems and the volume kept changing. I was so excited to be that close that I didnít really notice.

HTW- Best version Iíve ever heard, including recorded performances.

SFTD- Never seen it on a stadium stage before- Gives it a nice touch. I love this song.

SMU- Had some pyro like the B2B DVD from St. Louis. The crowd went nuts for this one.

BS- Also a better version tonight. Why canít they play like this at every show.

YCAGWYW- Had some timing problems due to Keith talking to a horn player. The finished nice which is rare for this song live.

Satisfaction- The usual. I think Keith actually forgot what song they were going to play. He looked confused and it almost sounded like he started to play Shattered. Made for a nice intro I guess.

As I said, this was my third show and somehow I have managed to not hear Shelter. I guess that's the only way I'll go to another show, if I know I will hear GS, cause nothing will ever top this one.
---
Review by John Novak
I attended the Rolling Stones concert that was held in Wichita, Kansas on October 1st, 2006 at the Wichita State Universityís Cessna Stadium. There are two issues that Iíd like to make known to the Rolling Stones organization.

The first issue concerns the song ĎSympathy for the Devilí. I am a longtime fan of the Rolling Stones. I have been aware that this song deals with the subject of the devil and to at least some extent, devil worship. This was clearly evident with the enthralling stage display that involved the jets of fire and Mick Jaggerís antics and attire during this song. As a Catholic Christian I felt uncomfortable with this display since it depicted a satanic scene. Although the songís theme cannot be changed since it is forever etched in Rock ní Roll lore, I feel that some of the antics and display features could be toned down so as to not encourage satanic idolatry.

My second concern is that I purchased two tickets at $160.00 a piece. These tickets were located three rows straight back of the B-stage in seats 5 and 6 (section CC3, row 3). For most of the concert my view was blocked by one of the elevated stage supports located on the B-stage. It wasnít until the bandís stage traversed the catwalk down to the B-stage that I was able to view the band. I purchased these tickets expecting to be able to view the band in person for the entire show. While I was able to watch the big screen for the entire show, the big screen does not capture the whole stage show at any one time. I think that attention should be given in future concerts to avoid placing high paying concert-goers in seats with obstructed views.
---
Review by Tommy Flummerfelt
I wasnít sure I was going to go see the Stones anymore after that amazing show on Thanksgiving Day of 2005 in Denver. But here they were playing in my own back yard. Well I couldnít turn that down so I began the process of chasing tickets for people that wanted to go see this little rock and roll band from England.

My brother Roger was seeing his second show. My sister Mary Jo was seeing her first show. My friends Kim and Marvin were seeing their second show and their 9 year old daughter Tori was seeing her first show of the Rolling Stones. My friends Pat and Deb and their daughter Kelli and her friend Nick were seeing their first show. And I must not forget Gary and Sonya. It was their first show of the Stones but the last show Gary had seen was Elvis Presley. Now thatís cool. In all I had the pleasure of getting 20 tickets for friends and family to see the Rolling Stones.

On the way up to the concert I was trying to figure the set list and I said ďI bet they play Route 66 because Wichita is so close to Oklahoma City.Ē My brother said ďNo they will play Wichita lineman.Ē And we just laughed and laughed.

We checked into the motel and headed to the stadium. Had to do some walking but when we got to the busses that would take us to the stadium I realized how hard Wichita as a town was working to help make this show happen. A lot of people gave a lot of time to transport people to and from the concert. It was a very nice gesture. Thank you Wichita.

I always like to see where I am sitting upon entering an arena. As I approached my seat I was slowly overwhelmed by the Rolling Stones stadium production and the proper usage of bells and whistles. My goodness!!! It is gigantic!!! I hadnít seen a stadium show since the Voodoo Lounge tour. It was the really really big shoe.

This show seemed to get off to a slow start Ė but it didnít matter. By the end of the show they had us in a frenzy. I was really impressed with Mick tonight. He was celebrating the 100th show on this tour and his energy was boundless. He was having a blast. I got to admit I kind of wondered if something happened either in Louisville or in Wichita to upset Keith and Ronnie. They didnít seem themselves from what I had seen in the past. This was my 14th show starting in 78. Please know I am not criticizing. I was just a little concerned and wondering. Anyway. For what its worth by the time Keith did his set all the snags were gone and from that point on they kicked ass and took names. I must also say the first songs were fantastic. There just seemed to be a little edge. No problem.

On the 5th song Mick walks up to the microphone and says something about it being hard to find a song about Wichita and he starts playing ďWichita lineman.Ē Now that was funny. We got a big kick out of that and then to see Mick being so ornery in his fun. It was a real cool personal touch for the people. My brother and sister and I really liked that especially because of the earlier joking.

One of the highlights for me was when Mick sang Streets of Love. I thought I was going to get tears in my eyes. I was blown away by the love. He really was on fire tonight. The other highlight song that got me was when Keith did You Got the Silver. No guitar just his heart and his love. I just stood there with my hands over my heart. What a blessing!!!

When they got ready to go to the small stage we headed that way. My brother ended up right on the front stage corner and I was right behind him. Keith looked down at us as he was playing Jumping Jack Flash and it was just another one of those special treats. There was a two year old and a four year old child right up front and Mick gave them a nice wave and even if they may never remember you could tell that they knew right then. You could tell by the twinkle in their eyes. I was really touched to see such nice things again. I see it every time. But it is a gift each time and I never take it for granted.

I am still blown away and this is early Wednesday morning. I personally think the world should allow people to take off two days of Stones Concert paid vacation time to recuperate after a show. Everyone I talked to on Monday that had to work didnít get anything done anyway. They are too blown away. Might as well take a second day just to look again in their mind at what they just saw. It is always that powerfully awesome when you get to see ďThe Greatest Rock and Roll Band in the World!!! The Rolling Stones!!!Ē
---
Review by Jim Snelling
We were going to be in town for a family reunion and what a coincidence the guys were going to be playing a show there for the first time ever. It wasn't any trouble to get tickets and being a smaller venue, there wasn't a bad seat in the house! This was my fifth Stones concert, we're from the Dallas area and usually make the Cotton Bowl performances, and it was undoubtedly the best yet. Monkey Man, I was surprised to hear it, but a treat. The sound system was exceptional, the weather was excellent, and even though the guys are in their 60's, I think they are at their peak. It was a great performance.
---
Please send your show reviews and comments by e-mail to: [email protected].
The reviews will show up here soon! Thanks!
---
News links
Thanks to Kyle W. for news links.
---
The IORR magazine
For exclusive reports and unique high quality pictures from the Rolling Stones tour and more see the IORR magazines.
---




It's Only Rock'n Roll 1980 - 2006
© The Rolling Stones Fan Club Of Europe