---
These are the latest Rolling Stones news and updates for you! IORR is a non profit fan club run by fans for fans. All parts of the It's Only Rock'n Roll web site is copyright of The Rolling Stones Fan Club. When using information from this site, please include a reference to IORR and the main web address www.iorr.org.
---
---

The Rolling Stones
Rogers Centre, Toronto, ON, Canada
Monday, September 26, 2005
The set list
Start Me Up
You Got Me Rocking
She's So Cold
Tumbling Dice
Rough Justice
Ruby Tuesday
Dead Flowers
Bitch
Night Time Is The Right Time
--- Introductions
The Worst (Keith)
Infamy (Keith)
Miss You (to B-stage)
Oh No Not You Again (B-stage)
Satisfaction (B-stage)
Honky Tonk Women (to main stage)
Out Of Control
Sympathy for the Devil
Brown Sugar
Jumping Jack Flash
You Can't Always Get What You Want (encore)
It's Only Rock 'n' Roll (encore)
---
Mick in Toronto last night:
"Hello Toronto! Oh boy, I tell you, six weeks, we rehearsed in a school down the road. Everyone was really hospitable. Hopefully, tonight we sound like we rehearsed."
---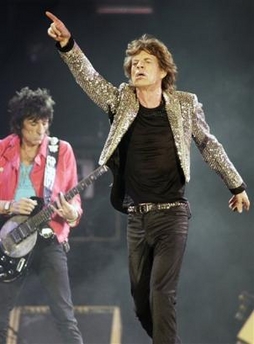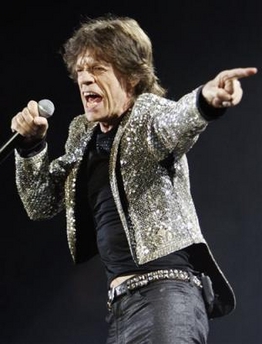 ---
Review by canadian.sway
After following this tour for a few weeks on this site, I was interested to see just what the live experience of this tour would be. It is a tradition in my family to go see rock concerts instead of going on family vacations, (we've seen the stones, aerosmith, joe cocker, the guess who etc.). Last night it was just my mom, younger brother and two roommates who headed to Toronto for the night to see the stones.

With a puff of light, Start me up opened the show. Instantly the crowd was into it, followed by a good version of You Got me Rocking.

I had seen that She's so cold had been getting a lot of play, and have to admit, it was far better than I thought it might be. Although I must admit, there was 'something' lacking for the first third of the show, sound was pretty good, even for the boomy stadium, but there was just something that wasn't quite connecting. I am not a Ron Wood hater, although he did botch every solo in the first 6 songs.

The show suddenly changed, and Im not sure why or how, but Dead Flowers of all songs totally came to life. Mick sang the best he did all night, and somehow this country tune, completely brought the show to a new level, the one you expect from a Stones show. Im not even a fan of the tune, but it was definately a highlight of the show, and the first real wow. From then on the Dead flowers, Bitch, Nighttime combo was stellar, finally I was really into the show.

Keith came out, and said 'its great to be among friends'. Infamy sounded better than the album version.

Then the big stage movement came, which actually really made the show hit another level, Miss You started out a little weak, but by the time they reached the end of the b-stage, it was a really jam.

Oh No Not you Again and Satisfaction, could quite easily have been the highlights of the night. Mick started really moving around, and Keith nailed a good Satisfaction solo. It was great to hear Out of Control, which really created a cool atmosphere in a huge stadium like the Rogers' Center. Sympathy and its pyro made for something to look at, but Brown Sugar, wasn't that successful, somehow it felt a little empty. But an momentum that was lost was filled again by a killer Jumping Jack Flash.

I was hoping we would get a two song encore, and when I heard Keith's opening riff I knew we were redeemed. Both YCAGWYW and Its only rock and roll really made for a fitting end.

All in all, a great show, not quite as great as when I saw them at the Roger's Center in 2002, but still a potent show. All the new tunes went over well, but Highlights were defiantly Dead Flowers, Nighttime, Oh No not you again, Satisfaction and Out of Control. Quite and interesting Stage to watch, after a while you forget how much is actually happening in your field of vision. Thanks Stones for another great show.
---
Time waits for no one
by Marie France Rťmillard
I had a great seat for the the Toronto show, but I never got to seat on it. Due to strong wind, Toronto Airport kept only one line for landing. My flight from Montreal took 3 hours instead of 50 minutes ! As my flight was turning around in the air over Toronto, I was crying in my seat. I was so excited to see the Stones again on stage. We finally landed at 21hrs45. I decided to catch the next flight back to Montreal ! I knew I would catch only 15-20 minutes of the show at that time. Lucky you who were at that concert. Time waits for no one...
---
Review by Thegruesomes
Best Band. Worst venue ever.

I think its well known that the SkyDome in Toronto is a barn with the just plain worst acoustics.

And with the band sounding better than they have in the past few tours... it was just depressing. Having seeing them in Moncton at the beginning of September I couldn't wait for the Toronto show. And went out of my way to score the precious "ON STAGE SEATING"

Warning: On Stage tickets are only worth it if you are lucky enough to be closest in from the stage. Otherwise it really loses its novelty quick. I couldn't see Mick for at least 1/2 of the show. I spent most of my time wishing I had kept my original seats.

The set list itself was ok. Although I must admit...... I have no idea why they'll polish off She's So Cold and .... but be reticent to bust with a Loving Cup, Let it Loose or Jigsaw Puzzle.

I've gone to every tour since Steel Wheels..... and I understand that fans need to hear the mighty troika.... JJF. Brown Sugar and Satisfaction....... but how about a few more suprises.

I would have killed to have been in Ohio last Saturday to get a taste of SWAY.
---
Review by Camper88
For two hours The Rogers Centre was Stones City, population 45,000 plus change.

Now back in Toronto after a baker's dozen dates since bringing their Bigger Bang to Boston, the Stones brought their show 'home' again. Keith put it best when he deviated from his "it's nice to be anywhere" line to say 'it's nice to be amongst friends.'

And they were.

In Hogtown's hyper-friendly atmosphere it was no one's surprise that they played a hits-heavy set list tailored for a stadium crowd that at the same time was nicely built out with some lesser-played songs in the six, seven and eight slots of the set list that included Ruby Tuesday, Dead Flowers, and Bitch. In addition, they followed up this threesome with Ray Charles' Night Time Is The Right Time. All-in-all, this mini-set was the highlight of the night.

Ruby Tuesday really brought the crowd into the show, nicely building from its vocal-driven opening into a sing-along chorus that the whole world just happens to know. Keith's acoustic workwas a nice complement. Somebody (bv, I believe) posted the thought recently in Tell Me that the way to make the crowd go wild was to play Ruby Tuesday in the #5 or #6 slot. Well somebody was listening, and by the way, it works. The crowd loved it. The band seems to sound a lot better when they've got over 50,000 back-up singers who know and love the chorus.

Dead Flowers pushed the pace by taking this Sticky Fingers stand out to highway speed; the band was in cruising gear, windows open, radio blaring their country sound, and they were working on all cylinders. The performance was such that I didn't hesitate to think immediately that this was going to be one of the highlights of the night. Mick's rhythm work was spot on, Keith nailed the gaps and kept up the tension with some nice counterpoint, and Ronnie brought it home with his solos, finally finding his gear after some early miscues. If memory serves, this was the first time since the Phoenix rehearsal concert that they brought Dead Flowers out, but you'd never know it to hear it. Mick made the point of saying 'hopefully, tonight we sound like we rehearsed, and, indeed, with the version of Dead Flowers it did.

Bitch brought the show to overdrive, the deep groove is infectious, the horns were stingingly sharp, and the band was clearly finding its feel even though they hiccupped once towards the outro. Again, I was hit with the thought that this was going to be one of the highlights of the night.

It was. I'm struck everytime I hear Bitch with how well it works live. Tonight was no exception. The song kills.

Ray Charles, Night Time Is The Right Time was the night's cover, and as in earlier shows Lisa really shone, no small feat to take the spot light from the Stones, but she nailed it and really brought a new dimension to the concert with her singing that seems less apparent (to my ears) with her work on Gimme Shelter. This was a virtuosic performance that revealed her raw power and her grace in equal measure as well as her comfort with the bluesy grind of the song's vocal. And again I was struck with the thought that this was going to be one of the night's highlights. You guessed it: it was.

The rest of the concert was Solider Field redux, actually they followed the Soldier Field setlist exactly, save for the insertion of Dead Flowers in lieu of Shattered. So there weren't a lot of surprises in the selection of songs, but there were some surprises of note in the performances.

Amongst the surprises for my ears, I was struck by how well Infamy works. While I've heard others wishing for other selections by Keith, I have to say that I'd be happy to keep Infamy on the tour as it continues to evolve. The groove of the A Bigger Bang version has been supplemented with the something of the swing of R&B. The horns nicely bring out the beat and the back-up vocals bring what might be a funk resonance to the song that really brings it alive, far beyond the album. I can only see this one getting better, and as it is a song from the new album I'd heartily recommend that it stays on the roster and they keep pushing the form as they are.

Other surprises included Satisfaction, as Canadian Sway has pointed out above. Keith is famous for saying that he keeps finding new ways of playing it, and he didn't disappoint. For any doubters out there, I'd suggest that we keep finding new ways to listen to it; this one really rocks. Not surprisingly, Satisfaction, along with Honky Tonk Woman and Jumping Jack Flash, were some of the warhorses that showed the Stones in their most comfortable skins. Here it seemed that they more likely to take chances within the song, rather than within the set list. And for my ears, that worked exceptionally well, against all expectations. They were all playful approached, the band clearly enjoying themselves, and the audience was all over this stuff. The earlier 'wow' from Dead Flowers and Bitch was now replaced with something of a 'hey this is fun' as the band brought the audience to the concert's climax with Jumping Jack Flash. After all this wait and all these tours, it's nice to be reminded that it's still an enormous amount of fun to listen to these guys, particularly when they're playing amongst friends.

Notes:

It bears mentioning that Beck was superb, the guy can write, sing and play as well as anyone out there today, and while he may challenge some fans listening habits with the way he moves between genres, he really played well even though he and his band seemed dwarfed on the Stones stage. Highlights for me included Golden Age, Black Tamborine, and E-Pro.

As for the venue itself, The Rogers Centre tends to muddy the sound, and dampen the more delicate notes almost to a point of leaving everything in an indistinct sonic puddle. The Stones fought this particularly throughout the opening numbers, but from somewhere toward the midpoint of Ruby Tuesday they seemed to overcome the limits of the facilty's acoustics, for the most part. Occasionally the guitars would drop out of the mix only to resurface, and this was frustrating, but on the whole they seemed to find a way to work through the problems of playing in a space like the Rogers Centre.

The stage, if you still haven't seen it, resembles, at times, an old style movie marquee, a couple of Guggenheim inspired apartment blocks complete with tenants at the windows, and the front grille of an enormous car. Each of these effects depends on the lighting, but each comes across equally well.

And of course the moving stage is a brilliant addition, keeping the music going, and allowing most everyone to get a good view of the Stones doing what they do best: play. It's both versatile and simple at the same time, and in my view perhaps the best staging for this scale of show that I've ever seen. Seeing them roll by from ten chairs away I was reminded of the flatbed truck they used to motor down 5th Avenue when they announced the Tour Of The Americas in '75.

They haven't changed in this respect: they were innovative then, and they're innovative now, except this time Ronnie wasn't wearing a fur- lined collar.
---
Review by Garnet Shier
this is the third time i have seen the stones in concert. saw the skydome show on the last tour and the sars concert and this one. best one well.... that would have to be the licks tour skydome show.... if you dont count watching the theatre dvd on the 4 flicks dvd..... ;) I mean it was nice to see dead flowers the highlight of the night by far followed by a stones song rarely played by them live. No Expectations...unfortunately that was covered by BECK.

I agree that the sound was bad. the echo was so bad i thought that i was listening to live at leeds from the Who. It was nice to see bitch and ruby tuesday but come on do they need to play all the old songs every show? i would have killed for the rambler to make an appearance, thru and thru, or god forbid hand of fate? the only thing is that the set list is so predictable... i guess the unofficial term for this tour is You Cant Always Get What You Want and then you leave disappointed....

oh well the band was in good shape although something seem amiss keith mistarted brown sugar i believe and that is kinda how the night was.
---
Review by Adam Kowalik, Akron NY
Since this was the first concert I ever went to it was worth it. What a way to see the Rolling Stones on my first concert ever. my friend Rick Zimmerman and Aunt Cindy, and brother Eric and my parents and their friends all came along, walking in i new this was no ordinary concert, and to see Ronnie, Charlie, Mick and my idol Keith in the same building was the best feeling i ever had - "Any way on with the show"

Intro - very cool to see what a way to start a show

Start Me Up - this was my first favorite Rolling Stones song and what a song to first see them play

You Got Me Rocking - Very happy to hear this one, good rocker

She's So Cold - looks like Keith got a new Guitar for that one

Tumbling Dice - also very happy to hear Lisa was great, Keith's guitar perfect

Rough Justice - New song and very good to watch

Ruby Tuesday - This one surprised me and it really got the crowd going

Dead Flowers - this was a real treat they only played it at the club show before tonight and Mick did a great job

Bitch - I think most people liked this one and the brass was really good

Night Time Is The Right Time - A great tribute to Ray Charles, Lisa was fantastic

Intros - Interesting

The Worst - Keith and Bernard did a great job, nice song

Infamy - Keith really did good on this one, also a new song

Miss You - to the B stage - this one got everyone out of there seats, very cool to see a stage glided like a boat through a sea of people

Oh No, Not You Again - the crowed really enjoyed that one

Satisfaction - the crowd really went nuts on that one

Honky Tonk Women - back to the A Stage - the inflatable tongue was awesome

Out Of Control - expected a little more action on that one

Sympathy For The Devil - literally blew the roof off with the flames, another crowd favorite

Brown Sugar - Did not recognize it at first but got in to it after the second riff

Jumpin' Jack Flash - Keith's guitar not working at the start and they showed him on the big screen looking at the sound crew telling them something is wrong, fire works inside the closed sky dome

Encores

You Can't Always Get What You Want - great song everyone singing

It's Only Rock N' Roll - I was wondering how this would work as an encore, but it worked

Great Show You Guys did GREAT No matter what happens they will "keep on rolling"
---
Review by Adele Frechette
This was my 8th show.. all in Toronto.. some at the old Ex, one at the ACC.. the rest at the Dome. Venue is brutal.. thank goodness the band tries and succeeds at making it seem smaller. Some decent songs... but the first half a dozen were void of emotion. just breezed through them.. then Dead Flowers finally injected some life into a typical "Toronto" crowd. But I agree with some other concert goers.. out of all the songs to choose from.. you can't tell me "You got me Rocking" or "Out of Control" can make the cut.. no way. What about Rocks Off, the last time, Fade Away (VooDoo Lounge). I'm afraid even the visual part of the show couldn't match the Licks Tour.. loves the Stones, don't get me wrong, but the World"s Greatestd Rock and Roll are also the most predictable rock and roll band. Sorry Mick.
---
Toronto onstage boxes
Review by Gregg from Kansas City
This was the 4th time I have seen the Stones in "our" 2nd home. For my 27th show lifetime I had an onstage box "stand". My Canadien buddy Rookie scored 2 tickets and lucky me, recieved one of them.

I was excited to watch the show from on stage, but my enthusiasm was squashed to the point that I abandoned my "on stage" box during "Miss you" and went out to the main arena seats, where one can rock and roll with out hassle.

The problems started from point go.

First... we had to stand in a long line to obtain our tickets. This is because they did not even start passing out on stage tickets until 6:00. Why did this have be? Why create a line?

Then... We were shuffled into a queing area where we had to buy tickets for drinks (I still have one). I knew we were not allowed on stage for the opener, but having to be caged while waiting is lame.

We eventually talked our way out of the cage and went back to our skydome hotel room. We could hear when Beck was done and then we returned to the cage. At that point the bar was closed and the "help" was lining every one up to be marched into the boxes.

Once we arrived at our box...... It seemed very narrow. I thought they were designed for 6 people, but ours (box 6, Keef Side) was not big enough. That created the hassle of being squished, and one person was always being blocked out.

The bathroom situation..... We had to walk down 8 flights of stairs to reach the one porta-potty. We had to be escorted by "the help", both ways. This young lady had to walk us down, wait for us, and then walk us back up. It was on the 2nd round of that when I said..."skip it".. "I am out of here".

The other problem was getting interupted by tapping on my shoulder 3 different times for one thing or another. "Don't hang over" "Don't take pictures" "don't have fun". The onstage boxes are a no fun zone. I thought I had heard that there was an open bar, but no such luck, and they cut beer sales off too early.

When I go to a concert I want to be rocking and rolling. NOT ESCORTED. NOT bothered. NOT being yelled at.

ANYWAY...That is my take on the on stage boxes. They were cool, but the novelty wore off quickly.

As far as the Stones go...THEY WERE AWESOME. "DEAD FLOWERS" was spectacular. "Out of control" was fantastic. "Bitch" was rocking. The setlist is now predictable, but that is OK. (I suppose) When Mick says "Thank You".... I say "Your welcome" Right now I want to say.... Thank you all.
---
Review by Sharon Ablett
I had a great time on Monday night - in the onstage boxes. I can't understand what all the complaints are about. Yes, we were squished, but it was so cool to see the Stones close up for a change, watch the way they interact with each other and occasionally they would wave to us. We couldn't get that from a seat way back in the venue. I think the Stones are still the greatest R&R band in the world and they outdo anyone. We saw U2 the week before and we had to say that the Stones have spoiled us - no one can beat them. A lot of people have been criticizing them for being "predictable" but if you see them so much on one tour, what do you expect? They have to do the most popular songs for the majority of the audience and if you weren't too drunk (pisses me off that people get so loaded, pass out, bother everyone else and then complain - I rather see people smoke dope any day) to notice you'd see that the best crowd reactions (i.e. the majority of the audienced) were more charged for their "predictable" songs than for anything else. They have so many songs that no one is going to be completely satisfied or hear everything they want - no one touches them and every show I see is better than the one before. They aren't perfect - they're not supposed to be, they're a rock and roll band and the best at what they do. I hope they never retire - they are the only band that I actually get excited about.

Another note about the onstage boxes - in some way they looked like any other rock band - laughing it up with each other, making mistakes, and laughing about them, and they genuinely looked like they were having fun. I think Mick enjoys himself, but he is much more intense than the rest of them and he has to work so hard to move around. Anyway, all in all, they get better and better and predictable or not, they are still the best in the world and always put on a damn good show no matter what!!! We'll be seeing them in Montreal in January - can't wait!!
---
Review by Cardiff Giant
My 20th show was a tremendous one at Skydome, (Rogers Centre)... Beck opened and was superb. What great versatility and style. I love his music so it was great to see him and his band. He did a few moments of No Expectations, which was awesome.... and during his acoustic songs his band sits down to dinner.... on stage! It runs into a freestyle percussion jam on plates, glasses and silverware... wow. and the hard rocking songs were great... especially Devil's Haircut.

The Stones ripped into the show on fire. Start Me Up- Keith working with Darryl and Keith spits his gum out as he rips through riffs. YGMR- Keith..riffs.. riffs.. riffs Mick welcomes the crowd and talks about "rehearsing for 6 weeks down at the school.. we want to put on a great show.. hopefully it won't sound like rehearsal"

She's So Cold- lots of guitar weaving. Rough Justice- plenty of energy. then came the 3 song stretch that stood out. Ruby Tuesday- classic performance. Dead Flowers- my first time ever to see it... awesome vocal with Mick and Keith. Bitch- loud, raw, Keith owned it..horns kicked..Mick was dirty and wild. Night Time- better and better each time.

Keith's set was great... His welcome was classic, and unique "Hi guys... good to be among friends"... they love toronto. The Worst- so much heart and soul... Keith thanks Bernard, and Tim Ries... "we're just throwing shit together"... gotta love KR. Infamy was all over the place... Keith making up lines.. the big plus, he just kept the song going, and going.

Miss You- down to the b-stage with funk and groove. Oh No Not You Again- continues to deliver a knockout punch. Satisfaction- raw, sloppy, but powerful...I loved it. Keith and Ronnie were going all out...it showed. Honky Tonk whips the crowd up. Out of Control - Keith slices through and Mick is crazy. Sympathy- all energy from Mick and Keith. Brown Sugar- solid. JJF- Keith Ronnie and Darryl played in a tight circle, and at times Keith would jump back, like he was burned.. great. games... great fire. The pyro was huge and Mick yelled out a very sly, "good niii-iight!" in a way as to say..we just laid a great show on you...and we know it! encore- YCAGWYW - great enerygy, Mick works all the way down the catwalk to the back of the stadium. IORR- great finsih, great riffs..Mick screams out "a great fuckin' crowd....you're a wonderful audience".

Other notes- the spirit and playfulness was apparent all night. Keith smiling ear to ear, the band was loose, but right on. their game... Keith and Charlie trying to swerve each other as they played face to face at the drum riser. Another great show.
---
Review by Davido, Toronto
Welcome to the cheap seats! Here we are in the nosebleed 500 section of the Rogers Centre. The stage is sprawled out before us, a baseball field away. Itís a huge silver and black art nouveauish structure, with a three-story projection screen for a backdrop. Four giant speakers hang mid air, two below the rafters, two more half way down, for those of us who canít afford ground level tickets. The Rolling Stones race out to the lip of the set far off below, mere tiny ants. The show begins! How was it?

Itís said that the first will come last. Thatís true! The glory days of last summer are over, for me at least. What a difference a scant six weeks makes. Itís fall now. As I take Janetís hand in mine, leaning back in my chair, I gaze out into the stadium. My thoughts drift back through the haze of another long workday, spent racing about town, on business. Another big meeting. Iím went with my suit jacket draped over my old Stones tour 72 t-shirt, in my black jeans, and running shoes. I wasnít into any b.s. today! My real job? To get down to the concert on time! Itís surprising what a lot of determination, and more than a few gray hairs will do, to stop anyone whoíd dare try get in my way.

The blazing stage lights explode to the opening chords of Start Me Up. For a brief moment in time Iím back under the scorching hot summer sun, standing right beside Mick, outside the rehearsal gates at Greenwood School, as he autographs a record sleeve for me. I see Keith and Ronnie grinning into our faces, as they tear out onstage at the Phoenix Club, leaning into their thundering guitars. So close, I could almost reach out to touch and be touched by the Rolling Stones, at the concert of a lifetime! The worldís greatest rock and roll band in full club land stride. The hot searing licks. The scorching vocals. The pounding drums, knocking out a summer beat, like never before. We were dancing on the lip of a volcano, as the boys exploded in pure undiluted glory, a communion of oneness, of song. And now?

Itís time for a little post modern redux. Itís life after god. I spent the summer under the full heat of the Rolling Stones spell, real up close and intimate, much more so than now. But thatís to be expected. Keith flubs a guitar part! The boys are off to a wobbly start. Hmmm. Oh well. Nothing new. Three years ago he fell on his ass as he raced out onstage to the opening chords of Street Fighting Man! Steadfast, Charlie holds down the beat. The rest of the band quickly looks about at each other, and undeterred strut out amongst the fiery rock and roll pyrotechnics. Jagger cockily prances about in full swagger. Ronnie fires off a few heavy riffs, as he picks up some of the slack. I look about where we sit. Nobody even noticed the mistake! Itís not because we canít see or hear. This has to be the worldís largest home entertainment set. The boys loom before us, blasting above the 40,000 heads below, from the multitude of speakers, and giant screen. There is still a din, but if anything it makes everything sounds boomier, emphasizing any mistakes like this. The crowd around us is ecstatic. Nobody seems to care!

Itís pure Toronto here. A multicultural mix of faces from around the world. Asian. Middle Eastern. Black. White. The young Indian couple sitting beside us, just heard the new album, and are attending their first Stones show. He was interested in my 72 Tour T, didnít know theyíd been touring that long; they hadnít even been born yet! Gee thanks for noticing guy! Ha. Ha. ErrrrÖ..Meanwhile a gaggle of teenyboppers bounce up and down in their seats, a row or two back. Another group lean over the rail, clapping along, and point down at the Stones. No parents in sight, they are on their own, probably at their first rock show. Hmmm. I canít believe it! Am I getting to old to go see the Stones ?!?

Ahh I donít have to worry. Itís quite obvious age doesnít matter here. Mick raises his hands and claps them in the air, as the Stones roll straight through into You Got Me Rocking. Never my favourite, but who can resist? Itís soon obvious everybody loves the band as we all wildly clap along in unison. That guy -over there; he told me he was at the Elmocambo Show in 76. And thereís a couple of graying biker types with a great big stoned smile on their faces. They arenít down for the count Ėnot yet! And it looks like the Trailer Park Boys have just arrived! Dancing to their seats with beers and joints in hand. Real hard core Canucks! Their big fat chicks in tight tops and jeans jump up and down, dancing the bugaloo, doing the frug. While one hubby tries to squeeze into his seat without spilling the beers in either hand, sucking on a joint, his buddy in the cheap leather jacket is dramatically singing along with the Stones, at the top of his lungs. Thrusting his arms in the air, drowned out by the rush of pure undistilled rock and roll joy that explodes about us. I donít see any jaded cynics here! The Stones are once again banging Toronto but good!!! And everybody is just loving it!

Sheís So Cold ratchets up the rock and roll madness a few notches, as the guitar weave tightens, and erupts, into a bleeding volcano behind Jaggerís taunting vocals. I look about. The older fans seem surprised. They smile, laugh, and nod in recognition. Give each other the high five. The younger ones are clapping louder now, waving their hands in the air, caught up in the sheer building energy, as the show kicks into higher gear.

Keith and Ronnie are on a guitar roll, as they throw the Tumbling Dice for the next number. Ronnie is poised to go for a solo, as Lisa and Bernard kick start the gospel chorus, underscored by Darylís bouncy base. A ripple of spiritual frenzy washes through the huge stadium. Hands in the air are waved in unison. The stage lights pulsate, to what has certainly become, for most in attendance anyway, a trance like anthem. Uncertain, the young teenyboppers look at each other, puzzled, but soon seem hooked as they too join in, quite likely for the first time. An Exile right of passage, now uniting yet another new generation of Stones fans within our ranks. Ronnie moves to the edge of the stage. Leans back with his guitar thrust out for his solo. Loud, and boomy, the notes soar to fill the stadium as he toys with the riff. Tripping over a bum note, it comes crashing down on the crowd. Omigod! Yes! He blew it! Big time! The boys look at each other. Mick paces back and forth for a moment, glancing at Charlie, then Keith. What to do? They both step forward to the front of the stage. Keith picking up the slack with his unrelenting rhythm, Mick belting the gospel tinged chorus over the top, as the crowd madly stomps and claps along, the song taking on a life of itís own, far greater than and quite forgiving of the sum of any of itís parts. Pure feel making up for any technical flaws; itís the spirit and essence of the Stones, still alive and well after all these years, whatever the ups and downs. And the audience? We donít miss a beat! The deafening cheers drown out the fading strains of the song. The boys are in full stride, the audience united behind them. With some true showmanship, theyíve been able to turn the mistakes around. Snatch victory from the face of defeat. But itís a crapshoot now. I canít but help wonder if they can hold it together. Two mistakes in three songs! No doubt the next few numbers could be crucial!

Mick announces they are going to be playing some songs from their new album tonight. The Rolling Stones have a new worldwide best selling album, their first in many years. How will the crowds react to something less familiar? Itís a risky endeavour! Ronnie and Keith crank out the opening chords to Rough Justice. Mick struts about, the proverbial red rooster, the cock. Ronnie deftly slides his finger up and down the guitar neck wringing out the notes, while Keith squeezes every last ounce of rhythm out of his strings. The teenyboppers in front of us race to the landing below our seats, precariously leaning out over the huge dark stadium abyss, clapping and cheering madly. Thereís a roar of approval as the lights flash in time to the music. The Stones rock out, no bars hold, still on a roll, with what would seem to be a new crowd pleaser!

As the lights fade, we hear the gentle guitar strains rising from the dark stage. Itís from long ago, as the boys bookend their newest hit with Ruby Tuesday, an instantly recognizable blast from my past. The youngsters listen intently, quite possibly hearing it for the first time, as we oldsters sit back in our chairs. Drift away to when for many of us this was the boyís latest hit song. What a long Stones trip itís been, near four decades, from Ruby Tuesday to Rough Justice! Itís been a rich one, as deep as the ruby red light, which now bathes us in this old chestnutís simple, understated glory.

Next, the Stones treat us with a self styled Dead Flowers tribute to some of their country roots. Mick the country hick strums his acoustic guitar and bleats out the tunes tried and true hayseed Sticky Finger lyrics. Keith switches gears, and gets to play some sharp, tasty, country guitar licks. Ronnie provides the whining steel pedal fills. Itís a rose on the grave to those who would write off the Stones as irrelevant tired old has-beens! Our sing a long chorus slowly starts to fill the stadium. Our happy response to their second golden oldie, a sure sign that the Stones appeal is still as timeless as ever!

Microphone problems seem to plague the opening verses of Bitch, but few seem to notice. The fans around Janet and I jump up off their seats, punching their fists in the air. Charlie leads with a steady beat. The horns hit all the high notes. Mick runs back and forth across the stage, in time to the screeching guitars, belting out the lyrics, as the boys push the crowd over the top for the first time this evening, in a mad frenzy of rock and roll mayhem; the sheer delight of two Sticky Fingers classics in a row!

The huge backdrop screen is put to especially good effect during The Night Time is the Right Time, for a tribute to Ray Charles. The Stones now pay homage to more of their roots with a truly soulful version of his classic song. Lisa takes center stage with Mick for a gospel shout and response, after which he steps back to let her wail. Lisaís voice soars to the rafters of the Rogers Centre in a commanding showcase of her talents, bringing down the house, as she shows us how itís done! Some of the black roots of the Stones classic rock sound is for a moment laid bare with the songs quirky, catchy rhythm and driving beat, itís neophyte soul origins, and big ďmake showĒ performance. With the full band; guitars, drums, horns backing her up to the nines, Lisa strolls the length of the centre stage. With her audience in full enthrall, she taunts and engages us. A gutsy performance from her very heart and soul!

The energy level is high enough to sustain a ballad now. Keith is joined by Bernard to flesh out the vocals on his Voodoo Lounge standard, the Worst. Many of the fans seem to relate to this late favourite better than myself. They cheer upon hearing another song from their touchstone Stones album, just like I would if it were another Sticky Fingers classic. I can appreciate Keithís humility and self-depreciating manner. The touch of irony that he conveys so well in his simple treatment of the lyrics. And the catchy sketched out rhythm and offbeat humour implicit in his play on words during Infamy. Many of the fans seem quite pleased, and hoot and howl, as they realize that this is another song from the Stones new hit album. Not only have the Stones switched vocalists and tempos a few times now, but eras too, from way back in the day to present! The boys are appealing to a wide cross section of their fans, main street and otherwise, so as not to disappoint! There definitely seems to be a method to their often hotly debated and supposedly quite delimited North America Bigger Bang Tour set list! Everyone can be touched by itís embrace!

By now, my legs are starting to feel cramped from sitting perched up here tight in the stadium nosebleed seats. I regret the lack of intimacy. Itís not the same as seeing the band up close like we did at the Phoenix last summer. Their musicianship hasnít been nearly as tight, or as intricate as back then either. But am I disappointed? Like everyone else around me, I am glued to their performance, by the sheer showmanship of the Stones big rock act. The loud, often overstated singing and playing. The spectacular lights, videos and set. They project themselves well this way, out into the huge cavernous Rogers Centre stadium. I can see and hear everything, much better than at other shows, where Iíve sat at lower levels, even on the floor. This isnít a club, thatís too bad. It wonít be nearly as tight and musically focused a Stones show, but itís quite engaging, even thrilling, easy to enjoy Ėa near excellent stadium rock show. Near excellent? Well, as a long time Stones fans and veteran of countless shows, through thick and thin, Iíd of course like to hear a few rarities, some more special nuggets; Sway? Moonlight Mile? The list could go on and on!

Instead, the boys roll out the big hits, the tried and true warhorses, as they once again switch gears. The instantly recognizable dance groove of Miss You sure gets a lot of fans off their seats! My fellow Canucks sitting beside me are up madly shaking their booty as they happily quaff back another couple of brews. The teenyboppers lean precariously over the handrail to watch Mick and the boys roll on their trolley towards the small stage far below us. Mick looks up and waves. Keith, cigarette dangling from his lips, tosses back his head to where we are, and laughs. He leans into his guitar, and tosses off a complimentary burst of machine gun notes our way. Seemingly larger than life, Ronnie hops up and down as he plays his much loved solo part for us. Without all these theatrics, like the rest of them, heíd seem so small. Dwarfed. Corny perhaps, but it works! The crowds going wild. Me too!

As the boys slide into Oh No Not You Again, a squeal goes up from our teeny bop contingent. They laugh, hug, cheer and wildly start dancing up a storm. Itís one of their favourites! Hands to the mouth, they giggle and blush when Mick swears. They boldly mimic his moves for each other, are in sheer ecstasy. Guess what? Over forty years later, our bad boys of rock have a new group of converts! For them itís their rock and roll moment. Wow! Theyíre playing it live! Here! Now! For us! I wasnít originally a big fan of this tune, but it seems to have gelled nicely as a fun little Stones rocker. Itís got a catchy guitar weave. Ronnie and Keith playfully exchange licks. It may not become one of my all time favourites, but the girlís enthusiasm is contagious, hard to resist. Maybe with the years, Iíve sometimes come to take the Stones too serious, and have forgotten that they can also just be a lot of fun?

The boys follow it up with what is probably the best, most stripped down nitty gritty Satisfaction I have ever heard them play live. It totally rocks! The Rolling Stones are showing their fans, both old and new, how to riff hard. Keithís guitar is primordial; it sends shivers down my spine. Mickís vocals clearly evoke the songs hard seething sexual edge. Charlie is bashing away at his kit likes there no tomorrow. Ronnieís joins in tight with the groove. This is vintage Stones, now or then! Itís the past meets the present, a lightening rod jolt that gets everybody young and old off their seas dancing, clapping and singing along!

The riffing doesnít stop here, even as the Stones trolley rolls back to the main stage. Despite an uncertain start, where Keithís guitar seemed initially lost in the opening chord mix, they continue to forcefully bat out the riffs to those of us way out in the backfield. Itís a rousing version of Honky Tonk Woman that guarantees nobody sits back down.

Next the boys slow down the pace but still hit another home run! Itís aimed directly at the nineties Stones fan club; a seasoned, fine tuned, full-blown version of Out Of Control. The stage is bathed in blue. It is moody and absolutely breathtaking, starting off as a soulful lament, with the horns and base rising from deep, down low. Then cascading forth into a furious orgasmic explosion of guitars, drums and rock and roll pyrotechnics. On the screen above, the classic Stones tongue wiggles and jerks about in mad, furious, confused rock and roll delight. It is graphically altered, deconstructed and morphed into different lines, colours and shapes, before our eyes. Amongst the crazy flashing strobe lights, I sit transfixed, as if in a trance. Whatís old seems new. What was then is now. Everything stays the same but changes forever. Into what? We see! We hear! But none of the old rules apply! This Stone tongue rolls over Ėitís different. That Stone tongue rolls over -itís the same. All deals are off! The music, like the Stones themselves, is the only constant. But they are old! No, they are new! The past? The present? The future? Itís all constantly changing! Nothing is instantly recognizable anymore it seems! And here I am, totally lost to the rock and roll, but I havenít smoked or drank a thing! Surrounded by the Stones sound and vision; their images on the huge stage and screen loom before me. The Stones fill our eyes, our ears. They are everywhere. They are everything. They are for certain. Seemingly in freefall. I grab onto my seat. I flashback to the start of the show, just as the galaxy explodes into a million different pieces. Flying out into the vast crowds all around me, to my right, to my left, back behind me, down below. Lighting up a sea of changing faces, off all ages, backgrounds; pure postmodern mayhem. Yes! We are here. We are it baby! Itís the biggest bang of all!

Whew! Hang onto you seats. The staccato high tech drumbeat of Sympathy for the Devil rapidly follows as we fall headlong back into the sixties meet the new millennium. Mick caustically appears between the burst of flames on both sides of the stage. Crazy flashing red patterns race by on the screen, one after another, each more intricate, in rapid succession. I can feel the heat on my face, and in my very gut, as our satanic majesty works his demonic charms on the audience, as we join in the refrain. After all, the Stones are you and I. Itís the devil of the thing, come back to Toronto! Itís a haunting melody, bashed out with a grinding, swirling fury! Deftly plucked from mid air as Keith fingers ply his strings, and in the solo bursts from Ronnieís guitar!

By riff, and by refrain, the tension builds. We know the show must be coming to an end. The Stones hit a gallop with a romping version of Brown Sugar. From Oooo! Ooooo! to Oooh! Ooooh! Our hypnotic voices echo with the Stones, back and forth across the vast stadium, into every nook and cranny, washing away any leftover reservations one may still wish to entertain. Give up to the music! This is it; weíre going over the top! Straight into the cross fire hurricane of Keith and Ronnieís Jumping Jack Flash guitars! Their prototype steely resolve and hard nitty gritty playing are but a hard rock nemesis. Itís buried deep in our psyches, echoing back and forth, a mad rebellious streak from the sixties through to today. The Stones once again show us how it is done. True masters, they bear down for a mad ecstatic race to the rock and roll finish!

And just as suddenly as the concert started -itís over! Guitars and drumsticks are put down. The boys walk away, leaving us momentarily floating, lost in space and time, amongst the darkness of the Rogers Centre, clapping and stomping for more. But of course theyíll be back! A lone Keith wanders out first, with guitar in hand, to the lip of the runway. He fingers the lamentful opening chords of You Canít Always Get what You Want. Is soon joined in full force by the band that never seems to go away -The Rolling Stones! Back for more! Voices. Guitars. Drums. Rising and falling, rising and falling, time and again. Picking up the momentum, as if theyíd never been away, we once again join in the chorus. Forty thousand voices strong, finishing every line for Mick, he hardly needs to sing -we can do it ourselves! Weíve been taught well! The Stones are once again with us. We are united as one in song. Making our connection. We donít think about it, not if we really get it. I donít think so. We feel it from our heart and soul. The Stones will make sure we get what we need. The huge stadium is once again turned into our church. The pure Stones synergy cleansing and purifying us of all sense of self. A rock and roll community, lost in the sea of our collective voices, floating between the Stones chords and notes. This is bigger than any of us. We are, if even for a brief moment in time, the Rolling Stones incarnate. We are them. They are us. They start the melody. The chorus. We take it from there, and finish it. Together. Some of us for the first time. Now plugged into the music with the rest of us, reliving it time after time and again! In concert! On cd! On dvd! Alone, or with our friends. Listening to the Stones over the course of our changing lifetimes throughout the years.

The Stones final encore number pretty much says it all. The band finishes off with a rip snorting Itís only Rock and Roll. The drums pound. The guitars blaze. The crowd sways, as we sing along. Eh? No. We didnít get to hear Sway, or Moonlight Mile, or any of the other umpteen songs Iíd have chosen to hear if given my druthers. And no -it wasnít a technically perfect show, but in my experience, with the Stones, it rarely is. Thatís all beside the point!

Quite simply the Rolling Stones are the last high priests; the shamans of rock. This tour is about big bang showmanship. In my opinion, itís whatís needed to bring back together everyone into the Rolling Stone fold, from across the years, including the new generation of fans, whoíve just been turned on by the latest hit album. Itís about creating the ties that will bind our otherwise exploding galaxy of lives, and the times and the spaces in-between. Itís about being together as one. Itís a magic mix, a mad ecstatic energy flow, graced by a rock and roll communion of song. Maybe we donít always get exactly what we want from the Stones, but if we just let go and enjoy the show, I think youíll find, the boys can truly give us just what we need! Them and us together in song -itís the biggest bang of all!
---
Links
Toronto Sun : The Stones set the stage - Bigger, better production unfolding at Rogers Centre
Toronto Sun : Live Review: The Stones in Toronto
---
Please send your show reviews and comments to: [email protected].
The reviews will show up here soon! Thanks!
---
The IORR magazine
For exclusive reports and pictures from the Rolling Stones tour opening see the IORR magazines.




It's Only Rock'n Roll 1980 - 2005
© The Rolling Stones Fan Club Of Europe