---
These are the latest Rolling Stones news and updates for you! IORR is a non profit fan club run by fans for fans. All parts of the It's Only Rock'n Roll web site is copyright of The Rolling Stones Fan Club. When using information from this site, please include a reference to IORR and the main web address www.iorr.org.
---
---

The Rolling Stones
Shanghai Grand Stage, Shanghai, China
Saturday April 8, 2006
The set list
Start Me Up
You Got Me Rocking
Oh No Not You Again
Bitch
Wild Horses (with Cui Jian)
Rain Fall Down
Midnight Rambler
Gimme Shelter
Tumbling Dice
--- Introductions
This Place Is Empty (Keith)
Happy (Keith)
Sympathy For The Devil
Miss You
It's Only Rock'n Roll
Paint It Black
Jumping Jack Flash
You Can't Always Get What You Want (encore)
Satisfaction (encore)

Warmup band    : 7:40pm -  8:05pm
Rolling Stones : 9:05pm - 10:50pm


Warmup band: Bryant McNeil's LIFE ON EARTH
---
The Rolling Stones performed for the first time ever in mainland China tonight in Shanghai. A crowd of 8,000 fans with a western majority got a great Stones show at the theatre style venue Grand Stage. Chinese rock star Cui Jian was doing a guest spot with vocals and acoustic guitar on "Wild Horses". The regular songs "Rough Justice", "Honky Tonk Women" and "Brown Sugar" were not performed, but the Honky Tonk inflatables were present for a change.
---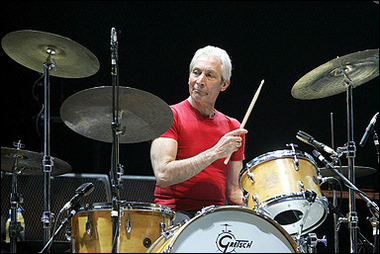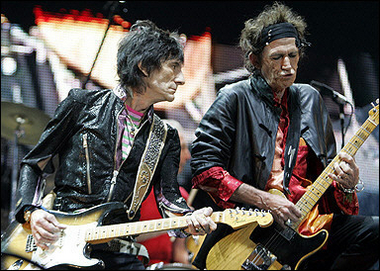 ---
Review by Kevin Dauphinee, Beijing
Shanghai Grand Stage - the capstone of a career. Keith said it was a "first", playing in China - something he's apparently not experienced of late. The same could be said of the audience made up mostly of ex-pats and overseas visitors – from Toronto, San Diego, Germany, Ireland – and, of course, China. From the rumbling opening of "The Bigger Bang" video montage to the first strokes of Keith's guitar to "Start Me Up", the crowd came to its feet and it was yet another chapter of 'fun and music' with the greatest rock and roll band in the world, The Rolling Stones. The intimacy of an 8,000 seat theatre was substantially out of context as my most recent Stones sightings had been the Tokyo Dome last month, the Tecmar Site in Hong Kong in 2003 and the MGM in Las Vegas in 1999. Standing 15 feet from the stage with Mick belting out "Miss You" while standing over me was the culmination of a fan affair tracing back to the North Shore of Boston, MA with "Time On My Side" in 1964.

No set list surprises with the exception of "Paint It Black", which melded well among the other hits. An interesting exercise would be collating the distribution of hits played on stage by date. A cursory glance indicates the '60's and '70's from 'Banquet', 'Bleed', 'Fingers' and 'Exile'. Contributions from "A Bigger Bang" hold up under the glare of stage lights with Keith's "This Place Is Empty" being my highlight. What could have been a treat was a sample of R&B or blues in the set list as "Going To A Go-Go" by the Miracles played in anticipation of the performance. "Little Red Rooster" or "That's How Strong My Love Is" would have set this date apart. In spite of the technology, and perhaps my proximity to the stage, the mix was less than balanced and clear. Mick was mixed a bit low and Charlie's kick was a quite harsh, but his cymbals were more present – a missing element of the Tokyo Dome show March 24.

Now let's get the DVD collection re-edited and mastered to enjoy "Ladies and Gentleman, The Rolling Stones" from '72 and possibly the live gigs from Toronto in the late '70s. We can sit in our recliners with remote control in hand to relive a past full of pleasure and pain as men of wealth and taste.
---
Review by Manuel Trindade Marques Pinto
I came all 'e way from Portugal to watch 'em boys 1st show in mainland China, and believe me it was worth the 14 hours trip. They rocked the joint the whole show, though it was 3 songs shorter (BS, HTW, RJ - I believed they were censored). It was my 1st time in such a small venue and it was amazing, with a frantic Mick, Keith being Keef the Reef, Ronnie was Ronnie B Good, and Charlie was amazing. The audience was 90% ocidentals and new by heart all the songs, stayed almost all show on their feet singing along those gems (I'm almost without voice). Finally what a magical rendition of Paint it Black!!! If I don't get to see you sooner, 'til August in O'Porto!
---
Review by Sam Roberts, Shanghai, China
For all the garbage you hear, with people complaining variously about their age, wealth, or even songwriting talent these days, none of this criticism could have survived the aural avalanche that was the Stones at Grand Stage last night. Before the show even started, the anticipation of the audience set an electric atmosphere. The composition was mostly as Mick had assessed in the press conference - expat bankers and their girlfriends. Well, I would guess about 90% expats, with a pretty even distribution of children through to the Stones' contemporaries and first-time-round fans. Flags and banners from Portugal, Latvia, Brazil, etc were shaken back and forth. I just wish I'd thought to bring a Union Jack!

The setlist was a mix of well known hits and some very welcome surprises. Considering it was the Bigger Bang tour, it was surprising that they only played three tracks. With 'Rough Justice' banned, 'Oh No Not You Again' was the standard chugging rocker, and came across very well. 'Rain Fall Down' and 'This Place Is Empty', to me, both came across much more fresh live than on the album (with Mick strapping on a black strat and doing rhythm fills for the former). With 'Honky Tonk Women' and 'Brown Sugar' also banned, the Stones elected to play the respective b-sides - 'You Can't Always Get What You Want' and 'Bitch' - both of which were well known enough for the audience to shout along, but still not so overplayed that it felt like any generic concert performance. Highlights included 'Gimme Shelter', with Lisa Fischer truly outdoing herself, and 'Paint It Black'. 'Paint It Black' was absolutely sensational: Keith appeared on stage with a white Telecaster to play the opening lick, and seeing the sheer joy on his face while doing so, it was truly an unforgettable moment. The only low point (if you could call it that) was when chinese pop star Cui Jian appeared on stage to play 'Wild Horses', and promptly forgot the chords and the words...

All in all, an absolutely excellent show!
---
Review by Kahoosier
I was there, the Stones in China. It is hard to seperate the review of the actual show from the entire weekend experience for me. Being relatively unknown seemed to ease security concerns and at once the under side of tour functions was more visible as well as key players being more accessible. Let me give you an example. Friday night, we are standing at the front desk and in comes Mr Fowler, between 1:30 AM and 2 AM. In the Four Seasons, you need your key to get the elevator to work, and no one is gong to floor 36 without a special key, and he has lost his! He asks the pleasant lady behind the desk for a key... and she refuses him! She is asking for ID! You cannot produce ID to match a fake name, which he has given. I look at him and at her, and say " I know you, I can vouch," and at that point , with the Stones hotel name firmly in my mind, the whole scene becomes surreal enough Bernard laughs. I extend my hand, and after shaking he pulls me in for a big Bear Hug. We all get on the elevator laughing and joking.

By just having lunch next to Blondie I knew when the band was to leave for the venue, etc. I talked multiple times to the promoter. They were so in above there heads, that at one point the Stones Team and he were at it in the lower arena lobby because no one knew where they were at, other than they had left the hotel as planned at 6:30 PM. The best explanation given, they must be stuck in traffic! All of that led to a slight delay, with a statement given over the PA that the group apologized and the show "would start in another 10-15 minutes." Who could imagine an aplogy like that any where else in the world?

Then there was the whole merchandising fiasco. The arena was divided into levels. There was no travelling between levels/ticket costs. Once you were in at the lower floor levels, you were not going any where else. All of the merchandise, other then copies of CDS, was on the upper levels, so if you had a good seat, you could not buy a Tshirt or poster. The seats themselves were a bit of a mystery also, with a large area in front of the stage left seatless. This was great, because that area did not stay empty! Long before the first note, it became an FOS area, with fans crowded in and counting thier blessings! BV was there, Mr Ono was there with his Ronnie Be Good Sign! It was old home week in China!

Lights are down, and it all begins. The first thing I notice is this show is going to be LOUD! Now, before I go any further, I want to just deal with the short set list issue. I was keeping notes. When we left the arena at the end, all I heard were happy praises. People in bright green Shidoobee Shirts, ex-pats, locals, tour regulars, all left that arena universally happy as far as I could tell. I did not hear one complaint and did not even realize until I was on line later that the set list was "short." OK , so it was only 18 songs, it was just short of two hours later, and I could not find a soul that was there bitching. Suddenly, I am on line and people thousands of miles away are disappointed or turning this simple rock into a political slap in the face for the Chinese people. Wow, all too deep for me, because I had a blast.

Ronnie was on it! And I was worried, becauase to be honest, the first thing my sister said to me is "Oh My God, Look how wasted he is!" I have to admit there were moments that I wondered, because he did look alteranately hilarious and lost, but I cannot complain about his music. Start Me up thundred out, and even his solo, which often makes me cringe, was on the mark. Maybe because we were in front of his stage amps, but he was highly audible. I think he is just finally hitting his stride again, and they have turned him up in the mix!

Charlie seemed to be having a blast. In fact, for me that was the key to the whole show, everyone was having fun. I have never seen Mick rolls his eyes so often, or mug as much at the front of the stage. There were magical moments: Wild horses with three acoustic guitars and Ronnie playing wonderful electric fills but even more wonderfully Keith on Strong and prominent back up vocals. A powerful Midnight Rambler again with Ronnie on peak form. Some have felt that Jaggers voice was a bit weak, but I did not notice. What I did notice was a bit of the old Magic between he and Keith, with Keith at one point placing his arm on Mick, leaning in for support, all grins, and whispering in his ear. This did not seem to me a band out on its last tour propped up for money; this band was vital, eager, and having a great time giving us their all.

I have notes, I could give you a song by song review, but I want to just leave it with this; It was Magic. Wish you all could have been there!
---
Review by Matthew Turner, Singapore
Having seen the stones both times they played Singapore for the Licks tour it is inevitable that subconsciously I was continually making comparisons. But then you remember....THIS IS CHINA... Firstly, the entire event had an air of adventure. I stayed in the Regal East Asia hotel where the entire road crew stayed, so on Friday and Saturday walking around I kept running into various roadies. For the most part they were very friendly and also excited to be in China. While walking around the Theater there were several Chinese scalpers trying to unload tickets for huge prices. Most not even knowing who The Stones are. Also there were several younger folk who spoke some English who commented, "oh, you mean the grandfathers who are here?" Yup! Bet yours' don't rock like the Stones!

Sitting in the VIP section, which was the main floor was great. Very close view of an entiment stage set up. The only glitch, being China, they were not selling shirts in the VIP area and they would not let you go to the upper areas where they were because of the ticket! Classic circular logic in China. Many folks were in search of shirts that never arrived.

Now the show. They started off with a lot of energy and great guitars, Start Me Up a warhorse, but they really seemed to have a lot of energy for it! The next few songs were choppy. The sound and mix seemed to get muddied, and in Bitch they lost their way during the middle sections, and the horns didn't pack much of a punch. Wild Horses was beautiful, and Mick really shinned. They played with Cui Jian (the Chinese equivalent of Bob Dylan), and he really struggled with the lyrics, that he was reading from some pages taped to the stage. The whole band got their bearings on Rain Falls Down and delivered a great version with a nice tidy bass solo from Daryl. Gimmie Shelter was solid, however, at times Keith seemed to forget to play his rhythm part, and Ronnie was very hard to hear. Sarah, of course, blew everyone away with her contribution. Tumbling Dice was awesome and they really hit it on the mark, however, this is when I got a bit worried about no nuggets, they usually show up by now. Sure enough Mick made the introductions and then Keith. I agree that this was one of the highlights. He put a lot of heart and soul into This Place is Empty, and his playing was fantastic. So clear and he really nailed every intricate finger picking part. Happy, everyone was! Finally they bumped up Ronnie in the mix and you could really make out his lap guitar.

Then it was on to the warhorses....and I must admit I was a bit disappointed no nuggets were unveiled. And as sick of Sympathy as I am, I also must admit the version they did was fantastic. More funky than usual. Very good! Miss you was good, but again the guitars were lost in the muddy mix. Paint it Black, I was a bit surprised! Very solid. Then the rest is history.....but I must say You Always Get What you Want was stellar. Mick actually encouraged Ronnie to run with the solo and signaled to the band to keep going.... On a closing note. Keith's nine lives were again tested tonight. Without many people noticing a large stage sand bag fell from the rafters and missed him by inches!!! Keith looked surprised and a little confused, then he slowly retreated to Charlie's drum platform and hung out there for a bit. Perhaps this was the reason the show was cut short?!

All in all a solid show, but not a landmark performance. The best part was just the whole vibe and adventure of seeing them in China. When I was departing through immigration it was a madhouse. Hundreds of people and in the throng with everyone else was the road crew and the backing band! Bobby Keys was just in front of me in line and what a nice guy. I went up to him and thanked him for his solo on Miss You and he signed the back of my ticket stub. Then after clearing the security check point I met up with Daryl. Another nice guy and we chatted a bit about the show and where we were from in the States. So another landmark for the boys!
---
Review by Franco Berkovatz
How do I put this review in perspective... and not sound like just because I was there and you were not that you missed the Best Rolling Stones Show of All Time!!! Well... you all did..... I have seen over 100 live rolling stones shows dating back to 1972 winterland SF which holds 5500 people.... last night.... Mick again was absolutely magnificent!!!!

I had seen three shows of this tour prior to this one... SF... LA.... VEGAS.... What happens is simply the more time they put into the original songs just become incredible....last night The Rain Fall Down....was the best version ever.....I can't remember tearing up as midnight rambler was being preformed....but Mick and Lisa were simply smooth as butter....what a show...The sound...the sound was what made it the best show...The Shanghai Grand Theater with it low ceilings and acoustic tiles...was the reason....I have been back stage with the stones...I have been 1st row...I have been 3rd and 7th row....last night every seat in the house was as good as any!!!! It was like having the boys in your living room LIVE!!!!!!

I flew from Maui, Hawaii...just to see the show and it was the best show I have ever seen!!! So all of you reading this living in areas that the Stones are coming to you soon..... at all cost pick the venues with the least amount of people.... what a treat... anyone who would say they have lost it..... you and I both know.... they were never rolling stones fans.... Aloha from Shanghai..... All you can say is Mick looks and sounds great... oy oh boy.... I hope I am in the same shape as mick when I am 63 plus....
---
Please send your show reviews and comments by e-mail to: [email protected].
The reviews will show up here soon! Thanks!
---
China links
China report by IORR : Press conference reports and more from Shanghai
AFP : Rolling Stones play historic China debut
USA Today : Rolling Stones rock Shanghai
Reuters : Rolling Stones push boundaries in China debut
The Observer : Stones finally roll into China - but fail to start a cultural revolution
---
The IORR magazine
For exclusive reports and unique high quality pictures from the Rolling Stones tour and more see the IORR magazines.
---




It's Only Rock'n Roll 1980 - 2006
© The Rolling Stones Fan Club Of Europe