---
These are the latest Rolling Stones news and updates for you! IORR is a non profit fan club run by fans for fans. All parts of the It's Only Rock'n Roll web site is copyright of The Rolling Stones Fan Club. When using information from this site, please include a reference to IORR and the main web address www.iorr.org.
---
---

The Rolling Stones
Madison Square Garden, New York, NY
Tuesday, September 13, 2005
The set list
Start Me Up
She's So Cold
You Got Me Rocking
Tumbling Dice
Rough Justice
Back Of My Hand
19th Nervous Breakdown
Bitch
All Down The Line
Get Up Stand Up
--- Introductions
The Worst (Keith)
Infamy (Keith)
Miss You (to B-stage)
Oh No, Not You Again (B-stage)
Satisfaction (B-stage)
Honky Tonk Women (from B-stage)
Sympathy For The Devil
Paint It Black
It's Only Rock'n Roll
Jumping Jack Flash
You Can't Always Get What You Want (encore)
Brown Sugar (encore)

Show start :  9:50 pm
Show end   : 11:55 pm

---
Review by Robert Bagel, New York City
It was cool that there were special T-shirts for tonight's show (which the Chicago show did not have), commemorating the Rolling Stones' 20th sold out show at Madison Square Garden. Tonight was definitely a fun show at The Garden, but it came verrrry close to disgracing the cool shirts. This was perhaps the most uneven Stones show I have ever seen: while most parts rocked, what would be a special treat could be declared an unmitigated disaster: 19th Nervous Breakdown was converted into a fuzzy, plodding tune that lacked energy, and lacked most of all the Bo Diddley inspired signature guitar riff of the song. The slower tempo was acceptable, provided Keith came in with the guitar. But there was nothing: it was like Britney Spears' version of Satisfaction, completely spayed of distinctive guitar riff. For a moment the unimaginative sound made it seem like Oasis was on stage, and it was a nightmare. For all of the great rarities we have seen, like Get Off My Cloud, Some Girls in 1999, or even Under My Thumb in the late 90s, it (for once) was hard to imagine what the Stones were thinking on this one.

So how could such a show be rescued? For most bands, it would be impossible. However, the Rolling Stones came through with nice versions of Bitch, All Down the Line, and Bob Marley and Peter Tosh's Get Up Stand Up, which the crowd was clearly into. Madison Square Garden seemed like a small club tonight, making it an intimate place even though it falls into the "arena" category. Maybe it is the urban setting (I don't think they are monitoring decibel levels from the show or curfew out on 7th Avenue!), maybe it is the availability of mixed drinks, and champagne-and-strawberry vendors wandering the stands. It is difficult to think of a better place to see a show in the United States, though get enough fat and balding Americans who will only stand up for Satisfaction and Jumping Jack Flash, and you have a potential problem. However, things did come together and the formidable number of handicap section wannabes got to standing as the stage rolled out into the middle of the Garden.

As at previous shows, Miss You was played as the B stage rolled out into the crowd. This was especially good as it was New York City, where Miss You can be considered the Municipal (equivalent to National) Anthem. Once reaching their destination in the middle of the venue, the Stones played perhaps the best single song of the tour so far, Oh No Not You Again (played once before in New York City at Lincoln Center in May). Mick set up the song perfectly, saying to someone in the B-stage crowd, "I know it's fashion week, but that's ridiculous!" The song electrified the Garden, the lyrics perfect ("You look so cool and tempting in your couture dress"), and it was clear we have a song that ranks with Respectable, If You Can't Rock Me, or Star Star for raw energy and emotion. A century from now the casual Stones fan will have to dig to figure whether Oh No Not You Again was from 1974 or 2005.

An equally thrilling blast came as the B-stage retreated back to the main stage (unlike outdoor shows, there was no giant inflatable floral tongue back on the main stage), as Mick delivered the "I layed a divorcee in New York City" line. The Garden bloomed in cheers and applause, lush in noise acknowledging the close cultural ties this band has to this city, stronger than to any other city (sorry London!) on the planet.

As if the dreadful 19th Nervous Breakdown was not already purged from our souls with these awesome songs, we got Paint It Black! Keith's guitar was graceful throughout, Mick's heart and soul front and center in his vocals. The night finished strong on IORR, Jumping Jack Flash, a wonderful sing along You Can't Always Get What You Want, and Brown Sugar. The show ended with the Garden focused and energetic. We could have used a few more tunes on this twentieth show!!

As a friend said before the show, "Do not expect too much or you will be disappointed". Maybe this was the case, where the 20th Madison Square Garden show for the Rolling Stones was so anticipated that it had to be perfect to satisfy the devoted fans spoiled by great performances each time. Still, with Back of My Hand, Get Up Stand Up, Oh No Not You Again, and Paint It Black this show was arguably great. With the 19th Nervous Breakdown problem averted an argument would not be necessary; tonight at The Garden would have simply been great.
---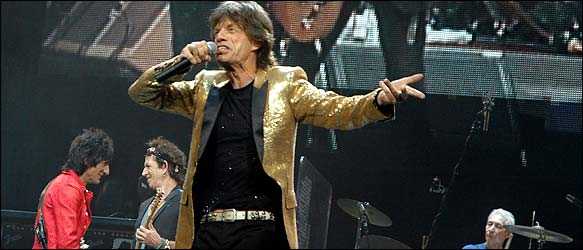 ---
Review by Russ R.
This was my 12th or 13th Stones show and I have to admit I had a tear in my eye at the end because they were just so awesome at times. I was a bit cynical and skeptical going into this tour, but they really blew me away tonight. The guitars sounded loud and ferocious and Mick's voice just keeps getting better.

Maybe it's because the Garden is a special place for them, but some songs that have sounded so old and tired on the last few tours just burned tonight in a way I didnt think was possible again. Standouts included: All Down The Line, Paint it Black, You Got Me Rockin, JJF (!!!) and Brown Sugar. Not only did the new songs hold up well, but Back of My Hand and Infamy, were two highlights for me. The Stones just have such a magical groove and it was on full display tonight. Charlie played like he was on fire -- they all did. They also seemed to be having a hell of a good time with one another and the NY crowd.

This is definitely a show to get a boot of.

I won't carp about the setlist (how can a band that has as many good songs as they do possibly keep everyone happy all the time), but I will say that Sympathy For The Devil should be retired. And Maybe Honky Tonk Women too.

These guys are amazing at any age. I can't wait for the next Garden show in Jan.
---
21st Time Is The Charm
by David S. Muhlfelder
Okay, let me get the rant out of the way first. Tonight the Garden Gestapo behaved like skinheads in training, acting like a few 40- and 50-somethings blazing up a joint, or dancing in the aisles, was a victory for Al Queda. At least that's how it was in my section. It's a rock concert, for God's sake. Certain conventions must be respected. The truly pitiful part is that none of these brainiacs would be allowed on the New Orleans police force in the wake of hurricane Katrina. But what can you expect from the owners of this storied venue. They treat all their patrons with equal contempt. That's one of the perks of being the only game in town. Okay, rant over.

This was my 21st Stones show dating back to 1966 (It would've been my 22nd, but the gig I had tickets to in Amsterdam in 2003 got cancelled.). It was nothing short of mind boggling. I have seen concerts in venues ranging in size from rock festivals to the Mud Club, and I have never been as close to a band in performance as I was tonight. And what a band. Our seats were in Section 59, Row C, which put us just above eye level on Ronnie's corner of the stage. The band could've been in my apartment. I thought my head was gonna explode. There was a railing right in front of us where Mick, Keith and Ronnie spent lots of time preening and weaving, all seemingly for my personal entertainment.

You do pay a price in the sound mix, getting some overlap between the onstage and arena sound systems, but you more than make up for it in intimacy and communing with the boys. It becomes like a revival meeting with Pastor Mick leading the call and response. In fact, this was very much Mick's show. His focus and intensity throughout was riveting. He managed numerous playful moments, joking about all the friends he never knew he had calling him for tickets, and introducing Ronnie as Ronnie "Rehab" Wood. He provided some nice slide guitar on "Back of My Hand," and a throaty blues vocal. His re-imagining of "19th Nervous Breakdown" was inspired. It was a more mature New Orleans vibe that felt more in sync with the dark lyrics. Definitely a highlight of the evening.

Other highlights came from the most unexpected places. "You Got Me Rockin'" had a great hard groove. I thought Keith was going to tear the strings off his guitar. "Brown Sugar" which I've seen done live 19 times before, never sounded fresher. As did Keith's solos on "Sympathy." "All Down The Line" was a pleasant surprise. Keith's rendition of "Infamy" sounded more up tempo and edgy than the album. The new small stage setup was fun, giving just about everyone some of the close-ups, and getting the action out of my lap for a few minutes.

Make no mistake, the Stones are a big market act, and they turned it up a notch for the Garden crowd. Keith even joked about this being the last stop before they head into "the sticks." It was so New York, raw and chaotic... and brilliant. Next stop for me: Philly, then back to the Garden in January. Hope I get my hearing back beforehand.
---
Review by Gricha Safarian, Belgium
How the Stones managed to turn the MSG show into a Theater show experience is a total mystery to me but that's exactly what happened!

The Saturday show at Soldier's Field was already a very good show but at MSG something special happened, and it translated into a "more than ever" jumping Mick Jagger and a crowd that got increasingly in the mood for singing and dancing together with the Stones.

There are mixed feelings about the "revisited" version of 19th Nervous Breakdown, as far as I'm concerned it was fantastic and I whish the Stones would revisit more of their old classics. Take for example the Satisfaction version of the bootleg "Let your Leeds Lung Out", to hear this today would be a drag.

The excitement peaks happened with All Down the Line, Get Up Stand Up, Not you Again and IORR.

And, yes, they screwed up the set list.

It was supposed to be Shattered on number 15 (B Stage) but they started Satisfaction instead (Ronnie complained to the band…) and therefore Shattered wasn't played and Satisfaction was not part of the encore. They gave us YCAGWYW instead, not really a bad deal in my opinion…….
---
Review by Witz
It's nice to be back!! Once a tour starts I avoid this web site until I see my first show, so I can be surprised. Although, there were not too many surprises the Stones were as good as ever last night. Ronnie and Keith were on top of their games (though from reading above, i see Keith screwed up on the small stage, but that's almost better than following the script perfectly). I had a seat one section up, right above the small stage, and it was clear something had happened, as Ronnie called Mick over and at first seemed serious, but then started laughing. Again, there was a conference when they went back to the big stage between a roadie, Mick and Chuck -- probably discussing how they would replace Satisfaction later in the set.

I thought the stretch run from Oh No Not You Again thru to the end was great. Usually I prefer the earlier parts of the show because that's where you find a gem or two, but as there were none of those last night, i guess the classics became the strong part of the show.

I had (once again) hoped for You Got the Silver from Keith, but no such luck. I actually enjoyed The Worst more than I had in the past, but why was Bernard singing the chorus, center stage, with Keith. Is he starting to doubt his voice -- I didn't think he cared about such things!! For his second song, I was expecting Little T&A (you see how far off you can be when you dont read any set lists before hand!!) but Infamy played even better than on the album (i think i just dated myself).

I was a little bummed that we didnt get something brought out of the cobwebs like Can't You Hear Me Knocking from Licks, 2000 Light Years from Home from way back on the Steel Wheels tour, StarF**cker from Bridges or half of the stuff i got at Roseland in '03. Dont get me wrong, i didnt want to hear them again, but I would have liked a new gem. Ever since i first heard it, I thought She was Hot would be a great live song, but I guess the boys dont agree.

Three other tidbits: I thought the video during It's Only R&R was great (clips of all of their old videos). I would love to see that turned into a video on MTV (do they play videos anymore?). Second, I always like the bawdy video/dolls, parade of girls, whatever, they do for Honky Tonk Women, so i missed that there was nothing this time; and, finally, though some might think he was a jerk for saying this, I thought Mick was funny when he talked about how great it is to see different generations coming together to the show and then he added, "to the parents, enjoy the show and to the kids, ...well, there goes your college fund."

On the Meadowlands tomorrow (20 shows and counting for me, over the years) and for the rest of today, i will be reading all of your reviews to date and seeing how last nights set list compares.
---
Review by Kent Lusnia, Easthampton, MA
Just got back for the Big City. 8 long hours of travel, a quick shower, the kids off to school and I'm looking at a 40 hour day. Would I trade it for anything - NO WAY. This was my 4th show of the tour and the first indoor venue. The last time I'd been to the Garden, Earl the Pearl and Walt Frazier graced the hardcourts. I had always heard that MSG was the best place to see the Stones, it is most likely the most storied venue in the career. Well I was not disappointed, the energy of the band and crowd was unreal. The sound indoors was great. Those interested in those side seats that say partial obstruction, do not worry the stage is wide open and those seats appear to be great. I havn't read any other posts so I hope I do not repeat too much.

1. Start Me Up - they have a stage curtain down that kinda looks like Beggers banquet, the play the intro right thru this - awesome sight - absolute awesome energy on this one, Mick dressed in gold.

2. She's so Cold - best verision I have seen yet, the smoked this one. After the song Keith and Mick embraced in front of Charlie's drum set. The boys were getting along tonight.

3. You Got Mr Rocking - my hands are still sore from clapping on this one - The Garden was rocking -

4. Tumbling Dice - absolutely awesome, they nailed it as usual, great guitar work.

5. Rough Justice - great new song, they are really in the groove on this one.

6. Back of My Hand - glad to see this back in the setlist, that one is old blues at it's best. Great slide work by Mick and Ronnie.

7.19 Nervous Breakdown - the treat of the night, if this is anything like the Phoenix show version - WOW. They rocked out on this one with everyone singing along.

8. Bitch - another great treat - much better than the Fenway 2 version, guitars maxed out

9. All Down the Line - Mick became unleashed on this one, jumping around, dancing arms flailing, Keith and Ronnie going nuts on the guitars, Mick came over to Ronnie to fool around and Ronnie gave him a shoulder bump away - he was in the zone.

10. Get Up Stand Up - great to hear this one again, the crowd really into it singing along. Mick sure can work the crowd.

Intros - and on guitar Ron "Rehab" Wood, Mick and Ronnie arm and arm smiling widely, Ronnie got a chuckle out of that one. Great ovation for Charlie , he was banging away on his drums alot Mick finally had to tell him to stop. Then Mick and Keith arm and arm introduction. The boys were in great spirits all night.

11. Worst - saw Blondie playing on this one. I'm not sure if I just did not see this in Fenway or East Hartford but nice version.

12. Infamy - I love this song, at one point Keith came over to Ronnie and put his arm around him while Ronnie was jamming, even pulled him over to the microphone and Ronnie song one note, they got a great chuckle over that.

13.Miss you - nice hard rockin version, the stage comes out just like the stadium shows.

14. Oh No Not You Again - great new song, they seem to really like playing this one.

15.Satisfaction - down and dirty rocker - the crowd was going nuts

16. HonkyTonk Woman - one of the best versions I ever heard, the crowd singing every word.

17.Sympathy for the Devil - holy crap will they ever slow down, NO, great version, with Mick in tails and top hat.

18. Paint It Black - awesome to get this one tonight, the crowd really loved it.

19. It's Only Rock n Roll - good spot for this one, nice long rocker, the guitars were blaring. Ronnie and Mick arm and arm sing this one at one point.

20. Jumping Jack Flash - a no horns rock and roll version that shook the house. GOODNIGHT NEW YORK

Encore

21.You Can't Always Get What You Want - What a treat when I saw the trumpet player come out - I knew we were getting a 2 song encore. Great crowd participation. Loved it

22.Brown Sugar - Keith kicks in, the streamers and confetti getting blown out everywhere - great hard rocker. The crowd was at a feverd pitch.

The Greatest Rock In Roll Band in The World gave the greatest Stones concert I have seen in the past 20 + years. In my opinion this one goes down in the record books.

Off to Albany on Saturday.
---
News links
The New York Times : They May Be Seniors but They're Still the Stones
---
The IORR magazine
For exclusive reports and pictures from the Rolling Stones tour opening see the IORR magazines.




It's Only Rock'n Roll 1980 - 2005
© The Rolling Stones Fan Club Of Europe