---
These are the latest Rolling Stones news and updates for you! IORR is a non profit fan club run by fans for fans. All parts of the It's Only Rock'n Roll web site is copyright of The Rolling Stones Fan Club. When using information from this site, please include a reference to IORR and the main web address www.iorr.org.
---
---

The Rolling Stones
MGM Grand Garden Arena, Las Vegas, NV
Friday, November 18, 2005
The set list

Jumping Jack Flash
You Got Me Rocking
She's So Cold
Tumbling Dice
Oh No Not You Again
Rain Fall Down
Angie
All Down The Line
Night Time Is The Right Time
--- Introductions
Slipping Away (Keith)
Infamy (Keith)
Miss You (to B-stage)
Rough Justice (B-stage)
Get Off Of My Cloud (B-stage stage)
Honky Tonk Women (to main stage)
Sympathy For The Devil
Paint It Black
Start Me Up
Satisfaction
You Can't Always Get What You Want (encore)
Brown Sugar (encore)

Show start :  9:50 pm
Show end   : 11:45 pm

---
IORR comments:
If you were able to hear the soundcheck for tonight - or rather the rehearsals - then you would expect a very special show. Normally they check the sound with "Tumbling Dice", where all 13 band members are on, plus 1-2 more songs they will do for the night. Tonight's "soundcheck" lasted for almost an hour, and included the following 8 songs:
Back Of My Hand, Bitch, Angie, Mr. Pitiful, Beast Of Burden, Ain't Too Proud To Beg, Going To A Go Go, Rain Fall Down. But the show went on like most of the shows so far, except for the unusual start with "Jumping Jack Flash". By then everybody had been in their seats for a long time, all dressed up like the Las Vegas crowd use to be, and very, very ready.
The sound was sharp, strong and clear. The venue is perfect. Such a small floor, and the distance from the main stage to the B-stage must have been the shortest so far on the tour. They got hardly into "Miss You" becore they arrived there. "So there is life in the dessert after all" was Keith's comment. While Mick welcomed everyone from out of town, also everybody from Los Angeles and San Francisco. Also he commented on the fact that they did only play one show in Las Vegas for now, while others stayed and played many. The Las Vegas way.
During the introductions Charlie left his drums and walked forward. "He can stand" was Mick's comment, as he put his microphone up to Charlie, now back on his drums. And yes, he talks, he says: "Thank You". "One word" was Mick's comment. Or was it two? As Keith finished "Slipping Away" Ronnie went on his back to the side of the stage. It is hard to say if it was intentional or if he fell, but it looked like he enjoyed it. And no, he was not drunk, in fact all sober. Starting "Infamy", Keith commented "What are you doing Ronnie?". Then Ronnie was back on his feet playing. In fact lots of great mood on stage and also in the crowd tonight. They should do one-hour soundchecks more often, as it seems to warm them up in a great way.
More comments coming soon...
---
Review by Richard Crooks, UK
Weird really. Male and female "trainers" grappling with young lions in a glass fronted cage; high class and cost shopping malls with designer label ranges available to the clientele; and banks and banks of slot machines, card tables, roulette wheels - the clientele addicted to the pursuit of a better life through apparent compulsive gambling, their every need serviced by ladies wearing "pelmet skirts" who ferried drinks. food and any other requirement a gambler needs without leaving their abode at the machines or tables.

And all this as the fan woalks through the MGM Grand to the Garden arena....enclosed within this huge complex but no more than 100 metres from the entrance to the arena.

How does this sit with the Stones ? Who knows ? For this fan it was very odd......and the fans generally at the arena seemed of a more refined age, some of the ladies in particular taking the opportunity to make an effort to present themselves as they may have looked in days gone by.

Interesting that Mick's reference to his hearing the slogan - "What happens in Vegas, stays in Vegas" - received one of the best responses of the night from the crowd, particularly the ladies.

And the show ? .......against all my expectations it was bloody good. The audience response was frenetic, passionate and loud - better than the two previous shows in San Francisco - and they literally pulled the show forward at times : on Sympathy for the Devil the crowds' "oo oo's" were way ahead of the band at the outset...Mick picked up on it and played the crowd - as usual - very well.

Overall the audience were up for it big time....the Stones responded....Jumpin' Jack Flash to start - Keith on form, Keith hit the button from the off, Mick's vocals strong.

A couple of times Keith Keith kept the song going - Get off of my Cloud, Honky Tonk Women - leaving Mick to free-form his dance ad-lib until Keith was ready to finish !

First time I've heard Charlie talk at a show - albeit a "Thank you" - when invited to contribute by Mick at the response to his introdution to the crowd.

On the night no song really stood out for me.....my favourite was "All Down the Line" - performed with a gusto and energy that delivered a strong performance and strong audience response; Lisa again gave a fabulous rendition on "Night time is the Right time".

Las Vegas was an experience - the Stones enjoyed it, I enjoyed it , and at least 14000 others did as well.

Whatever the setting the Stones deliver.
---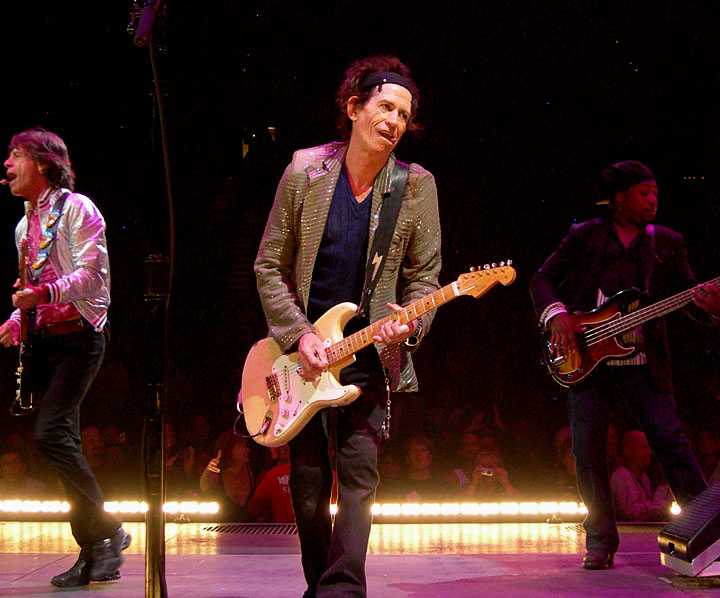 ---
Review by P. Caufield
I remember very clearly driving in the back of my Aunt Lois's car in Shrevport,Louisana, in 1965, singing along to Satisfaction. My cousin Bill was looking at me with bewilderment, but I was consumed. From the ripe old age of eight, I understood. The Rolling Stones have always been about attitude -- from Charlie's hi-hat, Keith's grip on the guitar, and Mick telling the world that the status quo needs shaking, the attitude created a tone that has been shaking the world for over forty years.

The Vegas show was very good. I'll give the cons first. Not blaming the Stones, but from where I was sitting, the first row off the end of the floor on Keith's side, the sound was not direct nor loud enough. I wanted to be consumed with sound. The lighting lacked dramatics, just so-so, without any blocking or framing of the horns, the background singers, nor the Stones themselves, I mean I wanted Charlie lit up like the God he is! Back to the sound. Surpisingly Keith's set was the clearest, with his vocals suprisingly strong on Slipping Away. I didn't see him consumed with cigarettes during the show as from former days. Mind you I had only three drinks, but when the stage rolled out during Miss You, and into Get Off of My Cloud, Rough Justice, and Honky Tonk Women, Mick, using a headset mike, sounded like he was 2000 light years from home, and I was only thirty feet from him. For the money put down to get in, there should strategic monitors everywhere, or better yet, headphones for the direct mix given to everyone. Ok quit bitching.

The highights for me were, All down the line, Sympathy, and after a sound glitch during the first cresendo in You Can't always, the sound came alive, suddenly Ronnie came alive with those great licks that he's calling his own now. Satisfaction was fine, but as with JJF, I would pay triple to see them come close to the studio versions, especially JJF with Keith on very, very loud open tuned acoustic, but that was just a dream. Many of my friends are sick of Brown Sugar, but for me, and this was my third time in 20 years seeing them, there is a bonding moment between Keith and Charlie during the song, that if Zeus saw them, he would kill them instantly because he'd know that he would never find that kind of passion and love.

That's why we lay down the big bucks. Thank you Rolling Stones
---
Please send your show reviews and comments to: [email protected].
The reviews will show up here soon! Thanks!
---
Thanks to Harold Colson for great pictures!
---
The IORR magazine
For exclusive reports and pictures from the Rolling Stones tour opening see the IORR magazines.




It's Only Rock'n Roll 1980 - 2005
© The Rolling Stones Fan Club Of Europe