---
These are the latest Rolling Stones news and updates for you! IORR is a non profit fan club run by fans for fans. All parts of the It's Only Rock'n Roll web site is copyright of The Rolling Stones Fan Club. When using information from this site, please include a reference to IORR and the main web address www.iorr.org.
---
---

The Rolling Stones
Twickenham Rugby Ground, London, UK
Sunday August 20, 2006
The set list
Jumping Jack Flash
Start Me Up
Oh No Not You Again
Sway
Ruby Tuesday
Streets Of Love
Tumbling Dice
Midnight Rambler
Night Time Is The Right Time
--- Introductions
Slipping Away (Keith)
Before They Make Me Run (Keith)
Miss You (to B-stage)
Rough Justice
Get Off Of My Cloud
Honky Tonk Women (to main stage)
Sympathy For The Devil
It's Only Rock'n Roll
Brown Sugar
Satisfaction (encore)
Feeder (warmup)    : 7:10pm -  7:40pm
The Rolling Stones : 8:20pm - 10:15pm

---
Review by Robert Bagel, New York City
The Rolling Stones in London always promises much, especially for those of us too lazy to travel all around Europe after an extensive U.S. tour. Tonight the Stones delivered on that promise, making it worthwhile to navigate the current trans-Atlantic air travel problems that cause almost as much of a headache as a coconut tree in Fiji. The band seemed thrilled to be in one collective piece (add Mick Jagger's voice problems of last week to Keith's head injury and Ronnie's rehab), the old songs were attacked with a vigor that made them fresh, and there were a few surprises to make the evening interesting for even the most skeptical.

Twickenham itself was well run, the trains made travel easy, and concessions were efficient (though inquiring about the surprising display of Darryl Jones t-shirts at stands was met with "I don't know why that's up there, because we don't have any."). The disappointment seemed fitting here, in the land of Bill Wyman. Mick made early reference to the fact we were supposed to be at the new Wembley tonight, making the hilarious comment, "I think it will be ready for the farewell tour of the Arctic Monkeys."

The highlight of the night was Sway, which seemed more polished and better tempoed than when it first debuted in Columbus last September. Ronnie did one lead with a slide and one without; both gave up nothing compared to the Mick Taylor recorded version. I know for last year's American tour everyone was saying how great Ronnie was playing because he had quit booze, but tonight his playing was as crisp and to the point that I have ever seen. Whatever it means in the context of his personal life so be it, at times he owned the stage even in the presence of Mick and Keith, and it made for a more complete and well rounded show.

Tonight was my first time hearing and seeing Streets of Love live, Mick picking up a black guitar rather than a red one the first hint that this would not be Rain Fall Down. The live version was better than the recording, less plodding and Mick certainly putting everything he had into it vocally. Any chances for a sing along or real crowd reaction seemed lost however, and for a Mick song this seems a lot closer live to 1994's Out of Tears than it does to the raw energy of Saint of Me from the Babylon and No Security tours. A great effort, but just an OK end result.

To see Keith with a bandana wrapped around his head much like a bandage was a clear reminder of his head injury from Fiji last spring. It seemed to be in the thoughts of everyone, most prominently Mick Jagger who introduced Keith as "head banger Keith Richards". Despite the jokes, Keith's playing was right on, drawing attention during Night Time is the Right Time and Sympathy for the Devil. Keith's two songs of Slippin Away and Before They Make Me Run were energetic and new sounding, so it was forgivable that one of the songs from A Bigger Bang were not included. The solos on Slippin Away were especially interesting, different than what we know from the Babylon Tour. And with enough running around, interacting with every band member on the stage, and a good natured brief mutual taunting with Mick on the stage left runway during Brown Sugar, it is safe to say that once again, no one has to worry about Keith.

From when we first planned for Wembley last year to now the reality of Twickenham, so much had changed: the venue was unexpected, the trials the band members—especially Keith—had to endure were unexpected. Despite the doubts, the problems, the worry, and the questions, the music and showmanship once again came through and excelled. I never really noticed reliability as that big a part of the thrill, but back rocking in Twickenham tonight it was another subtle quality of the Stones experience that deserved special thanks and appreciation.



---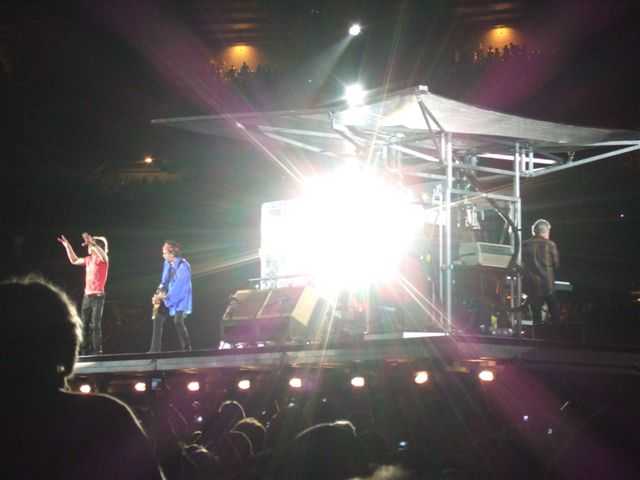 A Bigger Bang - Charlie is the source!
---
Review by Adrian Luscombe
The band were very tight, last night. From the starting riff of JJF, they hit the right note, and continued for 2 hours in a very business like and professional manner.

Ronnie Wood was a revelation. I have been critical of some of his past performances, but last night there was no mugging at the cameras, or clowning around with the front rows of the audience. I'm not a player, but to my ears, he was superb on , ONNYA, Sway and Streets of Love. He was on form and it was a pleasure to hear/see.

SOL i consider a bit of a clunker and a filler, on record, but live, it was wonderful, and suprisingly so. It was a new number to the vast majority of the audience, but got a good reception, from the people around me, with lots of clapping and acknowlegment.

There was very little, between song banter, from Mick, between numbers. He was being very economical with his voice- saving it for the singing.

I don't think i've ever heard him say less, between songs, but when he did speak, it was a marked and telling dig at the Wembley fiasco. "I'm sorry we're not at Wembley - it will be ready in time for the Farewell Tour from The Arctic Monkeys". A great put-down, which made local radio this morning, and no doubt will make the papers.

Keith was, in general on good form, he seemed to be highly amused, at the fans, waving inflatable palm trees at him, as he played on the B- stage.

The only audible error, i picked up on (or was it just my ears playing tricks?) was when he miss-timed the intro to the encore, Satisfaction. A minor point, and one which shouldn't be dwelled on, and which certainly didn't diminish my enjoyment of a better-than-average- show.

A final point- YCAGWYW, was apparently marked up, on Charlie's plexiglass- but certainly wasn't played. - Not a big problem for me, it's been done to death, on recent tours and i didn't miss it.

Onwards and upwards to Tuesday night, now.... and if we get a show of the same quality and professionalism i will be a happy man.
---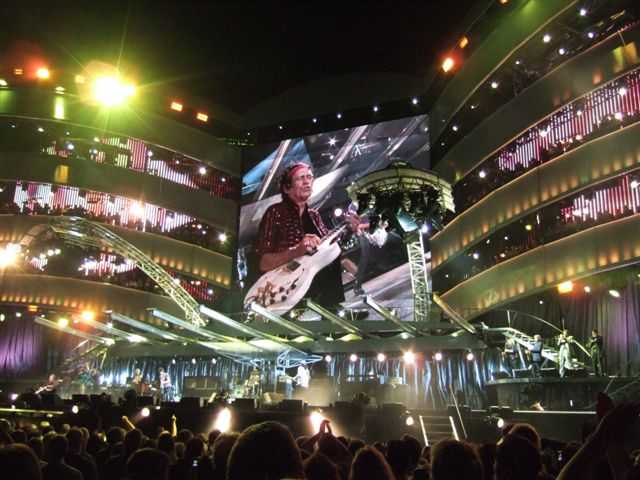 ---
Ronnie Wood take a bow!
by Paul Whiteley
I have been highly critical of Ronnie's playing in the past. I've seen 5 shows on the A Bigger Bang Tour, and Ronnie's playing to date has been mediocre at best, and absolutely abysmal at worst. At the Melbourne gig in April he totally mangled every solo he played, and it was only the fact that Keith was so incredibly on form that night that we got such a good show. In Paris his playing was solid - not great, but certainly miles better than it has been.

But last night at Twickenham was a revelation. Ronnie was absolutely brilliant from start to finish. He had complete control over his guitar, and he looked totally confidant and in control with every solo he played. As a guitar player myself, I have to say that last night was the first time I've ever been truly impressed with Ronnie's live playing (I've always loved his playing on record, from the Rod Stewart/Faces days to the Stones, but I've always felt he's under-achieved live), and boy, was I impressed. With Mick still suffering from laryngitis, and Keith quite obviously more drunk than usual and not at his best, Ronnie truly carried the show last night (Charlie also played brilliantly).

The set began with Jumping Jack Flash. Keith came out, and had some trouble with is guitar - I don't think his amp was turned on. He walked out in the darkness, and I saw him try to play the opening chords, and there was no sound. He tried adjusting his volume control, but no luck, So he turned back to Pierre (his guitar tech), who pressed a button on Keith's amp, and we had sound.

Jumping Jack Flash is a sensational opener, and Ronnie's guitar sounded fantastic. i have to say that I was also particularly impressed with the mix last night - crystal clear guitars with excellent separation and a great drum sound.

Start Me Up was great - I much prefer this at number 2 rather than LSTMT - it really gets the crowd going. It was great to hear Sway again - this song just gets better and better on this tour, and for the first time Ronnie's solos did justice to Mick Taylor's original. Ruby Tuesday was great, and Streets of Love was fantastic- this is such a great song live, and the crowd really seems to enjoy it. The long, extended outtro is brilliant, with Mick singing with true passion - its so great to see him singing from his soul rather than "phoning it in", which he tends to do from time to time. The band really seem to enjoy playing Streets of Love live, and their obvious enthusiasm is infectious because the crowd just love it.

I think Keith was a little out of sorts last night - he played okay, but he seemed a little bit vacant and during his solo set he seemed a little more out of it than usual. I've really enjoyed recent gigs such as Melbourne and Paris where Keith has been totally on form and has led the band. In contrast, last night he seemed a bit too drunk and was visibly struggling at times. It was nothing major, and the average punter wouldn't even notice it. But as a long time fan and a guitar player, there are certain classic chords that Keith plays in certain songs that really make the song, and there where times last night when Keith just missed those chords, because he was too busy mugging to the camera or was just too out of it to care (in a way, he and Ronnie switched roles last night!!!). But it still didn't ruin the night - it was still an excellent show, and the band truly are in fine form at the moment.

All in all, a great gig. I'm looking forward to Tuesday night and this Friday night in Glasgow.
---
Review by Matthew Flin
What can i say but AWESOME!

The Stones were tight right from the off.

After all of the recent criticism of Ronnie all I can say was that he was spot on last night. He seemed to be totally focused and his solos's were tight and he appeared to be almost equal in the mix with Keith.

Too many highlights to mention. It was great to see Sway. Get off of my cloud was superb.

There was a monster version of Brown Sugar - all 10 minutes of it! plus a very long ending to Tumbling Dice whilst Mick ran to each side of the stage.

Mick's voice was especially strong and he sang very well on Street's of Love, which, as with a lot of Stones tracks, is far better live.

I also noted that You can't always get what you want was written next to Charlie but not played. However, there was a very rocky version of Satisfaction to end.

All in all it was fantastic and despite all of their detractors, the Stones have shown yet again that they simply blow all competition away!!

Hope to see them in 2009 and then 2012 for the Olympics!!
---
Review by William Martin
Another great show! I thought they took a little while to get going, with JJF and SMU a bit muddy, but Sway was magnificent, with Ronnie's guitar just as good as they say. Ruby Tuesday really got the crowd going, and from Tumbling Dice they hit their stride. Midnight Rambler was as good as I've heard, with Mick especially powerful on the harp. I thought Slippin' Away was pretty good too, with Keith playing some terrific stuff during this number. And then on to the second half.

From the moment Miss You started, we were watching a classic Stones performance. Get Off MY Cloud and HTW were both brilliant, with even the North stand on their feet (what is it with these people - you've got the best live band in the world playing their hearts out and you're sitting down!). And then Sympathy was the real highlight for me. We were back to the red cape/coat and the hat from the late sixties, and the smoke, red lighting and flares created an extraordinary atmosphere in the stadium. And by the finish, with the extended Satisfaction, no-one could have any complaints.

I took my kids for their Stones initiaition, and they loved it as much as their father. That should put their McFly gigs in context!
---
Review by Robert Winscott
My dad has been to 30 odd stones shows, and this was my first. I was really looking forward to seeing them play, and they didn't disappoint. Despite Mick having laryngitis, he was as good as ever before. The highlight for me was sympathy, absolutely awsome effects and brilliant sound.

All in all a excellent concert and brilliant night, lets hope they play wembley next year.
---
Please send your show reviews and comments by e-mail to: [email protected].
The reviews will show up here soon! Thanks!
---
News links
Thanks to Nicholas Bosworth for great stage and Charlie "Bigger Bang" photos!
Thanks to Axel Schumacher and Karl Foster for news links
---
The IORR magazine
For exclusive reports and unique high quality pictures from the Rolling Stones tour and more see the IORR magazines.
---




It's Only Rock'n Roll 1980 - 2006
© The Rolling Stones Fan Club Of Europe