---
These are the latest Rolling Stones news and updates for you! IORR is a non profit fan club run by fans for fans. All parts of the It's Only Rock'n Roll web site is copyright of The Rolling Stones Fan Club. When using information from this site, please include a reference to IORR and the main web address www.iorr.org.
---
---

The Rolling Stones
AWD-Arena, Hannover, Germany
Wednesday July 19, 2006
The set list
Jumping Jack Flash
It's Only Rock'n Roll
Oh No Not You Again
Let's Spend The Night Together
Tumbling Dice
As Tears Go By
Streets Of Love
Midnight Rambler
Night Time Is The Right Time
--- Introductions
Slipping Away (Keith)
Before They Make Me Run (Keith)
Miss You (to B-stage)
Rough Justice
You Got Me Rocking
Honky Tonk Women (to main stage)
Sympathy For The Devil
Start Me Up
Brown Sugar
You Can't Always Get What You Want (encore)
Satisfaction (encore)
---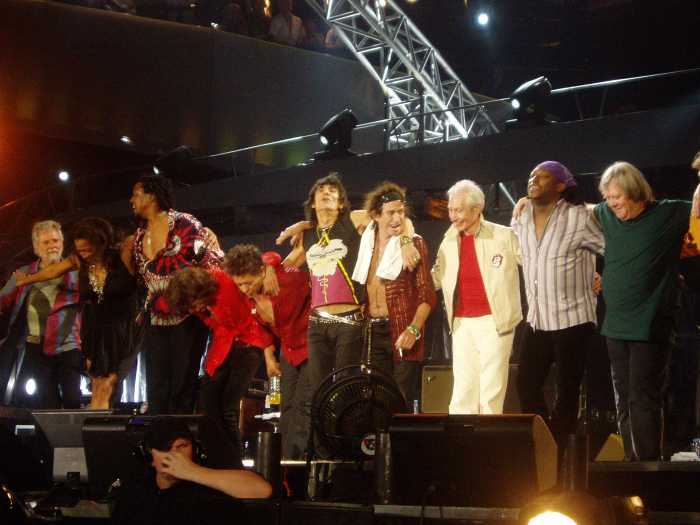 ---
Review by Eike Heinrich Müller, Emden
Me and my brother arrived at 3 pm (doors actually opened at 4.15 pm) the stadium because we wanted to get some good Innenraum positions, but there were far less people standing in rows than expected, so we could have arrived 2 or 3 hours later.

After standing in the heat for 4 hours, the warmup act "Starsailor" came up and performed for 45 minutes, a solid show, I knew some of their songs, but we were there to see the Stones. The fantastic intro started at 8.55 pm and we could already see Charlie sitting behind the drums, then Keith came out and started an outstanding version of "Jumpin' Jack Flash", followed by "IORR". Mick said "Es is geil hiersusein" and the started "Oh No, Not You Again", definetly one of the best songs of the evening with Mick absolutely on fire, his whole performance was much much stronger than on any other show I've seen on recent tours.

The setlist had no surprises, (ok, maybe you can say "YGMR" was a surprise on the B-stage, but I'd much rather heard "Under My Thumb" or "GOOMC") but it was far better than any show I've seen in 2003; the sound was crystal clear (Guitars WAY UP in the mix) and the whole set was performed flawless. Highlights were the best "Rambler" I've ever seen, "LSTNT", "ONNYA" and "Streets Of Love", which were both well known, "As Tears Go By" and "Dice" and of course Mick, this 62 year old man is simply incredible.

The only dissapointments was Keith' set because he played "Slipping Away" and "BTMMR", just like in 2003 and 1995, "This Place Is Empty" and "Happy" would have been better and "Night Time", a song I never really loved, though it was performed with passion. The b-stage suffered from a lack of suprises.

The warhorses were performed as always, "HTW" sounds a bit overdrived on the Bigger Bang tour (Note: Mick kept his headset-microphone during "SFTD" and "SMU", never seen that before. All in all I can say it was my best Stones show and maybe the last because I won't spend another 300 Euros for one day this summer.
---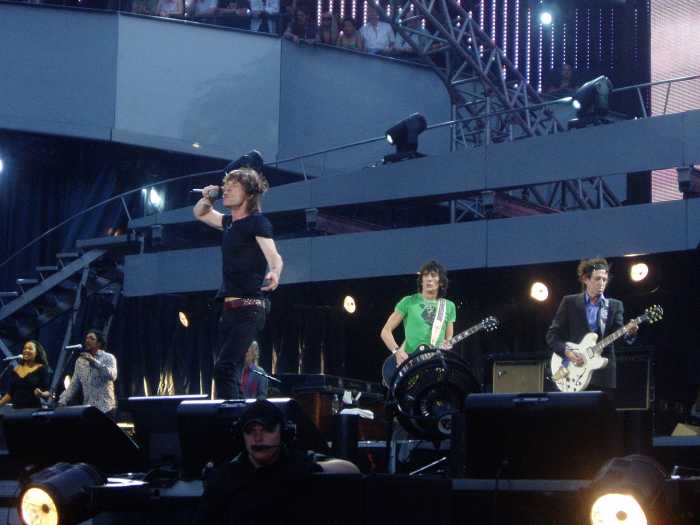 ---
Review by Patrick Brown
Already saw the Rolling Stones 2 times during this Tour : in Rio and in Buenos Aires (21 and 23 February). I'm lucky, my brother leaves in Germany. What can I say about this show. Well, to be honest, the band was far less enregetic than in Rio and Argentina. Mick, it's very strange, is still a great, great performer but yesterday he seemed no to be really in the rhythm... Keith was OK, glad to see him again after his fall ! Glad to be here, really, lot of joy (and good set for him), but well, he played less guitar than in Rio and BA, more ready to offer the good smile for the photographers, you know. The sound was clear, but IMO the guitars were no enough strong. Ronnie was very discrete, almost contained. But good. Charlie is still the king !

The setlist had no surprises, (except a rather good version of YGMR). Highlights were a good midnight Rambler (but no any comparaison with Rio, oh no !), Rough Justice, ONNYA, As Tears Go By, JJF, Satisfaction.

The stadium was no sold out (30.000 ?), but the audience was enthusiastic. I think they could change the songs on the B-Stage (not a powerful sound), and stop Miss you and Start me up...

Glad to see them in Europe, but well, not my better Stones show so far.
---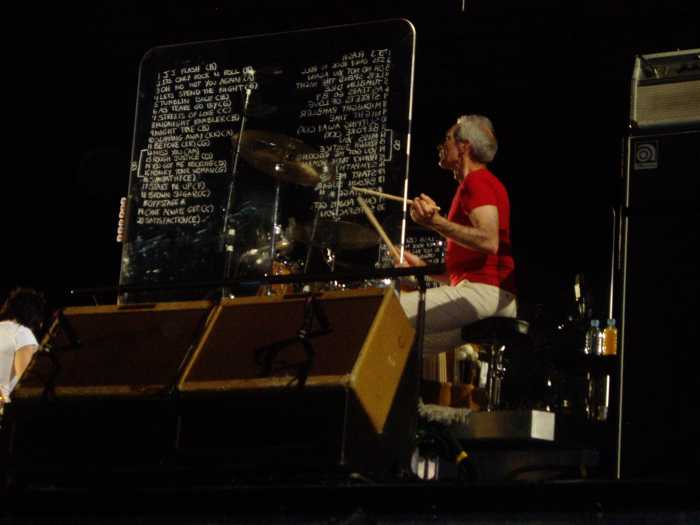 ---
The hottest Bang ever
Review by Henrik Schulze, Germany
All I can first say is that this, my sixth, show was the best so far.

After a surprisingly easy way to the FOS area with seating tickets, me and one of my best pals had to wait almost three hours in the sun and the exhausting heat of 33°C. Though we arrived quite late we made it almost to the very front of Keith's FOS side.

I was very pleased with the opening act this time, Starsailor, because I already knew and enjoyed some of their songs before the Hannover show. But no band can beat ACDC as opening act from Leipzig in 2003.

Again one hour of waiting but the sun was sinking behind the stadium so there was only heat but luckily no sun anymore.

At 8:40 PM the Onstage guests were lead to their places - a sign of the upcomming show start.

The Intro started and the Stones were finally on at 8:55 with an incredible good version of Jumping Jack Flash. I hoped for SMU as opener but tonights version of J J Flash just rocked!!! The crowd was on from the very first second.

Then Mick said hello in German again "Guten Abend Hannover!" and the bursted into IORR again with lots of energy.

Next was Oh No Not You Again where Keith messed up the start of his solo, but who cares? Again very good crowd reaction. Everybody enjoyed this tune.

While Keith and Ronnie were changing their guitars, Mick was talking in German again "Ich hoffe, euch ist es nicht zu heiß" - (I hope it's not too hot for you). There is just one answer: Both was hot the weather as well as this great show. Let's Spend The Night Together followed. Well played, but I must admit I enjoyed th 1998 versions a bit more. Then Tumbling Dice with lots of lyric mix ups by Mick.

Now Keith and Ron were getting accoustic guitars and I was praying for As Tears Go By. Such a beautiful song in such a beautiful evening. Afterwards Mick got his black Strat and Streets Of Love was next. I really like the live version, it's more stripped down without the strings. I never understood all those SOL bashers, because it's also very good on the A Bigger Bang LP.

The next song was a quite hard version of Midnight Rambler. Nice to hear again, but I hoped for Monkey Man as they rehearsed it in Milan.

Night Time had a very good performance by Lisa again. She did a great job. The Stones were really on tonight which was also seen in restarting Night Time twice not once as usual.

During the band introduction Keith has been introduced as the "Weltmeister im Baumklettern" (world champion of tree climbing) again as in Munich on Sunday,

Slipping Away and Before They Make Me Run were next. Both good as usual. KEITH STILL RULES.

Miss You moved them to the B-Stage where they played Rough Justice and after a while You Got Me Rocking again. I really liked tonight's version because it was harder than on previous tours. I had hope for Under My Thumb as in Milan but YGMR was nice to hear again too as a great crowd reaction could be seen and heard. Honky Tonk brought them back to the main stage.

Sympathy For The Devil followed with lots of fire on stage which made the air even hotter in the stadium.

As in Munich Ron and Keith had to warn Mick not to go to far to the front because Start Me Up made the stage explode again. And now the whole stadium was out of control, because everyone was singing and dancing.

Brown Sugar as the last normal song with lots of "Yeah Yeah Yeah Ohhs" by the crowd.

You Can't Always Get What You Want and Satisfaction closed tonights show.

It was great to see them playing so rough and hard again and that in my hometown. Now on to Berlin and Cologne and London in August.
---
Review by Andreas Engel
After having the Stones first seen live on stage in 1990 (Berlin), the Hannover concert was my 13th Stones concert !

I started waiting together with my friend Dietrich at the gates from 14:00h to catch the best FOS places. It was very hot (more than 30 degrees) and we needed a lot of water. After catching a good FOS place (Row 3 Keith's side), the waiting and sweating began. It was so hot, that even the security people used a water hose to squirt water to us, the people in the Front of Stage area.

After the support act "Starsailor", doing a very good job (hand made Rock Music), the "Rolling Stones" appeared close to 21:00h, starting with Charlie sitting behind the drum set and Keith coming to the front.

I must say, that this concert was really the best Stones show I've ever seen. I was in Munich last Sunday and I really liked the show, but in Hannover really all fitted together. Mick was in the very best shape, sometimes being really a "Jumping Jack" and with an incredible good voice during e.g. "As Tears Go Bye".

Woody (now again smoking on stage!) was joking, walking around (also to Daryl - Keith Side) and was playing really good soli, compared to the Munich gig. Keith was really surprising me, because the "old Keith is back". He played wonderful (sometimes with a few mistakes, but this is, what makes the rough live atmosphere). Charlie was as good as every times, sharp timing and was playing a great, great intro to "Midnight Rambler" (he is the secretly band leader ;-) .

Best songs in my opinion:
As Tears Go Bye (what a clear voice and wonderful Keith's acoustic guitar !!!)
Midnight Rambler (this was the best version I've ever heard!!!)
Oh no Not You Again
Night Time ... (with Lisa on vocals)
Sometimes the boys played the songs longer, you really could see the fun they had. All in all, chrystal clear sound and every Stone was doing very fine! Stadium was not completely sold out, tickets could be bought cheap short before the concert. I'm happy to be also in Cologne next Sunday, so let's see whether or not this Hannover gig can be topped ;-)
---
Review by Jörg Schönfeld
Again, as in 2003, it was a hot summer night, when the Stones visited Hannover. Luckily it was at the Arena again, the feeling in such a bowl is much better. A powerful start gets the audience in a very fine mood and from the first song the boys procured fun and pleasure in what they're doing. The sound was the best I've ever heard in a stones-concert, some songs (honky tonk women, brown sugar) sounded a little blasted, but all in all it was okay.

The setlist had no surprises, but the performance of "as tears go by" was really great. There is one thing I can't believe: How can a guitarplayer as Keith, who played most of the songs hundreds and hundreds of times do so many wrong notes – he did it in the past already, there's no dependence on his age or his sickness. In earlier times I read somewhere, that of all bad guitarplayers Keith ist he best-one. Now I believe it and maybe only, because I heard it for the first time, 'cos of the brilliant sound. Our newspaper wrote today: He played not virtuosly but soulful. That's it. The whole band, that means the boys and all of the addinional musicians (Lisa !!!) did a great job and I can only say: THANKS A LOT
---
Please send your show reviews and comments by e-mail to: [email protected].
The reviews will show up here soon! Thanks!
---
News links
Thanks to Stefan Meissner for news links!
Thanks to Andreas Engel for great photos!
---
The IORR magazine
For exclusive reports and unique high quality pictures from the Rolling Stones tour and more see the IORR magazines.
---




It's Only Rock'n Roll 1980 - 2006
© The Rolling Stones Fan Club Of Europe