---
These are the latest Rolling Stones news and updates for you! IORR is a non profit fan club run by fans for fans. All parts of the It's Only Rock'n Roll web site is copyright of The Rolling Stones Fan Club. When using information from this site, please include a reference to IORR and the main web address www.iorr.org.
---
---

The Rolling Stones
Glendale Arena, Glendale (near Phoenix), AZ
Sunday, November 27, 2005
The set list
Start Me Up
You Got Me Rocking
She's So Cold
Tumbling Dice
Oh No Not You Again
Rain Fall Down
Angie
Rocks Off
Night Time Is The Right Time
--- Introductions
Slipping Away (Keith)
Infamy (Keith)
Miss You (to B-stage)
Rough Justice
Get Off Of My Cloud
Honky Tonk Women (to main stage)
Sympathy For The Devil
Brown Sugar
Jumping Jack Flash
You Can't Always Get What You Want (encore)
Satisfaction (encore)

Show time: 9:10 p.m. – 11:05 p.m.
---
Review by Mark Roberts, Phoenix AZ
"By the time I get to Phoenix, she'll be risin'. But were not gonna do that one." said Mick.

Absolutely great show tonight. Superb energy throughout. Sound was very good. I went to the San Diego show as well and the set was very similar. "Rain Fall Down" replaced "It Won't Take Long". "Angie" in place of "As Tears Go By". And no "Midnight Rambler".

Loved hearing "She's So Cold". Ripping fireball of a song well received by the crowd. "Rain Fall Down" was quite funky. They even let Darryl Jones take a bass solo in the middle. "Rocks Off" is always welcome. Seems to separate the hardcore fans from the casual. "Night Time" is where the show went up a notch. Crowd loved the performances. "Get Off Of My Cloud" has long been on a wish list of mine, so was fantastic hearing that. Again went down really well with the audience. I've enjoyed the way they are playing "Jumping Jack Flash" on this tour. Starts off incredibly hard and just keeps the hammer down from there on out. "You Can't Always Get What You Want" was a mega sing-a-long. "Satisfaction" finished up in fine fashion. Even had an extended end in Phoenix that I hadn't heard before. Keith and Charlie went for about 15 seconds past the confetti and made for a neat ending.

As for which show was better... tough call. Both outstanding. The Keith tunes were better received in Phoenix, BUT San Diego got an epic version of "Midnight Rambler". So SD in a photo finish. Awesome tour!
---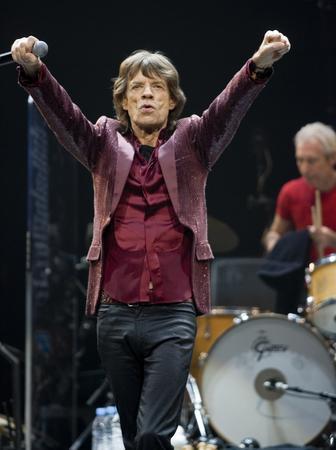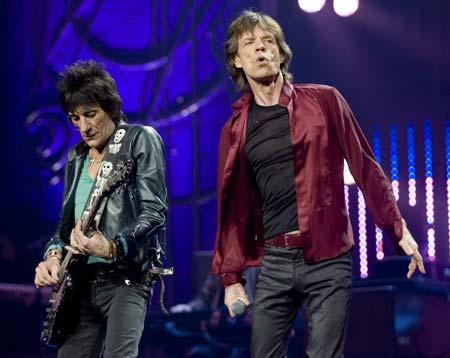 ---
Review by John Klemy, Phoenix, AZ
The last time I saw the Stones was 11/98 in Oakland and I thought it was a horrible. It was pretty windy, rained a lot, and the sound was terrible. I thought that would be the last time- no pun intended. I got talked into going to the show last night at Glendale Arena just outside of Phoenix. Now, I'll admit, after my Oakland experience I was pretty skeptical. I'm a 39 yr. old deadhead (saw 150+) and I'm pretty snobby when it comes to live music. Never been a big fan of the large production, stadium or arena concert. I endured many crappy Dead shows in the mid- 90's chasing the few and far between good ones- but they were never any comparison to the shows from '85 to '90 that I was "weened on". I figured as old as the Stones are, they would come out and go through the motions and pick up a fat check. I was trying to figure out what the gate receipts must have been. 10,000 seats at $350.00, another 10,000 @ $160.00, and the best seats up front were priced at $90 but there were only a few, maybe 1000 of those. Strange pricing matrix as the best seats were only $90 but the pretty good, just off the floor seats were $350 with nearly $40 in service charges. The nose bleeds were $160.00+30, too. I estimated the gate to be around $5,000,000(that's right 5 million dollars) for the show….not a bad day!

Anyway, I had 42nd row in BBB which I thought would be decent floor seats, about half way back. After looking at the diagram of the arena, I thought we were stuck behind the sound board. Well, these turned out to be pretty special tix. $160.00 face but these were 3rd row center from the B stage!!!! They opened with "Start me Up" which sounded a little muddy to me, but by the end of the tune they had the sound dialed in pretty good. "You got me Rockin" was tight and edgy and I was already impressed. After "Tumbling Dice" some other highlights early were "Rocks Off" and they covered Ray Charles "the Nighttime is the Righttime" with Lisa and Mick belting it out proper. WOW!! Keith did a couple of his tunes and I went for "smoke break" and to grab a drink. After Keith was through with two songs (I could live without them both) they went into "Miss You" and the stage started coming out towards us….. until the band stopped about 6 ft. from us!!!

"Miss You" was sick with the band so close I could see every wrinkle- and all the make-up trying to conceal them. This close up, they almost looked like cartoon characters….but they were killing it!!! "Rough Justice" was surprisingly great and the "Get off my cloud" was probably the highlight of the night for me. During "Honky TonkWomen" Keith made a funny expression at the blonde girl next to me, flicked a pick right at me-it hit me in the chest and it fell to the ground and I picked it up and put it in my pocket- yeah baby!! Then the stage started retracting back to the main. The 15-20 minutes that the band was within a few feet of me was surreal. We were so much closer to them than front row at any other show for any other band in an arena would be. Even the front row to the main stage was at least 20-30 ft from the band. When they came out to the "B-Stage" I could have reached out and touched them. The sound was tight and the quality of Mick's voice is mind boggling for a man of his age. They finished up the show with "Sympathy", "Brown Sugar" and encore was "You can't always get what u want" and "Satisfaction"!! All I can say is it was SIIICCCCKKKKK!!

I don't know where these guys stumbled upon the "the fountain of youth", but they are playing some incredible music right now, sounding as if it were 25-30 years ago!!!
---
Review by Franchise H
My 11th time seeing the boys, and the first of two shows for the Bigger Bang tour (next one will be the LA Forum next March). They were tight, and overall, I thought it was a good show. I think I liked the 40 Licks tour better (saw 3 shows that tour), given the song variety. It's funny, and I know I'm not the norm with this comment, but every new Stones show I attend, I really get pumped up for hearing the new material for the first time live. In '89, it was Mixed Emotions, 1994, it was Love is Strong, 1997, Flip the Switch, and on 40 Licks, Don't Stop. The best performed songs last night were the new ones: Rough Justice was superb, Rain Fall Down was magnificent, and Oh No, Not You Again was rocking hard! Boys, your new material is always inspiring, and please continue to try out different songs off Bigger Bang! Other songs I really enjoyed: hearing She's So Cold live for the first time (sounded great!!!), and I finally got to hear Rocks Off live, which I hadn't heard before (we have a bit of Exile luck in Phoenix: on the 40 Licks tour, they played All Down the Line for the first time in all their shows I had seen live to that point). Finally, Get off My Cloud was a real treat.

Having seen them many times, I can objectively offer complaints. First, since the Vegas show, the boys have dropped one song from all the subsequent shows, and I don't like that. I really did want to hear IORR or Paint It Black or Out of Control, whatever the 21st song normally is. Second, Tumbling Dice sounded bad. It sounded tired, and needs to be discarded from the set. As mentioned earlier, Exile has much more to offer (like Loving Cup). I was surprised how much I liked the studio version of Keith's Infamy, then to be disappointed with the live version. A previous review of another recent show suggested Keith is mailing this in, and I have to agree. Keith should rotate about 5 different songs that he sings each night. Finally, and a small complaint, Sympathy has always been one of my favorites. As great as last night sounded, why do they always omit the third verse live (I watched with glee, while your kings and queens...)??? I always love hearing that entire verse, and the only tour I remember where they play that verse, along with everything else was the Voodoo Lounge tour.

Overall, a very enjoyable show, and I look forward to seeing them again in March 2006!
---
Please send your show reviews and comments to: [email protected].
The reviews will show up here soon! Thanks!
---
News links:
The Arizona Republic : Stones roll on with classics, new songs in Glendale
Article with link to great slide show!!!!
---
The IORR magazine
For exclusive reports and pictures from the Rolling Stones tour opening see the IORR magazines.
---




It's Only Rock'n Roll 1980 - 2005
© The Rolling Stones Fan Club Of Europe