---
These are the latest Rolling Stones news and updates for you! IORR is a non profit fan club run by fans for fans. All parts of the It's Only Rock'n Roll web site is copyright of The Rolling Stones Fan Club. When using information from this site, please include a reference to IORR and the main web address www.iorr.org.
---
---

The Rolling Stones
Rhein-Energie Stadion, Cologne, Germany
Sunday July 23, 2006
The set list
Jumping Jack Flash
It's Only Rock'n Roll
Oh No Not You Again
Let's Spend The Night Together
She's So Cold
As Tears Go By
Streets Of Love
Tumbling Dice
Night Time Is The Right Time
--- Introductions
Before They Make Me Run (Keith)
Slipping Away (Keith)
Miss You (to B-stage)
Rough Justice
Get Off Of My Cloud
Honky Tonk Women (to main stage)
Sympathy For The Devil
Start Me Up
Brown Sugar
You Can't Always Get What You Want (encore)
Satisfaction (encore)
Warmup : Razorlight
---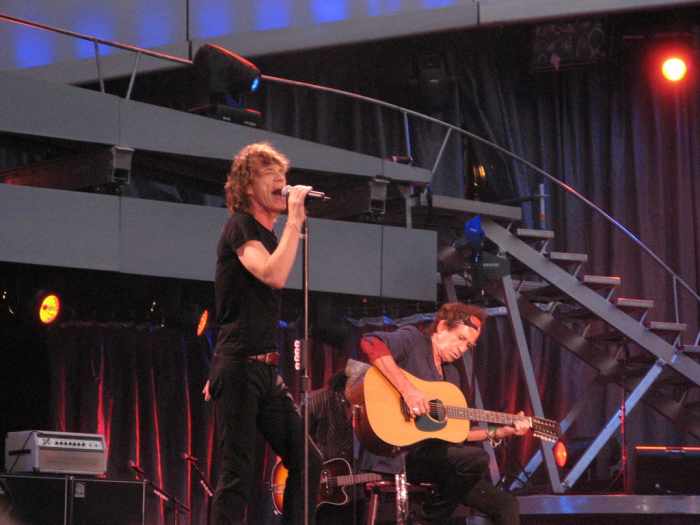 ---
Review by Peter Lacres, Belgium
Cologne was my second concert of the European Tour after the kick-off in Milano… We went to Cologne in the late afternoon and we were surprised to see that not so many people were waiting to get in. The Germans weren't watching soccer and there was neither a Formula 1 race on the television or a German winning the Tour de France at that moment, no, it was simply hot outside. A Dutch friend told me that the Stones aren't hot anymore and that the ticket prices are much too high but you could only see a few empty rows in the Stadium around 8.30!

Thanks to the fact that we entered the Stadium when the doors opened, I must say that we had an excellent view over the stage. We were 3rd row on Ronnie's side and I believe that this is the best place to be. Ronnie never goes over to Keith's side of the stage, but Keith visits both sides nearly equally as does Mick.

Jumping Jack Flash was the perfect opening song and I noticed that Keith was really back, having a great time and he was playing very well. I noticed that Mick just read the German opening texts from the autocue and such details are always nice to see. You can't see those things when you're way back. Ron also played very well but Charlie was the man. He refused to say anything at the introductions but his drum playing was powerful and remarkable.

A Bigger Bang made its first appearance in Cologne when Oh No Not You Again was played as the third song. The nice solo by Keith on this song really tears the house down. She's so Cold and As Tears Go By are great classics and I really like them 'live'…Mick sings his heart out when they do those songs and you wonder how it's possible that the Stones are still up there. They're simply the greatest Rock 'n Roll band. The four-song set on the B-Stage was highlighted by the inclusion of Get Off Of My Cloud! After the return to the main stage, Sympathy was followed by Start Me Up.

The Stones ended with Satisfaction as usual but the Stones are still doing this song really well and after the hundreds of times that they must have played it, it's so nice to see that they can still put such energy and emotion into Satisfaction for us to enjoy. Up to Paris…
---
Review by Ron Blank
We were hoping for a respite from the terribly hot temperatures in western Europe for the past two weeks. We got a little relief from the sun in Cologne but the Stones did their best to make it as hot as possible with flames, fireworks, hot tunes and a wonderful attitude.

Exactly at 8:55 PM the familiar intro began and then 2 minutes later the Stones were out on the stage and the clear, hard-rocking sound of Jumping Jack Flash was everywhere. The crowd in the FOS area went wild and gyrated to the music. Keith's hard riffing guitar was extremely loud from where we stood. Mick was also in great form, already going from side to side as he welcomed us to the show. It was over before we knew it, and then It's Only Rock and Roll began almost immediately. A really hard-rocking version with Keith's Chuck Berry-esque solo slicing into my eardrums from where we were.

Oh No Not You Again and then Let's Spend the Night Together were a great one-two punch. The latter was highlighted by Lisa's choice of dress - a gold sparkly number open down the front to nearly her navel, exposing a great looking black bra. Ronnie and Keith seemed to be really enjoying the view!

The next number was a slight change from previous shows on this tour with the return of She's So Cold. Really chunky guitar work from Ronnie.

The stool was brought out for Keith to sit on for the next song and they began As Tears Go By. It really sounds beautiful on a hot summer evening with Mick's perfect vocal phrasing bouncing off the far stands. Keith kept smirking as the crowd up front were obviously yelling to him. This was followed by my first exposure to Streets of Love. It was with a little trepidation that I began listening to it. It has gotten such bad press since the album came out last year. But the arrangement really was special. Ronnie made a lot more of the guitarwork than is on the album. Keith was riffing hard on the acoustic and Mick did a great job putting his unique vocal emotions into the song. I had to admit when it was over that I was impressed.

Tumbling Dice was the first big war horse to come out after the acoustic set. Never failing to ignite an audience, the Stones really came to life on it. Mick ran out to both wings, keeping Keith waiting by the edge of the left side while he picked the audience up. Then as Mick ran by, Keith got the biggest grin on his face and sauntered out to the end, madly riffing away. Mick came out to the front stand as he always does on this tour during this number and the crowd around me got very excited, thinking that he would come out further. But he just teased us this time, and turned around and ran back the way that he came. The song went on and on, and we thought it would never end. When it finally did, Mick took a well-deserved bow and Charlie finished it with his customary drum flourish.

As Lisa had re-appeared before Tumbling Dice in her long red dress, I expected that Night Time would be the next number up. It was and she really tore the house down. My wife had not seen them yet on the Bigger Bang Tour and she kept getting a wider and wider smile on her face as Lisa stormed through her verses. It really is amazing how good her singing is on a number like this. She received a great cheer at the end from the German crowd. This led right into the intros and Charlie and Keith were the highlights of this portion. Keith actually said a few different things this night, but I can't remember what they were! He started his set again this evening with Before They Make Me Run, which is a new way of playing his set, and it is refreshing to see him do it this way. It really kept the energy level high.

Slipping Away was back to the old familiar way with lots of drawn out solos and choruses. I think Mick must have really enjoyed his respite from the hot air during the song.

The B-Stage set of four songs was just like I had seen it the last time in Chicago in January: Miss You, Rough Justice, Get Off of My Cloud and Honkey Tonk Women. I managed to get a couple of great pictures of the band as they went by. The B-Stage was so far out that it was almost at the end of the stadium floor.

The return to the main stage was marked by Sympathy For The Devil. We really loved it even although the gas explosions from the top of the stage were not necessary when the temperature was still 85 degrees F. or 29 C. Keith's solos were great and the song went on and on for at least 7 minutes.

Start Me Up was next, and they started it with a huge gas explosion extending all the way down the front of the stage from left to right. More heat! Great solo from Ronnie and lots of power to it. Then the regular set was completed with Brown Sugar. A very good version that went on for at least 7-8 minutes. Mick got the crowd really lathered up all along the ramp out front.

Then it was time for a short break before the encore. You Can't Always Get What You Want was highlighted for me by a tremendous solo from Ronnie. He has added a lot to it since last winter in the US. I liked it a lot. Then before we knew it, Keith jump-started Satisfaction. Whew! A very fast pace and Mick just would not stop running back and forth from side to side. Where does he get the energy?

It was over too soon in just 2 hours. We had a wonderful time and made lots of memories. Paris is in 5 days and I can't wait. I'll be on Keith's side of the FOS section and I'm heading for the end of the ramp during the last half of the show. Keith and Mick spent so much time out there last night that I'm sure I'll get some more great camera shots.

Awesome show from the Stones!! Thanks guys!
---
Review by Tobias Vogt, Bonn
I visited a lot of Stones-Shows, since my first in 1995 from Voodoo Lounge in Cologne. 11 years ago I was very impressed of 4 Guys in the mid 50ties, rocking all night long in an unbelievable way, but I was never sure, if this impression was caused by the Stones or just only by my age, 12 yrs. The following Shows from BtB or Licks were fine, no question, but yesterday I felt like 11 years ago.

This Concert was the best I ever heard, better than Bon Jovi and Springsteen, no chance for the Boss in the comparison, and better than any other Stones-Show I watched. The Setlist was just great, and the band-performance and the sound also were. There were no unecessary breaks between the songs and they rocked through their set.

Mick was fantastic as ever, clear and loud voice, working the crowd all night, manifesting his role as the best frontman in rock'n roll. Keith seemed to have a lot of fun, so you saw him laughing whenever he was on the videoscreen; maybe because of the plastic-palm-tree following the Stones all over Europe, yet. He was very mobile, running from one end of the stage to the other and it seemed that he sometimes made his own show with the fans celebrating him. His guitarplaying was awesome and very rough, and as in many other shows he missed one solo here and one there, but that's just Keith and I think everyone loved that. "Anyway, its good for me to be back anywhere" than skipping his halfburned cigarette on the stage, playing Before They Make Me Run, than taking up the stillburning cigarette and with a smile and an eyetwinkle smoke it to end. No doubt, he is still the soul of the Band.

Ronnie was strong and obviously highly motivated, no sign of the described weak performances in the last weeks and his destroying solo of You Cant Alwys Get was awesome!!! And he always looked at Jagger, showing and encouraging him "go here, go there, dance here, dance there". Charlie was NOT just the Charlie I knew the last 11 yrs. He drummed so crazy and wild all over the show, just great and the sound of the drums was as loud as Richards guitar.

And of course there was Lisa Fisher. Her Performance of Night Time was worth the 100 Euros you have to pay for the ticks. The crowed in the full packed stadium thanked the band, with clapping, shouting, singing and jumping - yes, fans in the mid 50ties can jump - the whole show. Everyone in the arena knows after Satisfaction the show is over, but no one left, everybody was shouting "Zugabe" (engl: encore) and just stay in there. Only the final firework, wich made the Stadium a very foggy place, ended a fantastis an unforgetable night.

Detailed setlist:

JJFlash - unbelievible loud guitars of Ronnie and Keith and energetic
IORR - as good as it could be, Keith was fantastic; after that Jagger say in Cologne Accent: "es ist geil wieder in köln zu sein, habt ihr eine joote zik" (f***ing great to be in Cologne, have a nice time?)
ONNYA - right, Jagger rocked as this song is a personal thing for him
LSTNT - great to hear and 2 classes better than at BtB, crowd loved this one, and making party from that point
Shes So Cold - Awesome, hard rocking
As Tears Go By - hightlight of the evening, Jagger and Richards with 12-string were awesome, just beautiful
Streets of love - also very fine, Richard celebrated himself and his acustic guitar. Jagger rulz.
Tumbling Dice - best version I ever heard, very long and fine solo of Ronnie
Night Time - Lisa was unbelievable great, next highlight, Lisas dress worked very good with the ventilators...
BTMMR - some mistakes from Ronnie and Keith, but great
Slipping Away - nice song, I love that one
Miss You - just grooving, everyone clapping the whole song, better than ever
Rough Justice - kept things going, very hard rocker
GOOMC - surprise of the evening, fans sang the refrain enthausiasticly, Mick was all over the B-Stage working the fans
Honky Tonk - the stadium exploded, again best Version I heard so far
Sympathy - Jagger was fantastic and the guitars, again very loud, made this one a party, although Keith missed the beginning of his solo, whatever he made behind the drums?! 2nd solo was great That's the way Sympathy should be.
Start Me Up - Just one thing: loud; thought fans were in heaven
Brown Sugar - very nice vid during the song, this was the "Keith-Song" of the evening, wow
YCAGWYW - Mick: "sing this to Düsseldorf", well knowing the rivalry between the 2 cities; alldestroying Woodie-Solo f a n t a s t I c
Satisfaction - the whole combo gave all they could give, especially Jagger/Richards/Watts. Mick running all over the place; this guy has a stomach, normally 20-30yrs pro-sportsmen have, wow. Charlie was drumming, like there will be no tomorrow.

This was a very hard and fast rocking stones-show. It was good to see, that the Brass-Combo played a less-important role than in the past tours. These 4 guys, meanwhile in the mid 60ties, are the best you can get in the rockmusic-szene. So take all chances to see them, cause no-one knows, if they could be so great in the future again. For sure I know, that this were the best Stones ever!
---
Review by Joerg Lauer
Well, what can I say to this show? It's really hard to find words, but let me try it. At first I've to say that the stadium wasn't sold out as many sources stated at the forum some days ago, so that was the first surprise for me. I ihink we had al audience between 40.000 and 45.000 and the stadium was quiet full packed with and empty chairs.

The second surprise was the sound. From crystal clear to unacceptable we had the whole variety of sound mixing at the show.

But now let me say something about the setlist and the performing. Packed with some surprises like Get off of my cloud, As tears go by (with an amazing Mick very close to the original) and Let's spend the night together, I've to say that this setlist was one of the best ones you can get at a stones stadium show! Mick's singing was extraordinary last night and Charlie's drumming was excellent again (he's still the heart of the band).

And now let me say something about our Ronnie an Keith. I've never seen such an poor playing by Ronnie during my 16 Stones concert years experience! Really, he isn't able to play any kind of solo. Unfortunately he doesn't seem to be focused on the show (like on the licks tour) and his playing was lousy and totally out of the mix yesterday night. And surprise, surprise: Ronnie's smoking cigarettes again!! I Think in this constitution we'll see him the last time on stage (pretty sad because I like this guy very much). Keith was a really Glimmer Twin last night, he tried to do the work for Ronnie also, and what can I say, in the second half of the concert Keith was on fire! Step by step he came into the show, and that what I've seen at the end was probably the best Stones show I've ever seen!

So thanks Mick for singing last night!
---
Review by Eric Groenendaels, Belgium
Came in at the stadion at the very end of Razolight's performance, which was really good – they'll get me to buy their last record that's for sure. Having seen the Stones several times on different tours, I was not expecting a bigger bang and I focused on watching the interaction inside the band. In my opinion, there was quite an issue with the sound balance at the beginning – and for sure when you are having JJF with an average (to say the least) balance, you expect the problem to get solved quickly. Came IORR and I thought:'OK, they've got some work to do over there' – it wasn't any better. However, I found Mick's voice really good – last time I saw him he had just gone over that voice problem, but he was definitely there last night.

One who wasn't until we reached his part (B4 they make me run), was the Keef. He definitely looked like he was lost. I was stunned not to see him smiling much – even guitar riffs with Ronnie looked like they were too much for him - I even told my wife at the beginning that he looked like he was suffering. Ron was kind of 'in and out', really good on some parts and almost not playing on others, just 'having a Bitt, watching the game…'. Several times they had those 'killing' looks between them, it was definitely not harmony over there. You could see Mick doing his utmost, and the band behind really carrying on (thank you Lisa for 'night time is the right time'), with the exception of Ron & Keith as I said earlier. Charlie was as Charlie is: passionate when it comes to the bluesy section, business as usual for the rest: no ups and downs, this guy can deliver – a real pro (he's been my favorite since 20 years).

B-stage was really good, Mick's voice was slightly overbalanced by then (headset microphone?), Honky Tonk was good (sadly they did not keep the mega-tongue for the rest of the show, my son just loved it). And it came by the end when the encore version of Satisfaction really hit me: Ronnie was really good, so was Keith….Because the end was coming?
---
Review by Volker Smiechowski, Bonn
In 2003 I enjoyed 3 of the concerts in Germany : Oberhausen (incl. AC/DC), Berlin and Hannover. This year, due to a lack of time and MONEY, I only could join the concert in Cologne.

The Rheinenergie-Stadium is not a perfect location for such an event, because the canopies caused an immense reverb and echoes.

The Stones began at 8:55 pm, following the set list of the previous appearances for the first 4 songs. Then as a first highlight they gave "She's so cold". I missed "Angie" and "Paint It Black". There were no further surprises in the set list.

The audiance stayed rather quiet, till the incredible Lisa Fisher appeared with Mick and "Night Time is The Right Time" as the second highlight.

The rest of the songs in the middle part of the concert was partly one great slush, due to the blasting of Woody's guitar and the wrong notes of Keith. "You can't copy Keith, you only can play better". Sometimes I wished to be deaf.

But the 5 last songs (incl. the encore) saved the whole appearance. The sound engeneers and the Stones did a perfect job (exept. Keith' intro of "Brown Sugar"). So I could enjoy the rest of the concert, hoping the Stones to be back in 2009.
---
Review by Norbert Maaß
This was my 11th Stones concert since 1990 (if you count the Keith solo show in 1993), and I was disappointed for the first time. I´ve just read that many people loved the show and wrote good things about it. Well, of course you are right: Mick gave his best, he was outstanding, his voice and show were full of energy and fire. Charlie didn´t miss a beat and I could really see that he is still the backbone of the band.

Keith can´t use his fingers as quickly as he did a few years ago - but it´s a miracle that he can still play at all with his arthritis. We should be grateful that he puts everything he can into the show. And he still makes me happy with all those little licks that nobody else can play like this. And I got seven songs that I had not heard before, even "Get off of my cloud" and "As tears go by" (which was the best song of the evening).

So what was wrong? I stood in the FOS area, only 3 metres from the barrier, so I expected to get a good sound - like always, but it was just awful, really muddy. There was too much bass and the echoes almost "destroyed" the songs. The band´s not too blame: It´s the acoustics in the stadium, so I´ll never go to a concert in the Rhein-Energie-Stadium again.

And now the worst thing: RONNIE LOST HIS ABILITY TO PLAY. Someone wrote that Ronnie was a bit "off", but I want to say it loud and clear: He didn´t play a lot, he spent a lot of time dancing and jumping on stage and waving to audience, but WHEN he played, it was absolutely disgusting! He made many mistakes (even messed up some licks in "Tumblin´dice") and I was even afraid to hear the next solo. Let´s take "Start me up", for example. His one-note-noise was just embarrassing. I don´t know what´s wrong with him; he certainly didn´t look drunk. A band is only as only as good as its weakest link. That´s Ronnie. Does he still deserve to be in the band - from a musical point of view? I am sorry to say this. You can start to stone me now...
---
Review by Marius Schneider, Bochum
Jumping Jack Flash - Very energetic version! JJF works very well as an opener
It's Only Rock'n Roll - Just as good as the opener. Nice rock n' roll.
Oh No Not You Again - I guess not everybody likes this number, but it is still powerful. Especially Ronnie did a lot of pressure with his guitar.
Let's Spend The Night Together - A good song to sing along. The crowd enjoyed this number.
She's So Cold - Back in the 80s ... I don't like the Stones of the 80s very much, however, this particular song rocks. Unfortunately no 'Sway'.
As Tears Go By - Keith did his job on the acoustic guitar.
Streets Of Love - This one is hot! More of that!!!
Tumbling Dice - Good as usual
Night Time Is The Right Time - I should hate this number, because it kicked out 'Gimme Shelter', however it was an outstanding number. Lisa Fisher rules!
Before They Make Me Run (Keith) - Simply Keef Riffhard, good number
Slipping Away (Keith) - He actually enjoyed this number
Miss You (to B-stage) - I like this one. Funky and groovy.
Rough Justice - A typical Stones cracker, works fine
Get Off Of My Cloud - The first time on the European leg
Honky Tonk Women (to main stage) - Loud guitars, I like that.
Sympathy For The Devil - One of the highlights of this evening. Mick is incredibile on this number. Keith nearly missed his first solo. He seemed to have some problems with his guitar or something.
Start Me Up - Keith started this one too early, since Mick wasn't ready to sing. However, no problem at all!
Brown Sugar - Yeah! Great version, down-to-earth rock. Bobby's solo kicked ass.
You Can't Always Get What You Want (encore) - Dammit! What a great song, what a great summer night! Just perfect. Ronnie played his solo extra long, he was quite surprised when Mick motivated him to play along.
Satisfaction (encore) - Keith's riff is the trigger: The people went crazy at this number! Afterwards some fireworks and voila, that's it.
Another great show finally had come to an end. Bye Stones, we all are hopefully looking forward to seeing you again ...very soon.
---
Please send your show reviews and comments by e-mail to: [email protected].
The reviews will show up here soon! Thanks!
---
News links
Thanks to Gabie Armbruester , Leonhard Webersinke and Arno Klünter for news links!
Thanks to Detlef Neumann , Ron Blank and Marius Schneider for great photos!
---
The IORR magazine
For exclusive reports and unique high quality pictures from the Rolling Stones tour and more see the IORR magazines.
---




It's Only Rock'n Roll 1980 - 2006
© The Rolling Stones Fan Club Of Europe