---
These are the latest Rolling Stones news and updates for you! IORR is a non profit fan club run by fans for fans. All parts of the It's Only Rock'n Roll web site is copyright of The Rolling Stones Fan Club. When using information from this site, please include a reference to IORR and the main web address www.iorr.org.
---
---

The Rolling Stones
Bobcats Arena, Charlotte, NC
Friday, October 21, 2005
The set list

Start Me Up
You Got Me Rocking
Shattered
Tumbling Dice
Oh No Not You Again
Ruby Tuesday
All Down The Line
Night Time Is The Right Time (with Lisa)
--- Introductions
The Worst (Keith)
Infamy (Keith)
Miss You (to B-stage)
Rough Justice (B-stage)
It's Only Rock'n Roll (B-stage)
Honky Tonk Women (from B-stage)
Sympathy For The Devil
Paint It Black
Brown Sugar
Jumping Jack Flash
You Can't Always Get What You Want (encore)
Satisfaction (encore)

Show start :  9:15 pm
Show end   : 11:05 pm

---
Review by Bjørnulf Vik
The Rolling Stones brought me to Charlotte in 1997. That was the first time for the bridge on the Bridges To Babylon tour. And it was the first time they played Flip The Switch. At Ericsson Stadium. So I fell in love with Charlotte, great city, and when they came back for No Security I was ready once more in 1999. To get to the Charlotte Coliseum I had to take a bus from the bus station that took me far out to a place that felt in the middle of nowhere. But like in 1997 the show was just fantastic. So when I heard they were back for Charlotte in 2005 I was ready!

This time I went to the bus station like in 1999. But unlike in 1999 - when I had visited Burger King - I just crossed the street to the brand new Bobcats Arena. So much more easy! And if you are living in Charlotte, I would agree with your Mayor who did his opening speach yesterday - this venue adds quality to the life of everyone living in Charlotte.

Quality tonight came from England originally made in 1962. These days they are owned by fans all over the world. Mick's voice never sounded better. Keith ruled from start to finish, Ronnie was tossing out picks and great guitar solos all through the night. And Charlie sported an orange home team Charlotte colored T-shirt as he kept the beat running.

Ruby Tuesday was unique. Mick did not move at all. For the entire song he just stood by the microphone stand singing this song with such emotions I have never heard anything like it. The band allowed him to improvise on the beat and the flow of the song and it was simply magic. At one point he picked up the microphone, stepped back a couple of steps, turned around, then walked back to the front, only to finish the song where it started. A moment worth the travel alone.

Night Time was fantastic with Lisa. Don't even think about bringing on any guest singers for this song. It would be an insult to the fans. Lisa is just fantastic on this song, and I am 100% sure no other female singer can come close to the performance she is doing, especially not the one she did tonight. Thank you Lisa - you'r simply the best!

By the small stage, which isn't that small by the way, there was a guy with a sign saying "Throw me a pick Ronnie". Well Ronnie saw it and took the advice. The first one was flying over the guy so during It's Only Rock'n Roll Ronnie made sure he got his pick by placing it into his hand. Nice Ronnie!

Sympathy For The Devil. Keith is rolling out some fantastic guitar playing on our righthand side. A bra of the giant size is flying his way. Keith is working hard on his playing, but he does still find his time to hand over a pick to a girl with a great smile on her face.

Paint It Black. Mick Jagger front stage wide split legs. Starting to sing. Raising his hands above his head. The fuzz is running and the song is rolling. Those few who were sitting down are now on their feet. From now on.

Brown Sugar is featuring a video on the screen that is showing a topless girl at famous big city landmarks like the Eiffel Tower, Big Ben, The Pyramids, New York City and so on. Normally you do not see this when they play Brown Sugar at the end of the show, but as it is coming earlier it is on for tonight.

Jumping Jack Flash is great and loud as at every show. Then two encores. Finito. All too short. No complaints. I know they have to go home. But I want more!

PS. They have been trying out "It Won't Take Long" and "Streets Of Love" at sound checks lately. So the fans on the U.S. West Coast have got something to look forward to!
---
Review by Donella Jarman
my husband and i drove from hillsborough, nc on friday night to see the stones for the first time and let me tell you, if there is ever another tour for those guys in the future, we will make it a point to see them again. how awesome it was. the entire trip was wonderful. we were not familar with charlotte at all. luckily we got a room at the hilton 2 blocks from your new arena. and, i must say i was so impressed with the convenience, but, mostly i was blown away by the hospitality of the arena workers.

everyone seemed to go out of their way to help. from the time we walked through the doors until the time we walked out, every employee i encountered, be it an usher, restroom attendant or food/beverage clerk...they were so kind and seemed really to enjoy what they were doing. thank you for charlotte's part in making it such a memorable evening. i hope it was a success from the business side and things went smoothly for those great emplyees!
---
The official opening
The Charlotte Bobcats Arena was opened officially by Mayor Pat McCrory and Bobcats owner Bob Johnson in a public ceremony at 3pm today Thursday Oct. 20. The public was invited in to see the brand new arena, to be in use first time ever tomorrow by The Rolling Stones. With the Bobcats color being orange, as you can see from the ties worn by the major and the Bobcats owner to his right - wonder if Charlie will bring on his orange T-shirt, even if Mick joked about team colors the other day...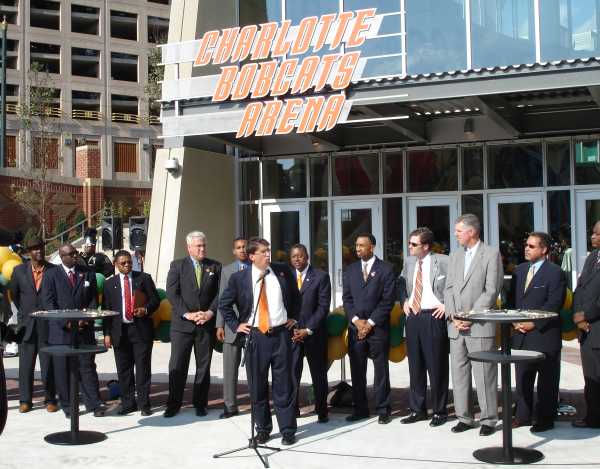 ---
Please send your show reviews and comments to: [email protected].
The reviews will show up here soon! Thanks!
---
News links
---
Photos by bv/iorr.
---
The IORR magazine
For exclusive reports and pictures from the Rolling Stones tour opening see the IORR magazines.




It's Only Rock'n Roll 1980 - 2005
© The Rolling Stones Fan Club Of Europe