---
These are the latest Rolling Stones news and updates for you! IORR is a non profit fan club run by fans for fans. All parts of the It's Only Rock'n Roll web site is copyright of The Rolling Stones Fan Club. When using information from this site, please include a reference to IORR and the main web address www.iorr.org.
---
---

The Rolling Stones
Fenway Park, Boston, MA, USA
Tuesday, August 23, 2005
The set list

Start Me Up
You Got Me Rocking
Shattered
Tumbling Dice
Rough Justice
Back Of My Hand
Beast Of Burden
She's So Cold
Bitch
Night Time Is The Right Time
--- Introductions
The Worst (Keith)
Infamy (Keith)
Miss You (to B-stage)
Oh No, Not You Again (B-stage)
Satisfaction (B-stage)
Honky Tonk Women (from B-stage)
Out Of Control
Sympathy For The Devil
Jumping Jack Flash
Brown Sugar
You Can't Always Get What You Want (encore)
It's Only Rock'n Roll (encore)

Show start :  8:25 pm
Show end   : 10:35 pm

---
Review by Robert Bagel
Opening night was such a winning formula, there was not much that needed to be changed. In fact, the only setlist change was Bitch (as good a version as on recent tours) replacing Heartbreaker. Rough Justice was tighter and more confident this time, with Ronnie seemingly more aggressive on guitar, wearing a pink and green CBGB shirt and bright blue pants that looked like they were borrowed from Nigel Tufnel. Mick introduced Back of My Hand by saying "You've heard of old blues, well this is new blues". It will be tough to top this number for the way it can give a large venue a small club feel. It is great to see She's So Cold again in its manic intensity, hyping the set with the early 80s metallic blast provided by Neighbors on the Licks tour. The Ray Charles tribute, Night Time Is The Right Time is a wonderful vocal showcase for Lisa Fischer, giving her fresh material to attack after making Gimme Shelter a show favorite in the past six years. Keith seemed especially impressed, running over to her after the song ended and bowing in reverence. Not only do the four Stones and bass Daryl Jones seem to be working even better together as the core band, but the additional musicians like Lisa and Bernard Fowler are more in the mix than before. Keith's performance of The Worst is made better with Bernard's duet vocals, which hold up well in light of Keith's recent duets with Willie Nelson and Nora Jones. And the playing by Keith on this song! It is hard to think of many songs with acoustic guitar that changes from nearly classical to being punctuated with short bursts of booming thrash-like chords.

I was lucky enough to be situated right behind second base on the Fenway Park field, the Green Monster to the left of the stage, the Prudential Center in the distance to the right, Boston looking beautiful on a perfect summer night. This was the ideal place to get swept up in the B-stage wave, and bless the Fenway security in being cool to let us pack around. As the moving stage trucked out toward us, the Stones played Miss You, Mick playing guitar and freely roaming around with the benefit of a Sammy Hagar/Garth Brooks-type vocal microphone head set, something I had not seen him use until Sunday's opener. Before one could fully grasp it, there was the band, fifteen feet away. Mick, Ron, Keith, and Daryl circulated on the stage as they generated explosive versions of Oh No, Not You Again (this one ROCKED) and Satisfaction, with Chuck Leavell and Charlie beaming as they seemed to enjoy it as much as any of us. With such an excellent set taking place a short distance away (close enough where with a brief series of arm waves, Mick emptied a water bottle on the crowd), it was easy to lose sight of the fact that there were 30,000 people behind me also caught up in the magic. Then the band shifted into Honky Tonk Women, and the platform started moving back toward the main stage where a giant floral 1970s looking tongue and lips had inflated. The lights on the B-stage edge faded like the taillights Stones fans know from another song's verse, and the potential chaos of getting people back to their seat locations dissipated with incredible ease. Upon returning to the main stage, Mick said "That is a good trick." The moving stage is indeed a great trick, and one that will always be a quick association with the tour quickly earning its title of A Bigger Bang.
---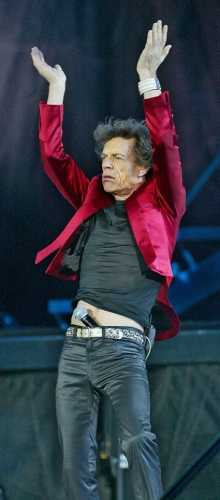 ---
Onstage seat review from Fenway by Ed Quinn
Setlist:

Only change from Sunday dropped Heartbreaker replaced by Bitch. Very good version Horns were excellent. Three songs that must go.

I am going to harp on this the whole tour, Shattered its so sloppy just going through the motions. She's so cold they do nothing with it, top 40 at its best. Miss you booooooooring. Of course I have never liked theses three songs anyway. No change at all on the B-stage I have a feeling this might be the standard for Outside shows anyway, I hope I'm wrong. I really liked Infamy this song really grows on you.

I think Keith has to play at least one beefed up song with his set. T&A happy, BTMMR etc. A Ballard and a blues together in a stadium setting slumbers the crowd. The Concession stands make a killing and all the plumbing backs up when does this. Night time is performed very well but I would rather see Lisa featured in a stones song (GIMME SHELTER) that's what I paid for not to hear Ray Charles. If they must play a cover song do ATPTB or GTAGG or pick your own. In a stadium setting I want to rock. Give me Ray Charles at a theater show. New songs were awesome again tonight. The rest of the setlist was played awesome. Once again, Out of Control was made for this Stage Must stay for every show.

Sound ; I thought it was clear as a bell and loud. Out on the street I heard a number of people complaining it sounded muffled. I cant explain it sounded great to me.

ONSTAGE SEATS:

Procedure: I picked up my ticket at Ticketmaster will call box set up at gate B showed my ID of course. Then I had to walk down the street to gate C 1/4 mile away. I walked to the table they set up, showed my ticket ( they never asked for ID or anything) and gave me a wrist band and a Laminated Back stage ticket with necklace, Looked like a press pass. Then I was escorted back stage and up to my corral. So with The Fenway procedure after I picked up my ticket at will call I could have easily given or sold it to someone else.

Sunday, I sat in lower left field awesome seat and from that angle I did not like what I saw concerning the On stage seats. Monday I put up a post saying I would trade it for any decent seat in the Park I am glad nobody took me up on it. It was a lot better than expected. I was in the the second tear level ( Two tears only) directly above the Horn section, 25-30 feet or 10 meters. Of course I'm ballparking that figure. Each box averaged six people One person deep , no seats, Plenty of room for everyone to hang on the rail. I had to stretch a little if Mick went all the way down the ramp on my side. My only Blind spot was if Mick was directly front middle of stage, One of those big hanging light fixtures was in the way. I could see the teleprompter feeding the words and the setlist to Mick . after three songs I think anybody could have guessed anyway. From what I could tell the closer you were to the middle of the stage the lesser view you had. Because the wings V inward like a butterfly. So I would say it was a lot harder for them to see all the way down the ramps. You could walk around up there and I did check out other boxes to get a different view. My Press pass had no Box or number on it , after the show started I could have easily slipped down a level and squeezed in another box. Something I liked you could really feel the music vibrating under your feet and pick up the rhythms. Looking out at the crowd was a totally unique perspective I liked it. I would estimate from all the boxes I did check out that everyone had a 90 to 95% view of the stage below. You could also observe Mick choreograph and give commands to the stage crew even as he was singing. Like a cop directing traffic.

Was it as good as being in the first ten rows front of stage I doubt it, on the other hand nobody was in front of me or behind me always a good deal. Were they worth $500? absolutely NOT but I only paid $250 So I thought it was well worth it. I suggest if you have them keep them and enjoy the experience. Its definitely more appealing when your up there than when you look up at it from the field.

Best part: Open Bar all night ya that's right FREE.

Final Surprise: everybody got to meet the band and pictures YEEEES. How do your front row seats look now?

I will be In Hartford Friday, if the setlist stays the same this will be my last outdoor show forever, I cannot take the Stadium rehash. Indoors only from now on.

p.s. I was kidding about meeting the band but there was a free open bar all night.
---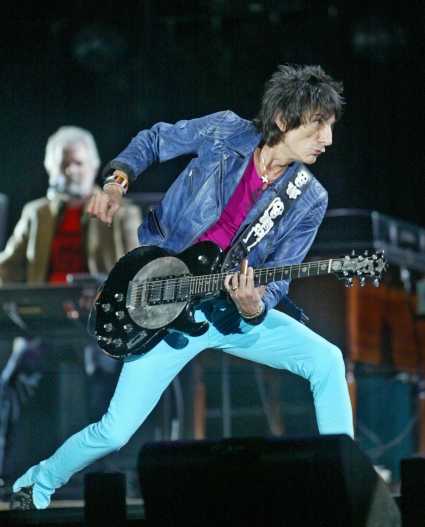 ---
Review by Kent Lusnia, Easthampton, MA
Just a few points before I start:

1. I was 12th row on Opening Night (left stage) tonight I was right behind the 1st base dugout. This dugout seemed to be the place where all the big shots came and went. I saw Peter Wolf, Whoopie Goldberg, Lorne Michals (SNL), Keith's daughter, Michael Cohl and John Henry (Red Sox owner). Ronnie and Joe Wood watched the Peas from outside the dugout. Sunday I was standing right next to Stephen Tyler of Aerosmith.

2. The crowd tonight was much better - very loud and into it.

3. The Black Eyed Peas really had the crowd going tonight. I actually gave them two or three very small taps of the palms as they exited the stage.

4. Once again the sound was awesome. Guitars high in the mix. Maybe after all these years they have finally gotten it right.

5. Tonight I had a totally different experience than Sunday. Being so close and off to the side I really did not get to experience the magnificence of the stage and the video and light show. I must say being close is nice but tonight was a much better concert experience(In my opinion only) I had a dead center viewing of the video screen and it was an awesome experience. being close or off to the side the light standards that they have over the main stage block your view of the screen.

6. The On-Stage people just seemed to be standing their again. The only time I saw them clapping or moving was when Mick pointed at them.

7. For those who will be complaining that they only changed one song, please remember this is only the 2nd show, they need to get some timing down before they start making some changes to the set list.

Now as Keith would say - On with the show:

1. Start Me Up - great opener - you will enjoy the video presentation, several explosions before Keith rips into this one. Flames coming out of the top of the stage.

2. You Got Me Rockin - I know this is not everyone's favorite but the boys really ripped into this one tonight. Keith was on from the 1st song tonight.

3. Shattered - Great version - this looks to be a regular in the stadiums show.

4. Tumbling Dice - I love this song - great light show, awesome playing, Mick really working the stage, came out on the catwalk just like the Licks tour. 1st appearance of back up singers

5. Rough Justice - really nailed this one tonight, much cleaner than Sunday. I really like this song

6. Back of My Hand - This is just an awesome tune. After the song Ron shook Mick's hand and Keith came over and gave Ron a big bear hug.

7. Beast of Burden - one of my favorites - great presentation. Mick working both sides of the stadium. I thought this one might get pulled for other, but glad they left it in.

8. She's So Cold - absolutely awesome, much cleaner ending tonight.

9. Bitch - we got this one instead of DO Do Do heartbreaker. great version, it seemed they changed the cadence of the song and almost had a jazzy feel to it mid way thru. It really rocked with an awesome video presentation.

10 Night time - really glad they left this one in. Do they smoke on this one, really brought the house down. I know some would prefer Gimmie Shelter or rambler, but then others would just bitch about another war horse. As I mentioned Sunday Lisa's singing is beyond incredible.

Introductions - and on guitar - Ron "Rembrandt" Wood

11 The Worst - surprised this didn't get changed but a very nice song with Tim on clarinet, and Ron on Steel guitar. Bernard came over and sang with Keith arm and arm. After the song Keith mentioned that he could be much worse and that is why the next song was appropriate "Infamy"

12 Infamy - I love this song, and I'm in no way a Keith fan. This is on rocking tune.

13 Miss You -- going to B stage - Great version, Mick wears the headset microphone thru the whole B Stage set - he can really work the crowd having both hands free. Very nice rockin version.

14 Oh No Not You Again - Nice and loud and great playing. This new album is going to be great.

15 Satisfaction - for those who say they can do without this one, please give it a listen. Keith and Ron absolutely rocked out on this one, they were playing with incredible passion. If Charlie banged his drums any harder the entire B-Stage would have gone flying into home plate.

16 Honky Tonk Women -- back to main stage - great version - inflatable flowered tongue comes out in front of the video screen.

17 Out of Control - great version - glad to see this is a keeper in the set list.

18 Sympathy for the Devil - starts off with Mick standing on a walk way over Charlie in the middle of the video screen. This is the closest the On-Stage people will be with Mick. Great version. 19 Jumping Jack Flash - unreal tonight. NO HORNS - at one point Ron was down on one knee with the guitar pointed forward and the other leg straight out, Keith was scrunched down inches from the floor and they were just jamming like you have never seen. FANTASTIC

20 Brown Sugar - Love this one - Mick really working the crowd. Ends with fire works and flames coming out of the top of the stage.

21 YCAGWYW - Great opening with Tim on horns - everyone was singing this one today.

22 IORR - hard rocking extended version - seems like they are still working out some kinks with this one, like the ending but a great show ender.

Final analysis -

Better show than Sunday, much better crowd the place was rocking like game 6 of the American League playoffs last year. It was loud and the crowd was very appreciative of the awesome show. It's hard to say who was best tonight. Ronnie was once again awesome. At the end of the show Lisa came over and gave Keith a huge hug, he played his ass off tonight and looked like he couldn't have gone another minute. Of course Charlie and Mick where their usual best - just an amazing group of individuals that perform something magical when they get together.

Well 2 days of rest before I'm off the Rentschler Field in Ct. Damn I'm getting too old for this.
---
Review by Cardiff Giant
A great show at a great ballpark! Lots of character at Fenway. I got into town from Western New York State that afternoon and my buddy flew in from Washington, DC. A perfect summer day...not too hot! I made my way over to fenway in the midafternoon and walked around the stadium. I saw lighting director Patrick Woodroffe arrive...and his lighting design for this stage is great. After heading back to the hotel to pick up my buddy Brian, we went back over to the stadium. The neighborhood was really rocking. Bars and restaurants were jammed.

Once again, I was able to get my camera inside for some great photos. Our seats were in grandstand section 20, right behind home plate..pretty far away, and with an overhang that obstructed our view of the video screen. So while the Black Eyed Peas were playing we made our way over to the first base line and found a standing room spot and then made our way down a few rows for empty seats that had a perfect straight on view of the entire stage.

What a great stage design...you really appreciate it when it is all lit up...there are so many lights and effects..but it is a very clean modern look...Start Me Up was loud and clear..so great to hear the guitars are turned up for this tour. You Got Me Rocking is one of my favorites, I guess I'm in the minority. Shattered was awesome..especially for those of us who are members on the Shidoobee web board...Shi-Shi-doobee!!!! Tumbling Dice, classic as always. Rough Justice kicks...so great. Back of My Hand slows things down a bit...but the true fans love it. This is a blues band at heart !! My buddy Brian's favorite song was next....She's So Cold. Funy thing is, the newspaper reviews were opposing. One said the song was a mess..horrible. The other paper said it was the highlight of the show. I thought it was a highlight. The video montage was great with all the clips from Stones videos, including Love is Strong, Waiting on a Friend, Undercover, She's so Cold, IORR, She was Hot, Start Me Up.... this was a big highlight. Bitch took the place of Heartbreaker...this was a different version...very good. Night Time - the Ray Charles tribute was incredible. Lisa Fischer was outstanding.

Great band intros, great ovation for Charlie. Keith takes center stage and nails The Worst and Infamy. I really like Infamy, can't wait for the album to come out. Miss You was very funky with Darryl laying down a great bass groove, and then the stage moves out to the field..always a new twist! Oh No Not You Again was nasty and hard. Satisfaction was booming and then the inflatable tongue and lips came out for Honky Tonk as the stage moved back to its home. I'm very excited to have Out of Control in the set, especially as part of the stretch run, very refreshing, great version. Kent Smith on trumpet hits a home run and the band rocks it. They have dropped the pre-recorded percussion loop to kick off Sympathy for the Devil, also a nice new change. Charlie takes this song and starts it with great drums. The fireworks are excellent. Jumpin Jack Flash and Brown Sugar finished off the main set in style. Hard rocking, all guitars. Great!! The encore of You Can't Always Get What You Want and IORR were also great finishers.

The stadium experience is still a great one with the Stones. They continue to raise the bar for each tour, with the music still being the main focus. Can't wait to be in the on-stage boxes in Detroit. This was a great show, sound was awesome, band played great, set list was very exciting. Even with all the warhorses, they always sound fresh with new twists, while the new songs and classics that are in the mix for this tour are right on the mark. It will only get better with each show. See ya on the road! ( and one suggestion if you are making road trips on this tour, pick up the new Tim Ries CD "The Rolling Stones Project" Tim plays sax in the Stones horn section and this CD features awesome jazz versions of Stones classics, with great guests including Keith, Ronnie, Charlie and some other big names...it is perfect music for the road as you head to that next concert)
---
Review by Norm in Plymouth
Your review was right they played like they did years ago sympathy the way it was 30 years ago showing my age here but much better than 97 at foxboro they were good in 97 but spectactular at fenway anyone who says their to old is crazy and they are the one whos too old these guys are back and better than ever dont hesitate to go to one of their shows this time around.
---
Press links and reports
---
Thanks to Jim Pietryga for the great "final bow" photo, and also for all other Boston photos Aug. 21 except for the three last ones for Aug. 21 show. Thanks to Reuters for the three small stage photos Aug. 21.
Thanks to Carl Lönndahl, Gunnar Yttri, Høgne Midjord, Iris Noelle-Hornkamp, Jens Høj Eggers, Jes Jessen, Joachim Weidelt, Joelle Bonnet, Massimo Della Pietra, Thomas Knutsson and Thomas Piehl for news links.
---
The IORR magazine
For exclusive reports and pictures from the Rolling Stones tour opening see the IORR magazines.




It's Only Rock'n Roll 1980 - 2005
© The Rolling Stones Fan Club Of Europe