---
These are the latest Rolling Stones news and updates for you! IORR is a non profit fan club run by fans for fans. All parts of the It's Only Rock'n Roll web site is copyright of The Rolling Stones Fan Club. When using information from this site, please include a reference to IORR and the main web address www.iorr.org.
---
---

The Rolling Stones
Pepsi Arena, Albany, NY
Saturday, September 17, 2005
The set list

Start Me Up
You Got Me Rocking
Live With Me
Shattered
Rough Justice
Back Of My Hand
You Can't Always Get What You Want
Midnight Rambler
Night Time Is The Right Time
--- Introductions
The Worst (Keith)
Infamy (Keith)
Miss You (to B-stage)
Oh No, Not You Again (B-stage)
She's So Cold (B-stage)
Honky Tonk Women (from B-stage)
Sympathy For The Devil
Paint It Black
Jumping Jack Flash
It's Only Rock'n Roll
Satisfaction
Brown Sugar (encore)

Show start :  9:20 pm
Show end   : 11:20 pm

---
Review by Dean Goodman
Even ignoring the fact that this was the first Albany show in 40 years, this was still a historic occasion … "Back of My Hand" returned to the set list, accompanied by "Midnight Rambler" and "Live With Me," while "Tumbling Dice" was rolled aside. A few songs were actually a mess, but I loved this show for that reason. And the crowd was mostly on its feet throughout, a major accomplishment given the sleepy nature of this town and its environs.

"Live With Me" was a struggle for Mick, who spent part of the song over at Chuck's keyboard, getting guidance. And then he introduced "Rough Justice" when everything was set up for "Shattered." Keith's tech Pierre was pointing to the set list on Charlie's Perspex screen to anyone who would notice; Keith and Ronnie were having a great laugh at Mick's expense. In the confusion, the lyrics for "Shattered" seemed to be all over the place, but no one minded.

Now that the record is in stores, the Stones feel less self-conscious about playing album tracks, and there was considerably more audience appreciation of "Back of My Hand," a stunning track that essentially starts off with just Mick on slide guitar/vocals and Charlie on the kick-drum. Over on the small stage, "Oh No Not You Again" is absolutely infectious. Why this wasn't the first single is a mystery to me. As an aside, the usual bras and panties were tossed over to the small stage, one bra coming from a lady next to me, who then proceeded to flash Ronnie. It would have been mildly erotic were the combined ages of the breasts not pushing 100 years.

The home stretch was highlighted by "Paint It, Black." With the small stage design, Mick and Keith didn't have to work too hard to send the crowd into a frenzy with the usual warhorses. Post-script. Ronnie's new drugs of choice seems to be a fruit. "On the banana, Ronnie Wood," Mick said during the intros. The potassium hit energized Ronnie, who turned his side of the stage into a fun zone, while Keith's seemed more sedate. So now we have a week off before Columbus next Saturday. Hopefully they'll take the time to work in some more new tracks, and consign "You Got Me Rocking" and "Sympathy for the Devil" to the scrap heap.
---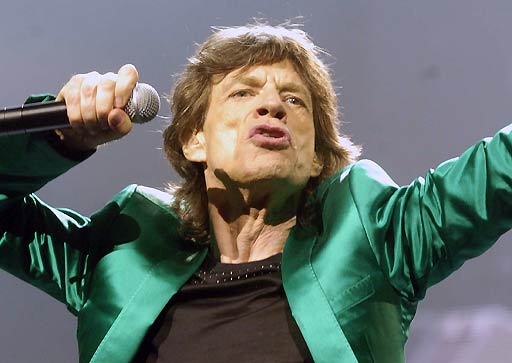 ---
Review by Kent Lusnia, Easthampton, MA
Just back from the Albany show and I can sum up tonight's gig in one word - KEITH. Holy crap was he on top of it tonight. Of the 5 shows I've been to so far this by far was his best performance. Excellent work on SSC, IORR, SFTD and JJF. The Pepsi arena was a small intimate venue and any seat would have been great. I was seated in section 120 - middle of arena and the stage was right next to us, awesome seats for $160.00. Well, on with the review.

1. Start Me Up - I love how they start with the curtain down and run the opening thru it - awesome images - great opening song. Mick came out in a bright green jacket.

2. YGMR - great crowd reaction - everyone was standing and clapping along.

3. Live with Me - great treat to get this one - really nailed it

4. Shattered - Mick actually announced that they would be playing Rough Justice and Mick, Keith and Ronnie had a little conference and Mick came back and said he was wrong and that they would do Shattered. Smokin version - the crowd loved this one.

5. Rough Justice - Mick announced that the had not played in Albany in 40 years. He asked if anyone was there for the last show, he was amused when just about everyone said yes. Great song - the boys have really got the 4 new songs from ABB down pat - a super rocker.

6 .Back of My Hand - it's fun to watch Keith and Ronnie just sit on Charlie's drum kit and watch Mick do this one - super blues tune, great to see it again.

7. YCAGWYW - crowd favorite - Mick coming out on the B-stage ramp to work the crowd - everyone was singing

8. Midnight Rambler - I saw Mick reach down at Charlie's drum kit and pick something up - I immediately told my buddy we were going to hear Rambler - when they started it up, we went nuts. So good to hear this one on the tour - great guitar and harp work on this one.

9. Nighttime - I cannot hear this one enough, love the way they do this tune. Lisa is unreal and Mick's primal screams at the end really brought the house down. A super tribute to Ray Charles.

Band Intro's - And on Banana Ron Wood, Ronnie was eating a banana and came up to the microphone and said thanks to the crowd. The applause for Keith was the most intense I have seen in years, very prolonged, Keith just loved it.

10 The Worst - great song, nice work by Bernard and Tim on this one

11 Infamy - Love this new song - great drum work by Charlie.

12 Miss You - off to the B-stage on this one - great rockin version, with Mick on the head microphone.

13 On No Not You Again - super hard rockin version of this new one from ABB - Keith was smoking a cig during the song.

14 Shes So Cold - they seem to really like this song but are not sure were to put it in the setlist. It was hard rocking tonight - super version.

15 Honky Tonk Women - great fan favorite on the way back to the main stage.

16 Sympathy - Keith was rockin on this one tonight, it makes all the difference when Keith is smokin along- super nice.

17 Paint It Black - love this one in the arenas - great light show and super work by the entire band.

18 Jumping Jack Flash - I do not think they could have played this one any better - Keith was on fire.

19 IORR - super hard rocker version, glad they still play this one

20 Satisfaction - another great performance by Keith on this one - Mick and Keith working opposite sides of the stage as only they can do.

Encore:

21 Brown Sugar - with a flash of confetti the boys ended the show with this trademark lick - awesome energy expended.

The crowd did not want them to stop - we yelled and screamed our lungs out even though we knew the night was over.

Well, that's 5 shows for me, 108 songs, 28 different songs. The boys seem to be getting in a nice groove now. After a week off I'm sure you expect them to play around with the setlists a little more.

Thanks Rolling Stones for 5 very memorable shows.
---
Review by Jon Cohen
Generally agree with the other reviewers; the Albany Times Union review was accurate too.

Hight points were definitely the first few numbers (Start Me Up/You Got me Rocking); Midnight Rambler (shades of early '70s energy level -- worth the price of admission alone); Night Time, the new songs (except Infamy, which I think is more of a riff in search of song -- sorry Keith, I still love you), and JJ Flash, which was over the top.

Low points (not that low) were sloppy Live With Me and She's So Cold, and a lackluster Sympathy.

But these are minor complaints. The Stones blew the roof off the place. Long live the Stones.
---
Review by Bill and Suzanne from Watervliet NY
Stones in our hometown area. MY 37th and still rocking. This one had a nice little touch to it with one of my favorites Midnight Rambler. I happened to have had the opportunity to slap five with Mick on this one back in 1978 in Buffalo. The Pepsi is a great place to see a show and the crowd was really into it.

Stand up show although a couple of security people didn't think it should be. I said this is the Stones they haven't been here in 40 years I aint sitting down thank you very much. They eventually left and let us be.

This was our 3rd show this tour and a nice little change in the set list. I remember when the boys didn't even play an encore. And they left us wanting one more at the end of this show also.

Yea they were a little rough on a couple of the early songs but still the GREATEST ROCKING ROLL BAND IN THE WORLD. We don't have anymore tickets for this tour but I'm sure will get to see them again, I hope.

When we left and got outside we thought we heard BROWN SUGUAR twice HA HA. That's how good that song was.

Two songs I would love to see off the new CD are STREETSOFLOVE AND LAUGHINEARLYDIED.
---
Review by Dianne Lebolt
62? Seems more like birthdates 1962. These guys are amazing! Good seats and a good venue certainly make a difference. Great show. Keith was actually audible. Infamy was indeed a highlight. Also, I don't think he smoked more than 4 cigarettes the entire show, and I didn't see Ronnie smoking. What can I say Mick is awsome. The mobile stage is fantastic. It's great to see these guys on a weekend when I didn't come from work and don't have to go to work. Great show. I sound like everyone else but these guys are at their best.
---
Review by Robert Bagel
Saturday night in Albany made clear two conditions that contribute to a great Rolling Stones show: start with a medium sized American city that has seen the Stones, but not for decades; and have a new indoor arena in the city center. Albany had not seen the Stones since April 1965, so any nostalgic backdrop for the show had some historical grounding. The new arena was ideally situated in the midst of a surprising group of high quality hotels and restaurants. We have seen this combination work on prior tours in Portland, Nashville, and Oklahoma City. But Albany seemed especially excited to see the Stones. Nearly every person asked, "Are you here for the show?!" not because they really did not know, but because they wanted to talk about it. This gave the city and the arena the perfect edgy buzz that the Stones are so great at seizing upon as an input to produce a sustained high energy, tight and powerful rock'n'roll show. From the first chords of Start Me Up, the place was jumping, and you could tell Mick Jagger had a "Wow, look what I have to work with!" state of mind.

There were some early sound problems (especially with Ron) on Live With Me, which then caused somewhat of a fright for us new song fans, as Mick announced Rough Justice, followed by a huddle of Mick, Keith, and Ron, and then Mick's new announcement, "We're going to play Shattered instead." Thankfully a good version of Shattered (not as good as at Giants' stadium) was followed by Mick saying, "Now we're going to play Rough Justice". This started what was a great evening for fans of the new album, as we got the current full dose of four new songs, with Back of My Hand nicely punctuated by Mick ending the street-like guitar duet with Keith by calling in the drums with a, "Come on Charlie." From the B-stage, Oh No, Not You Again continues to be powerful in its music, its funny and shrewd lyrics showing that absolute song familiarity is not necessary to light up the crowd. On the subject of new songs, while Infamy continues to get better each time it is played, I cannot help but think how cool it would be to see Keith switch out his now regular playing of The Worst for the new song This Place is Empty. This Place Is Empty would work great, and be in the tradition of songs like The Nearness of You played on the last part of the Licks tour. For anyone who listens to A Bigger Bang, the simple and catchy refrain of This Place is Empty will permeate your soul and mind so you'll find yourself singing it whether you have intended to or not. It would be great to see the originator of this masterpiece do it live and in person.

The set was refreshingly rearranged tonight, as You Can't Always Get What You Want came early (Tumbling Dice was left out regrettably, but the rest of the show made up for it), followed by the return of Midnight Rambler, which was dramatically strung out with its sparse guitars linking together the blasts of loud blues. The tribute song tonight was Ray Charles' Night Time Is the Right Time, which sparkles in so many ways, from Lisa Fischer's vocal feature to Keith's leads that make this piano song a guitar song, to Mick's vocals. Mick's singing on this was one of the show's highlights, his repeated falsetto shrieks an astounding surprise. Maybe it was because there are six days off before the next show, but this was obviously not a man looking to conserve his vocal cords or play it safe on the physical element of singing style.

Intros were more interesting than usual tonight, with Mick introducing Ronnie with, "And on the banana, Ron Wood!" as Ronnie was taking advantage of the short break to snack on a banana. For all of the talk of his rehab, and how great Mick, Keith, and Charlie have been, it is a shame that the quality of Ron's guitar playing has been somewhat overlooked on the tour so far. He has been right there on every part, and while not as featured as he was on the Licks tour with Can't You Hear Me Knocking, deserves a lot of credit for the great month this band has had. When Keith was introduced, the ovation was more thunderous and lengthy than any I can recall, as Albany would simply not stop expressing their appreciation for him. Keith said, "Come on, we have a show to do!", and when this would not curb the applause, he finally resorted to "OK, silence children!".

A final noteworthy part of the show was getting to watch Charlie from behind when he's on the B-stage, and seeing him work the drums with his arms and legs, perhaps working harder than anyone else in the show. It is easy to get caught up in the motion of the rest of the band and take Charlie for granted, thinking that from behind the drums he is closer to presiding over the show than really working his ass off in making it great. However, close attention during a few moments on the B-stage reveals not only the cool style of matching colored shirt and socks, but the substance that is the rhythmic foundation of the Rolling Stones.

September 17 was originally rumored to be the date the Stones would play a "club show" at the Beacon Theatre on Manhattan's Upper West Side, so when it was announced that they would play Albany instead, I was disappointed. However, Albany proved to be a tremendous host city, both in its amenities and in its being thrilled to have the Stones. That is precisely the kind of energy the band takes and turns into a great show, and combine that with new songs and imaginative selection of old songs, and you leave the Pepsi Arena realizing that not only is the quality of show unbelievably high, but it keeps getting better as A Bigger Bang goes on.
---
Review by Shawn Chaisson, Albany, NY
It can all be summed up in one word.... YAHOOOOOOO !!! (Sm)Albany finally celebrated it's first REAL Rock N' Roll Show last night at the Pepsi Arena. I've lived in the area for 44 year and been to hundreds and hundreds of concerts here.... nothing else even came close.

Alanis Morissette was a great opening act. The crowd was familiar with all of her songs and she sounded great. She has a very good stage presence. She really shone on "You Outta Know", "Crazy" (Seal cover), "Thank You" and well every other hit of hers... She knew the real reason the crowd was there and instead of taking it personnally, seemed quite excited herself.

Mick and the Boys arrived on stage to "Start Me Up" as we all knew they would. They had us from the first note and didn't loose us the whole night.

I was hoping for a pretty similar setlist to the Giant's Stadium show. Since it was only 2 day prior, I was hoping we'd get the same setlist. I was so excited with the prospect of hearing " Heartbreaker " , "Ruby Tuesday", and " Tumbling Dice" but instead got a dose of my much less favorites " Midnight Rambler", "Sympathy For the Devil" and "Live With Me". It didn't matter - even though they weren't favorites, they were quite well done - especially "Sympathy".

The best songs of the night were "Shattered", "Honky Tonk Women", "Paint It Black", "Jumping Jack Flash"."She's So Cold" and "Satisfacition" were just rockin'. Keith was excellent on "The Worst"...but I wished for "Before the Make Me Run" or "Little T&A". I definately have used a bigger dose from the "Some Girls" album...

The band looked and sounded better than I expected. Jagger really is a rock god. The crowd went wild for Keith and he ate it right up. The amount of energy (especially Mick) was just incredible. That guy was running, jumping, all over the place for 2 hours and I was huffing and puffing walking up the State St. hill after the concert! (and he's almost 20 years older than I !!!).

The "B-stage" worked out great. There wasn't one person who wasn't able to get a good look at them as they worked their way to the back of the arena. Here, they rocked, collected many of the flying bras, and rocked some more...

While alot of people disagreed with ticket prices, I think you'd be hard pressed to find a single fan complain after what they experienced. I was amazed at the amount of merchandising. People were buying armloads of shirts, tee shirts, etc....Must be nice to have all that extra cash.... my ticket, gas, and dinner wiped me out!

If the Stones are comin' to your town - especially if they haven't been there for 40 years like was the case here - Go see them at all cost... It was a night I'll never forget - the Stones in our own back yard... finally.... GREAT SHOW GUYS - Don't be strangers - we can't wait another 40 years!!!
---
Review by Alan Tipping
This was my 5th of the tour, but 1st in arena. After four stadiums, I liked the smallness of the arena. As for the music, I'll get my complaint out of the way; either get Shattered right, or don't play it. Maybe it's supposed to be a different version, but it just isn't the same song I know and love.

They've pushed the supporting musicians back on the stage a bit from last few tours, and I prefer it that way. Not that they don't add to the show (Lisa sounds great on Ray Charles' Night Time), it's just that I like the Stones to be the highlight, not mixed in with everyone else.

Best songs are always hard to pick, but Midnight Rambler, YCAGWYW, Sympathy for the Devil, Honky Tonk Women, IORR, and Jumping Jack Flash were all great. Keith sounded good on Infamy, but I'd rather see him go back to Happy than keep grinding through The Worst.

You gotta love the lyrics in the first verse of Rough Justice, and Back of My Hand is a great tune, too.

My first time in Albany, and the downtown area where the arena is located is a great place to have a concert. I'm not sure why the Stones waited 40 years to return.
---
Links
Capital News : The Rolling Stones come to Albany
CBS6 : Rolling Stones Rocked The Pepsi Arena Tonight
Times Union : Stones still rolling in ageless rock
---
Please send your show reviews and comments to: [email protected].
The reviews will show up here soon! Thanks!
---
The IORR magazine
For exclusive reports and pictures from the Rolling Stones tour opening see the IORR magazines.




It's Only Rock'n Roll 1980 - 2005
© The Rolling Stones Fan Club Of Europe