---
These are the latest Rolling Stones news and updates for you! IORR is a non profit fan club run by fans for fans. All parts of the It's Only Rock'n Roll web site is copyright of The Rolling Stones Fan Club. When using information from this site, please include a reference to IORR and the main web address www.iorr.org.
---
---
The Rolling Stones
Singapore Indoor Stadium
Singapore
Monday Mar. 24, 2003
The set list
Brown Sugar
Start Me Up
You Got Me Rocking
Don't Stop
Rocks Off
Sweet Virginia
You Can't Always Get What You Want
Bitch
Can't You Hear Me Knocking
Tumbling Dice
--- Introductions
Slipping Away
Before They Make Me Run
Sympathy For The Devil
Gimme Shelter
It's Only Rock'n Roll
Honky Tonk Women
Street Fighting Man
Satisfaction
Jumping Jack Flash (encore)

Show time: 8:50pm - 10:50pm

No warm-up band for this show

No B-stage for this show
---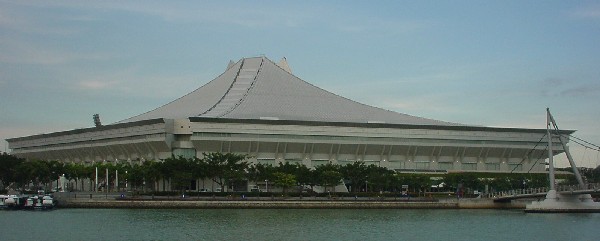 ---
Review by Bjørnulf Vik
This is the show everybody said might be cancelled, due to war, the SARS disease etc, but the Stones rarely cancel shows, so Singapore got what they have been waiting for.

I almost missed the opening of the show. As I went over to the "Indoor Stadium" to take a couple of pictures, I left my ticket behind. Then I met up with friends outside the arena, and time flies. At 7:30pm I realize I am running late. The ticket says show start 8pm. I jump a taxi, and on my way back to pick up my ticket I realize there might not be a warm-up act at all. The show might start 8pm sharp as the ticket says! I rush to get the ticket, another taxi to the venue, and at 8:10pm I am inside. Luckily the show has not startet yet. And yes, there is no warm-up act. Just the Stones, and they are supposed to be on before 9pm...

The Indoor Stadium is in fact a small arena; capacity 7,000 people according to the local press. It is a beautiful pyramid shape, not like all these boring domes and "boxes" they put up around the world to use for sports and shows. And with the pyramid shape, the acoustics are outstanding.

The crowd is slowly flowing into the arena. By 8:30pm the arena is getting packed. I get this strange feeling that I don't really know what is going on. When there is a warm-up they play for 50 minutes, starting as the ticket is saying for show start, then it is a break of 30-45 minutes, and the Stones are on. But tonight the stage has been ready all the way. The press photographers arrive shortly after 8:30pm. Mick's microphone is in place 8:45pm. Then I know it's just minutes until they are on.

I have a seat in row 10 on the floor, but security is relaxed. As a couple are leaving their seats in row two to go to the front, I follow them up front. Keith is up front starting up the show with "Brown Sugar". It is getting a weired start, raw and distorted. I decide I will rather see them all and have a perfect sound, rather than damaging my ears, and I move back to my seat area by the isle around row 10. Still perfect view. And the sound is perfect here, as "Brown Sugar" is finishing, and they get the tuning right for "Start Me Up".

Bobby Keys is playing his great solo on Brown Sugar. The crowd is great. The arena is small, there is no B-stage, all focus is on the main stage. And the stage is a much smaller one, like a mix of the club stage and the arena stage. Mick can easily walk from his center position to the wing in just 10-12 steps. "Start Me Up". Great solo by Ronnie. Then "You Got Me Rocking". The monitor behind the stage is on. So small and nice. Much smaller than the regular arena monitor used in America, fitting nicely into this intimate arena. So this is their 4th stage design: Small, medium, large and now smaller than medium.

"Don't Stop". Mick says: "It is great to be back to Singapore. We play here every 38 years." He is refering to their visit in the 60's.

Keith is wearing a light blue head band, looking oriental. After "Don't Stop" Mick is addressing his crew: "Anthony; put on the fans, ok?" He is hot already, and needs the fans working.

"Rock's Off". Great! Mick is saying they will slow down a bit, and people are sitting down as they start "Sweet Virginia".

"You Can't Always Get What You Want". Again a favorite of the crowd. Everybody sitting down is now back on their feet singing. After the song, Mick is saying: "You sounded really good. Excellent!", as he is stacking his microphone down his pants, and clapping his hands fast and long, to really applaud our singing.

"Bitch". Great vocal duet with Mick and Bernard.

Then I can't believe my ears - I am getting "Can't You Hear Me Knocking", a song you can not longer expect at every show. This is all Keith's song tonigh. His guitar is tuned perfect. He is opening up the song with the famous riffs, building the base for the rest of the guys. And every now and then, at the very right moments, he is ripping off those few great chords that keeps the song running through the basics. Bobby does his part. Great. Mick is doing his part. Excellelent. Then Ronnie walks to center stage, and stay there all through his extended solo. I just can't believe he is bringing this song to yet another shape, better, better and just better all the way. He is staying up front center, not moving an inch. Then he is appoaching the final, he is walking up the little walk that takes him to the front extended center into the crowd, like 5-6 rows into the front, where the stage is ending, and he leaves it all over to the rest of the band. No wonder the crowd is going nuts as Ronnie is presented later on...

Tumbling Dice. Then introductions. Ronnie is very, very popular, as our friends and fans from Japan Tatsuo and Yukico are once more holding up their sign saying "Ronnie Be Goode", making it to the video screen as usual. Ronnie getting a great, great ovation. But Keith is getting the biggest ovation still, as the Singapore crowd know how hard Keith has been working all night. His guitar has been tuned perfectly. Strong, loud and sharp. Nowhere to hide, all riffs directly into our hearts. Charlie, not to forget, the engine room, has been doing his job perfectly too.

Keith is alone up front stage, with his cigarette as usual. Then he is showing us an ash tray. Rather that throwing his cigarette on stage, he squeeze it into the ash tray, supported by the video camera, and then on with the show. "Slipping Away" is beautiful as always.

Then he is about to start up "Before They Make Me Run". He is running a riff. But he is not happy with it. Then he is running another one. And another one. It just won't start. The band is patient. Keith wants it righ. He is turning around, like looking for help or assistance. Then Lisa is shouting "Go baby!" and he is on. What a wonderful band!

All lights are out. This is standard procedure. We get "Sympathy For The Devil". We are on to the goosehair section. The final part. Mick and Keith is working the small stage from left to right, both wings, on almost every song from now on. I am so happy. Thinking this is my perfect set list.

Then "Gimme Shelter". I am already so happy. And now Gimme Shelter. I get tears in my eyes. Even if I am centimental, I never get to that stage at a Stones show. But I am so happy, and I am so glad this show is for real, not just a dream. Halfway through Gimme Shelter Michael Cohl, the boss of the entire tour, walks by me, and stay around row 20 by the isle behind me, to watch the show. He don't usually walk around in the crowd, but I can see he is enjoying it as well tonight. As the next song is starting up I know why he came into the crowd...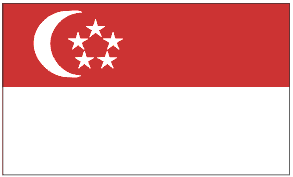 During "It's Only Rock'n Roll" we get two new large inflatable women, one to the right, one to the left. One is holding a flag with the "40 Licks" toungue, the other is holding a red and white flag with a moon and stars, must be the flag of Singapore. "Honky Tonk Women". Four guys work like crazy to keep the inflatables shaking and moving their flags. I guess they need a big rest tonight... Then Michael Cohl is happy with what he has seen, as he leaves the crowd and moves backstage. The new stage design and the dolls are ok. They might have looked silly, but they are ok, even in this part of the millenium.
"Street Fighting Man". The best song of the entire show. As it developed into such a great version, I thought the show had to finish now. It would have been the perfect finish. Charlie was pumping the song with beats like coming from a machine gun, as the guitars were biting all along. As it finished I felt time stood still, time to go home, but I knew we were missing two songs.
Of course we got "Satisfaction". And of course we got "Jumping Jack Flash" as an encore. With new square sized confetti, red and white, to fit in with the colors of the flag.
To be honest I can't ask for more. I got a lot more than I wanted or expected. And on Wednesday I will get even more. By then, I will recommend the "Cosy Bay" for anybody who want a beer or a bite, it is a great place to meet before and after the show just across the walking bridge crossing the water, as the venue is viewed from this place in the picture on this page.
Congratulation Singapore. You have the greatest temperature at midnight, with midsummer temperatures +25C or so. And there may never have been a show closer to equator, just minutes north of it. And you make such a great crowd. And being so polite and nice, I just love it!
---
Review by Andreas Kossen, The Netherlands
Well, the first show in Singapore has ended about 2 hours ago.

The set list was not that surprising, it looks like the Stones have a steady list of songs which they choose from for the non-club concerts nowadays.

But still this show was pretty special to me, being able to watch it first row ! All thanks to Bjornulf's site, through which I was able to order tickets as they went on sale, so I could get some of the best seats. (Thanks Bjornulf, for all your effort in making this the number one website for Stones fans).

They played some of my favorites, like Can't you hear me knocking, which was very interesting for me looking at Keith playing his fills during the jazzy part, and Woody who got really into it, and Bobby Keys being complemented by Keith for his sax solo. Also Sweet Virginia, Keith on electric guitar playing acoustic-like stuff, and Rocks Off which was really great.

Keith did Slippin Away and Before they make me run, but at the beginning of this song it sounded like he started Happy ???!!! So Keith stopped after a few chords, turnes around at Lisa, she says something like " Come on Keith, get it on !" (in the microphone), Keith responds back and the songs starts again, now in a better way. This was really a strange moment in the concert for me, I don't know if Keith wasn't concentrated, or just picking the wrong first chords.(Probably the first thing led to the other).

One of the last songs was Satisfaction, which Keith played on a beautiful silver Telecaster (at least it looks like one) with his name on it. Maybe he has used it before, but this was the first time I noticed it.

And then there were 2 huge inflatable girl dolls which came up during I guess it was Honky Tonk Women (can't remember), and stayed on during some songs, one with a 40 licks tongue, the other with I guess a Chinese (or Singapore ?? ) flag. It reminded me of the girl dolls they had in the past during Honky Tonk Women.

Allthough for me this was not the most remarkable Stones show I have seen, it was all and all pretty exciting, watching it and experiencing it so close, looking at the band members interacting, watching Darryl REALLY pumping on his bass (he sure works hard !) and succeeding in getting a Keith plectrum thrown in my direction.

Loooking at it from that close, I don't get the impression that Chuck is the musical director nowadays on stage, Keith knows what he is doing, he leaves gaps in his playing, and then with one effective chord he puts it back together again. It's fascinating to see this sort of thing in songs like JJFlash and Satisfaction for instance.

It was worth the trip (and the money!). I'm looking forward to the second show Wednesday, see what happens then.
---
Please send your reviews to

[email protected]

. Thanks!
---
News links
---
This page will change over the next few days, as you and other fans send reviews, set lists and reports. Please send your e-mail to IORR. Thanks! For details and great photos from the Rolling Stones and their World Tour get the IORR magazines.




It's Only Rock'n Roll 2003 -
© The Rolling Stones Fan Club Of Europe