---
These are the latest Rolling Stones news and updates for you! IORR is a non profit fan club run by fans for fans. All parts of the It's Only Rock'n Roll web site is copyright of The Rolling Stones Fan Club. When using information from this site, please include a reference to IORR and the main web address www.iorr.org.
---
---
The Rolling Stones
Stade Velodrome
Marseille, France
Saturday July 5, 2003
The set list
Brown Sugar
Start Me Up
You Got Me Rocking
Don't Stop
Wild Horses
You Can't Always Get What You Want
Midnight Rambler
Tumbling Dice
--- Introductions
Slipping Away (Keith)
Before They Make Me Run (Keith)
Sympathy For The Devil
I Just Want To Make Love To You (B-stage)
Like A Rolling Stone (B-stage)
Street Fighting Man (B-stage)
Gimme Shelter
It's Only Rock'n Roll
Honky Tonk Women
Satisfaction
Jumping Jack Flash (encore)

Stereophonics (warmup) : 8:00pm -  8:45pm
The Rolling Stones     : 9:30pm - 11:40pm

---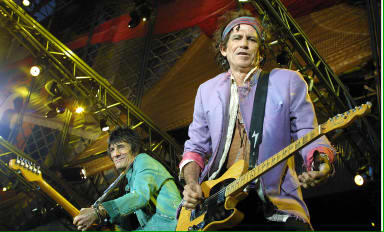 ---
Review by Giovanni Ricci Armani
I'm just back from Marseille, where I enjoyed my third concert of this tour (Milan and Hockenheim were the first two).

Among the things that impressed me the most were Wild Horses (first time in my life): It was beautifully sung by Mick, though a little spoiled by a buzzing amplifier.

Some problems occurred to Keith's guitar on Slipping Away. After the first arpeggio, which sounded out of tune, Keith disembraced the guitar and started singing without playing it, just holding it like a guitar stand (could you imagine Keith posing like a guitar stand?). I believe he hoped someone from the backstage would replace it, but no one showed up. In the end he re-embraced the guitar and managed an acceptable guitar solo. Does it seem he has lost his touch? Not at all.

The real highlight of the show was Midnight Rambler, really superb. In the end Mick surprisingly congratulated Keith, putting a hand on his shoulder (a rarity in these days).

In general I liked the concert a lot. Jagger was in a state of absolute grace. The singing was inspired beyond his customary standard, which we know is very high. There were a few unusual, particularly enjoyable falsettos, provoking mimicking, sensual gesturing, and a mastery direction of the crowd, which responded very well.

Three things I didn't like: The reduction of the setlist to 19 songs, the absence of Keith's fundamental backing vocals on "You can't" and the useless and meaningless "Like A Rolling Stone" which I suggest to have replaced with any other "Jagger-Richards" song.

In some cases I had the clear feeling that Keith and Mick were in a harsh competition to steal the scene from each other. I hope it is not true, but if I were to judge this contest, I would rule for Jagger (believe it or not).
---
Review by Howard from Chicago
We are from Chicago and ended our two week stay in France by attending this concert in Marseilles. Not knowing the protocol for "Pelouze" (lawn) seats, we showed up at noon and found gates would open at 5:00 p.m. By noon, there were already about 100 fans waiting. There was precious little shade available and many fans simply sat on hot concrete pavement with little shelter. Optimal arrival time would have been about 4:45 pm for gates opening and concert which started at 8:00 p.m. Gates opened few minutes past five and a mad rush ensued to to inside with everyone running. Inside there was cordoned off area up near stage. Not knowing whether this was accessible to Pelouze holders, we essentially crowd surefd into it being passed through entrance by three beefy security uys who were basically lifting fans one by one and propelling them into the space after perfunctory security check. Net result was we ended up on Keith side about 15 feet from stage and about 25 feet from front center point of stage. Who could ask for anything more?

Mick was in good form and the crowd was totally into singing along to every song and those up front danced w/o stopping for two hours. The crowd was super. At one point, Keith's amplifier was emitting feedback which prompted an angry Mick to walk to the back of the stage and point to the errant speaker and demand immediate attention which was forthcoming. Stones recorded Exile on Main Street in Southern France near Marseilles and many die hard fans showed up including sizeable number from Italy. The stand outs included a classic performance of Midnight Rambler done as only Mick can do it. Mick kept crowd happy by speaking a good amount of French and the energy level was high throughout the concert. Mick has added some new dance moves to his repetoire since the Chicago concert in September including pretending to drive a car and steering the wheel.

Keith was a total crowd pleaser and donned a bed sheet that was thrown up during the last few numbers with some Marseilles concert. Stones came on about 9:30 and played for two hours. During the small stage numbers, an attractive young blonde woman (one of Keith's daughters?) emerged on the main stage to take photos of the guys on the small stage while she was rocking her hips to "All I Want to do is Make Love to You"...an interesting moment. Lisa Fisher was in fine form and the crowd loved the antics between her and Mick including Mick pretending to safeguard his crotch by placing a hand over it with her behind him and then gave her a full scale kiss bin Honky Tonk Women. Jagger was at his best narcissistic, pirouetting, mimicing, out of control self and seemed to be loving every minute of what has become one of the most amazing rituals in rock and roll history. It does not get any better than this.

PS Special thanks to the 26 year old Italian student of comparative literature and his two friends from Italy....you were especially gracious to four Americans and made the concert for me when you pretended to prostrate yourselves upon hearing that I first saw the Stones in 1969 at the Garden in NYC (captured in the Gimme Shelter movie)!! If you see this review, send me your e mail address to [email protected] Rock ON!
---
Review by Jean-françois Péret
Well, I made the trip from Paris to Marseille. the weather was fine, a little bit of wind but very sunny. in fact the show started at 9.35 pm, quite a long waiting and lasted at 23.45. The set list ? quite disappointing i have to say. It was like I attended a 98 tour show !!! Where is the original one from the beginning of the tour ??? No satisfaction on this point.

Keith made a mistake on Brown sugar and here and there you could hear a very few ones but nothing dramatic. I was impressed by "midnight rambler" and especially Charlie part : how can he hit so strong ?! Gimme shelter had a very new original introduction after the central stage part (Street fighting man was excellent by the way). The music used for the walk between stages was St Germain (on the album Tourist), a french guy

Ronnie was good but he had no occasion to take a nice solo with this set list. The Stones left immediately Marseille and arrived at the George V hotel in Paris at 3.00 am ! Now i go back there and hope Keith will sign (at last !!!) an LP. He spent part of the night with Johnny Depp...
---
Review by John Banks
My fifth show on this tour, but first outside the U.S., so I was looking forward to some new wrinkles (no pun intended). I loved the crowd, and thought they were more involved than many U.S. crowds, who sometimes will observe more than participate. It was a solid show, with no major weaknesses, but I must say I'm extremely disappointed with the setlists. There's just no imagination, no new twists, it's such a regimented show. But, always entertaining.
---
News links
Thanks to Bruce H. Kramer and Johannes for news links!

---
This page will change over the next few days, as you and other fans send reviews, set lists and reports. Please send your e-mail to IORR. Thanks! For details and great photos from the Rolling Stones and their World Tour get the IORR magazines.



It's Only Rock'n Roll 2003 -
© The Rolling Stones Fan Club Of Europe