---
These are the latest Rolling Stones news and updates for you! IORR is a non profit fan club run by fans for fans. All parts of the It's Only Rock'n Roll web site is copyright of The Rolling Stones Fan Club. When using information from this site, please include a reference to IORR and the main web address www.iorr.org.
---
---
The Rolling Stones
Tower Theatre
Philadelphia, PA, USA
Sunday Sept. 22, 2002
The set list:

Jumping Jack Flash
You Got Me Rocking
Sad Sad Sad
Hand Of Fate
No Expectations
Hot Stuff
Everybody Needs Somebody To Love
Heart Of Stone
Going To A Go Go
Love Train
Slipping Away (Keith)
Before They Make Me Run (Keith)
It's Only Rock'n Roll
Rocks Off
Stray Cat Blues
Can't You Hear Me Knocking
Honky Tonk Women
Start Me Up
Brown Sugar
Tumbling Dice (encore)
---
Review by Jason Abrams
The stones rolled into the tower theater for the 3rd and final night of a sick three night run in Philadelphia. Some stones fans opted to wait for hours in the ticket drop line instead of watching the eagles destroy the cowboys.

SOUND CHECK
Keith and the horn section trade a few notes.
Rocks Off
Hot Stuff
Love in Vain
Sad Sad Sad
Stray Cat Blues

SOULIVE opened and were kicking for 45 min. and finished w/ a lil' of Hendrix "Machine Gun"
Jumping Jack Flash- Nice start, but choppy sound like the other 2 starts.
You Got Me Rockin' - HEah Heah, I love these lyrics...
Sad Sad Sad- Felt like 89 again w/ tons of yak. .
Hand of Fate- Killer ,always wanted to hear this live.
No Expectations - A rare moment, could have shed a tear @ this point but, didnt.
Hot Stuff - I cant get enough of the stones funk.
Somebody to love - Blues Brothers cover???? not really sure . Maybe a first in the history of the stones and me.
Heart of Stone - Maybe the song of the night. F**king Awesome.
Going to a go go - wait, this might have been song of the night. F**king awesome.
Love Train - Mick pays respect to the O'JAys
Band Intros- - - - - NO LISA FISHER- - - - - once again Charlie gets the biggest pop. Lisa was sick and Bernard wouldn't were the red dress. (Thanks P-Love)
KEITH
Slipping away - Always Cool !!!
Before they make me Run - I hate people that get beer during keith tunes.
Its only Rock n Roll - I got a beer during this one.
Rocks Off - I love Exile, We need more Exile. ..
Stray cat blues - Its songs like this that make people want to be able to party like Keith.
Cant You Hear Me Knocking - One the greatest jams in stones existence ( 40 years ). Ronnie was playing riffs that I only thought possible by either Mick Taylor or Trey Anastasio.
Honkeytonk Woman - I already miss that cartoon slut.
Start Me Up - Keith always makes this sound so fresh.
Brown Sugar - the cafetti reminds of a Poison concert.
ENCORE
Tumbling Dice
---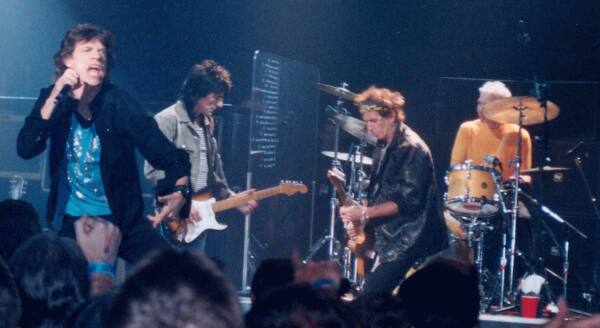 ---
Review by Marco Peper, Holland
To be honest, the second show in Philly's First Union Center was better than last night's clubshow at the Tower Theater. Maybe it had something to do with the fact that they only played for about 1.45 hours, instead of the usual 2 hours or more.

Off course is was a great show, but not a really fantastic one, it almost seems as if the Stones get used to play the small clubs. Maybe it's better to always do them as a surprise gig.

Okay, my highlights: Hand Of Fate, great song, great riff, just dying to get the bootleg. Hot Stuff was really good, grooving and dirty (all songs in such a show should be dirty, too bad that the rumour of playing the entire Exile album didn't come true).

No Expectations: one of the best, Mick's voice was incredible.

Stray Cat Blues: good to hear this one, but not as good as the version of Ya-ya's.

The other 'special' songs were Sad Sad Sad, Going To A Gogo, Everybody Needs Somebody and Rocks Off. Or we've heard them before in other tours or the songs just aren't hot and bluesy enough. I'd prefer rarities like Torn 'n Frayed or Faraway Eyes, and what about Let It Loose?

What surpised me was IORR. That one did very well in this club. And not to forget Honky Tonk Women, it must have been written for clubs or bars, then it gets that reallly dark 'n dirty sound all the way to the final where the crowd goes mad. Honky Tonk is the living proof of driving all of us insane in only 3 minutes!

CYHMK was great again, they should do that in the stadiums and skip one of the huge ones.

So now I'm down and out after 3 shows and ready to get back to normal life. Can't wait to see the Stones in Europe next year. I'm not sure if I can wait that long so probably will fly into NYC for the January Garden Shows.

Thanx Philly for having a great time!
---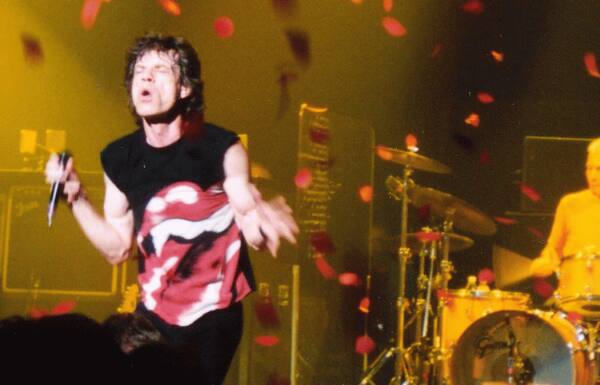 ---
Comments by Sean Hunter
I got my ticket 2 hours before show time for face value! You could really tell on this night that their songs were recorded on Keith's yellow (gold) Tele-caster (which Mick played on Sad Sad Sad) You can not say enough about this show. IT WAS THE CONCERT OF THE MILLENIUM!
---
Review by Joan Drammissi
As I walked home from the show with my good friend Denny Somach, we were discussing those exact same issues. With all the hoopla surrounding the "TOWER THEATRE", which by the way they did an incredible job with their $2 million renovation, I felt the exact same way. Heart of Stone was the shit. Keith Richards deserves EVERYONE to stay the hell in their seats and be respectful of all that he's been through. Both Mick and Keith look better than most 40 something year olds I have dated and they kicked butt at all three. However, when standing in line in the rain to purchase tickets (even though I ended up going to all 3), I was right on in purchasing tix for the Vet show. The First Union had the best sound. The Tower Theatre was history in the making but my old ears were ringing until 3 am... and yes, that Honky Tonk cartoon video was sorely missed. It reminded me of the old days with the old lights only the cell phones in the air for friends who couldn't get a ticket snapped me out of it. Thanks for the great review....
---
Review by Roy Perry
40 years. First they were kids having fun together, then entertainers making a splash, then influential artists, then undisputed rock gods. The Stones have an amazing history and could be forgiven if they decided to coast a little. But they absolutely did not. The Tower show was not some disinterested recital of oldies. It was a hot, exciting, well-planned show by a hard-working band, and they seemed to view this small-venue show as a chance to do ALL their eras.

They worked the audience, the worked the material, they worked THEMSELVES Sunday night at the Tower in a show that is now a permanent highlight of local music history. They really ARE the world's greatest rock n roll band, not because they always play or sing or write better than anyone else alive or dead, but because rock n roll is more than music and the Stones have been more than just a band for decades now. They've been the band that every band wants to grow up to be, the singer and the guitar players that every singer and guitar player dreams of becoming, and their energy and ideas have changed a lot more than just the music we all listen to.

But by contrast, the Stones themselves don't seem to have changed that much. Everyone notices what good shape they're in physically (that's water in those bottles Mick sips from during the show, but it used to be Jack Daniels). More importantly, I was amazed at their cultural consistency. They still act like and perform like the musicians who made the songs, and they still seem to believe the lyrical, musical and cultural ideas that made them popular to begin with, ideas that simply are not out of date and may never be. The smallness of the theater added energy on top of all that, as if the Stones felt they could really, finally be themselves when they could look their audience in the face for a change.

In the next seat was a guy who saw the Stones' theater show in Boston two weeks before and said this one was a hundred times better. I find that easy to believe. Addendum:
#1 Song highlight -- easily "Can't You Hear Me Knocking" with Ron Wood guitar solo phoned in direct from heaven, Mick on harmonica like a man possessed... and that timeless set of interlocking riffs by Keith. The purest, realest rock n roll imaginable. Could have used 10 more minutes of that instead of Love Train, Hot Stuff, Going To A Go Go.
---
Review by Linda Raeburn
Well, it was an amazing show - particularly from seat CCC109 - third row, on the right hand side 'pit' in front of the stage!

When M0NA starts to play you know the time is near and the lights went down at approx. 9.30 pm....

For 'Jumpin' Jack Flash' Mick donned a black jacket and blue spangled 'Mick' top, Ronnie in blue jeans. Keith in black with bandana and scarves. Both Mick and Keith frequently change their shirts. It's not too hot for the audience but it looks hotter on stage.

'Sad Sad Sad' with Mick on guitar. 'Hand of Fate' a delight. They are all smiling now and good humoured with each other. Ronnie and Keith get on particularly well. Ronnie's playing is spot on.

Then its 'NO EXPECTATIONS' with Ronnie on lap slide and Mick on guitar. Johnny Starbuck has taken over from Chuch as Ronnie's guitar tech and is kept on his toes. Keith is still smiling.

Mick gets his maracas and says "we haven't done this one for a bit and it's 'Hot Stuff'. Ronnie is red hot on this.

"We used to start our set way back with 'Everybody Needs Somebody to Love'" but this time Ronnie is on guitar.

'Heart of Stone' and 'Going to a Go Go' and it keeps getting better and better.

The O Jays 'Love Train' with Blondie on additional guitar for the 'soul' section went down very well. I'm not totally convinced with this bit as yet.

During the band intros Mick explains that Lisa was sick this evening so could not sing and Bernard refused to wear a red dress.

Keith did 'Slippin Away' and 'Before They Make Me Run' "Bless you brothers and sisters" from Keith and then Mick was back to take us into 'Its Only Rock 'n' Roll' and 'Rocks Off'. Ronnie still in there.

'Stray Cat Blues' and 'Can't You Hear Me Knocking'. Nearly everyone I've spoken to comments on how good Ronnie's playing is on this so it is not just me being biased towards him. Bobby Keys is great on this one too.

'Honky Tonk Women', 'Start Me Up', 'Brown Sugar' and 'Tumblin Dice' take us to the finale.

The show seemed most reminscent of Brixton Academy in the way that Mick worked the stage. He threw water over the fans - from a demure Evian bottle rather than a bucket - and also threw his towel to the crowd.

Patrick thought this was the best show so far and although I missed the three in Chicago and the earlier shows in Philadelphia, I could not disagree. They are really getting into their stride.

MSG here we come.
---
Review by Morgan Huff
From where I was sitting at the Tower, the band was ferocious. Being 5 rows back was the ultimate, sublime experience -- I could even smell Keith's cigarette smoke.

It was hot as hell and the sound was loud. Everything rock n' roll should be: Charlie's snare right in the chest; Keith's buzz in the gut. When the horns were full born it had the exaggerated R&B feel of Elvis in his See See Rider days.

Mick defined rock star all over again -- he pulled every crazed move out of the bag--even the giddy 60's handclaps. Words sailed and twisted and exploded in the air. Heart of Stone was high drama and the bridge in Rocks Off was eerie and possessed.

Hearing the Black and Blue material was a real treat. 'Hand of Fate' was rolling and reckless and dead-on serious--a nice counterpoint to some of the more comical guises they take on stage. 'Hot Stuff' had all the sleaze of the record and more. Keith's eyes were closed as Charlie's groove bore down. The debonair poise Charlie projects makes it tricky to realize how hard he is hitting -- but, from close, it was amazing to watch the hi-hat chugging along and his quick smash of the crash.

Keith gave us Slipping Away in full Sinatra-style. A more intimate, darker delivery than Mick, Keith's beautiful world weary voice tore me up. The following intro riff to Before They Make Me Run made me scream like a 10 year old girl. When he sang, 'Gonna find my way to heaven, 'cause I did my time in hell', you could tell by the gleam in his eye that he had found his way -- at least -- for one night.

These guys were having a damn good time and it was a thrill to watch. This loose feel characterized the whole show's spirit of a band reconnecting with the reason they took up rock n' roll in the first place. By the time Ronnie hit the solo in Can't You Hear Me Knocking, I was absolutely dumbfounded.

The Stones in 2002 are like an old muscle car: the low rumble, the bittersweet fumes, the snarl of the tires. Right now, their chrome is shining and they'll blow anybody off the road.

Yes, age has no fury in Stonesville.
---
Review by Hendrik Mulder
Two days after the great show ath the F.U.C. the Stones played the Tower Theatre in Upper Darby, PA. I arrived at the Tower at that moment they soundchecked Hot Stuff, Love In Vain, Sad Sad Sad, Stray Cat Blues. I heard from someone who was listening already that they also did two takes of Rocks Off and No Expectations.

Lots of people on the street and also many radio stations with live reports. I had blue wristband and a ticket for row KK which was the 11th row from the stage; great!

At 9.30 the show started with Jumpin Jack Flash: a great opener although I liked Street Fighting man the other night better. You Got Me Rocking was better than during the Voodoo Lounge and the Bridges To Babylon tour; for sure because Ronnie did a great job on this one.

First surprise was Sad Sad Sad. Great to hear it but not my favourite one. Highlights started just after this song: a great version of Hand Of Fate after 22 years of waiting; No expectations with Ronnie Wood on slide; Hot Stuff with Jaggers voice exactly as on Black And Blue; Everybody Needs Somebody To Love, hardly played live but everyone knows this song; Heart Of Stone, what a song, never expected to hear this one live and performed really great. Finally Going To A Go Go, played till boring in 1981 and 1982 but really nice to hear it again.

After these great highlights we got Love Train. Mick mentioned that Lisa was sick and I wondered if the Stones would have performed Gimme Shelter and/or Monkey Man without her. After the introduction Keith did Slipping Away. I counted a bit on Little T&A or You Got The Silver but I guess he will do it later on in the tour. Before They Make Me Run was great though.

It's Only Rock 'n Roll sounded better than in the First Union Cenet two days before. Then came another set of highlights: Rocks Off, one of my favourite songs with missing one complete verse! Stray Cat Blues was just amazing and so was Can't You Hear Me Knocking; great opened by Keith and great solos from Bobby Keys on saxophone, Jagger on harmonica and Ronnie Wood. This one was even better than two days ago at the First Union Center. Rest of the show were the crowd pleasers Honky Tonk Women (with Keith singing every chorus!), Start Me Up, Brown Sugar and the encore Tumbling Dice.

I have seen two great Stones shows with great setlists and the sound quality was great too. Ronnie Wood is doing his best tour in many years and I think that this tour is gonna be a historical one. They are playing in great venues and have a big variation in the setlist: Already 5 different opening songs, 4 different encores and a total of 60 different songs in only 10 shows!

Meet some old and new friends like Colin, Dirk and Annie, Jerry and Margaret, Fred, John, James, Sjaak, Kurt, Marco and many more. Would like to thank Bob, Clarene and Charlie for staying at their place.
---
Review by Mike Newman, Michigan, USA
This was originally supposed to be my one and only small show on the tour. However, I got lucky the week before at Aragon so I had some perspective coming in.

I arrived at the Tower early on the day of show. There was already a large line of people hoping for a miracle around 2pm. I walked around and talked with fans from all over the place. The Stones arrived at around 4pm and each one arrived in their own vehicle. I got a solid wave from all 4 band members. We spent the rest of the time talking to crew members and backup singers such as Bernard who came outside for some fresh air. The band's offices had basically spilled out into the alley behind the theatre and there were people all over the place.

After an awesome fan gathering in the basement of the bar across the street, we got in line for the show. Turns out that a decent number of people who had been waiting in the miracle line got tickets. I talked to some people who had been there early in the morning and they apparently got tickets. I also met one dude who nailed a front row ticket! Security was fairly tight as I know people who got busted for trying to get recording gear inside. Also, they were pretty strict about making sure the wristband was on your wrist and that it hadn't been tampered with. However, i'm sure there were ways around this. Not to mention the fact that many scalpers in the area actually had the wristbands as well as the tickets. Scalper prices varied but you could get in the door for between $300-$500 depending on where the seats were. Anyways, once inside I really started to get excited. This was going to be a great place to see a show!!!

Thanks to the fanclub I had 6th row on Keith's side. This was absurdly close, the closest I had ever been for a show. The opening act Soulive sounded like elevator music to me. I mean honestly how can you pay attention to the opening act when you are 6th row in small theatre for the Stones??

The band took the stage around 9 or so as usual. Jumping Jack Flash was just nuts!!! This show was extremely loud volume wise. It was even quite a bit louder than Aragon the week before. After the first few songs I could tell that this show was not going to be up to par with Aragon. Lisa Fisher was sick and not performing and you could just tell that the band was all business tonight. Not a bad show by any means, it was a very solid performance. The setlist was different and they were taking chances but the song selection was just not my favorite. The high point of the night came with No Expectations for me. Not to mention Heart Of Stone!

Overall a very solid show and it was great to be able to be that close and to see eveything that is happening onstage. However, the crowd seemed very slow at reving up. People in the balcony were sitting during many parts of the show....I mean give me a break!!!

My feelings about this show are basically that it was not the best night for the band (First Union Center was actually a better performance) nor was the crowd that great, but alot of that was overshadowed by the intimacy of the place.
---
The press:
Thanks to Barry M. for links information!
Thanks to Hendrik Mulder and Steve Kalinsky for photos!
---
This page will feature all reviews, comments, photos, set lists and more as supplied by loyal and die hard fans of The Rolling Stones.
If you have visited this page recently please update your browser by refresh, update, or similar functions in case your browser or your computer connection is still keeping and old version of this page. This page will change continously over the next few days.
To help supply all the great reviews and setlists to fans all over the world, and to preserve them here, as well as the best parts in the IORR magazines, please send your e-mail to IORR. Thanks!
---
For details and great photos from the Rolling Stones and their World Tour get IORR 45 published by September 20, 2002.




It's Only Rock'n Roll 2002 -
© The Rolling Stones Fan Club Of Europe