---
These are the latest Rolling Stones news and updates for you! IORR is a non profit fan club run by fans for fans. All parts of the It's Only Rock'n Roll web site is copyright of The Rolling Stones Fan Club. When using information from this site, please include a reference to IORR and the main web address www.iorr.org.
---
---
The Rolling Stones
Madison Square Garden
New York City, NY, USA
Saturday Jan. 18, 2003
The HBO TV broadcast show
The set list:

Street Fighting Man
Start Me Up
If You Can't Rock Me
Don't Stop
Monkey Man
Angie
Let It Bleed
Midnight Rambler
Tumbling Dice
--- Introductions
Thru And Thru (Keith)
Happy (Keith)
Gimme Shelter
You Got Me Rocking
Can't You Hear Me Knocking
Honky Tonk Women (with Sheryl Crow)
Satisfaction
It's Only Rock'n Roll (B-stage)
When The Whip Comes Down (B-stage)
Brown Sugar (B-stage)
Sympathy For The Devil (encore)
Jumping Jack Flash (encore)

Show time 9:00 - 11:20
---
Review by Chris Tresper
After seeing them on Thursday at MSG (16/01) we knew that we were going to see an awesome show on Saturday too (18/01). The band was tight and the setlist, even though there were no real treats or surprises was good. Plus you don't get to see Hubert Sumlin doing Let It Bleed with the boys every day.

Charlie, Joe and I were informed in advance that the HBO setlist would be similiar to Thursday's show but still we were pumped and expecting a few surprises. And surprises we did get. I won't go into the setlist here because Bjornulf is going to post it anyway, so here's just a few observations:

Jagger was in a funny mood tonight and even though everything was obviously contrived I liked his jokes a lot. After the first few songs he said something along the lines of "Why did you all dress up....do you think you're on TV or something?!"...."This is not the Sopranos here, not Six Feet Under either but it's Sex In The City tonight". The band looked and sounded really great, which got me thinking...maybe they should do more TV broadcasts.... that way every concert would be top notch.

They did another Let It Bleed set, again without Love In Vain and this time they even dropped Live With Me. Monkey Man was great....so was Midnight Rambler...the overall energy level was just incredible. New York City loves the Stones and the Stones love New York. We got a beautiful version of Angie, giving me the goosebumps and bringing a few tears to my eyes, yes I still love this song, believe it or not. Sheryl Crow came up on stage to do Honky Tonk Women with them and it was pleasure to see her. First off I love her voice and secondly she is quite the hottie. Can't believe she's 40 or something. Mick was all over her during the whole song and hell I can't blame him, if I was almost 60 I'd do the same thing:) They seemed to have a great time on stage, so did we in the audience. After the song she kissed Mick, Keith and Ronnie and left the stage again.

Even Satisfaction sounded great tonight, this song never gets boring because it is a real crowdpleaser. The B Stage sound was a bit muffled but still enjoyable. They did IORR, When The Whip Comes Down & Brown Sugar on there, then back for two encores on the main stage, Sympathy and JJF, which both rocked hard. I left the show with a big smile on my face, knowing that this would be the last show for almost 5 months. See you all in Munich !!!

P.S During the show Jagger said "I read in the papers today... this will probably be the last Stones show at Madison Square Garden..... I don't think so"

Good for me, bad for my bank account :))
---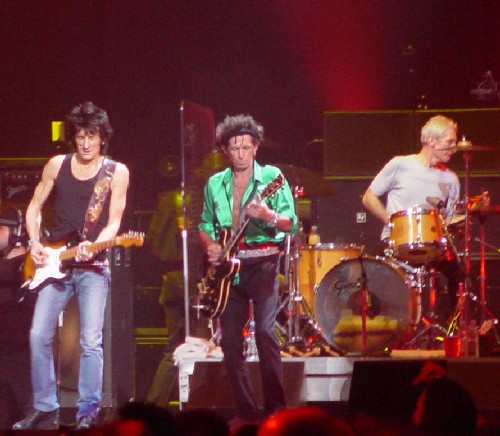 ---
Review by Michael Weil
Having been unsuccessful in securing a ticket to MSG for the Jan. 18th show, I did the next-best thing: hunkered down on the couch, in front of the TV and turned on HBO.

I'm sure a lot of the excitement of being there doesn't translate well over the tube, but I found the show to be a great watch and listen, nonetheless.

In comparing the set list from Thursday night's MSG "warm up", I was only disappointed that Keith Richards ditched "Slipping Away" (a terrific ballad) in favor of "Through and Through". Exchanging "Before They Make Me Run" for "Happy" was a plus; it's always great to hear him merrily slog his way through that number, as he revels in his brief moment in the spotlight in the role of lead singer. (Dropping "Live With Me" from the set list didn't mar the experience)

The best number of the night (kind of like rating bars of gold at Fort Knox) was the extended and super-charged "Midnight Rambler"; Mick, Keith, Charlie, Ronnie and crew were cooking on all burners on that one. (Keeping in mind that the concert WAS, in part, a cable televison program, it also felt like it was a rare moment in the evening when the band wasn't concerned with getting the song over and done with in a timely manner, so as to stay "on schedule")

Having Cheryl Crow come out and duet with Mick on "Honky Tonk Woman" was a nice surprise from the comfort of one's living room, as it most likely was for those in non-virtual attendance.

A nice perk for staying at home and watching: having the backstage "access" via the HBO camera crew, before, during and after the concert. Seeing Mick strut past a line of limos in the bowels of The Garden and joking, "Will I have to walk all the way?" and "I'll just get a cab", before slipping into the back seat of his black, stretch Mercedes ride was priceless.

Well, it -- and the concert itself -- was more than worth the $9.95 I paid to get HBO for one month, just in time for the show.
---
Review by Robert Bagel
The much-awaited HBO show came off very cleanly, with a minimum of inconvenience for those in attendance, just one special (yet nicely familiar) guest, and a setlist that at least partially explains why we have seen the Let it Bleed theme so much in recent shows. The energy level was good, and it especially picked up with Keith's performance of Thru and Thru, a great song long before The Sopranos.

Save for a few camera booms and some gratuitous references to HBO, the show seemed like a good quality standard issue LICKS show, without too many chances taken but still a powerful set of songs. At one point Mick said between songs, "I read in the paper today that this is probably our last show at the Garden. I don't think so!" The ongoing, working band element was very much in effect, with any notion of farewells clearly dismissed. This is the type of declaration Keith usually makes, but it was excellent to hear Mick make the statement this time.

I had a seat on the stage right side, where the sound did not seem as good as it does out front. Still it is a great perspective from which to see Keith play guitar with Blondie Chaplin, and to see surprising things like Bernard Fowler playing keyboards on Can't You Hear Me Knocking, or Ron hiding behind the amps to eat a banana before Gimme Shelter. The stretch of Gimme Shelter, You Got Me Rocking, and Can't You Hear Me Knocking really kicked the show up a level and made the Garden crowd very spirited.

The only special guest was Sheryl Crow on Honky Tonk Women. This worked well as she now seems part of the band on this song, especially after her regular appearances with the Stones on last year's West Coast dates. Mick seemed slightly more conservative in his grabbing and groping of Ms. Crow during the song, perhaps because of the TV audience. As she left the stage, not only Mick got a kiss (as usual), but also Keith and Ronnie. My sympathy to Charlie! Best of all, it was the Rolling Stones' night to be featured, rather than shuffling in many guests as has happened on TV specials of previous tours.

The small stage seemed extra energetic, with It's Only Rock'n'Roll, When the Whip Comes Down, and Brown Sugar. When the Whip Comes Down was loud and rough, playing up every punk quality of the song. This was the highlight of the show. Brown Sugar closed the set, with Mick seeming to be very happy with a Garden crowd thrilled to participate in the song. Then it was back to the main stage for an encore of Sympathy For the Devil (with Keith fabulously ripping through the rhythm and leads) and Jumping Jack Flash. As usual, the Stones' careful creation of a comfortable and entertaining atmosphere made the night fly by way too quickly.

I take consolation in the fact that we can go home and check the VCR to see how it looked from America's sofas, and that Chicago has TWO big shows next week. Thanks to HBO and a VCR, tonight's show at the Garden means the "Upon further review" will apply to more than this weekend's conference championship football games.
---
Review by Witz
Ditto. For my review of this show, see my review of thursday's show!

Having said that, another great show by the Stones. Many will be disappointed that they did not vary the set list from Thursday (save for Keith's section and the dropping of Live With Me, which was a shame as it is one of my favorites, with it's classic, raw Stones sound). However, how many bands can put on a show where you can walk away having just heard 21 straight classic songs? I have long since given up on hearing oldies like Down the Road Apiece (without Stu it wouldn't be right anyway), Memo from Turner or Dear Doctor; or even a newer "oldie" like She was Hot, which I always thought would be great live song, so I expected a show of big hits geared toward the home audience and that's what we got -- but the "boys" were their usual great selves. Mick is such a great showman. He likes to fancy himself and actor, a business man or, as of late, a knight, but to see him front the Stones on stage is to realize that is where he truly, and before all else, belongs.

Sheryl Crow didn't add too much on her duet during Honky Tonk Women but, regardless, the Stones seem to keep that one new and fresh every tour. I think the use of the videos or blow up dolls or the bevy of live Honky Tonk Women in '81 make that song a fun 4-5 minutes every time out; i always find myself chuckling at the presentation.

When the Whip Comes Down is a great song and does well on the small stage. Every time they play it in NYC I am left wondering why the crowd shows no reaction to the lines "East 53d street..." or "East River truckers..." Maybe they slide by too fast to get a rise out of the crowd.

Finally, it was great to her Mick reply with indignance to a comment in the papers about this being the last ever MSG show. One was left wondering was he just showing his hubris concerning future tours or do they already have plans to wrap up the tour back in the states in 2004. Let's hope its the latter!
---
Review by Shoil
You should all know by now that a movie is never as good as the original book. I haven't seen the HBO reflection of last's nites show yet - but I can tell you that it was a very good show. If I had to compare it to Thursday's show - I would first have to preface it by saying that Thursday's show was electrifying. My head space was open and clear. I hadn't seen the boyz since September and I knew that there would be another show. MSG is a warm cozy living room - not a bad seat in the house. Each and every song they played - they played with strength and emotion. There were times when I thought Charlie's drums would bring the rafters down and the whole arena shook. As I said they nailed MR and Gimme Shelter, Slipping Away were the highlights. Had I just read the set list it wouldn't have rocked my world - but being there is just a different experience. Just as one can listen to SF or Exiles over and over again. I guess the same goes for this tour.

Last nite started out with a jam packed Walter's - UC, Shidoobee, IORR. Everybody singing! People from all over the world. People who had never been to New Yawk before. MiExile for one. That alone is surreal and awe inspiring. I worked behind the bar the whole nite (again). Serving up beers. This gave me easy access to the entire length of the bar to meet and greet. Some good hugs and kisses over the bar. The music was going. But yet, my head had this little gray cloud knowing that this would be my last time. So, I went into the show with a little brown out. The highlights this time were Gimme Shelter, THE WHIP ON THE B-STAGE KICKED BUTT!!, Thru and Thru (That's Charlie and Keith's gig) and Ronnie's solo on CYHMK.

Back to a packed Walter's for the post show. A marathon. Lots and lots of singing and dancing all nite long. Every song on both sides of Stereophonic Stones, Exiles (2x), Flowers, (I threw in USE me - a request from Liz). Non fucking stop until 5 AM. Walter's (Michael and Tony - son's of Walter) didn't want to interrupt the fun so they kept the place open.

And in the end - the love you take is equal to the love you make...ahhhhhhhh......

Make love.
---
Review by Michel W.
Getting tickets for this concert was REALLY hard, but it was worth it. The Stones played amazingly. These guys still rock. I've been particularly impressed by Mick who rocked the scene all night long. The concert was intense, with a succession of classics, perfectly executed. Ronnie is definitely a Rolling Stone now, as the way he played during the tour was terrific. Not in the same style as Mick Taylor, but more like another Keith. The Stones were in a joking mood, with Keith saying "it's good to be here...well, it's good to be anywhere" while throwing away his cigarettes or Mick joking "it's not Six Feet Under here, more Sex and the City". It was my 5th Stones concert, my 2nd in New York, after the amazing one they gave last September.

They started with a dazzling Street Fighting Man. It's always exciting to hear Mick singing "I'll kill the King" as he is now a Sir of her Majesty. Keith and Ronnie's guitar did a perfect job and Charlie's drum was sharp and precise, as always. Start Me Up and If You Can't Rock Me came next. Good job, the rythmic section being really impressive.

Don't Stop was one of the excellent surprises of the evening. I felt like it was an old classic. The crowd was singing it along just like the others. And by the way, guys, please don't stop! Monkey Man came next and was one of the best songs of the concert. It was the first time I heard it in concert and it really chilled me! My only regret was that the version was kind of short. The intro was amazing and Mick sang it just like in the old days. Terrifying. Angie was ok. It's not my favorite song, but it was alright. Let It Bleed was also a big shot. All the crowd sang it with Mick and the boys and the sound was amazing.

Midnight Rambler was the BEST song of the evening. One of the best live versions I ever heard. Seriously, as good as the 71-72 versions you can find on bootlegs or Get Yer Ya Ya's Out. It lasted about 10 minutes, with the whole band playing amazingly, especially Mick on harmonica. The energy they produce during the song was just crazy. Tumbling Dice was alright.

Then came the Keith moment, with Thru And Thru and Happy with Ron playing slide guitar. Gimme Shelter came next, with a terrific Lisa (new hair, new style but still amazing) Fischer. Another great Let it Bleed moment of the evening. The Stones get better with the years and so does Lisa. She really gave a chilling version of the song.

You Got Me Rocking, Can't You Hear Me Knocking and Honky Tonk Women with Sheryl Crow were also excellent. She arrived during the "I laid a divorcee in New York City..." part of the song and Mick was all over her during the song. Our Mick will never change!

Satisfaction was alright, classic but still good.

The Stones then walked to the B-stage where Keith signed the big poster a fan had been carrying for the whole concert. What a lucky one! They did solid versions of It's Only Rock'n Roll, When The Whip Comes Down and Brown Sugar, where Bobby Keys shone, once again. The sound was not as good as I would have expected, but the songs were still excellent.

The Stones then left the stage and walked out of the Garden, to come back 3 minutes later with a terrific version of Sympathy For The Devil on which Keith the Riff played a dazzling solo. Jumping Jack Flash was the last song of this memorable concert... I can't wait to see the DVD HBO is undoubtedly going to produce.

And as The Jag said during the concert "I read in the papers today that this will probably be the last Rolling Stones show at Madison Square Garden? I don't think so".

These guys rock and roll baby, they are the Rolling Stones. See you in Paris.
---
Review by Cathy Smedberg
Having read the excellent accounts posted above to Saturday night's show at MSG: I will not do a song-by-song review but will add a bit of perspective from my view on the floor row A of section 6 (21 rows back from the stage near the catwalk on Keef's side)

First of all: AWESOME---it was an excellent boost of Boys after my draught way back since Hartford this fall! They may have initially reeled in the a bit of mayhem and started the show Respectable-like being broadcast live on HBO but their excellent music took charge from the first note & came through Loud & Clear! Man, they looked & sounded good tonight! Solid, strong, happy: there's some Beauteous men right there!

All the songs ROCKED. At first Mick played the perfect showman; but I loved the point early on in the concert where the realization of the cameras seemed to fade and the songs truly drove the band. Not only did Mick give reference to HBO shows saying: 'this may not be the Sopranos, or Six Feet Under but it's Sex & the City tonight!' Are you kidding? How could he help being anything BUT sexy?!?! it's such a treat to watch him let alone listen to him...lucky lass Cheryl sharing a bit of good clean sexual-magnetism fun during Honkey Tonk Women! Keith also gave a nod to the Sopranos after executing a Perfect rendition of Thru & Thru when he thanked the Sopranos for reminding him of that song (as it was used on one of their shows a year or two ago). Keith also seemed to give a mischievous grin when he clearly sang "fuckin' blues" in two places during Thru & Thru knowing full well that he was on live broadcast...that little impish twinkle didn't get past me. But maybe the two nods to the Sopranos were a deliberate acknowledgment to James Gandolfino who plays Tony Soprano and happened to be sitting five rows in front of me throughout the show! Our seats were in the first row with the break between the front section and our second section (so one of the cameras could roll back and forth throughout the night); and I got a real kick when before the show, James came into this pass through area (& in true Mafia style) placed his hand to the back of a friend's neck and gave him a hearty kiss on the cheek in greeting to seeing his friend. The two sat together with their ladies and both sported bandannas w/James in full beard as well. But enough about that guy: I don't even watch the show...it was just fun to see, and if any of you out there do care about the show (as I've heard Keith & Charlie are fans of), I thought you'd like to get an in that the Soprano references did not drip off the boys lips in vein. [My sister also exchanged words w/a lead player in the HBO show Oz: but don't ask me who he was as that too is a show I don't catch.]---So celebs' were in the audience taking in the show along w/the rest of us lucky bastards...but enough about "them".

The walk-through in front of our seats is where the boys passed through the crowd as they left the B-stage and went to the main stage. The boys were all fully escorted w/body guards as they passed by, but I luckily managed to shake Ronnie's hand as he moved in front of me...whoo-hoo! Mick's harmonica during Give Me Shelter was fantastic. He was in perfect form both in fluid motion and amazing voice! Keith played MANY intricate licks and really let his guitars have their way as he carried off into nuances and riffs. His Thru & Thru was hauntingly beautiful...what can I say? That song slays me! Ronnie seemed to be solid and rockin' and having a hell of a lot of fun. Not only is his guitarwork in perfect twining w/Keith but his slide work is also really something to take notice and respect. Charlie: what can I say?: He's the engine who pulls it all together. Man what a driving machine! I Love that guy!

There was one point during the show when a cameraman was so busy pursuing Keith on the main stage that he made Mick do a quick side-step to get out of the his way to which Mick rolled his eyes in mock disbelief that he had to move it for this guy to make his shot! I was hoping against all hopes that they might surface not only a couple of rarities but also a few gems which they had yet to perform: I'd love to hear their new: Losing My Touch, Stealing My Heart + Keys to Your Love...but I wasn't surprised in their choices. And being that Start Me Up hasn't always been one of my top ten favorites: I couldn't get that tune out of my head the next morning as along w/all the other choices Saturday night: it was F'in Fantastic! I was Happy (Keith just Loves to play that song and that is that) to realize that they had played a solid 2 1/2 hours for us!

The balance of the set-list showcased their wonderful talents and magnificent gifts of songs they've given us throughout the years. Not only have they raised the bar on Rock n' Roll and shown us once again what consummate artists they are...but they've also redefined whatever the hell notions people may hold on "aging" too! Shit, I still wanna be like those guys when I grow up...[and I'll be 50 in a couple of weeks myself!] Thanks boys for another perfect gift of yourselves in my favorite place to see you (way back since 1972) - Madison Square Garden. Now run around the world and do your thang and come back to us real soon y'hear!
---
Thanks to Mike Martelli for photos!
---
This page will change over the next few days, as you and other fans send reviews, set lists and reports. Please send your e-mail to IORR. Thanks! For details and great photos from the Rolling Stones and their World Tour get the IORR magazines.




It's Only Rock'n Roll 2003 -
© The Rolling Stones Fan Club Of Europe