POST: Mick TAYLOR: The Maidenlane ALT'S Vol 16 - 1990.02.21 - NYC (Lone Star Roadhouse) - 1st show
The Maidenlane Recordings:
a Mick Taylor tribute
Long-time Mick Taylor fan Maidenlane taped a number of Mick's gigs on the East Coast (mainly in New York City) between November 1986 - May 1993 to preserve his own memories. Around the same time Mick Taylor lived in NYC and thus did a lot of concerts there, with his own bands or as a guest artist with other great musicians.
In our first series we first published the concerts that had never been circulated in any form. By listening to the others we discovered that many of his alternative recordings were interesting too.
In this second series we publish the "The Maidenlane ALTS" which will feature recordings that are either in better sound quality, more complete or sound differently from previous releases.
In the last series we will present the result of mixes and merges which will be similar to the Frankenstein productions (of my FP-series).
Of course, we are very grateful to Maidenlane and I also would like to thank nzb for his help (his advice, judgements and expertise have been invaluable to me).
……………………………………….
The Maidenlane Alts
Volume 16
21. February 1990
NYC
Lone Star Roadhouse
(1st show)
21st February 1990: New York City, Lone Star Roadhouse (1st show)
Line-up: MT (gtr, voc)/Jon Paris (gtr, voc, harm)/Teo Leyasmeyer (keyb)/Emmanuel 'Chulo' Gatewood (bass)/Damon Duewhite (dr)
01 - tuning
02 - Hideaway
03 - Laundromat Blues
04 - Stop Breaking Down
05 - Red House
06 - You Gotta Move
07 - Shake Your Moneymaker
08 - outro with band introduction
'Laundromat Blues' and 'You Gotta Move' were published on a promotional 3" CD-single (Fun House FXD 5029) in Japan in August 1990.
Nzb also brought in a recording from this show.
Maidenlane's version is very interesting because it has a better sound than nzb's version and it's more complete (containing the end of "Shake Your Moneymaker" and the outro which was missing on nzb's recording) but misses the biggest part of the tuning (before the show).
This recording is now edited, declicked and the channels equilibrated (+20 to +30% to the left channel).
Note that the promotional release of 'Laundromat Blues' has been edited from 2'15 to 6'00 (a keyboard and 3 guitar solos were deleted) and that 'You Gotta Move' on the promo-CD is from the 2nd show!
As usual I used a lot the infos taken from The Mick Taylor Complete Works Database by Nico Zentgraf: [
www.nzentgraf.de
]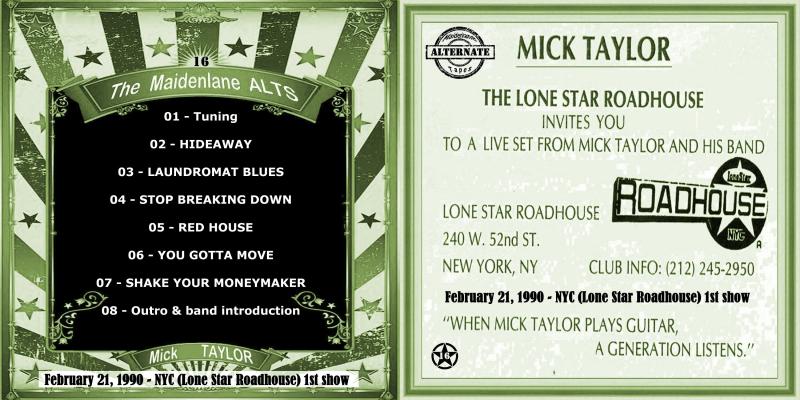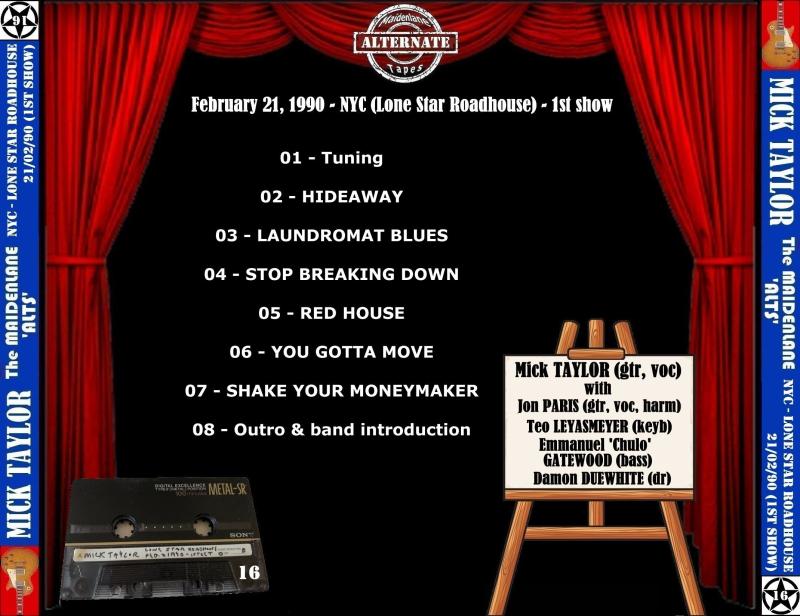 Posted in 2023 by StonyRoad on IORR: [
iorr.org
]
[
we.tl
]
link valid until 21/09/23
MDL/FP version on Sunday
Norbert
email:
stonyroad58@gmail.com