POST: Mick TAYLOR Japanese shows series - Vol 31 - 07th August 1992 - KUMAMOTO - 2nd show
MICK TAYLOR
The 1992 Japan shows
This is the fourth part of the series devoted to the Mick Taylor's live concerts in Japan.
A big thanks to my usual partners in crime nzb and Jaap (Stonesmuziekfan) who sent me their versions for these shows and gave critics and advice regarding my work.
Volume 31
07thAugust 1992 – 2nd show
KUMAMOTO - Ivreat
7th August 1992 : Kumamoto, Japan, Ivreat (2nd show)
Line-up: MT (gtr, voc)/Jimmy Wood (voc, harm, gtr)/Jimmy King (gtr, bvoc)/ Greg Boaz (bass, bvoc)/David Salinas (dr)
Tracklist:
01 - Intro and tuning
02 - Badmouth Moma
03 - Hoodoo Thing
04 - How It Feels
05 - You Shook Me
06 - Band introduction #1
07 - My Little Machine (Jimmy King solo)
08 - Promised Land
09 - You Don't Miss Your Water
10 - Band introduction #2
11 - You Gotta Move
12 - Cairo Motel
On the first 8 tracks I re-equilibrated the channels (+20% to the right) and added a little bit of bass.
After track 8 the channels were more de-equilibrated and there were some little defaults in the right channel. I duplicated the left channel.
I deleted a 10 seconds sequence repeated by mistake in the intro of "You Don't Miss Your Water"
Note that there were some tape defaults after "You Gotta Move" and in the beginning of "Cairo Motel".
As usual all the infos are taken from the Mick Taylor's Complete Works Database by Nico Zentgraf: [
www.nzentgraf.de
]
For the covers I used pics from the great Japanese fanzine "Stone People" (issue #63).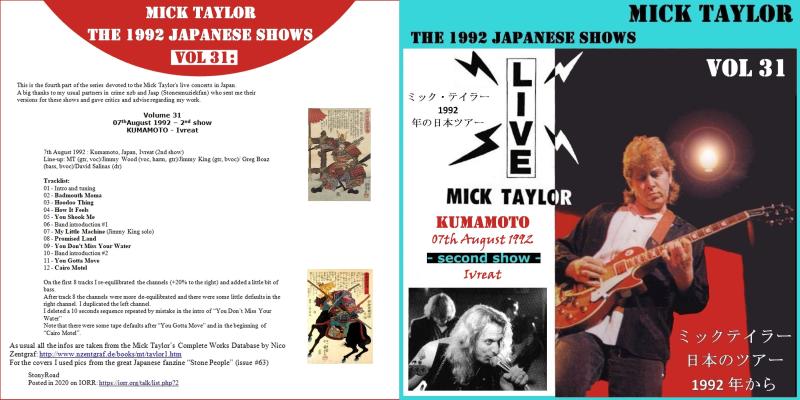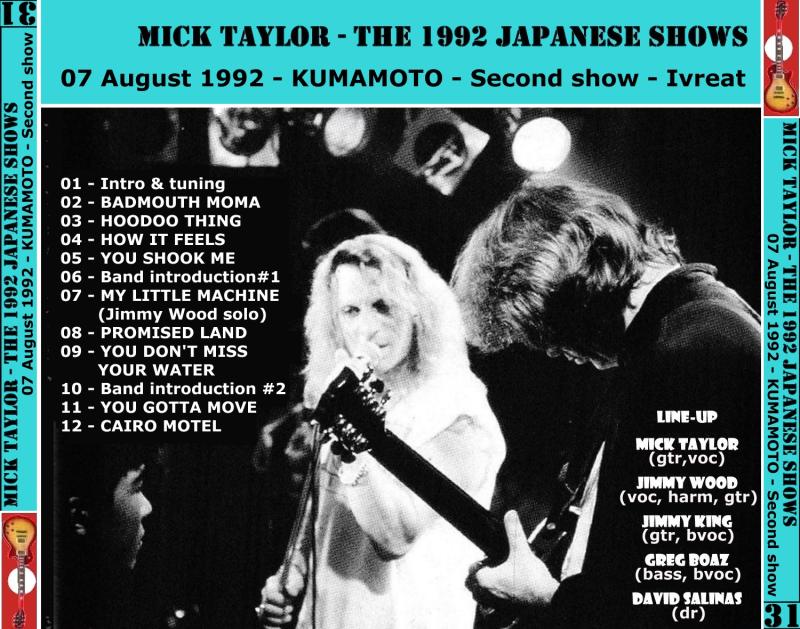 StonyRoad
Posted in 2020 on IORR:[
iorr.org
]
link valid until 12/06/20
[
we.tl
]
next tomorrow
Norbert
email:
stonyroad58@gmail.com