POST: Mick TAYLOR Japanese shows series - Vol 29 - 04 th August 1992 - OSAKA - 2nd show
MICK TAYLOR
The 1992 Japan shows
This is the fourth part of the series devoted to the Mick Taylor's live concerts in Japan.
A big thanks to my usual partners in crime nzb and Jaap (Stonesmuziekfan) who sent me their versions for these shows and gave critics and advice regarding my work.
Volume 29
04th August 1992 – 2nd show
OSAKA – Boomin Hall
4th August 1992: Osaka, Japan, Boomin Hall (2nd show)
Line-up: MT (gtr, voc)/Jimmy Wood (voc, harm, gtr)/Jimmy King (gtr, bvoc)/ Greg Boaz (bass, bvoc)/David Salinas (dr)
CD1:
01 - Tuning
02 - Badmouth Moma
03 - Hoodoo Thing
04 - How It Feels
05 - You Shook Me
CD2 :
01 - You Don't Miss Your Water
02 - Stop Breaking Down
03 - Cairo Motel
04 - Band intro #1 and encore break
05 - You Gotta Move
06 - Teresa
07 - Band introduction #2
Another very good find, nzb's version had 2 more tracks than our versions but still the same quality for the recording.
I amplified the sound (+ 4 db) and equalized the channels (+20% for the right)
A small sequence was repeated by mistake between the end of "You Don't Miss Your Water"and "Stop Breaking Down wich I deleted.
As usual all the infos are taken from the Mick Taylor's Complete Works Database by Nico Zentgraf: [
www.nzentgraf.de
]
For the covers I used pics from the great Japanese fanzine "Stone People" (issue #63)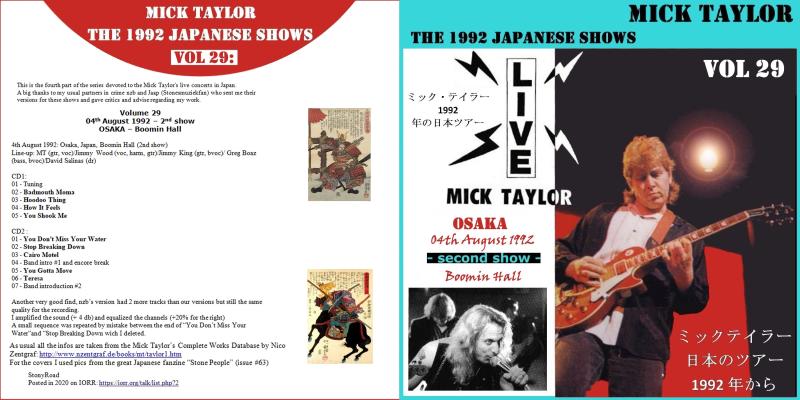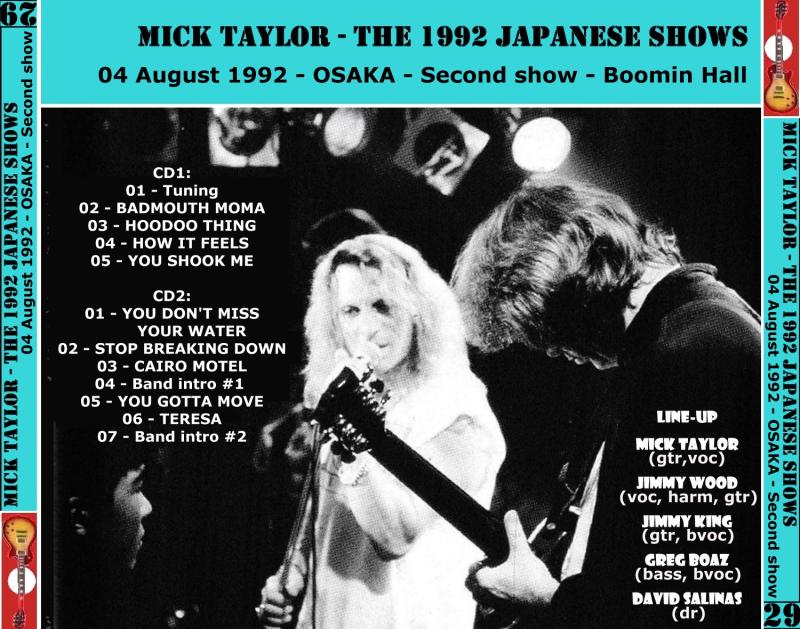 StonyRoad
Posted in 2020 on IORR:[
iorr.org
]
link valid until 10/06/20
[
we.tl
]
next tomorrow
Norbert
email:
stonyroad58@gmail.com