MICK TAYLOR
10th February 2000
DALLAS – Blue Cat Blues
10th February 2000: Dallas, Texas, Blue Cat Blues
Line-up: MT (gtr, voc)/Robert Ahwai (gtr)/Jeff Ross (keyb)/Michael Bailey (bass, bvoc)/Jeff Allen (dr)
CD1 :
01 - Twisted Sister
02 - Secret Affair
03 - Late At Night
04 - Losing My Faith
05 - You Shook Me
CD2 :
01 - Goin' South
02 - Band introduction 1
03 - You Gotta Move
04 - Blind Willie McTell
05 - Can't You Hear Me Knocking
06 - Band introduction 2
This is a very good show that should appeal not only to all fans of MT but also to fans of blues music and outstanding guitar work.
I have two versions, mine and the one received from nzb. I used mine (less saturated than the one of nzb) by re-balancing the channels, editing all the titles, using a small patch (less than a second) between "Losing My Faith" and "You Shook Me" from the nzb version to restore a small gap.
As usual all the infos are taken from The Mick Taylor Complete Works Database by Nico Zentgraf: [
www.nzentgraf.de
]
A big thanks to the original taper, to nzb for sending me his version and also to Jaap (Stonesmuziekfan) for checking my work.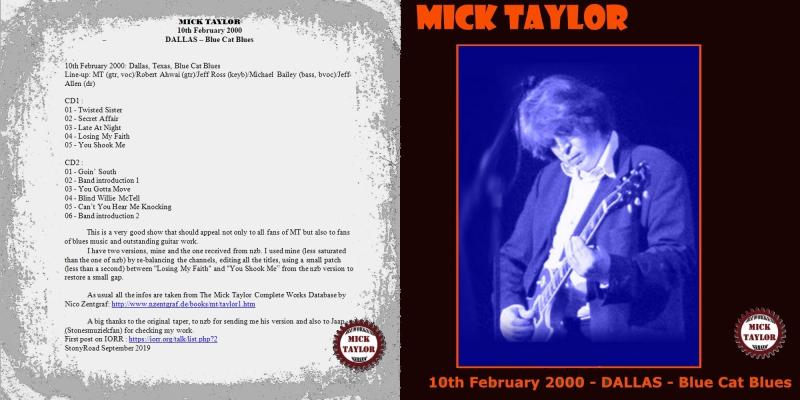 First post on IORR : [
iorr.org
]
StonyRoad September 2019
link valid until 18/09/19
[
we.tl
]
Norbert
email:
stonyroad58@gmail.com
Edited 1 time(s). Last edit at 2019-09-11 16:05 by StonyRoad.