POST: Stones Sidesteps Series: The STU Side - Vol 10 - Paris (Hippodrome d'Auteuil) - 14 June 1982 - With G. Thorogood
Stones Sidesteps: The STU Sidesteps
This is a series of recordings provided by nzb to present the side projects of some of the Rolling Stones (Ian 'Stu' Stewart, Charlie Watts and Bill Wyman).
This part of the series is devoted to STU, the only person that can be called the 6th Stone (but in fact he was the 2nd Stone).
Thanks to nzb who provided us his recordings, to Jaap (Stonesmuziekfan) who gave critic and advise regarding my work and to my friend Riccardo (MrNo) who participated to a big part of my collection.
………………………………………………………………………………………….
Volume 10:
With George THOROGOOD & the DESTROYERS: Part 3
14th June 1982: GEORGE THOROGOOD and THE DESTROYERS . Paris, France, Hippodrome D'Auteuil (opening for the Rolling Stones)
Line-up: STU* (p)/George Thorogood (gtr, voc)/Bill Blough (bass)/Jeff Simon (dr)/Hank Carter (sax)
Note: It seems that STU didn't play on "The Sky Is Crying" and "Nobody But Me".
Tracklist :
01 - Ride On Josephine (Ellas McDaniel) *
02 - It Wasn't Me (Chuck Berry) *
03 - The Sky Is Crying (Elmore James)
04 - Madison Blues (Elmore James) *
05 - Nobody But Me (Rudolph Isley/Ronald Isley/O'Kelly Isley)
06 - No Particular Place To Go (Chuck Berry) *
07 - Reelin' And Rockin' (Chuck Berry) *
08 - Move It On Over (Hank Williams)*-incomplete
As usual all the infos are taken from The Rolling Stones Complete Works Database by Nico Zentgraf [
nzentgraf.de
].
This one is rare so, as often in this case, the sound is poor. There is much rumble coming from the tape recording but there is nothing I can do about it.
I upgraded the beginning/end of cd-r and I amplified the sound and I added a little more high tones.
I deleted a noise and a gap at 7'08 in "Reelin' And Rockin'" and I tried to upgrade some sound fail on track 5.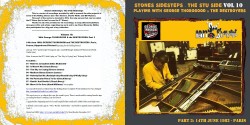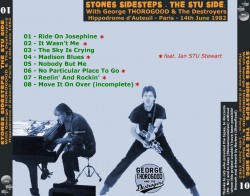 [
we.tl
]
link valid until 25/12/17
Posted on IORR [
www.iorr.org
] by StonyRoad in December 2017.
This one is the last number of this series, see you in 2018 for another projekt
in the meanwhile I will post another Frankenstein number
Norbert
email:
stonyroad58@gmail.com
Edited 1 time(s). Last edit at 2017-12-18 15:50 by StonyRoad.