The Rolling Stones live at the Racket club NYC
---
These are the latest Rolling Stones news and updates for you! IORR is a non profit fan club run by fans for fans. All parts of the It's Only Rock'n Roll web site is copyright of The Rolling Stones Fan Club. When using information from this site, please include a reference to IORR and the main web address www.iorr.org.
---
---
The Rolling Stones
Racket Club NYC
New York, NY, USA
Thusday Oct. 19, 2023
The Rolling Stones did a surprise gig in New York City at the 650 capacity Racket club on Thursday, October 19, 2023, to promote their new album "Hackney Diamonds". The following is reports and pictures from the show.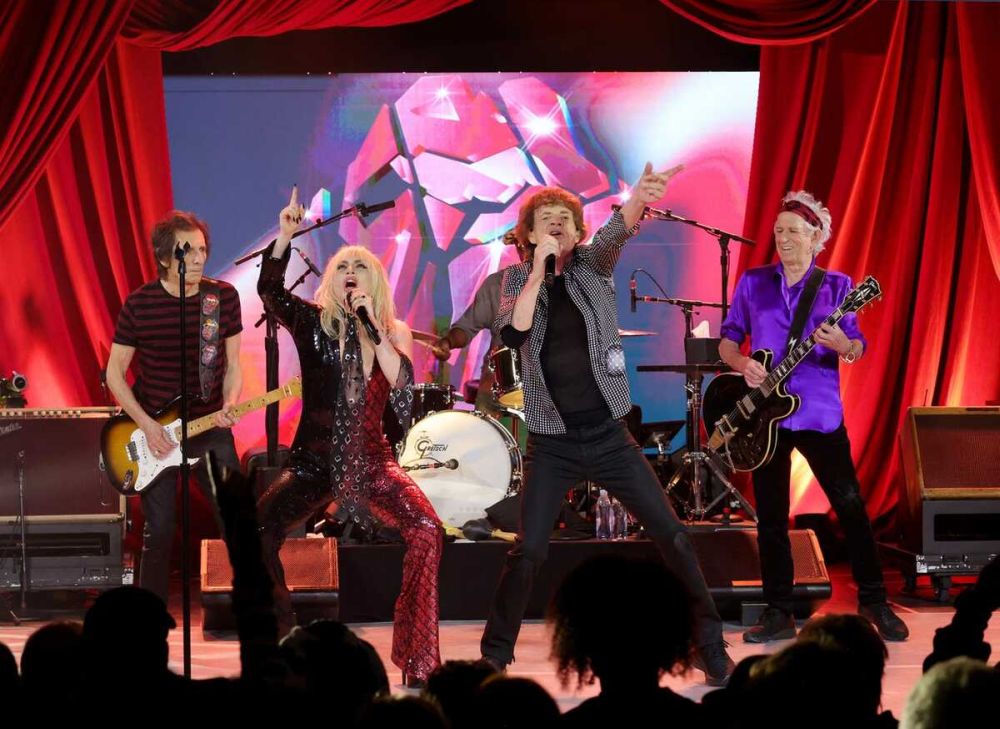 The Rolling Stones live at the Racket Club, New York City, NY, USA, Thursday October 19 - Photo by Kevin Mazur
The set list
Shattered
Angry
Whole Wide World
Tumbling Dice
Bite My Head Off
Jumping Jack Flash
--- ENCORE
Sweet Sounds of Heaven (with Lady Gaga)
---
Review by Alwyn W
Some of the most dedicated fans tried and failed to get into this gig. It was a long-shot, but you needed to follow advice of those with much more experience. Mainly you had to "be there" – in the right city at the right time; following the official hints (called a puzzle to solve by someone working at the RS No.9 pop-up where tickets for fans were distributed); standing outside the venue when that failed in the hope of being seen and helped. And loads of luck. I really felt the pain of those who missed-out – I know because I've felt that myself before.

This venue has a 650 limit, but the stage was extended and I suspect no more than 500 people saw the Stones perform this Hackney Diamonds launch. Not part of a Tour; a one-off gig; ultra-secret until only a week ago when the word started leaking out. The internet not only enables leaks to spread but it allows research to identify the venue. It is impossible to keep it secret when the venue, their staff, the record company etc. etc get to know. I was told after the show that it was 2 months in the planning, and I heard that at one stage a live show in London a month earlier was an option.

How did I, and another three people who flew in from Europe make it in? Well, apart from following the experience of the master, we were outside the pop-up store from 5:30 am on show day: you work long and hard. We had been there the previous two days to glean clues: it was inspired thinking (or long-earned experience) that this must play a key role in any fan tickets. But we were not sure until 6pm on the evening that this was the location to try and score a ticket, and even then the selection process frankly left a very bad taste in the mouth. Not random, and also not a reward for those early in the queue that formed informally by early afternoon and formally at 5pm. We failed to get tickets along with all but 30 or so fans.

All congratulations to those who did succeed there – they also had to word hard. The staff at the pop-up had slipped and let out that there were around 100 tickets for fans, but it was clear mid evening that this allocation had dramatically reduced late in the day – I assume the record company allocation was well over subscribed. It was their party; their show; their money; so it is their decision at the end of the day. But few felt it was fair: there was some emotion, much negative, at the end of this process. Fans are customers and deliver revenue as companies forget to their cost.

This fan aspect was run by the record company, to meet their promotional needs, and kept private. How did we finally get in? We rushed over to the venue, where fans were hanging around trying to get a glimpse of the band. And we were recognised and some tickets were given to one of us. Just being there, right place at the right time. A few of the band's team smiled when we entered; shook hands of welcome. Ultra Lucky.

The band on stage was much smaller, tighter than recently. I felt it had some of the intimacy of say the 1978 US tour – I only know this from videos. The stage size helped, as did the setlist. There was a short period of rehearsal, a few days mentioned by Ronnie in interviews: worked out by timing his interviews and "next week" comment this started in London. By the last week in New York the band for last night was working together. No horns so no Tim or Karl; no Bernard, committed to a run of shows in Spain; no Chuck either. No Bill Wyman – we suspect someone mistook Ronnie for Bill the day he was flying over in the 'plane. Still it made for another good round of publicity!

Chanel Haynes, who did so well as a last minute sub in Milan last year, handled the backing vocals extremely well. No Bernard to help guide her unlike in Milan, but she stepped-up to the challenge of working with the best, most experienced, band in the business. Mick also had harmonic support from Matt Clifford, who was working very hard on keyboards.

Keith seems to relish the small band setting and was very strong – no hints of the arthritis he mentioned in a recent interview. It all sounded great; nice guitar selection. Jumping Jack Flash he drove like a freight train. Ronnie was on excellent form, and a superb lead guitar part on Whole Wide World. Lots of weaving, on the newer songs they are still working on a pattern but you would hardly notice. Darryl also worked hard on this punk-oriented set, and rightly seemed very pleased afterwards. Steve played with gusto: he is a core part of the sound and feel now; seamless and full of energy.

Mick was spectacular. I'm sure he must have worn his vocal chords hard last night. An intense performance, with some intense songs, and lots of shrieks and band direction/cues. When did they last play a gig that will be filmed and recorded with so little practice? Some local reference in comments, like the club name being Blow at one time when he frequented it: a little bit of nostalgia from someone who seems to live in the present and for the future.

Much energy – well it was a small stage by normal standards so the physical side for all of them, especially Mick, was easier than a 2 hour show. I didn't have any time recording equipment as my watch and phone were in the sealed "you can't use them" bag. I'm guessing 40 minutes maximum. Six songs in the base set plus one encore. I suspect that they rehearsed more new ones than the four they played. I missed the wider sound of the bigger band – perhaps this tighter band would only work so well for a short, intimate, show.

I had "officially" heard the new album in the pop-up store earlier, but not properly. Some excerpts on small speakers as well. All three in the main set, Angry, Bite My Head Off and Whole Wide World sounded to me better live: others may have different views of course. They say that the song evolves when played live – these did. They all suited the small club atmosphere. Sound mix was a little variable at times, but all vocals and instruments were there from the centre of the crowd. I'm guessing most people present were not hard-core fans but they really got into the swing of the new songs and sang along in parts. The Stones can still write, record and then play new songs live; allow them to mature; and take the audience wherever they wish to go.

Lady Gaga joined to replicate her album vocals on Sweet Sound of Heaven, the encore. A superb song, in my opinion one their top 5. Her duet with Mick was a real highlight. Keith played most of the guitar licks in this Otis Redding-like masterpiece, played complete with the last 2 minute reprise section. It was a fitting end to the show, allowing band and audience alike to feel the breadth of the Stones ability and slow down a bit from the intensity of the rest of the show.

I forgot to mention the start – I'm told they only started with Shattered twice before, and I saw one of those times in 1999 (a more rational, theatre gig ticket queue). Like Street Fighting Man, starting with the power of Shattered, complete with New York references throughout, it takes the audience from zero to 150 mph in seconds. Tumbling Dice completed the songs played, as ever a favourite; a war horse from Exile that never ages, like a vintage red wine from France.

My conclusions: A really fantasic show; it was a real privilege to be there, and immensely enjoyable. I really hope the band and everyone who worked hard to make this happen felt it did as well. The bigger audience of a tour would not be disappointed. The publicity surrounding this album launch has been big and long – hopefully encourages everyone to try for another road trip next year. The new songs work very well live, even for the more casual fans present. The anti-aging pills are working for the whole band – behaving and playing like 45 years or so ago. Thanks again to everyone involved for everything.
---
Photos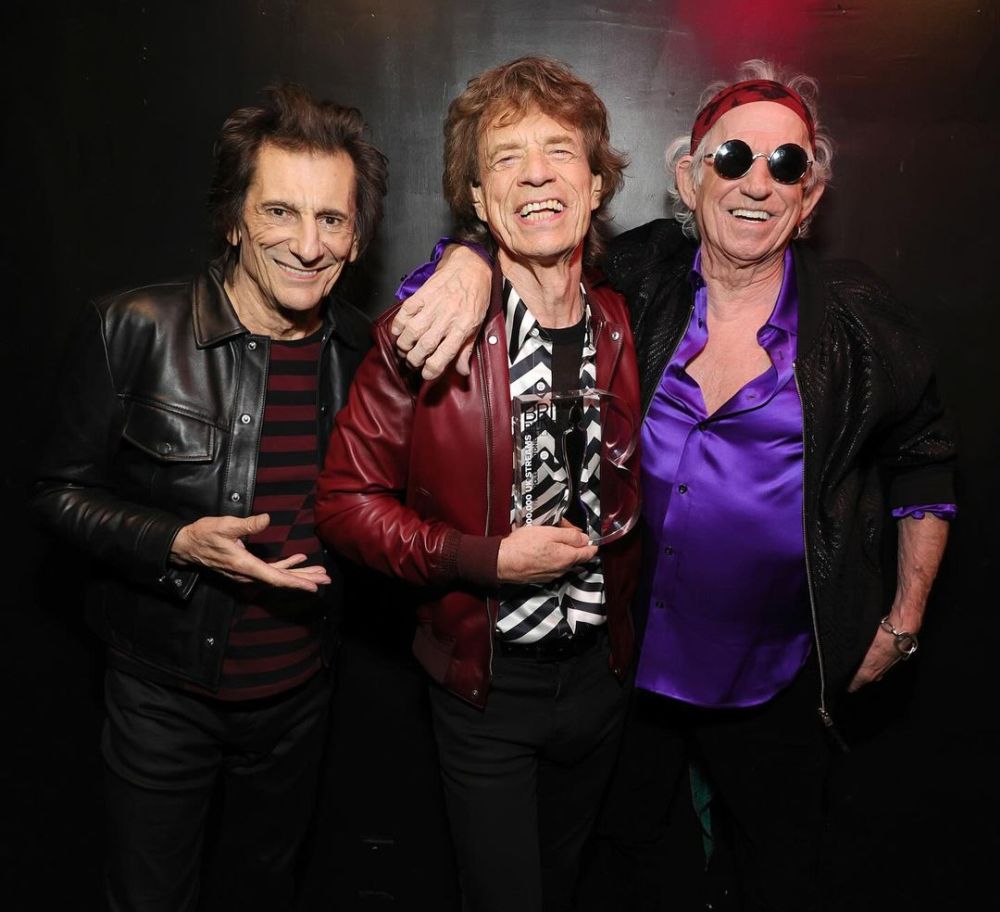 Photo by Kevin Mazur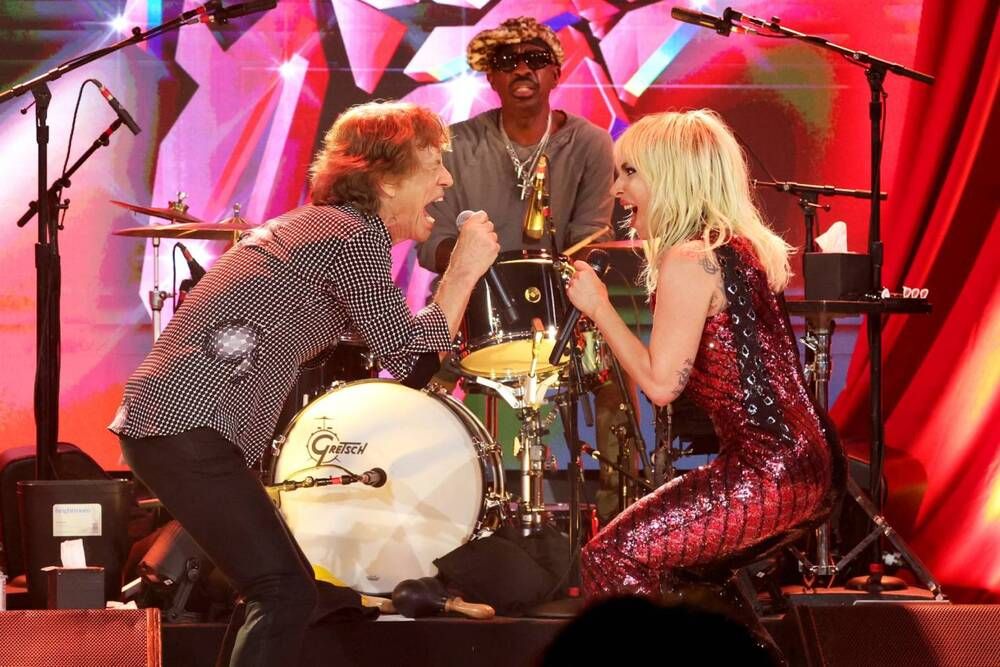 Photo by Kevin Mazur

Photo by Kevin Mazur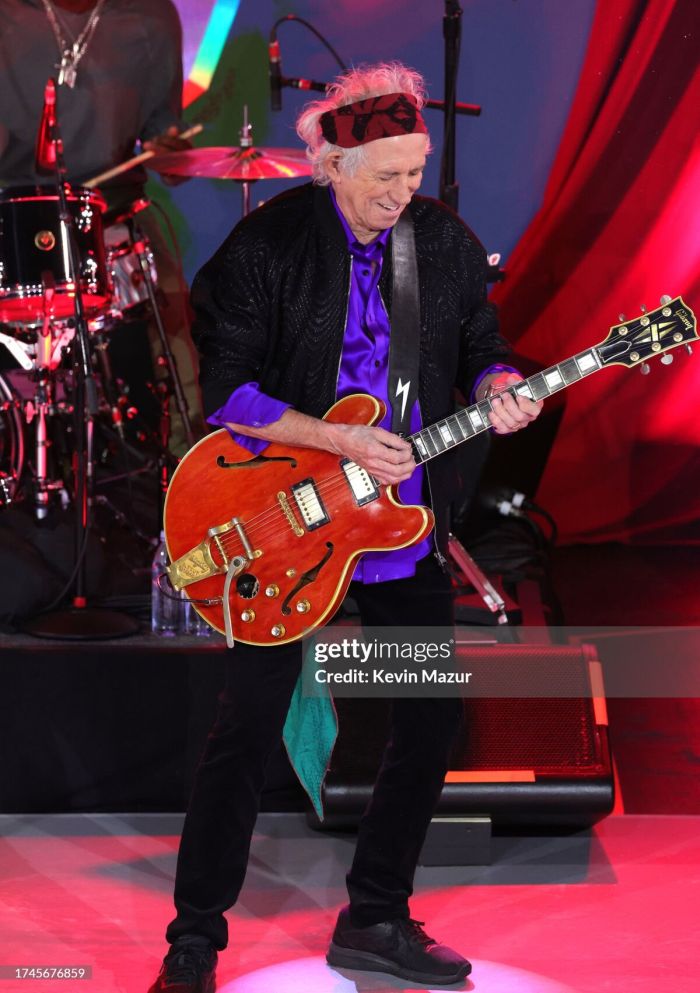 Photo by Kevin Mazur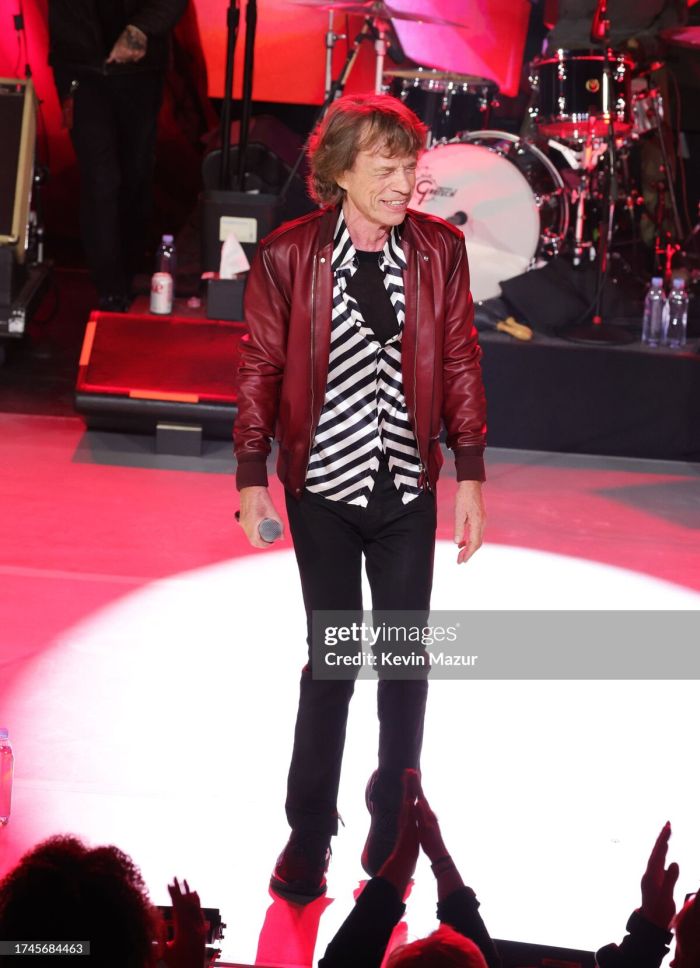 Photo by Kevin Mazur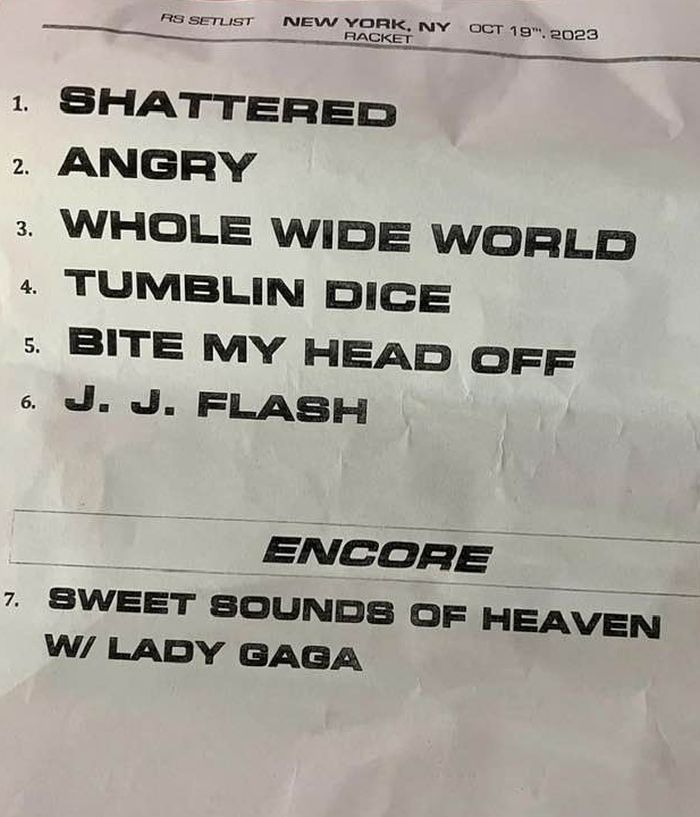 ---
Links
---
Please send any info you might have!
If you have information, corrections, additions or comments, please send email. Thanks!




It's Only Rock'n Roll 1980 - 2023
© The Rolling Stones Fan Club IORR