The new Wild Horses single!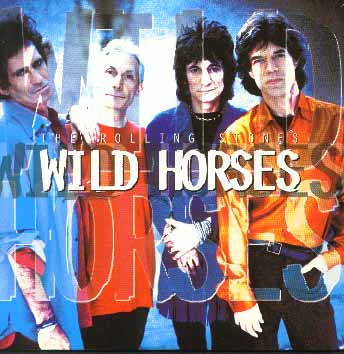 Well, the new Wild Horses single, as taken from the most recent Stones album Stripped, was supposed to be released in late January this year. Then it was cancelled. Now the promo single is just out, and what a great cover they have come up with for this single!
The official release of the Wild Horses single is planned for late March.
See IORR 25 page 3 for more facts about this single.
Details of the promo single:
Label: Virgin VSCDJ 1578
Origin: UK
Track 01: Wild Horses (EDIT) 4:07
Produced by Don Was
Mixed by Bob Clearmountain
Date of release: Feb. 1996
---
The actual Wild Horses CD single release was made mid-March in Scandinavia, and shortly after for the rest of Europe. For USA, you still have to rely on expensive import copies (early April).
This is the contents of the official Wild Horses single:

     1. Wild Horses
     2. Live With Me
     3. Tumbling Dice
     4. Gimme Shelter