Keith in Guitar World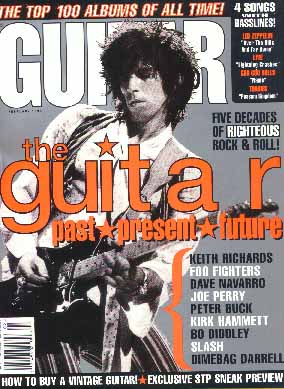 The USA magazine GUITAR WORLD Feb. 1996 has got Keith Richards on the front cover, and pages 26 - 39 Keith talks about the new album Stripped, guitar playing etc. The interview is done by Gary Graff, and the title is: "The Naked truth".
Keith talks about how it feels like soon getting to be grandfather. Lots of interesting talks about jamming with Ronnie in hotel rooms, about playing acoustic guitars, details about the tracks on Stripped etc.
Finally, for the future, Keith says: "All I want to do is make good records - I always have. I've been very fortunate to be able to get into the studio with some good bands and do that."
    Guitar World
    1115 Broadway
    New York
    NY 10010
    USA

    Price US $ 4.50