POST: Mick TAYLOR 1990 European Tour - Vol 04b - 01 May 1990 - NIEDER-RAMSTADT (lossy version)
MICK TAYLOR
26th APRIL - 14th MAY 1990
This series is dedicated to Mick Taylor 1990 tour of Europe (or to be more precise - the German spoken countries West-Germany, East-Germany, Austria and Switzerland).
A big thank you to all the people who recorded these shows and who shared them and to my two accomplices nzb and Jaap (Stonesmuziekfan) who gave me the benefit of their versions of these shows and their advice and support ... and therefore without whom this project would not have been possible.
Line-up: MT (gtr, voc)/Blondie Chaplin (gtr, voc)/Wilbur Bascomb (bass)/Eric Parker (dr)/Max Middleton (keyb)
VOLUME 04b:
1st May 1990
NIEDER-RAMSTADT
Steinbruch-Theater
(LOSSY VERSION)
1st May 1990: Nieder-Ramstadt, West-Germany, Steinbruch-Theater
01 - Intro and tuning
02 - I Wonder Why
03 - Laundromat Blues
04 - Semolina
05 - Goin' South
06 - Red House
07 - Band introduction
08 - Boogie Man
09 - You Gotta Move
For this show we have two recordings.
The one from nzb is lossless but with very saturated sound. The one posted by Stonesmuziekfan at IORR (https://iorr.org/talk/read.php?2,2336888,2337210) has a better sound but it's lossy.
Each has its advantages and inconveniences so we chose to keep both versions.
Here you will find the lossy version.
I equilibrated the channels, amplified the sound and I reworked the transitions between the tracks that now start with the song.
On 'Goin' South' at 16'50 the sound disappeared for some seconds on the right channel, this is now fixed but leaves a 2 seconds gap at 16'38.
The picture used on the front cover was taken by Bernd Schweinar in Nuremberg.
As usual all the infos are taken from The Mick Taylor Complete Works Database by Nico Zentgraf: [
www.nzentgraf.de
]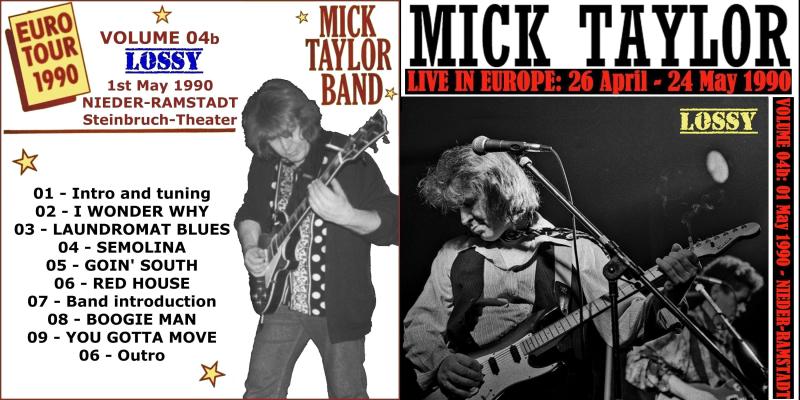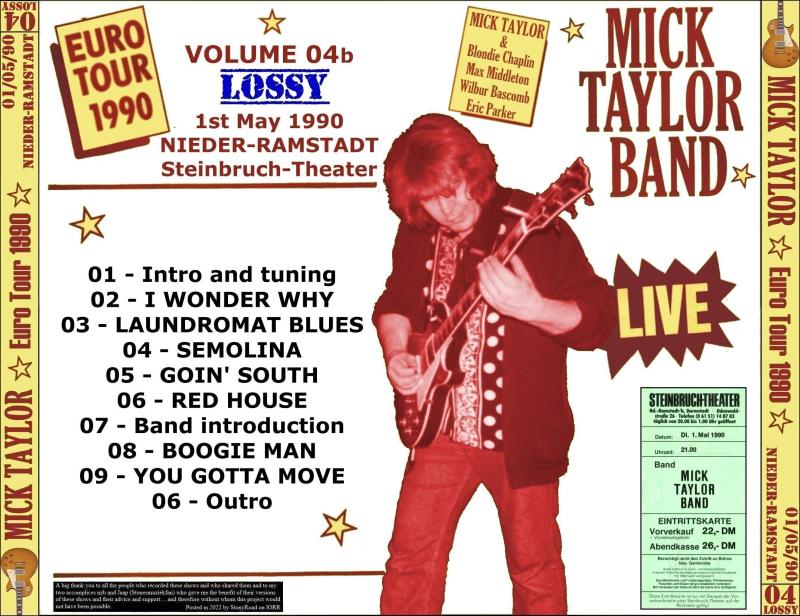 Posted in 2022 by StonyRoad on IORR: [
iorr.org
]
[
we.tl
]
link valid until 22/11/22
next volume on Thursday
Norbert
email:
stonyroad58@gmail.com