MICK TAYLOR
The 1992 Japan shows
This is the fourth part of the series devoted to the Mick Taylor's live concerts in Japan.
A big thanks to my usual partners in crime nzb and Jaap (Stonesmuziekfan) who sent me their versions for these shows and gave critics and advise regarding my work.
Volume 27
03rd August 1992
Nagoya, Bottom Line
3rd August 1992: Nagoya, Japan, Bottom Line
Line-up: MT (gtr, voc)/Jimmy Wood (voc, harm, gtr)/Jimmy King (gtr, bvoc)/ Greg Boaz (bass, bvoc)/David Salinas (dr)
CD1:
01 - Tuning
02 - Badmouth Moma
03 - Hoodoo Thing
04 - How It Feels
05 - Shake Your Hips
06 - You Shook Me
CD2:
01- She Moves Me (Jimmy Wood solo)
02 - Promised Land
03- You Gotta Move
04 - I'm Leaving You
05 - Band introduction
06 - You Don't Miss Your Water
07 - Encore break
08 - Cairo Motel
09 - Outro
Nzb's version had a better quality and in most cases it was more complete as the widely circulating version!
I re-equilibrated the channels +20% for the right channel. I reworked some transitions now all tracks are starting with the songs.
I deleted a default in "She Moves Me" at 27seconds.
"You Gotta Move" was cut in two parts with a gap at 6'43: I connected them to get a more comfortable listening but some seconds are lost.
As usual all the infos are taken from the Mick Taylor's Complete Works Database by Nico Zentgraf: [
www.nzentgraf.de
]
For the covers I used pics from the great Japanese fanzine "Stone People" (issue #63)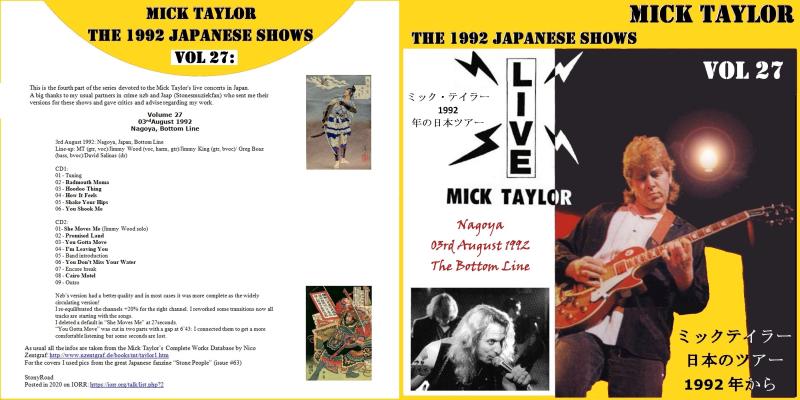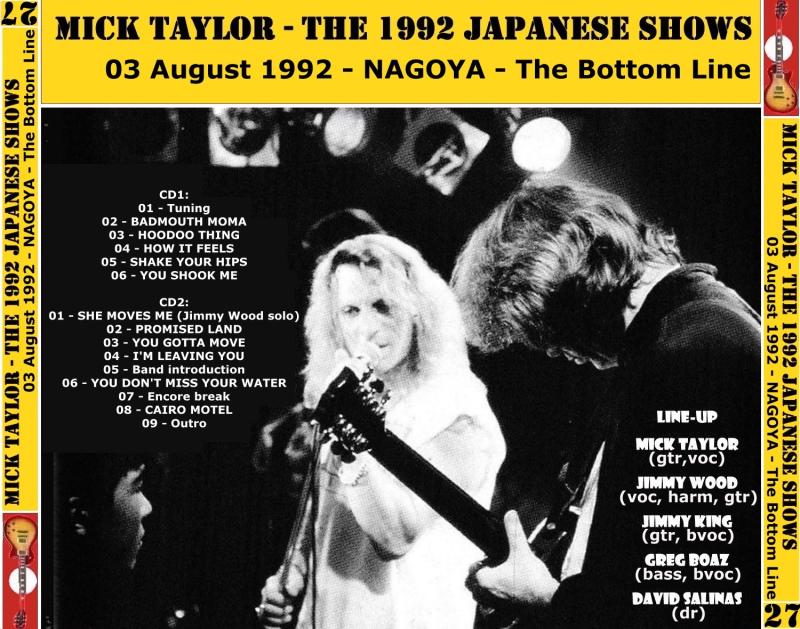 StonyRoad
Posted in 2020 on IORR:[
iorr.org
]
link valid until 28/05/20
[
we.tl
]
because of a familly problem, I must go until 1 or 2 weeks: the series will restart then!
Norbert
email:
stonyroad58@gmail.com