THE ROLLING STONES
« SECRETS TRAVEL FAST »
(Scorpio/Bad Wizard 1970-1)
Palais Des Sports, Paris, France
September 23rd 1970
Here is a show recovered on guitar101 [
www.guitars101.com
] and originally posted by Erik Snow.
I relay it here because
- I missed this version and I'm probably not the only one
- this show does not appear in the Stonesvault
One of the comments states that many tracks are lossy
Of course I have not changed anything here and I hope I do not hurt anyone by relaying this show
Thanks to Erik Snow!
here is the textfile present in the original post
......................................................................................................................
THE ROLLING STONES - SECRETS TRAVEL FAST
(Scorpio/Bad Wizard)
LINEAGE:
Original Scorpio CD -> WAV (EAC v. 0.99 beta 4 - secure, Offset "actual") -> FLAC (Traders Little Helper) -> You
DATE/VENUE:
Palais Des Sports, Paris, France
September 23rd 1970
BONUS TRACKS:
See date/venue below
QUALITY:
Good - Very Good Soundboard
COMMENTS:
Here's the Scorpio release of Paris 1970. Supposed to be a tremendous release, together with "American Exile" according to
Scorpio's press report. Paris, September 23rd 1970 is one of the absolute best sounding concerts of the 1970 tour, together with
the audience recordings of Essen, Berlin and Cologne.
Scorpio did NOT have a new source for this Paris show. Their press report is BS. They reworked the VGP source with sound-software,
that's all. Some of hiss and distortion are now gone, but.....that has a price
Feel free to pick your own favourite version of this Paris show, you can decide yourself what version you like the most.
PERFORMANCE:
The 1970 tour was incredible; one of their best tours ever, musicalwise
However, I think that this 2nd Paris show is one of the least good performances this year. The 2 other shows in Paris were fantastic,
but this one really never takes off at all. But that's just my own opinion....I know others disagree
BONUS TRACKS:
Scorpio inserted Gimme Shelter and You Gotta Move from the opening night of the tour in Malmö, Sweden.
They also inserted the 3 songs available from Saville Theatre, London, Dec 14th 1969 plus Honky Tonk Women and Street Fighting Man
from "Germany 1970". Of course those German tracks are familiar to me when listening, but I don't know the date, as I only listened
to this new Scorpio boot one time, and have not bothered to compare/check out. Is it Essen, Hamburg, Frankfurt or Cologne....anyway
they're just bonus tracks, that's all
ARTWORK:
I scanned everything, including the disc itself
TRACKLISTING:
01. Jumpin' Jack Flash
02. Roll Over Beethoven
03. Sympathy For The Devil
04. Stray Cat Blues
05. Love In Vain
06. You Gotta Move (Baltiska Hallen, Malmö, Sweden, August 30th 1970)
07. Dead Flowers
08. Midnight Rambler
09. Live With Me
10. Let It Rock
11. Little Queenie
12. Brown Sugar
13. Honky Tonk Women ("Germany" 1970)
14. Street Fighting Man ("Germany" 1970)
15. Gimme Shelter (Baltiska Hallen, Malmö, Sweden, August 30th 1970)
16. Satisfaction (Saville Theatre, London, UK, December 14th 1969)
17. Jumpin' Jack Flash (Saville Theatre, London, UK, December 14th 1969)
18. Carol (Saville Theatre, London, UK, December 14th 1969)
Torrented by Erik Snow, Oct. 2013
……………………………………………………………………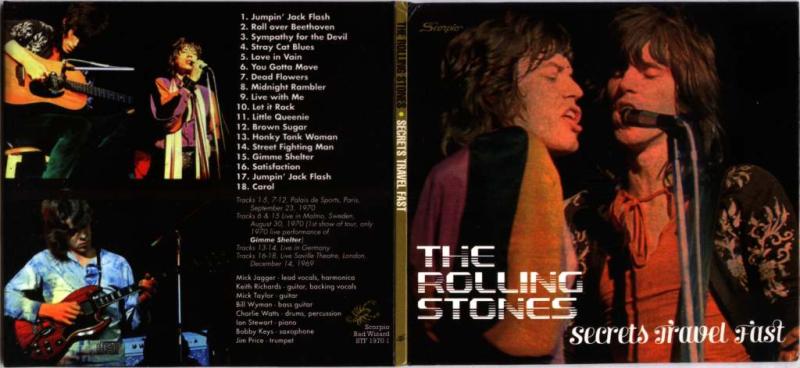 Link valid until 10/09/19
[
we.tl
]
The cover here is coming from the great Stones boots database (you can find also here comments)
[
www.dbboots.com
]
Norbert
email:
stonyroad58@gmail.com
Edited 2 time(s). Last edit at 2019-09-03 19:11 by StonyRoad.