O/T Chris Difford & Glenn Tilbrook at The Lowry, Salford. Sunday 16th November 2014.
Hello,
What a terrific show! The curtain drew to show a flat dressed circa 1973 with two figures in a double bed, a la Eric and Ernie. After a montage of clips from a projector they got up and made some breakfast, all the while enjoying the audience alternately laughing and cheering!
Difford and Tilbrook then played two or three numbers in their PJs which the latter said was still odd, even this far into the tour. His pal reckoned that they allowed much more room to manoeuvre, hah-hah!
The format of the show was a re-telling of their career together ever since Difford advertised for a guitarist to join his band, and involved the audience every few songs by way of a Q & A which used their road manager (wearing a gold cape) to run around the four floors of the venue to solicit some entertaining, some sensible and some daft questions. They were almost all dealt with, hah-hah!
They played a set of 45 minutes and then broke for 20 minutes, and then delighted us for a further 75 minutes and left us to a standing ovation.
Before that though they played so many memorable songs it was ridiculous: Tilbrook's voice was *exactly* as per any Squeeze LP and his guitar-playing was just astounding at times. I had no idea!
There was the odd occasion when either party vacated the stage and this worked well too- Difford was almost as entertaining as his oppo! They did say that they are recording songs for a new Squeeze LP and backed this claim up by playing a couple. They were not horrid by any stretch, hah-hah!
The other notable occurence was their pal Peter Kay, deputising for the question-master after the break! Turns out he is a real fan and even challenged them to play a deep-cut album track: this stumped Difford, who collapsed backwards onto the bed but after a little pfaffing, Tilbrook managed to wing it!
If they are down your way please go and remind yourself how fine these chaps are.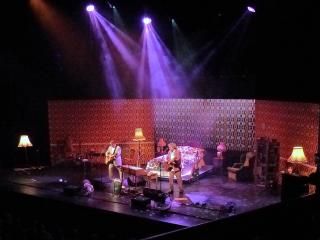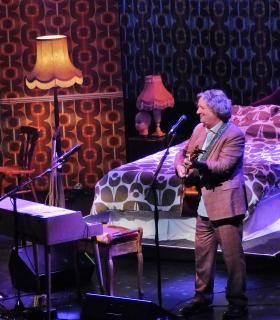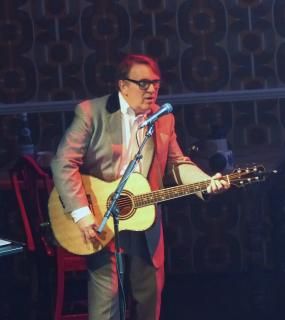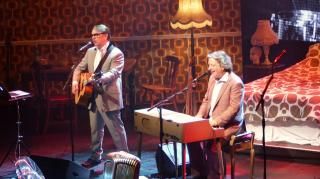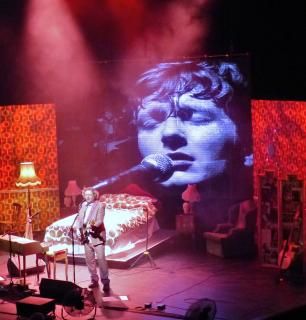 Cheers,
Simon.