The Pepsi Mystery Concert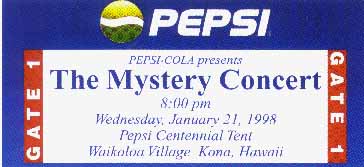 The Mystery Concert, The Pepsi Centennial Tent, Waikoloa Village, Kona, Hawaii, Wednesday Jan. 21, 1998.
The rumoured secret show on the big island of Hawaii did really happen. The Rolling Stones played in a tent with 4.000 people attending, mostly VIP people from Pepsi Co, having their 100 years celebration party. Rumours tell that Pepsi may have paid as much as $5 Million dollars for this show. I would guess they paid may be half that money, plus some for other deals (like the Superbowl commercial etc). The stage was all decorated with Pepsi logos, the sound kinda hollow, due to the stage and the tent. The PA was not the usual Stones PA, but just an ordinary stereo set of speakers, sprayed with golden colors to give the Babylon look and feel. They had two video monitors mountet there. Keith did only one song, I Wanna Hold You, and there was no small stage, even if they still did I Just Wanna Make Love To You and Like A Rolling Stone. Mick had this funny comment on stage after Gimme Shelter: After 20 years of taking coke, it's good to drink Pepsi!
The show lasted for 90 minutes exactly. Some of the seniors in the crowd left for their hotel room half way through the concert, but a lot of families and kids of Pepsi employees stayed all through the concert. During a quick 10 minutes jam rehearsal in the tent before the show, Mick was playing drums! And as usual they did rehearse Tumbing Dice among others. Thanks to Stephen Kemelfield for supplying the setlist and more details about this remote and inaccesible show!
The set list:
Satisfaction
Let's Spend The Night Together
Gimme Shelter
Saint Of Me
I Just Wanna Make Love To You
Out Of Control
Miss You
-- Introductions --
Wanna Hold You (Keith)
Little Queenie
Like a Rolling Stone
Sympathy For The Devil
Tumbling Dice
Honky Tonk Women
Start Me Up
Jumping Jack Flash
Brown Sugar (encore)




It's Only Rock'n Roll no. 32 - March 1998 - © The Rolling Stones Fan Club Of Europe