Wood on Canvas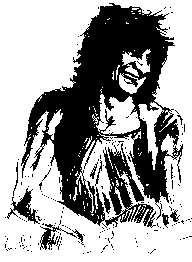 Genesis Publications is known for their high quality art books, using top quality printing and binding in limited edition book publications. Just out by mid March is a brand new art book featuring the art of Ronnie Wood. The book is titled: Wood On Canvas By Ronnie Wood - Every Picture Tells A Story.
Wood On Canvas is limited to 2.500 copies, each individually autographed by Ronnie Wood. There are forewords by Mick Jagger, Keith Richards and Charlie Watts. This book is so brand new, that it includes sketches Ronnie did in his hotel room on this BtB tour, from places like Chicago, San Francisco, Hawaii, and even notes from Houston (Feb. 98)!!!
The 144-page volume has been made by superior quality thick paper, to really present Ronnie's art at it's best. It is hand bound in Italy. Over 140 of Ronnie's art pieces is reproduced, including many portaits of the Stones, and over 8,000 words of text - Ronnie talking about his life, paintings and musical career.
In addition, each book comes with a rare and unique 4-track CD, only available with this book. The tracks are:
1. So High (3:59) (recorded in London 1987); 2. Breathe On Me (6:41) (recorded live at the Budokan, Tokyo, 1993); 3. Somebody Else Might (4:58) (recorded at Sandymount Studio, Ireland, 1992); 4. Interfere (3:37) (recorded at Sandymount Studio, Ireland, 1996 with Bob Dylan - never released before).
You may order Wood On Canvas through IORR. The special price is (British pounds) GBP 192, or (US dollars) USD 330, all including air mail delivery.
When ordering, please follow the same methods of payment as when paying for IORR subscription - see page 31 of this issue. Please write your order on a separate sheet of paper, so that it don't get mixed up with other stuff you are writing about! Order deadline is April 30, 1998!
The other Genesis Publications art book by photographer Bob Gruen titled Crossfire Hurricane (see IORR 30 page 28) is now soon sold out (few hundred copies left only at the publisher). This is your last chance to order it, and still at the introductory price of (British pounds) GBP 99 (=US dollars 170) in Europe, or GBP 107 (=US dollars 185) outside Europe, all including air mail delivery. Same order procedure/deadline as above!




It's Only Rock'n Roll no. 32 - March 1998 - © The Rolling Stones Fan Club Of Europe