The official Rolling Stones video tapes - Pt. 2
by Adri Steenland, Holland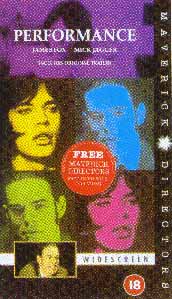 See list of official videos to be covered in IORR 31 pages 10-11. If you know about new releases of official Stones videos then please write! Rating:
* Better not buy
** For hard-core fans only
*** (Very) Interesting
**** Great
***** A must !
Late additions and corrections (thanks to David Rowe, England): Performance: Warner, 1991, PAL, no. PES 61131. Gren Ice: Precision Video, 1981, PAL, no. VITC 3060. The Rutles: All You Need Is Cash: Telstar Video Entertainment PAL TVE 6003. Starring Eric Idle, Michael Palin, John Belushi, Neil Innes, George Harrison, Dan Akroyd, Bill Murray, Ronnie Wood, with guest appearances by Mick Jagger and Paul Simon.
One Plus One is re-released in Europe, and Performance is made available again. Both videos may be obtained from HMV Direct, P.o.box 333, South Ruislip, Middlesex HA4 0XA, England. Phone +44 990334578.
Also, just now, the Ned Kelly soundtrack is out in England on CD!
Stones concerts & documentaries
Sympathy For The Devil ***** Released in 1979 in the USA by Magnetic Video Corp. Colour, mono, 97 min. NTSC Ordernumber: 2047 -- Released in Europa by Iver film services ltd. Colour, mono, 97 min. PAL Ordernumber: FF 28 NO. 148. -- Re-released in 1994 in USA by Abkco. Colour, mono, 101 min. NTSC. Ordernumber 1002-3. -- Re-released in England in 1997 by Connisseur video. Colour, mono, 101 min. PAL. Ordernumber CR 212 VHS. Stones fans should be grateful to French filmdirector Jean-Luc Godard. This film is absolutely unique in the history of the Stones: fans can watch on film how a song developes in the studio. And, of all songs, it's the classic 'Sympathy for the devil' of the famous 'Beggars banquet' album. This is a truly extraordinary look inside the 'Stones kitchen'. The film also, painfully, shows that Brian only played a minor role here in the studio in 1968. The cover of the video tape states that 'it is the meaning of the film to show the contrast between the demolition of the earth and the development of a Stones song'. The Stones footage covers approx. 50% of the film. The rest of the film is a series of politics, revolution and war. Picture and sound of this video are good in both existing systems (PAL and NTSC). A must!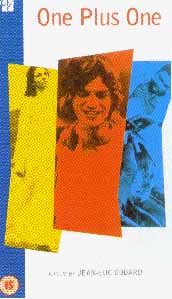 The Stones In The Park ***** Released in 1983 by Granada video. Ordernumber: GVX 823012 (Also PPM 1001 with Dutch subtitles) -- Re-released in 1992 by BMG. Colour, mono. 53 min. PAL Ordernumber: 791 223 BM 510. The first Stones video released in Holland, in 1983. Filmed by Granada television. An exellent documentary of the famous Hyde Park concert on Saturday, July 5th. 1969. Unexpectedly, the concert became a tribute to Brian Jones, who died tragically (2 days before the concert) in his swimming pool near his house in Hartfield. Brian had left the Stones in June 1969. The original idea for the concert was the comeback of the Stones to the stage (they stopped touring in April 1967) and to present their new guitarist, Mick Taylor. At the start of the Hyde Park concert, Mick Jagger, with much dignity, reads a poem from Shelley for Brian Jones. The video cover, incorrectly, states the inclusion of 8 complete Stones songs in this video. Midnight rambler, however, starts halfway the song and Sympathy for the devil is edited (from the original 18 minutes) to approx. 10 minutes. Musically, the Stones are not on their peak during this show. But, being it the first show for Mick Taylor and a farewell to Brian Jones, it's truly a 'must have' for every Stones fan. The songs: Midnight rambler, Satisfaction, I'm free, I'm yours and I'm hers, Jumpin' jack flash, Honky tonk women, Love in vain, Sympathy for the devil.
Ladies & Gentlemen The Rolling Stones **** Released by Video Classics, Australia. Colour, mono, 82 min. PAL (cover states 93 min.) No ordernumber. A complete concert (15 songs) on video of the 1972 US tour. Filmed in Fort Worth, Texas, June 24th, 1972. This film was shown in US cinemas after the tour. Unfortunately, the sound quality of this video is moderate. The quality of the picture is good but quite dark. The shots are mostly close-ups. Nevertheless: a collectors item which deserves a re-release. The songs: Brown sugar, Bitch, Gimme shelter, Dead flowers, Happy, Tumbling dice, Love in vain, Sweet Virginia, You can't always get what you want, All down the line, Midnight rambler, Bye bye Johnny, Rip this joint, Jumpin' jack flash, Street fighting man.
Video Rewind **** (subtitle: Great video hits) Released in 1984 by Vestron video int. Colour, hi-fi stereo. 60 min. PAL Ordernumber: 51016 ves 1016 A very nice video containing 10 video clips and 2 live songs. From a rock and roll museum, Bill Wyman and Mick Jagger, with much humour, 'look back' on their career and present the clips. Until now the Stones have, unfortunately, never released a complete survey of their clips. This video can be seen as a start however. Research for this video was coordinated by Stones fan James Karnbach and the video was directed by Julien Temple. Picture and sound quality are excellent, this video deserves a place in the collection of every true Stones fan. The songs: She was hot, She's so cold, Emotional rescue, Waiting on a friend, Angie, Brown sugar (live), Neighbours, Too much blood, It's only rock 'n roll, Miss you, Undercover of the night, Start me up (live).
Let's Spend The Night Together **** Released in 1988 by Warner Home video. Colour, hi-fi stereo. 87 min. PAL Ordernumber: PES 38055 This is the video release of the cinema-movie 'Time is on my side' by the famous movie-director Hal Ashby. The 25 live songs were recorded during the 1981 US tour at the Meadowlands Arena in New Jersey and the Sun Devil stadium in Tempe Arizona. The sound quality of the European release is very moderate. All songs are shortened in order to keep the movie within the 90 minutes limit. Due to the use of many camera's, the movie is very enjoyable to watch. 'Let it bleed' is included but is not mentioned on the cover. Note: a second version of this video exists with the title 'Rocks off'. In this release the song 'When the whip comes down' is included. The songs: Under my thumb, Let's spend the night together, Shattered, Neighbours, Black limousine, Just my imagination, Twenty flight rock, Let me go, Time is on my side, Beast of burden, Waiting on a friend, Going to a go go, You can't always get what you want, (introduction), Little t & a, Tumbling dice, She's so cold, All down the line, Hang fire, Miss you, Let it bleed, Start me up, Honky tonk women, Brown sugar, Jumpin' jack flash, Satisfaction.
25x5 The Continuing Adventures of the Rolling Stones ***** Released in 1989 by CMV enterprises. Colour and b/w. Hi-fi Stereo. 130 min. PAL Ordernumber: PES 38055 An exellent documentary of the 'adventures' of the Stones between 1963 and 1989. Live fragments, interviews and parts of 'Rock and roll circus' and 'Cocksucker blues'. The live recordings from the 60's are (alas) shortened but in exellent quality. The oldest live recording is from February 1964: the Stones play 'You better move on' in the Arthur Haynes show. Also fragments of the Stones in TV shows like Ready steady go, Ed Sullivan and Hollywood Palace are shown. We see parts of the famous Kurhaus concert in Holland (August 8, 1964) and a Muddy Waters concert from 1981 where he was joined by 3 Stones members. One of the highlights of this video is the famous publicity stunt of the Stones from 1975 when they played live on a open truck in the streets of New York to announce their US tour. The picture and sound quality is excellent. Included is the clip 'Rock and a hard place'. A must! Also for sale on laserdisc. (cont. in IORR 33)




It's Only Rock'n Roll no. 32 - March 1998 - © The Rolling Stones Fan Club Of Europe