I-CONTACT
The Complete Black-and-White
Rolling Stones Archives
of Gered Mankowitz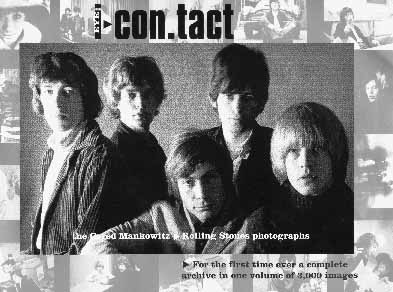 Genesis Publications are famous for producing limited edition high quality books with rare and unique paintings, photos related to rock artists, including The Rolling Stones. One of their recent releases is the now sold out book Crossfire Hurricane - Photos by Bob Gruen. This time they have in production a new and even more limited book - I-CONTACT - The Complete Black-and-white Rolling Stones Archives of Gered Mankowitz.

It is not every day that a celebrated photographer lets you reproduce his complete archive in one volume. But that is exactly what Gered Mankowitz has allowed, with the promise that the publisher Genesis restrict the edition to only 950 copies worldwide.
There are 3,000 Rolling Stones images reproduced as enlarged 35mm contact sheets or same-size 2 1/4 inch square frames in this massive A3 torne. Eighteen full-page images also accompany Gered's text.
The final copies of Gered's last book Mason's Yard to Primrose Hill, now completely sold out, were sold at five times regular price, and are now hard to get at a reasonable cost. On this basis, demand for I-Contact is going to be very high indeed. Make sure you order this book now in order to secure your copy.

The total of 950 copies of this book are spiral bound in heavy printed boards, with specially-produced linen tester magnifying glass, housed in a solander box. Autographed by Gered Mankowitz. Size 297 mm x 420 mm. Price GB pounds 165 plus GB pounds 10 shipping, or US $280 plus US $17 shipping. ISBN 0 904351 61 0.
Copies numbered 1 to 100 from the edition are Deluxe copies special bound with full leather boards, with a signed print direct from the negative. The Deluxe edition is priced at GB pounds 295 or US $495, including postage.
The book I-Contact is now in production, and will be shipped to customers pre-ordering the book once it is finished some time in December this year. IORR has secured some copies for their members, and if you are an IORR member you may order your copy now my sending an email to IORR I-CONTACT orders. Make sure to specify that you want to order the book I-Contact, and also if you want the standard edition or the Deluxe version. Pre-orders will be given priority as they come.
This is a service to IORR members only. To become a member of IORR see the How to subscribe pages and the online IORR subscription form.
Contact information for Genesis Publications Ltd:
Genesis Publications Ltd.
9 Pilgrim House, Quarry Street,
Guildford, Surrey, England GU1 3XY
Tel: +44 1483 537431
Fax: +44 1483 304709
Email:

[email protected]
Contact information for sales: Widemedia
It's Only Rock'n Roll 1998 -
© The Rolling Stones Fan Club Of Europe