Crossfire Hurricane
Photos by Bob Gruen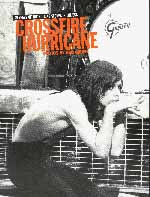 Genesis Publications have produced a great new and exclusive photo book, this time presenting photos by Bob Gruen. The title is:
Crossfire Hurricane
25 Years of Rolling Stones Photographs by Bob Gruen
The book is hand crafted, autographed, and numbered in a limited series of 1750 copies. Once they are gone, they are gone. There are photos spanning 25 years of Stones history, from the American tour in 1972, all the way up to and including the press conference under the Brooklyn Bridge on Aug. 18, 1997. This is a unique collection of over 350 great photos, from Stones tours, and rare events, solo projects, and Stones with John Lennon, Bob Dylan and Chuck Berry. The book totals 128 pages.
Genesis Publications is known from their hight quality, limited edition art books, with superior paper and printing quality. They have done some on the Beatles, and a couple related to the Stones: First the huge box called Blinds & Shutters by Michael Cooper, including sigatures and unique photos (priced about GBP 350 = USD 500). Then they produced the book From Mason's Yard To Primrose Hill, with photos by Gered Mankowitz (priced at about GBP 90 = USD 135). These days these books are hard to get, and trade at much higher prices.
The book just got 8 additional pages from the tour start in Chicago, and was delayed until mid-November. This seems to be the perfect Xmas gift, if you can afford it!
Members of the It's Only Rock'n Roll fan club will receive a special offer for this book, so that you are all secured your precious copy of this unique book! The offer will be included in the next issue IORR no. 30, due out next week, and the price is said to be GBP 92 plus delivery. Prices may change, see final information in IORR 30.
See some photo samples from this great book!
Contact information for Genesis Publications Ltd:
Genesis Publications Ltd.
9 Pilgrim House, Quarry Street,
Guildford, Surrey, England GU1 3XY
Tel: +44 1483 537431
Fax: +44 1483 304709
Email:

[email protected]
Contact information for sales: Widemedia
It's Only Rock'n Roll 1997 -
© The Rolling Stones Fan Club Of Europe