Marianne Faithfull on Tour
Some of you enjoyed Marianne Faithfull during her concerts last summer of 1995, like the one at Sheperd's Bush Empire, during the Stones concert series at Wembley in July. Now she is on to a new project, touring clubs in Europe with "An Evening In The Weimar Republic", singing the songs of Kurt Weill, featuring Paul Trueblood on the piano.
For a review of the (pre-tour) Berlin show see UK magazine MOJO Feb. 96 issue page 93.
This is a concept Marianne has been trying out for a while, and most recently in Europe this spring. It was a big success, and lots more dates are set up this fall, all over the world. Some dates are sold out - buy your tickets now!
The concept is Marianne singing on her own, with just a piano player, the songs of Brecht and Weill. It's not a rock show, but rather a strong personal appearance by Marianne Faithfull. If you are lucky you may get "As Tears Go By" as an encore. Anyway, don't miss her when she is around this fall.
Check out the great Marianne Faithfull site for more details about Marianne, and for updated tour dates!
This is the set list from the Berlin concert this spring: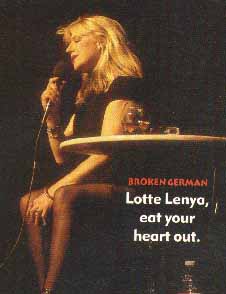 Alabama Song
Pirate Jenny
Ballad of Sexual Dependency
Bolevard Of Broken Dreams
Complainte de la Seine
What Become of the Solder's Wife
Falling In Love Again
Mack The Knife
Don't Smoke In Bed
Suraboya Johhny
Don't Forget Me
She
Mack the Knife
Solomon Song
She Moved Through The Fair.

These are the tour dates so far:
March 1996:
6, 7: Thessalonika - Milos Club
8, 9: Athens - Rodon Club
11: Naples *
12: Florence *
13: Milan *
15: Zaragoza - Sala Multiusos
16: Murcia - Auditorium
18: Luzerne - Union Theatre
19: Bern - Bierhubeli
20: Vienna - Metropol
22: Oslo - Rockefeller
23: Helsinki - Student House
24: Stockholm - Gino
26, 27: London - Jazz Cafe.
 
After IORR 25 was out, I got the then unconfirmed dates confirmed as shown above (*) in Italy.
This is a different concept from previous Marianne shows, just herself and Paul Trueblood on piano; no other backing. I will be in Oslo on March 22, to check it out. If any of you go to any of the early shows, please email! Thanks!