The Munich press conference
The Rolling Stones did not plan any press conference at all for the tour opening in Berlin, as they thought the Berlin show itself would give all the press attention they needed. But then Keith got his injury, there were delays, and suddenly there was a new tour start in Nuremberg.
The press conference in Munich was called on because of the delays, and also probably because of all the press attention the Stones had got due to the UK cancelations. It was to be a short session only.
Keith was ready to perform by June 10, and they all arrived in Munich that day. Then they spent the evenings of the 10th and the 11th at the Eisbach Studios. They sounded great, and Keith was absolutely in top shape, no worries about moving around or anything. Some new songs were tried out, and worked perfectly.
The press conference in Munich were on at 5pm at their hotel. About 150 journalists and camera people from all over Europe were packing the room. Michael Cohl, the tour promoter opened the conference, then the Stones were on. Keith looked extremely healthy, and so did Mick, Charlie and Ronnie. See photo below. Mick asked the opening question: "Keith, what was the book ....?" Keith replied "Leonardo da Vinci's book on anatomy". Lots of laughs. Keith was asked by the press if he was ready. He replied: "Yeah, I'm cool. Thanks for asking". Then he did his famous bow twice, to show he was perfectly fit. As they left, Keith signed a record sleeve, bowing deeply, to really prove his ribs were fine (see photo on page 4). It was all over in seven minutes, a fast one!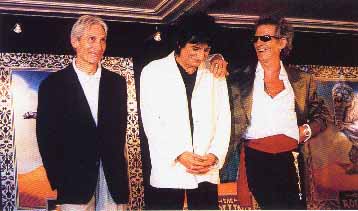 It's Only Rock'n Roll no. 33 - June 1998 - © The Rolling Stones Fan Club Of Europe