Magazines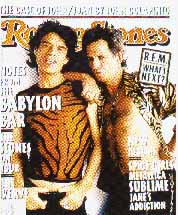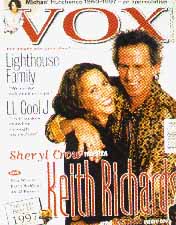 Maximum Guitar March 1998 (USA) has got an article featuring 5 pages on Ron Wood. Great color photos. The interview is done on Oct 27, 1997 in Norman, Oklahoma, as Ronnie is having a day off for resting, following four live appearances in a row (Washington Oct. 23, Fashion Awards MSG Oct 24, Port Chester Oct. 25, Nashville Oct. 26). Ronjie talks about how the new album and tour came on, about playing, and how they got the dust off his pedal steel in Nashville to do Far Away Eyes.
El Laberinto no. 30, Feb. 2, 1998 (Mexico) has got Mick & Keith in black and white on the cover. Inside is six pages of color photos and features (in Spanish).
Out Nov. 97 (US magazine) has got Mick Jagger on the front cover, and inside a feature of Mick Jagger and his role in the film Bent. There's a full page color photo of Mick playing a transvestite in this Movie (dressed like a woman).
Mix Nov. 1998 (Argentina) has got a great color photo of the Stones on the cover, and 8 pages inside, text and photos (in Spanish).
VOX Issue 87 Jan 98 (UK) has got a great color photo of Keith and Sheryl Crow on the front page. Inside more photos and text in the 8 pages feature.
Pollstar Jan. 5 1998 (US concert industry weekly) has got a creat collage color front page with the BtB tour, and inside features of the success of the BtB tour up to the 1997 year end.
Rolling Stones issue 775, Dec. 11, 1997. Yes, take a closer look at the front cover photo of this magazine! It's the famous magazine Rolling Stone, making tribute to the Rolling Stones by adding an extra "s" to their title on the front cover, for the first time ever! Mick and keith on the cover. Inside five great pages with interviews with Mick, Keith, Ronnie and Charlie. Simply a must. Just get it!




It's Only Rock'n Roll no. 32 - March 1998 - © The Rolling Stones Fan Club Of Europe