St. Louis - Dec. 12, 1997
The St. Louis show was the final show of the 1997 part of the BtB tour, and it was selected to be the so called Pay Per View show (PPV), i.e. the one they would broadcast live on TV and radio in USA. The show was in the quite new TWA Dome, previously only used for concerts by U2, a few weeks earlier, when they had 15,000 empty seats. This time it was a sell-out with 46,500 fans in the crowd.
Dave Matthews did a great duet with Mick on Wild Horses. Tah Mahal, as you may remember from the Rock'n'Roll Circus show, joined in on Corina Corina. Saxophone player Joshua Redman was guest playing on Waiting On A Friend.
Even "Anybody Seen My Baby" worked great for the night. It was a great long show of 2 hours 40 minutes, closed with more confetti than ever before....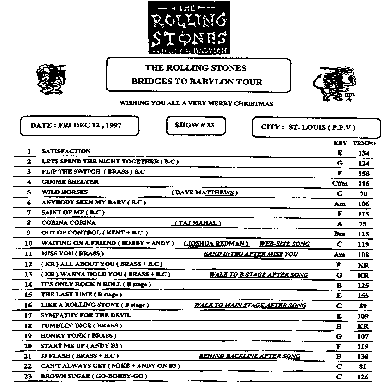 It's Only Rock'n Roll no. 31 - Jan. 1998 - © The Rolling Stones Fan Club Of Europe