The show must go on
Mick had recovered from his slight throat disease (laryngitis) in Philadelphia, when they rolled into New Jersey, as reviewed in IORR 30. Next was two shows in Foxboro (near Boston). Star Star had got it's debut for the tour in NJ, and was to appear more times, as it seemed to be very popular.
The first part of the show stayed fixed during most parts of Oct. and Nov., as they played Satisfaction, It's Only Rock'n Roll, Let's Spend The Night Together, Flip The Switch and Gimme Shelter. Lisa Fischer is making Gimme Shelter one of the highlights of the concert, as she really gives it 100%, and the crowd loves her.
Sister Morphine got more or less permanent for a while, as Mick is doing a greta version of it. Anybody Seen My Baby has been permanent, even if hasn't been working so well all the time. The rap section is making local cheering, as they mention the town they are playing. 19th Nervous Breakdown and Bitch has been alternating in this section.
Out Of Control has been another crowd pleaser. Mick puts on his golden or silber jacket, start out slowly, but is jumping around like a madman while the lights are flashing all over the stage. A great song, only skipped in Quebec so far (due to Mick's 2nd laryngitis...).
The web choice is always interesting. It't usually song number 10, and they play the song that most fans have been voting for on the internet. Under My Thumb and Star Star have got their turns. Other songs have been played only one or a few times so far, like Memory Motel, Shine a Light, Waiting On A Friend etc. See all the web choice songs in the set lists. The web choice is supposed to be random and controlled by the fans only, but by pure luck they got Far Away Eyes in Nashville, and even more intereresting, Waiting On A Friend came from nowhere and became a webchoice winner in two minutes on showday in St. Louis.
Miss You is probably great if you see it not too often. And it is generating lots of singing along and crowd reaction. But it's one of those songs you have seen a lot if you go to more than just one show.
Keith has been doing his two songs permanently, All About You and Wanna Hold You, except for three times late in November, when he tested out You Don't Have To Mean It from the new album.
The center stage appearance has been a highlight to a lot of fans. The band is doing three songs in a small stage in the center of the stadium, all monitors are turned off, and it's all down to rock'n roll... The sound has not been as good when they perform on the small stage, while back on the main stage the sound is usually perfect, except for in some stadiums with bad acoustics.
When returning from the small stage, they run into a standard finish of five songs incuding Sympathy For The Devil, Tumbling Dice, Honky Tonk Women, Start Me Up and Jumping Jack Flash. You Can't Always Get What You Want was out as the first encore before Brown Sugar for a long time in Oct/Nov, but was back often in Nov/Dec.
The VH-1 Fashion Award Show was recorded on Oct. 24 at the Madison Square Garden Theatre. This is a smaller venue within the MSG building The show was conducted in typical awards show format, alternating awards with guest artists. The Stones appeared twice.
First early in the show, they played a standard version of "Anybody Seen My Baby". Toward the end of the two hour show, they returned to play "Out of Control" It was broadcasted on Oct 28th. The crowd was invited guests, mostly studio people, not really a typical crowd.
On Oct. 25, the day after,they did the "10 Spot" club show, see special report.
The concert in Nashville on Sunday, Oct. 26 started as early as 5:30pm in the afternoon, and they left the stage by 7:45. Mick said he just had breakfast... It was a Sunday at a residence area, that's why they had to finish early.
In Albuquerque Oct. 30, Sheryl Crow was on stage to sing duet with Mick on Dead Flowers. Unfortunately, they had a problem with her microphone...
The Ft. Worth, Texas show on Nov. 1 was a terrible experience to lots of fans, being outside the huge barb wire fence, but still paying for the show. It was like being a rat in the cage, only outside...
During the five days break from Nov. 1 to Nov. 7, the Stones stayed in Laguna Beach, California, resting and rehearsing.
Then it was off to Phenix, Nov. 7, to debut Saint Of Me, which has been in the set ever since. During Sympathy For the Devil, a big fire started behing the stage, and the fire department could be seen working while the Stones played. The show never stopped, but the left inflatable golden girl had gone from the Babylon stage evert since. Up in smoke...
The Stones did six shows in California, two in Los Angeles and four in Oakland (near San Francisco). Then they did the small arena show in Las Vegas. In late November they announced the shows at the Madison Square Garden in New York in January. Just a couple of days later the first European dates were announced in Germany and Holland. The Stones did Minneapolis, Seattle, Detroit (Pontiac), Miami, Orlando and Atlanta. Then the final 1997 show in St. Louis on Dec. 12.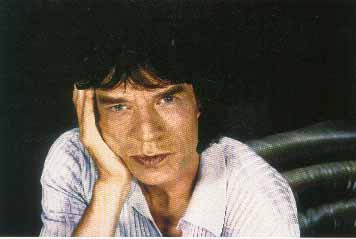 It's Only Rock'n Roll no. 31 - Jan. 1998 - © The Rolling Stones Fan Club Of Europe