Ronnie Wood with Bob Dylan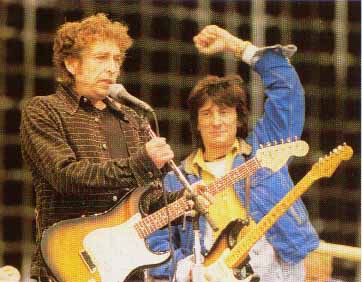 It was June 28, 1996, Hyde Park, London. The crowd was packed to 150,000 people, including Mick Jagger, coming to see Bob Dylan, Eric Clapton, Pete Townshend, Roger Daltrey and more. Bob Dylan had a short one hour set in the summer festival, playing the following songs:

Leopard-Skin Pill-Box Hat/ All Along The Watchtower/ Positively Fourth Street/ Just Like Tom Thumb's Blues/ Tangled Up In Blue(Ac.)/ Don't Think Twice It's All Right(Ac.)/ Silvio/ Seven Days/ Highway 61.

Ronnie joined the band for all but the acoustic set, and Al Kooper was on keyboard throughout. Ronnie had not planned to play with Dylan at the concert, but was hanging around at rehearsals on Friday when Dylan asked if he would take part.

Bob and Ronne were seen in lengthy conversation before they launched into a version of Seven Days. And Ronnie, who has also sung a version of the song in the past, said Dylan had asked him how the last verse started because he had forgotten.

"I didn't ask him to do the song. He came to me and said, 'How does the last verse go?'," said Wood. "I said 'I don't know, you wrote the song'.

"He then said, 'Give me a clue', and I said, 'I think it is the one about My Beautiful Comrade from the North.'

He said, 'No that's the fourth verse not the last one'.

And I said 'Bob, just get on with it'..."





It's Only Rock'n Roll no. 27 Nov. 1996 - © The Rolling Stones Fan Club Of Europe