Stones by Krüger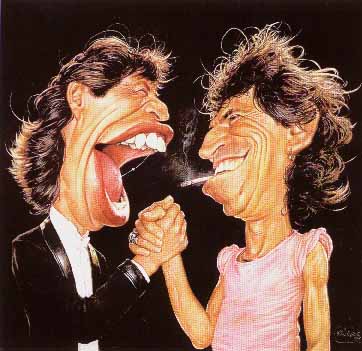 You have probably seen some of his works in a magazine, bootleg cover or book. Sebastian Krüger, born 1963 in Hameln, Germany, published his works of Rolling Stones paintings in the book "Krüger - The Rolling Stones" in 1990, published by Semmel Verlach in Germany. His characteristic portaits are exceptionally great, and these days his customer list includes Ariola, EMI, Stern, Rolling Stone Magazine, and lots others.
Now, the material has been compiled once more, new paintings have been added, and a new edition of the book was published in August this year by USA publisher Morpheus International. The price is about $30, but it is worth every cent! The format is large, about 25 x 36 cm (10" x 14"), and the print is high quality art colors on thick paper. Excellent colors, excellent glossy!
See samples on this and the next page!




It's Only Rock'n Roll no. 27 Nov. 1996 - © The Rolling Stones Fan Club Of Europe