Books and magazines
Words of Wonder Vol. 4 is a book by Olaf Reutebuch and Andreas Zimmermann, published by Stoneware Publishing, Hamburg, Germany, 1996. It's about 240 pages, A5 size, loose pages, printed on red paper. It's a tape collector's paradise, listing all known tapes and concerts during the Voodoo Lounge World Tour 1994-95. All the exact words Mick said in-between the songs are listed. Some work! Previous titles are vol. 1 (64-76), vol. 2 (77-85), vol. 3 (86-90).
Voodoo Chillen is a book by Olaf Reutebuch, published by Stoneware Publishing, Hamburg, Germany, 1996. It's about 170 pages, A4 size, properly binding. The book is a collection of private concert reviews, as done by various people on the internet, during the 94/95 Voodoo Lounge tour. Some photos as well. Nice compilation, as you ca read your way through the entire tour, day by day, review by review. The names of the people writing the actual revews should have been there, but have probably been left out for copyright reasons...
Rock And Roll Circus is a book box size 12" like the old LP albums, made by UFO Music, out Nov. 96, to match the CD/video release of RnR Circus. The box contains a book with rare color photos from the Circus apperance; the only known color photos, as all other Circus books are in black&white.
The Rolling Stones Rock and Roll Circus, first published by Faber & Faber, UK in 1991, shows Randolph photos in B&W. This book is old now, listed here for your reference...
Rock and Roll Circus is a box/book, limited edition 2000 copies by Tracks, UK, 1995. B&W photos by Randolph.
Rolling Stones Calendar 1997 (1): Oliver Books of UK have made a new Rolling Stones calendar for 1997. It's 4 color photos and 8 b/w photos. Nice!
Rolling Stones Calendar 1997 (2): UFO Music of UK have made a 1997 calendar based on really old photos taken by Philip Townsend, one of their their first photo session ca. 1963.
Basement News (c/o Günter Beetz, Waldstr. 59, D-63110 Rodgau 6, Germany) is an excellent Stones collector's magazine, published by Dieter Hoffman, long time Stones archivist and man of great details. The latest issue # 16 was out in August, listing lots of new bootlegs, including all VGP titles. Recommended.
Stones People Europe (Middenweg 2, 1217 HT Hilversum, Netherlands) has got no. 3 out this fall, 98 pages books of great photos and stories. Also, they reprint the now rare Rolling Stones Book. Text in Dutch and English.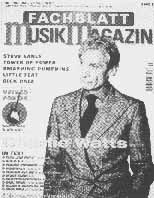 Charlie Watts is on the front page of German magazine Fachblatt MusicMagazin no. 7/96. Inside there is 4 pages on Charlie, including a great color drawing.
Charlie Watts is also featured on the front of French Batteur Magazine no. 92 of July/August 96. Inside 8 pages on Charlie, including great photos.
Q and MOJO magazines of UK is continuing to cover the Rolling Stones in most of their issues. MOJO nov. 96 is featuring RnR Circus and the Krüger book. Q Sept. 96 has got a one page Charlie Watts "questionaire" on page 178. Charlie states: "I was a grumpy old teenager. Not as grumpy as Bill Wyman I might add".
Record Collector (UK) of Sept. 96 is featuring Sticky Fingers in detail, and Mick is on the front cover.
Der Spiegel, Germany, who claimed the Stones did playbacks, have now said sorry, we did it all wrong, in issue 48/96...
------------
The Charlie Watts Quintet
Some of you had the pleasure of seing The Charlie Watts Quintet with Bernard Fowler and a 21-piece orchestra, in concert during the summer and fall. The concert in New York had changed from Carnegie Hall to The Supper Club.
The David Letterman show was a big disappointment to Stones fans, as they ran out of time, and all we got was a quick live take, no talks or anything else...
For the concert in New York, Supper Club, Keith Richards arrived about half an hour before the show, bringing his growing family, three generations. Keith is happy as usual, and salute the fans by waving back... During the introductions, Keith shouted "and finally we have Charlie, the old bastard" from his balcony. Charlie replied: "I've been following this guy my whole career, and now I can't get rid of him... Keith Richards"...
During the Charlie concert in Los Angeles, Mick Jagger and Don Was attended. Charlie finished off in London and Sheperds Bush Empire, and in October he went to Japan (any reports please?).
Stones on Internet
One year ago about 3% of all IORR members had a connection to Internet. Now this number has grown to 10%. Within 2 - 3 years, about 50% of all IORR members will be able to use Internet at home, at work or through a friend. The following information is to the 90% of you who are not yet familiar with Internet. This is not a commercial paid for by some Internet company, but rather a reply to all of you who ask how and why Internet is important to a Stones fan...
Internet is no magic. It's simply a way of connecting your PC to all other computers in the (Internet) world. Once the cable and other stuff is in place (check with a local Internet provider), you will be able to send and recieve messages within minutes, rather than days by letter/post.
The printed IORR magazine is limited to 32 pages of information, 3 - 4 times per year. On Internet, you will find the electronic version of the IORR magazine. The photos are not so glossy and great, but they are there. You can't bring it to your best reading spot, turn the pages the same way, hold it in your hand he same way. But, you will find a lot more information!
Since the debut in March this year, the IORR Web pages have had more than 500,000 hits, i.e. number of times someone has demanded information. At any time, night or day, many fans are visiting, from Japan, USA, Brazil, Australia, Canada, Europe, anywhere. There will be a Stones fan's beginners guide to Internet available soon too. If you need complete tour dates, detailed reviews, hot news or links to other Stones places, then use the IORR Internet Web address:
http://www.arena.no/stones
PS. The IORR magazine will be there still, and when the Stones tour, you will be mailed for sure, don't worry!




It's Only Rock'n Roll no. 27 Nov. 1996 - © The Rolling Stones Fan Club Of Europe