Long Ago & Far Away - Charlie Watts
Long Ago & Far Away: Virgin VPBCD 36. Marketed by Pointblank Records. The CD comes with a nice cover booklet, showing photos of the band members, some nice ones of Charlie, and also Bernard. The CD itself has got a nice photo print of Charlie and Bernard.
1. I've Got A Crush On You
2. Long Ago (And Far Away)
3. More Than You Know
4. I Should Care
5. Good Morning Heartache
6. Someday (You'll Be Sorry)
7. I Get Along Without You Very Well
8. What's New?
9. Stairway To The Stars
10. In The Still Of The Night
11. All Or Nothing At All
12. I'm In The Mood For Love
13. In A Sentimental Mood
14. Never Let Me Go
Charlie was the first of the Stones to issue a new solo album following the successful Voodoo Lounge tour of 94/95. His fourth solo CD is released by Virgin Records worldwide on June 11.
Just like his previous solo releases, this is another jazz record. It's basically Charlie Watts Quintet, featuring Charlie Watts (drums), Peter King (alto sax), Brian Lemon (piano), Gerard Presencer (flugal horn and trumpet), David Green (double bass). In addition they have got Bernard Fowler (vocals), famous from the Stones tours of 89/90 and 94/95, and Louis Jardim (percussions). Also, they are backed with a 24 piece London Metropolitan Orchestra.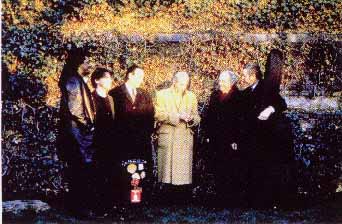 The album was recorded over a two week period in January 1996, and is the follow up release to his previous CD Warm & Tender from 1993.
The title is inspired by the track selections. As Charlie states, the songs on this album are the typical ones his mother used to sing to him when he was just a little boy, long ago...
The Charlie Watts Quintet origins from 1991, when Charlie got involved in releasing the 2nd run of his now rare book Ode To A High Flying Bird. This book, first time released in 1964, is a small and intereresting piece of work, all drawings by Charlie, inspired by the life of legendary jazz saxofonist Charlie Parker, known as "Bird".
For making a CD to come with the "Ode" box, Charlie brought in Peter King and David Green, both having worked with Charlie previously in his big band. Charlie and Peter was long time friends from the times back to grade school, and as youngsters they were next-door neighbors sharing the love of jazz music. Brian soon joined, and he recommended the then 18 year young Gerard for the group. When the quintet got together, a strong personal and musical chemistry was immediately apparent.
Bernard Fowler was invited to provide narration for a live tribute to Bird, reading from the text of "Ode" with the quintet, and he was singing on one song on their second release A Tribute To Charlie Parker With Strings.
The songs on Long Ago & Far Away are sweet, emotional and melodic, from writers such as Duke Ellington, Hoagy Carmichael, the Gershwins, Cole Porter and Louis Armstrong. Expect to see the Charlie Watts Quintet performing live in some selected places in Canada and USA, then may be in UK as well, but they will not tour extensively. If they are close to you, then don't miss it, as it my be a while untils they are back!
Charlie Watts we all know quite well, as a long time member of The Rolling Stones, way back since his first gig with the Stones on Jan. 14, 1963. Charlie had his original interest in jazz and skiffle music, but ended up being a drummer in the greatest rock'n'roll band in the world. During the past 15 years, he has got more time to work on solo projects, to pursue his passion for jazz music.
Dave Green was born 1942 in London, and began playing upright bass at age 16. Few monts later he joined a local jazz group with his friend and neighbor Charlie Watts. As a 4 time winner of the British Jazz Award for best bassist, Dave has been playing with everyone from Coleman Hawkins and Ben Webster to Sonny Rollins and Roland Kirk.
Peter King was born 1940 in Kingston upon Thames, and is widely acknowledged to be one of the world's fines alto saz players, working with jazz legends such as Bud Powell, Cannonball Adderley, Zoot Sims, and pop artists such as Ray Charles and Marlene Dietrich. He has won the British Jazz Award seven times in the alto sax category.
Brian Lemon has won seven British Jazz Awards. He was born 1937 in Nottingham, and moved to London in the 50's. He's been working with such greats as Ben Webster, Charlie Shavers, Benny Goodman, Milt Jackson and Ray Brown.
Gerard Presencer, born 1972 in London, is the young guy in the quintet, but still the star of his own. He won the British Jazz Award in 1995 trumpet cathegory. Having played with pop artists such as Tina Turner, James Brown, Ray Charles, Eartha Kitt, Pet Shop Boys and Brand New Heavies, he's certainly been around. And do you remember that trumpet solo piece shortly before the Stones were on during the Voodoo Lounge tour? That was indeed the solo trumpet of Gerard, playing on Us3's Cantaloop.



It's Only Rock'n Roll no. 26 June 1996 - © The Rolling Stones Fan Club Of Europe