Underground records keep flooding out of all possible sources including Japan, Italy, Germany, USA etc, and even if some titles may be hard to find, it seems like the will to press whatever is around is there as always. To get these titles you have to find some obscure backyard store, some record fare, or some mail order company. Or, ask a friend if he knows where to find these titles.
Some titles are exc, means really excellent in quality. Others are vg, means just "very good", i.e. just average audience recordings. Those being "good" is simply bad. That's how grading has been for a while, so the terms are in use still.
CD1: "Keith Richard's Voodoo Lounge" 1. Love Is Strong 2. You Got Me Rocking 3. Sparks Will Fly 4. The Worst 5. Make It Now 6. If (Moon Is Up) 7. It's Funny 8. Sweethearts Together 9. Anything For You 10. Baby Break It Down 11. You Got It Made 12. Thru And Thru 13. Track With No Name. Comments: Keith on vocals on these tracks!
CD2: "Stack O' Tracks 1. Love Is Strong 2. 5-Stringt Riffin 3. You Got Me Rocking 4. Sparks will Fly 5. New Faces 6. Moon Is Up 7. Out Of Tears 8. I Go Wild 9. Brand New Car 10. Sweethearts Together 11. Suck On The Jugular 12. Blinded by Rainbows 13. Baby Break It Down 14. Thru And Thru 15. Mean Disposition. Comments: Instrumentals.
CD3: "Zulu Fun Mixes" 1. Monsoon Ragoon 2. Sweethearts Together 3. Tease Me 4. Possesses Me 5. Bump and Ride 6. Middle of the Sea 7. Zulu #1 8. Zulu #2 9. Samba 10. Alright Charlie 11. Another CR 12. Yellow Jacket 13. Ivy League 14. Honest Man #1 15. Honest Man #2 16. Zip Mouth Angel. Comments: Outtakes. some raw, some great, really interesting!
CD4: "Honest Ron Wood and Keith Richard "It's a tall order for two queers' 1. It Takes a lot to Laugh 2. Trouble Man #1 3. Trouble Man #2 4. When I Wage a Crown 5. Nearness Of You #1 6. Nearness of You #2 7. Nearness Of You #3 8. Out Of Tears 9. Studio Conversation 10. You Got It Made. Comment: Piano rehearsals, blues, demos.
Both Voodoo Brew and Stew are circulating at a prices of $100 or more these days. Brew is available as a plain no-box solution as well, lower priced, same CD's.
Voodoo In The European City Of Culture: 2CD. LU 27081995. Source: Luxembourg Aug. 27, 1995. Complete show. Quality: Vg audience recording. Bonus track Like A Rolling Stone with Bob Dylan from Montpellier (good- recording).
All Things Must Come To An End: 2CD. Spark Records SP 001/2. Source: Rotterdam Aug. 29, 1995. Bonus tracks: Angie (Rio) and Beast of Burden, Fool To Cry, Like A Rolling Stone from Nijmegen June 14, 1995.
Da'Lapa Incident: 2CD. The Swinging Pig TSP-CD-201-2. Source: Lisbon, Portugal, July 24, 1995. Complete concert. Quality: Vg+, i.e above average, one of the best European audience recordings.
Holland 1995: 4CD box. This Midnight Beat box, as reviewed in IORR 25 page 23, has been revised so that it has now got a new and 4th CD, with tracks from Rotterdam Aug. 29, 30, 1995. Quality: Vg+ audience. Label: MB CD 057.
CD-4: Intro/Shattered/Let It Bleed/Angie/Shine A Light/Dead Flowers/Far Away Eyes/Midnight Rambler/Connection/Jumping Jack Flash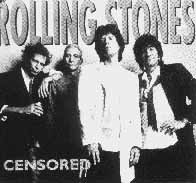 Censored: 1CD. Electric 30041. This is a CD recording of the Stripped video as listed in IORR 25 page 4, 13 tracks from Wild Horses to Let It Bleed, plus some bonus tracks - old outtakes. Exc.
Schuttorf: 2CD. DR 896, 996 ROST is complete Schuttorf Aug. 12, 1995, Vg.
The Twins In Berlin: 2CD. Happyweed HW 022/023 is Berlin Aug. 17, 1995 + Leipzig bonus tracks. Simply terrible sound, worst I have heard in years!
Surprise... It's Cologne! 2CD. ACD/OSA CD1/2. Cologne June. 20, 1995 with bonus tracks, quality Vg.
Corrections (IORR 25 page 2, 12):
Can't Get Next To You was played only once in Europe, at Paradiso May 27, but several times in USA/Canada '94....
No Expectations has also been played in Cleveland (not only in Tokyo).
Just My Imagination has also been played in Adelaide (not only in S-America).
Did you know?
Street Fighting Man of the Stripped video is different from the version of the stripped CD? On the tv special says Jagger after 1.41 sec someting like "get down". After these words there is a solo for about 10 sec. The solo on the cd is more than 30 sec. The strange thing is now that both versions end at the same way at the same time!
PS. Thanks to Hendrik Mulder for pointing out this!



It's Only Rock'n Roll no. 26 June 1996 - © The Rolling Stones Fan Club Of Europe