The Rolling Stones in Berlin
Waldb�hne - Sept. 10, 1998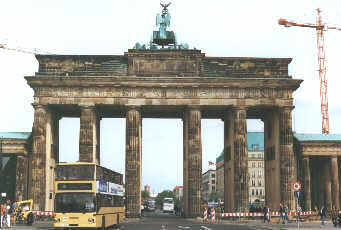 Berlin - Informations around the concert of the Rolling Stones at Berlins Olympic stadium on Friday, May 22, 1998. Updated as per Sept. 1, for the Waldbuhne show.
Accommodation
If you don't know, where to sleep, try the following possibility about which I was informed just these days. Hotel Du Centre Francais Berlin (yes, they speak french too) District Wedding 13359 Berlin Muellerstrasse 74 Tel. 030( for Berlin) - 4 52 80 45 Fax 030 - 4 52 80 46 Underground station Rehberge (not far from the former Honky Tonk) Prices : Single room 75 DM, Double room 100 DM rooms with several beds 42 DM each person, all prices include breakfast. Please notice: all rooms are without toilet and shower in the rooms, these are seperate on the floors. The are also reduced prices for students.
Stones-Fans / Glimmer-Meetings
The place to meet after the Waldbuehne show is the Cafe Chaos in Sophie Charlotte Str. 53 (next to Kaiserdamm) in the district Charlottenburg, easy to reach from all directions and only 3 or 4 stations away from Waldbuehne/ Olympic Stadium.
Connections
Tram Lines 2, 3 and 4 and the night line N 54. (driving every 10 to 15 minutes) Leave at station: Hufelandstrasse. Walk on the Greifswalder Strasse in dircetion of a bank (SPARKASSE), this is the street and all in all you walk 2 minutes. BUS 100 ( recommended for tourists) to station Boetzowstrasse walk opposite the Boetzowstreet, then left, all in all 4 minutes. BUS 257 stop at station Hufelandstrasse/Boetzowstrasse all in all 3 minutes to walk. The VOODOO LOUNGE is open daily from 18 h to 6 h in the morning. The question still is, if they open some extra time during the presence of the Stones in Berlin. If you only want to stay in the middle of Berlin, look for the Hard Rock Cafe located in the Meinickestrasse 21, some meters away from the Kurfuerstendamm in the district Charlottenburg (10719) Telefon 88 46 20. traffic connections Don't forget, Berlin is a big city. For the fastest transport use the underground trains. Inside the whole town there is only one tariff for two hours there are also cheap tickets for 24 hours, if you drive a lot valid from 3 h to 3 h. Taxis are about 2 DM per kilometer. You can reach the olympic stadium with the following transport - Underground station Olympiastadion - Linie U 2 - plus 10 mins walking S-Bahn (urban railway) Olympiastadion - S 9 - just 1 minute to walk this connection is newly opened, and very fast ! Busses 149 and 218.
Security
If you count all your big money drunken in the night on the middle of an empty street, this is a risk, beside this Berlin is not more unsafe than other big cities. But generally, always watch your things,.
Club - Gig
This is old stuff from the Berlin tour opening - it's kept in here for the curiosity - it never happened, too bad...

If you can remember the club-gigs at the Paradiso, Olympia or in Brixton so there is also the possibility of one club gig in Berlin. Think about the following clubs, when finding out what and when (without any guarantee)
Huxley's Neue Welt (District Neukoelln) Hasenheide 108-114
Traenenpalast (District Mitte) Reichstagsufer 17
Arena (District Treptow) Eichenstrasse 4
Tempodrom (District Tiergarten) In den Zelten
Halford (Distirct Lichtenberg) Storkower Strasse 123 - Halle 38
Quasimodo (District Charlottenburg) Kantstrasse 12a
Loft oder Metropol (District Schoeneberg) Nollendorfplatz 5
Columbiahalle (District Tempelhof/Neukoelln) Columbiadamm
Pop
Recommended CD and electric markets: W O M (District Charlottenburg, near Kurfuerstendamm) Augsburger Strasse 36 high prices, great selection Pro-Markt (District Charlottenburg) Kurfuerstendamm 206-208 great selection, lots of cheapos 2 0 0 1 (District Charlottenburg) Kantstrasse 41-42 all Stones CDs 12.90 to 13.90 DM, even the new digital remastered versions of live CDs, (Bridges To Babylon 30 DM) Saturn-Markt (District Mitte) Alexanderplatz 8 Leuenhagen & Paris (District Reinickendorf) Scharnweberstrasse 25 There are not so many shops with bootlegs, only on Saturday and Sunday there is a market on Strasse des 17. Juni (district Tiergarten) where you can get rarities and some illegal stuff.
Ron Wood & Sebastian Krueger exhibition
Since May 1 there is an exhibition of Ronnie Wood and Sebastian Krueger pictures in the Kunsthalle Berlin at Budapester Strasse 42. (district Charlottenburg - opposite the famous church Gedaechtniskirche). Opening hours till May 22, 1998 daily 13 to 24 h, entrance 6 DM. Rumour usually are that also Ronnie will appear during his Berlin visit. On May 21 and May 22 there is announced Pre-show and after-show parties. Take time, because there are also longer videos to watch. Another exhibition with various Stones stuff is announced for the Stones week in the rooms of Magazine TIP, located at Potsdamer Strasse 89 (district Schoeneberg). Details coming up.
Thanks to Axel Schumacher, Berlin for supplying details about Berlin!
---
Check out more info at:
---
For more news see IORR 33 mailed out late June 1998!
---




It's Only Rock'n Roll 1998 -
© The Rolling Stones Fan Club Of Europe