Never Stop Rockin'
Review of Carlo Little's solo album
based on a one-off unique demo version of the unreleased album
by Eddy Bonte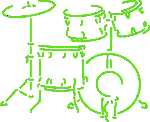 Former temporary Stones drummer and one-time Charlie Watts replacement Carlo Little recorded his first solo album two years ago. Called Never Stop Rockin', it mainly consists of pounding rock'n'roll and thumping Chicago blues. He succeeded in recruiting Rick Brown (bs) and thus recreated the original rhythm section of Cyril Davies R&B All Stars! Equally present is Long John Baldry, who used to sing for Cyril Davies R&B All Stars and continued the band as Long John Baldry and the Hoochie Men after Cyril's death. Moreover, famous friends and admirers such as Jeff Beck, Art Wood, Ron Wood, Nick Simper (Deep Purple and Screaming Lord Sutch), Matthew Fisher (Procol Harum) or Geraint Watkins gladly added their talent. No wonder the band is called The Carlo Little All Stars! Regretfully, Carlo has not found a record company to release these fourteen tracks. Hoping to arouse some interest somewhere, Carlo burnt exactly one cd for me to review. A first article appeared in Flemish e-zine Keys and Chords and this is the first ever review in English! Carlo equally obliged to a phone interview to comment on his work.
Carlo Little was rediscovered by the press in 1998 when the Rolling Stones toured the UK and someone found out that the hot dog seller at Wembley Stadium had once played for the Rolling Stones... who were new to perform at that very same venue! To cut a long story short: Carlo was the drummer of Screaming Lord Sutch and the Savages, undoubtedly the UK's loudest, wildest and amazingly successful rock band of the early sixties. In 1962, the complete Savages left Lord Sutch to become the R&B All Stars of famous British blues musician Cyril Davies. This was the first non-USA electric Chicago blues band ever! Carlo was used to playing with the most talented people, such as Rick Brown (aka Rick Fenson, bs), Bernie Watson (gtr), Nicky Hopkins (pno), Geoff Bradford (gtr), Cyril Davies and Long John Baldry. Carlo had also been a high-rated and top-paid professional for years when one Brian Jones asked him to become the drummer of a new band called The Rollin' Stones. He turned down the invitation ("They couldn't pay me, I earned £20 a week and they offered me £2 a month", Carlo explains laughingly), but he did help them out a few times in 1962 ands 1963, even replacing Charlie Watts in 1963 and 1964. Anyway, Carlo met the Stones again in 1998 and his sixtieth birthday party that same year turned into an all stars performance. The following year he put a band together (the All Stars, of course) and in 2002 he booked studio time for his first very own album ever.
Part one: rock and roll Never Stop Rockin' roughly consists of two parts: fifties rock an roll and Chicago blues, both styles being driven along by the beat of Carlo's drums. Carlo Little himself wrote the rock and roll songs Never Stop Rockin', Ace Café and Let's Go, Let's Go, his first compositions ever by the way! All three are pure fifties r&r, with lots of nods to Berry riffs and Jerry Lee pumps. They are perfect vehicles for Carlo's art; whatever roles he may have played, he still calls himself a fifties rock and roll drummer and that he does very, very well. Remarkably, Carlo recruited a different band for these three songs: former Savage and ex Deep Purple Nick Simper plays bass and is the only one who can claim fame. Peter Parks (lead gtr) and Alan Barrett (vcs) are unknown artists Carlo Little came across just like that, but Parks plays a sprinkling guitar on "Let's Go, Let's Go" and Barrett is the owner of a most acceptable r&r voice.
Part two: Chicago I personally prefer the bluesy side of this cd and I draw your attention to Country Line Special, one of the very few songs Cyril Davies ever recorded. "We wanted to create one sound", Carlo comments – and succeed they did as the different instruments are hardly discernable. Eddie Armor does a wonderful job on harmonica, Matthew Fisher rides a wild piano and Ron Wood throws in licks. A real storming train it is. Said Carlo: "We wanted to recreate Cyril's sound but that is not really possible of course, particularly because Cyril used to play the song in exactly the same way every time, note for note!". The other blues songs toe the classic electric Chicago line, for instance Going Down Slow, My Babe (twice Baldry on vocals), Midnight Special and Chicago Calling (Art Wood sings lead on both). I prefer Mystery Train which combines the mineworker's voice of Baldry and the far out guitar of Jeff Beck. Lovely. Special honours must go to yet another classic, Stormy Monday: it features a long and heavy intro and wonderful vocals by the newly recruited and basically unknown Alex Chanter (brother of backing vocals duo The Chanter Sisters).
Part three: Surprises Never Stop Rockin' also contains a few nice surprises, like the atypical Iko Iko. Carlo: "We had some studio time left and I asked Long John if he cared for a particular song to record. You should realise he knows an incredible number of songs and he picked out this one". Another Carlo composition is Born in the Country, a nice, mid-tempo blues effort with loads of harmonica. It's All Over Now, originally by Bobby Womack and turned into a top ten hit by The Rolling Stones, gets a poppy treatment and features Jeff Beck's guitar as a bonus. Though it makes you think of the southern swamps in general and CCR County in particular, Mississippi is a lovely tune written and sung by Alex Chanter.
Though this disc won't change the face of blues or rock and roll and clearly sounds like the early sixties, it is a most professional and very honest recording that also features a few "firsts" and "specials", e.g.:
It has the first Carlo Little compositions ever
It is the first recording since ages with the original Savages ànd Cyril Davies R&B All Stars rhythm section, plus second singer and future band leader Baldry;
It's one the very few records featuring Art and Ronnie Wood: both do two songs and they share duties on Midnight Special (Art sings, Ronnie plays guitar)
It features sixties stars who do not perform or record regularly nowadays, like Matthew Fisher and Nick Simper
Two of the greatest living guitar players supported Carlo out of sheer admiration: Ronnie Wood and Jeff Beck
Unfortunately, Carlo Little became very ill a while ago and this is his final project. If anyone is interested in releasing these recordings or making them available one way or another, do contact Carlo and his lovely wife Iris. Carlo put a lot of effort and money in the project and some return would be nice. Radio broadcasts are welcome too. Contact Carlo at: [email protected]. Carlo Little also has a nice website with his story told in full length. Visit www.carlolittle.com. The original version of this article was published in the 8/2004 issue of Flemish music e-zine "Keys and Chords" at www.keysandchords.com.
THE CARLO LITTLE ALL STARS: NEVER STOP ROCKIN'
The fourteen tracks:
Ace Café*
It's All Over Now
Going Down Slow
Midnight Special
Mississippi+
Country Line Special
Iko Iko
Mystery Train
Born in the Country*
Chicago Calling
Never Stop Rocking*
Let's Go Let's Go*
My Babe
Stormy Monday
(*) = written by Carlo Little
(+) = written by Alex Chanter

The main band Carlo Little (drums), Rick Brown (bass), Alex Chanter (vocals), Eddie Armor (harmonica, accordion), Geraint Watkins (piano, accordion) and Jonny Cassanova (keyboards). The rock and roll band on Ace Café, Never Stop Rocking and Let's Go Let's Go: Carlo Little (drums), Nick Simper (bass), Peter Parks (guitar) and Alex Barrett (vocals).

The guests and friends: Jeff Beck: guitar on It's All Over Now and Mystery Train; Ronnie Wood: guitar on Midnight Special and Country Line Special; Art Wood: vocals on Midnight Special and Chicago Calling; Long John Baldry: vocals on Going Down Slow, Iko Iko, Mystery Train; Matthew Fisher: piano on Country Line Special.

February 28, 2005
Eddy Bonte




It's Only Rock'n Roll 1980 - 2005
© The Rolling Stones Fan Club Of Europe