The Rolling Stones press conference
Van Courtland Park, New York, May 7, 2002
by Bjørnulf Vik, IORR editor

Every time the Stones call upon the press to announce a new tour, they do for sure prove why they are the greatest rock'n'roll band in the world. Even professional journalists and photographers who work with celebrities every day get this crazy "kick" of fighting for their spot when the Stones do appear. Being just a fan and for sure also a reporter today, I just wondered who was the fan and who was the professionals. Luckily we had our reserved seats for the conference, and I was way up there, so I could just rest and see how the Stones made photographers "run for the blimp" in the park.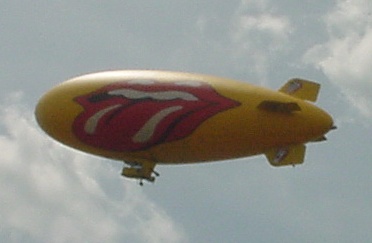 The "blimp" is what I would call an air balloon, a zeppeliner type of balloon. It has got a great yellow color, you know, the same color the Stones used for the labels of their RS Records releases from Sticky Fingers on. Then they had printed a large red Stones tongue on each side of the balloon, plus also tagged the tail with two Stones tongues, one with the US flag and the other Canadian. By 1:15pm the blimp took of and went up into the air. Then they cruised over the Bronx area for may be half an hour, before they returned to the part of the huge park were the press conference would take place. The weather was perfect, like at the press conference in 1997. A perfect day in the park.
From my position I could clearly see the boys walking out of the blimp. Helicopters were in the air to cover the event, and the photographers, may be 100 or more, got their great pictures as Mick, Keith, Charlie and Ronnie posed in front of the blimp. Then they walked over to the press tent, and all the photographers had to run back of course. It's The Stones!
By 2pm I was ready as ever. Michael Cohl, the long-time tour promoter, told us proud like a new-born father that it would be yet another great tour. But it would be even greater than before, as they would do three sorts of shows, in stadiums, arenas and theatres. Then the main sponsor E*Trade got his two minutes. Finally, at 2:05pm, the Rolling Stones were on stage once more. Even if it was for a short performance of 15 minutes, we got all the answers we could expect from the event.
Mick said riding the blimp was a first time experience for they all, and judging from this one, it would for sure be the only one for Charlie, he said. Charlie was perferctly dressed up in a nice suit and said nothing, like usual. Still, he gave us all the looks and body talk that tells us the circus horse is lucky to be back once more.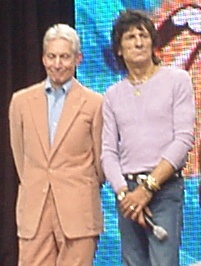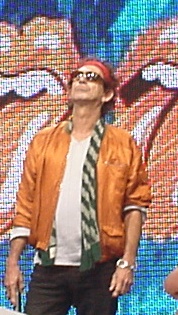 Mick did most of the talking, while Keith did also his part. Ronnie got the greatest reaction from the press, when someone asked the Stones to comment on Paul McCartney saying the Stones charge more for their tickets than him. Ronnie replied instantly: "There's more of us!". Of course. And it is more rock'n'roll.
Mick said they would do some cities like New York with all three types of shows, i.e. both stadium, arena and theatre. Also, talking about the new record, they had just last night finished negotiations for the legal part of the old tracks, and they would now go into studio to finish it off later in May. The tour will be named by the name of the new record, which is still to be made this summer.
When talking about the new record, it was quite clear that Keith saw this as a great challenge. He has got plenty of stuff done already, but they, i.e. Mick and Keith have to agree on how, what, which track and all of that, and it will be real hard work in the studio for sure this summer.
There have been rumors of Mick Taylor and Bill Wyman coming in as guest musicians, but as this question were raised, Ronnie made it quite clear this was never an issue. In fact Ronnie was doing a lot more talking now than during the previous New York press conference on Aug. 18, 1997.
Keith was asked what songs he would dig out for those who were particular fans of his set, but as Keith did his usual shy gestures telling us he really likes all his songs like they could have been his babies, Mick came to rescure telling Keith in fact had said his favorite was "You Got The Silver" as they were in the rest area before coming onto the podium.
A journalist from a newspaper in Argentina asked if they would come back to South America and his country, and as Mick did admit the situation was probably the way that few bands did actually play Argentina now, due to the economical problems, they all agreed they just had to hope for the best. So we do - please find a way to play Argentina! A German journalist wanted some information regarding the shows in Germany next summer. Mick looked through his papers and confirmed they would be there, at least in Hockenheim... But the 2003 shows are too far away for the Stones on this day - all they think about now is the North American shows.
It was all over in fourteen minutes. During that time I realized that Mick, Keith, Charlie and Ronnie just can't wait to get on the road again. They will have a tough job finishing off some new tracks this summer, but some times it is an advantage to work on a tight time schedule.
Boston is next - but before that, recordings in Europe, probably Paris, and then rehearsals in Toronto. See you soon!

For more details and great photos from the press conference see IORR 44 due out in June 2002!
---
See other press reports:
---




It's Only Rock'n Roll 2002 -
© The Rolling Stones Fan Club Of Europe