POST: Mick TAYLOR with YOUNG NEAL, J. L. WALKER & J. COPELAND Band - The Uncirculating Maidenlane Tapes Vol 08: 08 November 1989 NYC (Benson & Hedges Blues Festival) 2 sets
The Maidenlane TAPES:
a Mick Taylor tribute
Long-time Mick Taylor fan Maidenlane taped a number of Mick's gigs on the East Coast (mainly in New York City) between November 1986 - May 1993 to preserve his own memories. Around the same time Mick Taylor lived in NYC and thus did a lot of concerts there, with his own bands or as a guest artist with other great musicians. Most if not all of Maidenlane's recordings were never previously circulated among collectors, including a significant number of shows that have never circulated from any source. This will fortunately change now.
Maidenlane said he chose specifically to send these recordings to us to present these gems in the best possible way. Maidenlane will also provide some on-the-scene information and anecdotes from the shows that we will add to these publications. He asked only that we request music lovers to check their closets for recordings, so they can be preserved for study and enjoyment by future generations.
With Maidenlane and nzb we decided to form a team to present these nuggets. At first we propose to publish the shows that had never circulated (later we will study the other recordings).
Of course, we are very grateful to Maidenlane and I also would like to thank nzb for his help (his advice, judgements and expertise have been invaluable to me).
……………………………………….
The UNCIRCULATING Maidenlane Tapes
Volume 08
Mick Taylor at The Benson & Hedges Blues Festival
8th November 1989
NEW YORK CITY
Lone Star Roadhouse
Maidenlane's recollections of the show: I had seen Johnny "Clyde" Copeland recently and was disappointed not to see him playing at this show with Mick Taylor. Johnny had fallen ill, but it was a weeklong Blues festival so Joe Louis Walker -- an equally capable and renown substitute – was available to fill-in. The tables were adorned with Benson & Hedges cigarette sampler packs, which we duly smoked during the show despite not being smokers. It added to the fun and made this show stand out over 30 years later. When Young Neal launched into 'Let it Rock' with Mick Taylor onstage, it promised to be a historic event (the tune is famous from the Rolling Stones' 'Brown Sugar' UK maxi-single and as opening number of their 1978 tour). I overreacted in trying to capture MT's solo on it, jumping up from my table to muscle into the crowd on the railing overlooking stage right, and managing to pull out the mic cord for a bit while trying to hide the WM-D3.
CD1:
Set 1: YOUNG NEAL & THE VIPERS (MT guests on two tracks)
Line-up: MT (gtr)/Neal Vitullo (gtr/voc)/Dave Howard (voc, harm)/Steve Bigelow (bass)/
Tom DeQuattro (dr; unsure)
01 - Cry For You (without MT)
02 - Let It Rock
03 - Seems Like A Million Years
The recording has been declicked and the songs have been edited.
On the first track I deleted some micro noises.
On 'Let It Rock' a default remains at 0'47 and there was a gap at 1'50 therefore I added a short fade in/out. Note that from this gap onwards the left channel had to be equilibrated by +20%.
CD2:
Set 2: JOE LOUIS WALKER with the JOHNNY COPELAND BAND.
Line-up: MT (gtr, voc)/Joe Louis Walker (voc, gtr)/Steve Grimes (?)(gtr)/Steve Gadd (dr)/Teo Leyasmeyer (keyb) & more members of The Johnny Copeland Band
Note: Johnny Copeland was ill, so Joe Louis Walker filled in for him on lead vocals and guitar.
01 - intro and band introduction #1
02 - Tell Me Baby (title unsure; without MT)
03 - Just A Little Bit (without MT)
04 - Hey Baby (title unsure; without MT)
05 - banter and introduction of Mick Taylor
06 - Hideaway
07 - I'm Tore Down (MT on voc)
08 - Red House (MT on voc)
09 - instrumental fast blues
10 - 747
11 - Every Night And Every Day
12 - Talk To Your Daughter
13 - band introduction #2
14 - Sit Back (title unsure)
15 - outro & band introduction #3
The recording has been declicked, the songs have been edited and the channels were equilibrated (+10% to the left channel).
Note a fade in/out after 'Hey Baby' (no music is lost) and another in the beginning of 'Talk To Your Daughter' (a little gap remains).
As usual I used a lot the infos taken from The Mick Taylor Complete Works Database by Nico Zentgraf: [
www.nzentgraf.de
]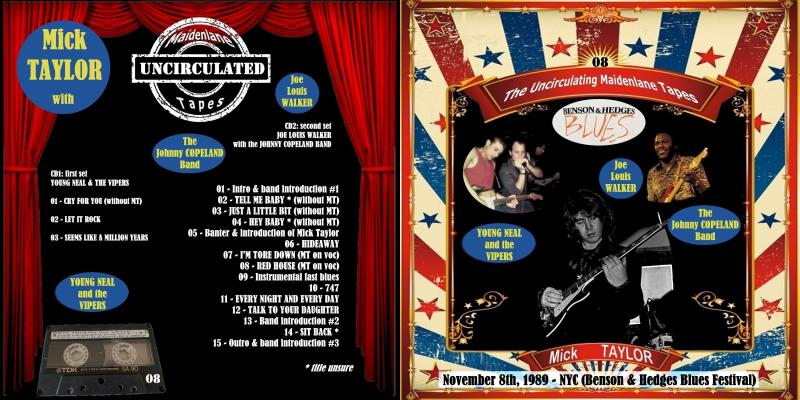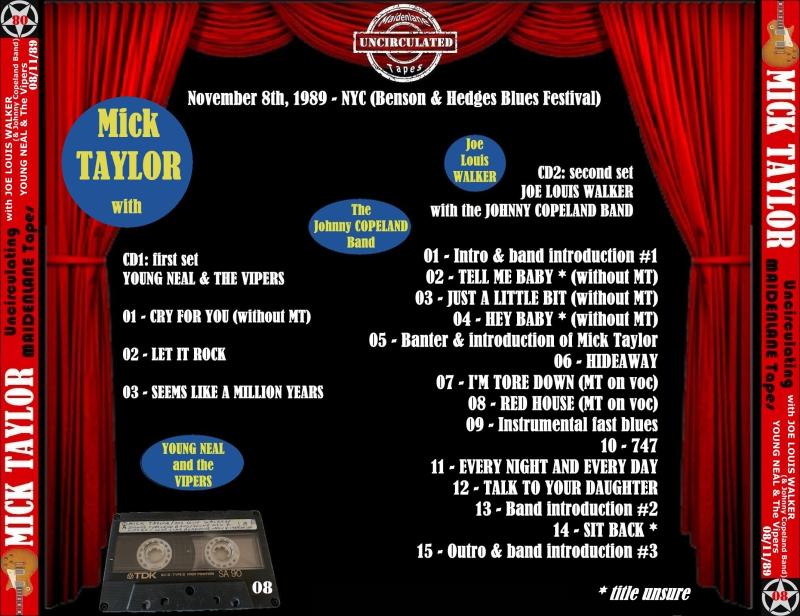 Posted in 2023 by StonyRoad on IORR: [
iorr.org
]
link valid until 26/05/23
[
we.tl
]
next volume on Sunday
Norbert
email:
stonyroad58@gmail.com
Edited 1 time(s). Last edit at 2023-05-19 09:49 by StonyRoad.